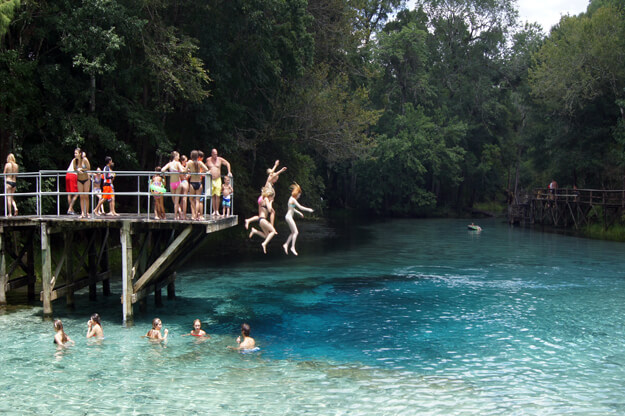 When Florida's summer temperatures begin to climb, it's time to cool down. Whether enjoying a refreshing bubbly spring or playing in a spring-fed river, you're sure to find respite from the sizzling heat in Florida's cool natural springs. Shimmering shades of aqua blues and emerald greens reflect above and below crystal clear water where swimmers find recreation and relaxation.
Florida is blessed to have more than 700 springs, the largest collection on earth, primarily located in the central and northern parts of the state. From deep within the underground aquifer eight billion gallons of water flow from Florida's springs each day at a constant, 72-degrees.
Most of Florida's springs are located within state or national parks. This offers visitors an array of recreational opportunities while providing a level of protection for these essential natural resources. The entry fee to most parks is very reasonable, making this experience not only fun, but one of Florida's best bargains.
Here are some popular springs that will help you "chill out" this summer:

Ichetucknee Spring
Located near Fort White, northwest of Gainesville, the Ichetucknee Springs (9 total) and River have long been a destination for campers, college students and Floridians seeking the delightful experience of floating down the six-mile river before it empties into the Santa Fe. Considered a family tradition, parents pass along memories and tales of former trips to their children and grandchildren, who carry on this "rite of passage".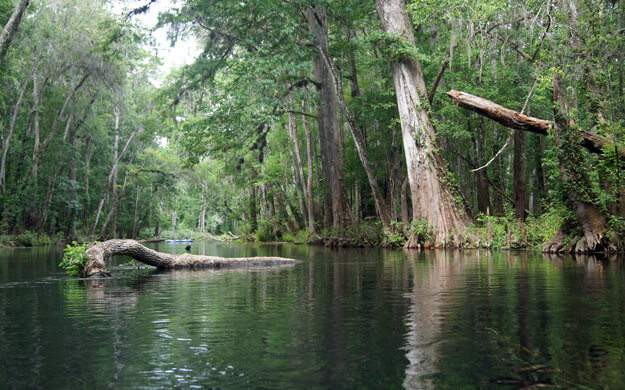 Ichetucknee River
The State of Florida wisely secured more than 2,200 acres to develop this popular park and designated it as a National Natural Landmark. From late Memorial Day until Labor Day, the Ichetucknee Springs State Park resembles a bustling summer camp. Visitors camp, hike, picnic, snorkel and tube. Families and larger groups raft and tether their tubes as they float down the river. Still, in some areas, you will have the river all to yourself. And one thing is certain for all who go – everyone on the river gets to enjoy one of Florida's most authentic pleasures.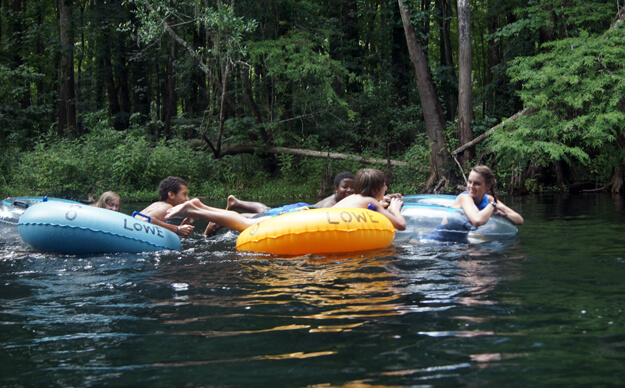 Tubing down the Ichetucknee River
To thoroughly enjoy the Ichetucknee, here are a few suggestions to maximize your experience: Go early, and if possible, go on a weekday. Holidays and weekends are crowded and the park limits tubing to the first 750.  Also, call ahead to the park to check the water conditions. Sometimes the river will be closed if the water is too low or too high. A few more tips:
For inner tubes, many businesses can be found outside the state park off SR 238 or SR47 and reservations are not required. You'll pick up your tube the day of your trip.
Drive to the Ichetucknee State Park, where you will leave your tubes at the designated "drop area."
Once you have left your tube, drive out of the state park (get a map from park ranger) to the south entrance, off Hwy. 27, where you will park your car.  A van will return you to the state park where you will begin your journey.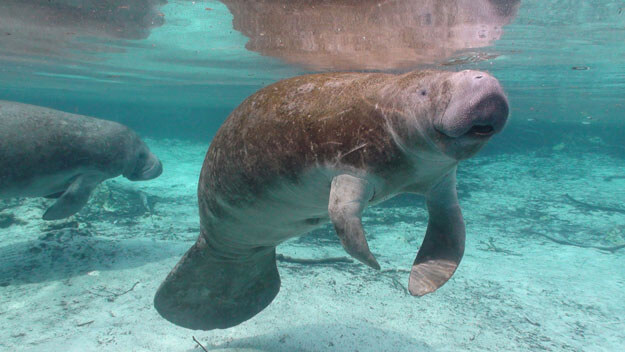 Florida Manatee, Crystal River (photo, courtesy, Tracy Colson)
North of Tampa and west of Orlando, along Florida's Gulf coast, is Crystal River. Located in Citrus County, which boasts a reputation as Florida's "water lover's paradise" the abundance of freshwater springs throughout the region provide numerous areas to enjoy. Each winter, from November through March, visitors delight while observing the largest known gathering of manatees in Florida as they congregate in the relatively warm 72 degree water of Crystal River.
But summertime is when Citrus County bustles with those who want to cool off in that same, but now relatively cool water. Crystal River is a first magnitude spring system, originating in Kings Bay, with more than 40 springs flowing into the river as it meanders six miles westward to the Gulf of Mexico.
To see this spring system, you'll have to go by boat. Local outfitters will take you to visit the springs where a beautiful world, on or below the water, awaits. The largest spring in Kings Bay is called Kings Spring. It's 75 feet across and 30 feet deep at the entrance to a 60-foot cave. This is very popular for swimmers, snorkelers and scuba divers.
Three Sisters, the Crown Jewel of Kings Bay

Three Sisters Springs, Crystal River
Three Sisters Springs is considered one of the most beautiful springs in Florida. Local outfitters transport swimmers and snorkelers to the enclosed spring to swim around the area to get a closer look. It's an enchanting spring and thanks to local caring citizens, it has been preserved for future generations.
Hunter Spring Park, Crystal River
A local favorite, Hunter Spring Park, is one of the few accessed by car. Bathers can enter the water from a sandy shore and swim in a roped area, fed by a local spring. Situated within a neighborhood, there is parking, with nearby picnic tables and facilities. Kayakers and paddle boarders can also launch from the park.

Rainbow River resembles a natural swimming pool
Rainbow Springs State Park, located southwest of Ocala near Dunnellon, is home to the river's headspring, which feeds into one of the most beloved waterways in the state. The Rainbow River has enjoyed a reputation as a scenic and popular playground since opening in the 1930's as a family-owned amusement park. Years later, in 1990, the spring became part of the Florida State Park System.

Rainbow River
Rainbow River could be called Florida's natural swimming pool. The white sandy bottom lies between areas of smooth limestone creating a "pool–like" effect. But in this swimming pool you will share the water with turtles as they sunbathe on fallen logs along with blue herons and white ibis feeding along the riverbank.
Starting at the popular KP Hole outside the state park, children and adults float downstream in inner tubes often stopping to jump off ropes tied to over-hanging tree limbs. The gentle current of the river dictates the pace as smaller springs bubble up and feed into the river creating plenty of areas to get out and swim.

Juniper Springs run
Found within the Ocala National Forest, Juniper Springs is 90 minutes north of Orlando and 22 miles due east of Silver Springs on State Road 40. Juniper Spring is the site of the main swimming hole, which empties into the Juniper Creek Run.
A limestone wall surrounded by a lawn and picnic tables, originally built in the 1930's by the Civilian Conservation Corps, encloses the park's spring. Swimmers and campers delight in the beautiful deep blue spring. An old historical mill, also built by the hard-working conservation corps to provide electricity for the park campground, is adjacent to the swimming area and includes an historical and informational exhibit center for park guests.
One of the best canoe runs in all of Florida is located here.  The beloved Juniper Creek Run is a four-hour, seven-mile, one-way canoe/kayak trip down the river winding through the park's Prairie Wilderness Area.
Rental canoes can be reserved at the main concession area along with your seat for the return (Wayside Park) bus ride.
The pristine Juniper Creek Run is a feast for the eyes.  A lush, tropical forest of palms, cypress and southern hardwoods surround visitors at every turn.  Watch for red-bellied turtles, gators (they stay clear), wood ducks, great herons, monarch butterflies and a plethora of wildflowers.

Wekiwa Springs north of Orlando
North of Orlando, Wekiwa Springs State Park is a delightful retreat with an "Old Florida" feel. Wekiwa is an Indian word for "bubbling water" which perfectly describes the freshwater spring. The Wekiwa Springs discharge 45 million gallons of cool, clear water daily. The emerald green fresh water pool sits at the base of a grassy amphitheatre with steps leading to the swimming area.
The 7,800-acre Wekiwa Springs Park is a part of the Wekiva Basin ecosystem. Nearby neighbors such as the Rock Springs Run State Preserve, the Lower Wekiva River Preserve State Park and the Wekiwa Springs State Park make up the full basin.
Consider renting a kayak or canoe to see more of the park. An easy paddle on the Wekiva River and up the Rock Springs Run will confirm its designation as a National Wild & Scenic River. Florida wildlife is everywhere and you might want to be on the lookout for some early morning otters and birds feeding near the waters edge.
Once inhabited by indigenous Timucuans and Native American Creeks who hunted and fished the region, The park is home to Indian middens and shell mounds – ancient "garbage hills" which often contain pottery fragments, shells, animal bones and artifacts.
As Orlando has grown considerably over the years, the Wekiwa Springs State Park provides a perfect oasis for those who desire the simplicity and beauty of real Florida.

Wakulla Springs, 30 minutes south of Tallahasee
Thirty minutes south of Tallahassee, Wakulla Springs is located in the Wakulla Springs State Park. Over 200-300 million gallons of water per day pour out of the first-magnitude Wakulla spring, the origin of the Wakulla River and home to one of the largest and deepest freshwater springs in the world. The world? Yep. The spring is also home to Florida's deepest and most extensive underwater cave system.
You can visit for a day, or camp overnight, but one of the best experiences is to stay at the Wakulla Springs State Park Lodge. The 1930's Mediterranean revival lodge has spacious rooms, a spectacular lobby and a delightful restaurant.
You can also join the throngs of folks who enjoy the giant swimming hole (and jumping tower) near the actual Wakulla Spring. It's great fun for the kids.
I also recommend the ranger-guided Jungle Cruise that covers a three-mile loop through the wildlife sanctuary – riding over the Wakulla spring – and if you want to see pristine "real" Florida, you'll enjoy this ride.
While on the cruise, you'll see plenty of alligators on the riverbank plus manatees (in season), herons, egrets, anhingas, ospreys, common moorhens, wood ducks, Suwannee River cooters.
If there is an archaeologist in you, you'll be fascinated with Wakulla Springs. An ancient mastodon (at the Museum of Florida History) was found at the bottom of the spring and the remains of nine more extinct mammals dating to the last glacial period have been found.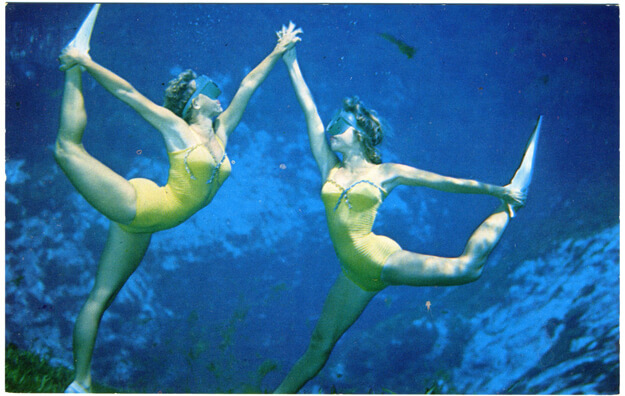 Weeki Wachee Springs mermaid (photo courtesy, John Athanason)
Since 1947, Weeki Wachee Springs has been home to the famous mermaid show, amusement park, river cruise and first magnitude spring. Fish-tailed human mermaids delight audiences with synchronized underwater ballet performances. Spring water flows up from subterranean caverns while visitors watch through huge glass windows in a submerged theatre.
The Weeki Wachee Springs Amusement Park amusement park, beach area and flume ride provide a family swimming area in the cool water. The spring water then flows into the Weeki Wachee River running more than seven miles to the Gulf of Mexico. The translucent water and sandy bottom creates a dazzling experience on one of Florida's best rivers.
To discover more of the beauty and nature on the Weeki Wachee River, consider a slow, easy, five-mile, three-hour kayak or canoe paddle downstream. Begin at Paddling Adventures located adjacent to the Weeki Wachee State Park. They provide all the equipment with tips to make it enjoyable. The best news is that they provide transportation back to the park, so you paddle, or just drift, one way, downstream.
While on the water, you'll paddle under the shade of cypress and oak trees while enjoying wildlife everywhere – look for the bald eagle's nest, turtles sunning on submerged logs, a plethora of birds, otters and manatees.
Be sure to take sunscreen, beverages, and a lunch. You'll want to pull over on the riverbank and just take in the beauty. Several ropes hang over the river for the kids to climb trees and swing into the refreshing 72-degree water. Named Weeki Wachee by the Seminole Indians, meaning "winding river" this slow moving paddle ride is a memorable one for the entire family.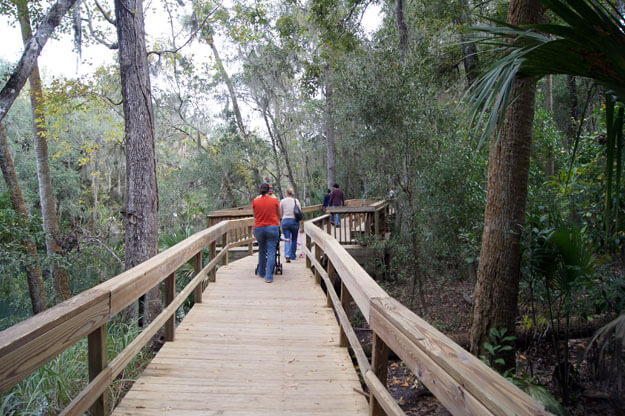 Blue Spring State Park boardwalk
North of Orlando and west of Orange City, Central Florida's Blue Spring State Park, covers 2,600-acres of "real" Florida. Blue Spring is the largest spring on the St. Johns River. The circular translucent hole of Blue Spring percolates with tiny bubbles, also known as a boil – it's not hot though; like other Florida springs, it's a consistent cool temperature. Blue Spring is popular with swimmers, snorkelers and scuba divers, especially for the extensive underwater cave system.
A half-mile boardwalk along the bank of the Blue Spring Run begins at the bubbling spring and ends at the St. Johns River. The boardwalk is filled with panoramic views of picturesque "old Florida" while interpretive displays provide history about the park. Moss-draped oaks lining the blue-green river and fallen trees along the banks are ideal elements for composing prize-winning photographs. During the winter, Blue Spring is a popular gathering area for manatees and one of the best places for viewing these gentle giants.
The park offers St. Johns River Cruises, narrated by guides knowledgeable about the local ecology and wildlife.  Or if you prefer to go on your own, canoes and kayaks are available for rent. Nearby picnic areas and tables are plentiful. More than 50 campsites and six cabins provide overnight accommodations.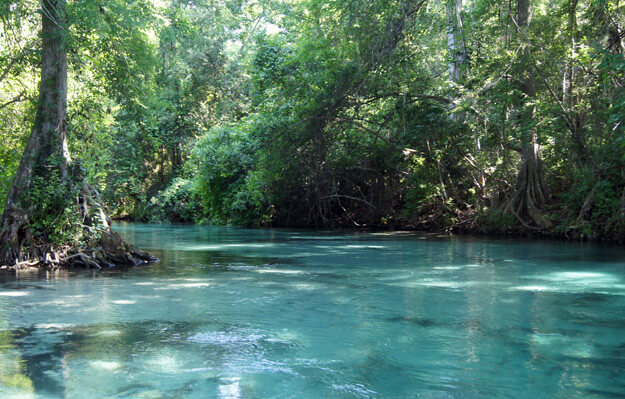 Protecting our Florida Springs
Enjoying our springs is one of the joys of living in the state, and most would agree we have a responsibility to preserve and care for them, not just for their beauty, but also for their importance as a fresh water supply. It's no secret that Florida's springs are in jeopardy, especially as Florida's population increases, adding more environmental impacts to our state aquifer. So, while enjoying these natural delights, be sure to use established trails, dispose of trash properly and remember to be a good steward for future generations.
---