Eleven of Our Favorite Dog-Friendly Beaches/Parks in Florida
Did you know that 68% of U.S. households, or about 85 million families, own a pet?
[according to the 2017-2018 National Pet Owners Survey conducted by the American Pet Products Association] 
Let's face it … dogs are a part of our family and it's awesome when we can take them with us on a day trip or a longer vacation (plus, it can be really expensive to board them, especially if you have more than one pet). We are so fortunate to live in Florida where we have so many dog-friendly options. Hanging at a dog park is a great way to spend a few hours or a day. It's always fun to see all the different breeds of dogs intereacting and 99% of the time the dog-owners are friendly people, too.
Since we are big fans of our furry family members, we have put together our own list of some of our favorite Authentic Florida dog-friendly beaches/parks. 
Algiers Beach/Gulfside Beach (Sanibel, FL)
Located off Casa Ybel Road on Sanibel Island, this beach is known as Algiers Beach to the locals and Gulfside Beach to everyone else. There is a parking fee of $5.00 per hour between the hours of 7am and 7pm. However, the beach is free after 7pm. It's cost-effective and memorable to pack a picnic dinner and bring your furry companion to watch the remarkable sunset. Please keep in mind all pets in Gulfside Park must be leashed and you must clean up after them.

Photo Credit: Shuran Cai on Facebook.com/Algiersbeach
Bonita Beach Dog Park (Fort Myers Beach, FL)
Known as Dog Beach Park, this is an awesome dog park with a good amount of loyal regulars. A doggie poop bag dispenser, trash cans and a freshwater rinse station are located near the beach path. Parking is free. Although there is a no leash policy, it's good to note that the park does not have any fences to keep your dog within park limits. Also, you'll definitely want to visit during low tide, otherwise, you may be forced to walk in the water. The water rises significantly when it rains and leaves almost no dry land to sit on. It's good to plan accordingly. It's also a prime spot for a dolphin sighting.

Photo Credit: Maribel Sabug on Facebook.com/bonitabeachdogpark
Brohard Paw Park is the ONLY dog-friendly beach in Sarasota County, so it's a very popular spot to visit. In fact, it's one of the most popular leashless dog parks in Florida. We highly recommended getting there as early as possible, especially on weekends. Brohard Paw Park opens at 7am and closes roughly at dusk. The park offers drinking fountains, showering facilities for dogs only, and picnic tables to enjoy during your visit. The parking is free. It's an excellent spot to bring your dogs to socialize and have endless fun. There are always hundreds of dogs running free. Owners do an excellent job cleaning up after their dogs.

Photo Credit: Mary Lou Davidson on Facebook.com/Brohardpawpark
Cape San Blas Barrier Dunes/Salinas Park (Cape San Blas, FL)
Cape San Blas is located on St. Joseph Peninsula, a narrow stretch of land extending out from Port St. Joe and curving around St. Joseph Bay. The "Cape" has some of the most stunning sunset views in all of Florida. This area of the Panhandle is often referred to as "The Forgotten Coast" and many people want to keep that way since it still has that wonderful Old Florida feel. As long as you keep your dog away from the State Park land, the rest is theirs to roam.
NOTE: Gulf County is healing quickly from the wrath of Hurricane Michael. We encourage everyone to visit and support the local businesses.

Photo Credit: David Knight Photography on Facebook.com/Capesanblasdunes
Davis Islands Dog Park and Beach (Tampa, FL)
Davis Islands Dog Park allows dogs on the beach, plus they have their very secluded dry land park. There's a no leash policy, so you can let your dog(s) run free. They have water fountains for you and your dog, and a wash station for dogs when it's time to leave. With new roadways and landscaping, this is a park you do not want to miss. It's small compared to some of our other favorite dog parks, but it's well-maintained. You may want to bring a chair since seating is limited.

Photo Credit: Dhiraj Shetty on Facebook.com/Davisislanddogpark
Fort De Soto Paw Playground and Beach (St. Petersburg, FL)
Trip Advisor, Dr. Beach and many others have named Fort De Soto Park (which is connected to Fort De Soto Paw Playground) as America's #1 Beach, which has made this destination very popular. For your dog's safety, they have two fenced in areas designed for big and small dogs. The dogs are allowed to be unleashed once they are on the inside of the fenced-in portion, otherwise, they must remain on a six-foot leash. This is the only area dogs are allowed, with the exception of the dog beach area. Park in the Bay Pier parking lot. Drinking water and water hoses for cooling off and cleaning up your dog are available.

Photo Credit: Murlidhar Srivastava on Facebook.com/Fortdesotopawplayground
Key Biscayne Dog Beach (Key Biscayne, FL)
You can see the Miami skyline from across the Biscayne Bay at Key Biscayne Dog Beach. Dogs of all sizes are welcomed, in fact, they have two separate fenced-in areas for small dogs (less than 35lbs) and large dogs (more than 35 pounds). The parking fee is only $2 a day. Parking is ample and there is usually a vendor or two nearby offering hot dogs and other snacks.  They also have lots of trash bins. The park is known for its cleanliness and the regulars take great pride in keeping it that way. There are also kayaks for rent that makes for a unique adventure.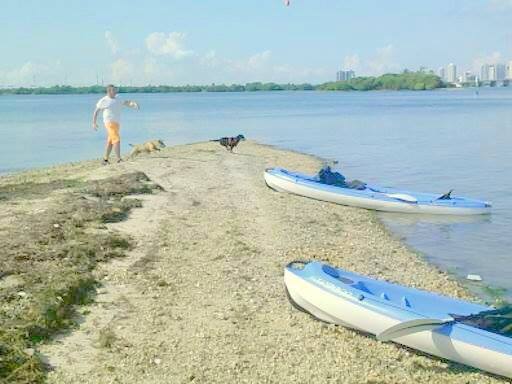 Photo Credit: David Ballard on Facebook.com/Keybiscaynebaybeachdogpark
Ocean Cay Park, located in Jupiter, FL was the location for the hit film "Marley and Me" (remember the scene where Marley loses the leash and breaks the rules?). Make sure to keep your dog on a leash at all times to prevent yourself from getting banned from the park! There are plenty of activities to do while bringing your dog to the park. Volleyball, picnicking under the pavilions, or fishing are just a few.  It's a great area with convenient street parking just feet from the ocean. It can be super-crowded on weekends, but that's the case with all nice dog parks.

Photo credit: South Florida Snow
Panama City Beach (Panama City, FL)
Panama City Beach is located in the Florida Panhandle, a slice of Paradise known for their crystal clear waters, and sugar white sands. The dog-friendly beach requires leashes while roaming the 400 feet of white sand. This is an ideal spot to soak up the sun and watch the sand get caught in between your toes (or paws). Once you are done playing, be sure to stop by one of the pet-friendly restaurants in the park!

Photo Credit: Facebook.com/Panamacitybeachgovernment
Paws Dog Park (St. Augustine, FL)
Not every dog likes to splash around, that's why Paws Dog Park has an area to splash around along with an area to simply frolic. Paws Dog Park highly recommends every dog has up-to-date shots to prevent any problems that may arise (this is a good idea for all dogs visiting any dog park). There's a designated area for large and small dogs. They also have water for drinking and benches to sit.

Photo Credit: Stratford Mill on Facebook.com/Pawsdogpark
Smyrna Dunes Park (New Smyrna Beach, FL)
Smyrna Dunes is located on the northern tip of the New Smyrna Beach peninsula. Smyrna Dunes Park is a public park with a parking fee of $10 per vehicle, per day. Dogs are more than welcome as long as they remain on a leash at all times for safety purposes. The park consists of five ecosystems (ocean, river, dunes, scrub zone, saltwater marsh). To protect the sensitive sand dunes from foot traffic, two miles of elevated walkways, picnic areas, pavilions and an observation tower were built.

Photo Credit: Facebook.com/Smyrnadunespark
Thank you, Kendall Sexton, our newest Authentic Florida team member, for helping with this story. 
There are sites like Bring Fido that specialize in keeping up with the latest and greatest dog-friendly establishments.  Check them out at:  www.BringFido.com 
To receive Authentic Florida's free weekly ENEWs, sign up on the Authentic Florida homepage.
AuthenticFlorida.com was voted "Favorite Travel Blog" at the 2018 Florida Sunshine Awards.
To inquire about advertising/partnership opportunities, contact melanie@authenticflorida.com 
---