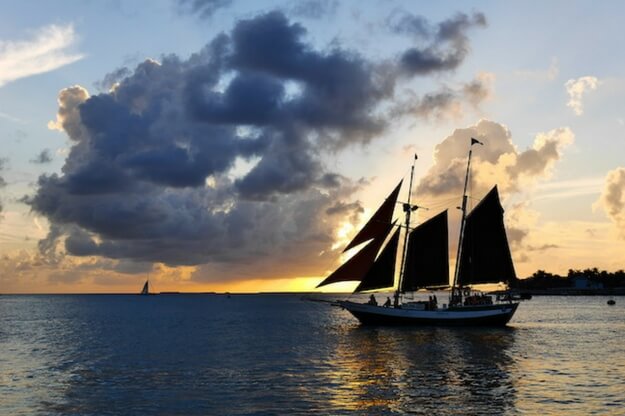 From its Conch style houses, with tin roofs and gingerbread trim, to its dramatic history and rambunctious bars, Key West bewitches visitors like a magical sea nymph. Besotted travelers return year after year, drawn to a place where almost anything goes. The historic center, Old Town, may be crammed full of watering holes, but it also brims with historic attractions, atmospheric restaurants, and of course, plenty of shopping.
Key West proudly wears its history on its sleeve. Founded in the 1820s, this city became the southernmost outpost of the United States before Florida even achieved statehood. To walk down Old Town's tree-lined streets, under an island-blue sky, surrounded by inns and houses well over a century old, can be one of the simplest Florida pleasures you'll ever experience. While it would be easy to spend several days savoring all that Key West has to offer, sometimes there's only a short weekend available to savor this tropical destination.
The Audubon House on Whitehead Street.
Let's say you have already toured the Hemingway Home (and if you're like me, you've been there at least ten times). In that case, start your island explorations at the Audubon House, also on Whitehead Street. This lovingly preserved mansion with its distinctive green shutters once housed the family of Captain Geiger, a wrecker who made a fortune salvaging ships that had foundered on the Florida Reef. Here, you can tour each room and come away with a sense of how a well-to-do family lived at the time. The painter John James Audubon once illustrated a tree in the Geiger's garden, which is why the home has been named in his honor; another reason to tour the house is the chance to see its spectacular collection of Audubon prints.

Kino Sandals, The One and Only Original Sandal Built in Key West.
A short hop from the Audubon House is Kino Sandals. Hand-crafted sandals have been made here for decades, and come in all colors. "Kino's" has won legions of loyal fans, and a pair of their sandals is one of the most comfortable – and least expensive — Key West souvenirs you'll find.



St. Paul's Church, a historic Key West Church established in 1832.



Over on Duval Street, be sure to stop inside St. Paul's Church, a dazzlingly white, tropical house of worship completed in the 1920s. An Episcopal church has stood on this site since the 1830s, although fire and a hurricane caused the demise of those earlier versions. Today, the quiet interior of St. Paul's offers a welcome respite from the hustle of Duval Street and a place to pray, meditate, or simply absorb the stillness.
Delicious Date & Thyme on Fleming Street.
Particularly on vacation, sometimes you want to eat something light…to offset later indulgences. At lunch-time, if you're in the mood to try something off the beaten path, cruise down Fleming Street to Date & Thyme. Casual, health-conscious Date & Thyme serves up fresh wraps, custom blended juices, salads, smoothies, and daily specials. A crisp salad with pesto, avocado, and pumpkin seeds can make for a tasty change of pace.



The World Famous Conch Tour Train is a must-do in Key West.
Strolling around Old Town, you'll inevitably see the Conch Train ride by and hear its high-pitched bell. When your feet get tired, it's worth taking a tour. The drivers will regale you with wild and wacky tales – and some surprising history as well. After navigating the streets here for decades, the Conch Train has become a Key West icon in its own right.
Tucker's Provisions on Duval Street.
People feel compelled to shop on their island vacations; if you want to bring back treasures you will actually treasure, pop into Tucker's Provisions. This charming boutique on Duval Street sells thoughtfully curated clothes, bags, shoes, and accessories for men, women, and children. You'll find pieces here with great craftsmanship and classic style often tweaked with a playful twist. (Be warned: While Tucker's is an excellent place to buy gifts, I always wind up finding something for myself.)



The Green Parrot Bar: "a sunny place for shady people"
Maybe you've already sampled the margaritas at the ever-popular Sloppy Joe's, and want to explore a different watering hole? At the Green Parrot Bar, you will feel like you've floated backward into another era before Key West was "discovered" by tourists. It may be a dive, but the drinks flow freely and at night there's often interesting and quite excellent live music. Enjoy some of the Green Parrot's popcorn and settle in for a good time.



Pepe's Cafe & Steakhouse on Caroline Street, the oldest restaurant in Key West.
Another Key West institution is Pepe's, a restaurant with a humble exterior but solid comfort food. The oldest restaurant on the island, dating from 1909, Pepe's once presided over Duval Street, but later moved over to Caroline Street, where it continues to feed both travelers and locals. Unapologetically retro dishes include oysters Florentine, barbecued chicken, and New York strip steak served with homemade cornbread. Their key lime pie has become justifiably famous, so you'll definitely want to savor a slice.

Sensational, world-famous sunset celebration at Mallory Square.
Whether you visit Key West for two days or a week, don't miss the sunset celebration at Mallory Square. The tarot card readers, street performers, and craftspeople remind visitors of a time when Key West was still a rough-and-tumble town, but it's the view that will keep you transfixed. Look out on the horizon, as boats sail by and seabirds swoop overhead, and marvel at the sky's gradations of color as the day draws to a close. Few other places in the world will you find people from all walks of life, gathered together simply to appreciate a sunset. Soak it in. Inhale a lung-full of sea air. Before you know it, Key West has cast another enchantment, and you can't help but wonder when you'll be back.

Sunset in Key West is always picture perfect.
All photos by Laura Albritton.
Laura Albritton is the author of the recently published photo history, Key West's Duval Street, which she co-authored with Florida Keys historian Jerry Wilkinson. Their previous book, Marathon: the Middle Keys, is also available from Arcadia Publishing.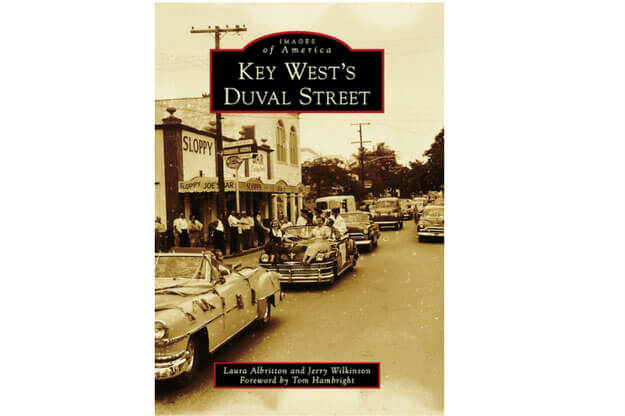 AuthenticFlorida.com was named Best Travel Blog two-times at the Florida Sunshine Awards.
To receive Authentic Florida's free weekly ENEWs, sign up on our Authentic Florida home page.
To inquire about partnerships/advertising, please contact info@authenticflorida.com 
Proud Member of: 

---
Comments are closed.