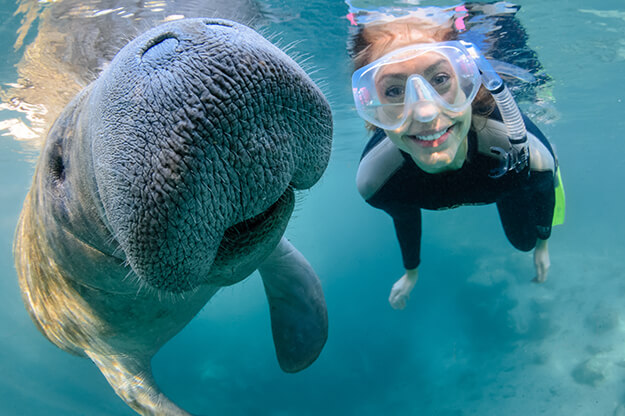 Experience a once-in-a-lifetime adventure in the soul of Florida in Crystal River. Every winter, from November to March, docile, loveable manatees flock to Kings Bay in Crystal River to bask in the warm waters of Three Sisters Springs. Here, these gentle giants are federally-protected. You may see them munching on seagrass or floating lazily in the warm water! Additionally, they could even be resting on the bottom. This is how they conserve energy and soak in the warmth! Come discover an underwater wonderland in Crystal River, the only place in the world where you can swim with a manatee.
Swim With a Manatee!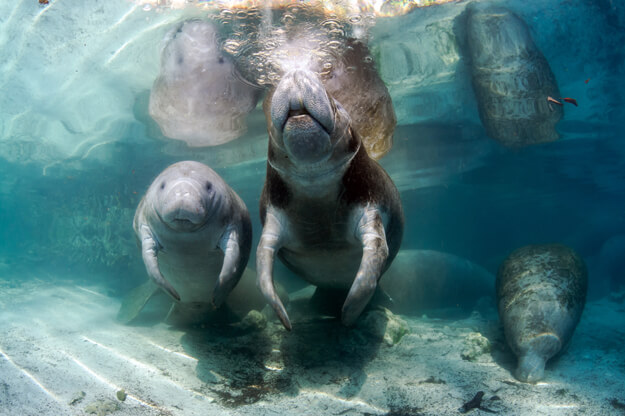 Let a trained guide take you out to experience this amazing opportunity to see these curious creatures up close. It's an adventure you won't soon forget, as each manatee has its own unique personality. Practice passive observation while in or on the water to keep the manatee population safe and coming back to the springs for future generations to enjoy.
Looking for even more ways to befriend a manatee in Crystal River? Check it out here!
Explore Nature
In addition to 600 acres of natural springs, there is more to explore on Florida's Nature Coast. Discover two National Wildlife Refuges—the Crystal River National Wildlife Refuge and the Chassahowitzka National Wildlife Refuge along with numerous parks and preserves where you can discover native plants and also wildlife.
Discover a Paddling Paradise
Paddle through crystal clear springs, down the still wild Chassahowitzka River, into open bays, and around freshwater lakes in Florida's paddling paradise. 
World-Class Fishing
Cast your line from offshore or onshore, into freshwater or salt, wherever you go on the water, Crystal River, Homosassa, Inverness, and also Floral City offer world-class fishing. 
Ride the Trails
Discover miles of scenic trails to explore on two wheels, from rugged mountain bike paths through the Withlacoochee State Forest to the paved 46-mile Withlacoochee State Trail, a scenic ride through forests, past lakes, and into quaint downtowns for a quick stop for an ice cream or latte.
Birding Bliss
Additionally, Birding in Citrus County can include anything from a flock of whooping cranes to a soaring eagle to nesting sandhill cranes. Many of Citrus County public parks and preserves also have huge bird populations. The Great Florida Birding Trail has 445 official sites and 23 of them are also in Citrus County.
Discover Crystal River's Cities
The quaint untouched Old Florida towns of Crystal River, Homosassa, Inverness, and Floral City each offer authentic experiences with great dining, rich histories, and lots to explore in each city. 
Get Inspired with Crystal River's Videos
Find inspiration for your getaway with Crystal River's exciting new videos! These showcase their cities, top attractions, and authentic adventures in the soul of Florida.
Additionally, get more inspiration by subscribing to Discover Crystal River newsletter

AuthenticFlorida.com was named Best Travel Blog two-times at the Florida Sunshine Awards.
To receive Authentic Florida's free weekly ENEWs, sign up on our Authentic Florida home page.
To inquire about partnerships/advertising, please contact info@authenticflorida.com 
Proud Member of: 

---
Comments are closed.