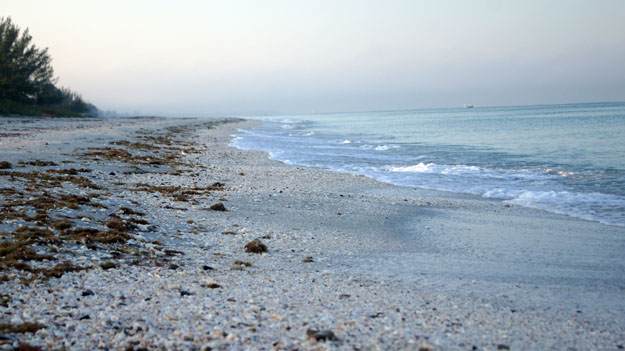 Located on the Gulf coast about halfway between Tallahassee and New Orleans is Pensacola, Florida's westernmost city, where you can spend your day relaxing on a sugar-white sand beach, strolling around a charming downtown area, or roaming through a pre-Civil War fort. This is Florida's southern town with a creole vibe.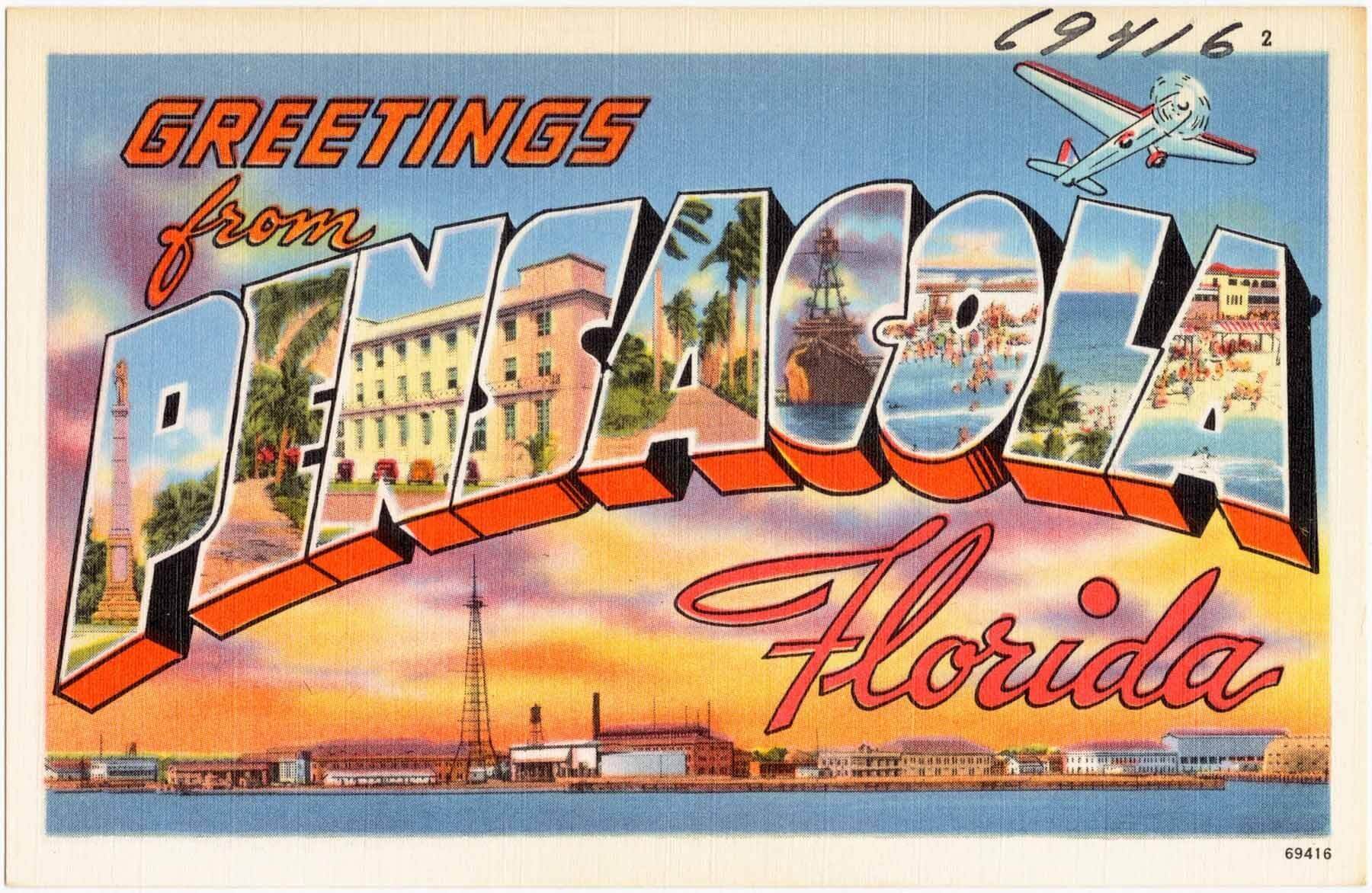 If you happen to be a foodie, Pensacola will not disappoint! The signature dishes include barbecued shrimp, fried green tomatoes, spicy grits, and bread pudding. This is where Southern meets Creole, with a dash of spicy Cajun. Are you feeling a Mardi Gras vibe yet?

Five Sisters Blues Cafe serves Creole-style southern food
Yes, Mardi Gras is celebrated here, Florida style. While New Orleans gets most of the Mardi Gras hype, it has been a tradition in Pensacola since 1874 … Pensacola lights up with hometown parades, fancy costumes, fantastic food, and plenty of parties.

Pensacola, the City of Five Flags
This "City of Five Flags" has been governed over time by Spain, France, England, the United States, and the Confederacy. Its multi-cultural history provides a wealth of new things to enjoy while still celebrating its old-world past.
Here are some suggestions to make your Pensacola trip an Authentic Florida experience:
Climb a Fort

Fort Pickens guards the entrance of Pensacola Bay
Start with a little history. At the entrance to Pensacola Bay, the pre-Civil War era Fort Pickens guards the western tip of Santa Rosa Island, one of two nearby barrier islands. Visitors can climb tower bastions or through fort chambers below. Park rangers provide free daily tours.
Fort Pickens was the largest of four forts built to defend Pensacola after the War of 1812 when the United States fortified all major harbors. Named after American Revolutionary War hero Andrew Pickens, the fort was completed in 1834 and protected Pensacola during the Spanish-American War and both World Wars before being decommissioned in 1947.
Check out even more of our favorite historical forts to see in Florida here!
Enjoy the View

1859 Pensacola Lighthouse
Across the Intracoastal Waterway from Fort Pickens stands the 1859 Pensacola Lighthouse towering 160 feet and still directing vessels into port. The Light and the adjacent Keeper's Quarters comprise the Pensacola Lighthouse and Museum. Adventurous visitors can climb the daunting 177 steps to the top and be rewarded with breathtaking views of the Gulf of Mexico, Pensacola Bay, and the National Seashore, as well as the nearby Naval Air Station. If you time your visit to coincide with a Blue Angels practice show, you are in for an incredible display of aviation artistry from an awesome location. (Check the Blue Angels website for the schedule.)
Go With Nature

Pensacola's Big Lagoon State Park 
Pensacola's Big Lagoon State Park is aptly named for its lagoon bordering the park to the south as it faces the Intracoastal Waterway and the Gulf Islands Seashore across the water. Pristine pine Flatwoods, sand scrub, and salt marshes also form a natural sanctuary accessible via hiking trails and a 40-foot observation tower. Encompassing almost 700 acres, this is an ideal park for kayaking, paddleboarding, and also camping.
Beach It
 
Pensacola's sugary white sand beaches  
Here's an idea. Take a picnic lunch and head out to the longest stretch of protected shoreline anywhere in the United States. Gulf Islands National Seashore is among the most spectacular stretches of beach in Florida – and that's saying a lot in a state with over 600 miles of beaches. Bahamas-like emerald-green shallow waters contrast the gleaming white "sugar" sand making it a premier beach destination. To find the best spots, drive towards one of Pensacola's islands, Santa Rosa or Perdido Key, and head either north or south to the signs marked National Seashore. Shaded picnic pavilions and amenities are also available.
Fly Blue

Pensacola, the birthplace of naval aviation
Pensacola is known as "the birthplace of naval aviation" and every Navy, Marine, and Coast Guard aviator begins training at Pensacola's Naval Air Station. It's no wonder that this is home to the U.S. Navy's famous Blue Angels and also the National Naval Aviation Museum. The free Museum displays more than 150 restored aircraft that showcase the spirit of naval aviation, with tales of combat and profiles of courageous military accomplishments. Plan at least a half-day to explore the museum and be sure to have lunch at the Cubi Bar & Café, a replica of the famous Philippines Officers' Club, complete with aviation decor and memorabilia.
Of course, if you are fortunate to be in Pensacola during the Blue Angels practices (usually held mid-week), don't miss the spectacular air show followed by the pilot autograph session.
Explore History

Historic downtown tour on a Segway
Spend time soaking in the ambiance of the historic downtown with centuries-old colonial buildings with balconies, red-brick streets, and also charming squares shaded by old oak trees. One of the best ways to explore the downtown is via Emerald Coast Tours, which guides you on stand-up Segways (with instruction) or bicycles. Glide through Pensacola's historic village, observe costumed 19th-century re-enactors, and enjoy one of Florida's oldest churches, the 1832 Old Christ Church. Cruise past the colonial Seville Quarter and Palafox Street, situated at the heart of the downtown and also home to the Saturday Farmer's Market.

Palafox Street Saturday Farmer's Market
Get Lost

Pensacola's 1932 Old Christ Church
Perdido Key, Pensacola's westernmost barrier island is where you can chuck all your worries, grab your flip-flops, drink a cold one, and also even toss a mullet. "Perdido" is Spanish for "lost" and there's plenty of laid-back "beachy" charm to get lost in. For the best beaches to chill out, head to the National Seashore or also Perdido Key State Park.
Eat, Eat & Eat More

Mullet, a Pensacola catch
Make sure you stop at the Flora-Bama Lounge, a legendary beach bar on the Florida-Alabama border, with live music and also a renowned annual Interstate Mullet Toss, where the local fish is tossed over the state border raising money for charity.
 
Joe Patti's for fresh seafood to go
Pensacola is a town where farm-fresh produce and seafood meet traditional southern and multi-cultural creole cuisine. There are plenty of restaurants to enjoy. For a uniquely Pensacola picnic meal, head to Joe Patti's Seafood. A local institution since 1935, this is the place where locals shop for fresh seafood. Shrimp boats dock outside and deliver the daily catch, while inside customers stand in line along the counter to select their seafood as servers scoop (and will steam) fresh shrimp, crabs, clams, and cut-to-order fresh fillets of fish. This is a pick, pack, and go place and ideal for a beach picnic or an old-timey seafood experience.

Pensacola for fresh seafood and authentic Florida food
Other unique culinary stops that are sure to become favorites include Perdido Key's Fisherman's Corner Restaurant for shrimp & grits and bread pudding; Belmont District's Five Sisters Blues Café for southern comfort Andouille Crusted Shrimp, Chicken & Waffles, okra, collard greens, and black-eyed peas; Jerry's Drive-In for classic (and cheap) diner favorites of BBQ pork, fried mullet, and milkshakes; Marina's Oyster Barn, Red Fish Blue Fish, The Fish House (try the Grits a Ya Ya) for Pensacola seafood; and also locally owned Renfroe's Pecans for what else, everything pecan.
For places to stay, check out Pensacola rental accommodations – an easy source is FlipKey.

Explore Pensacola's history
History, beaches, natural beauty, and food – this is what you will experience while visiting Pensacola! It is also what you will fondly remember after you leave.
Yeah, let the good times roll … Laissez les bon temps rouler! 

AuthenticFlorida.com was named Best Travel Blog two-times at the Florida Sunshine Awards.
To receive Authentic Florida's free weekly ENEWs, sign up on our Authentic Florida home page.
To inquire about partnerships/advertising, please contact info@authenticflorida.com 
Proud Member of: 

---