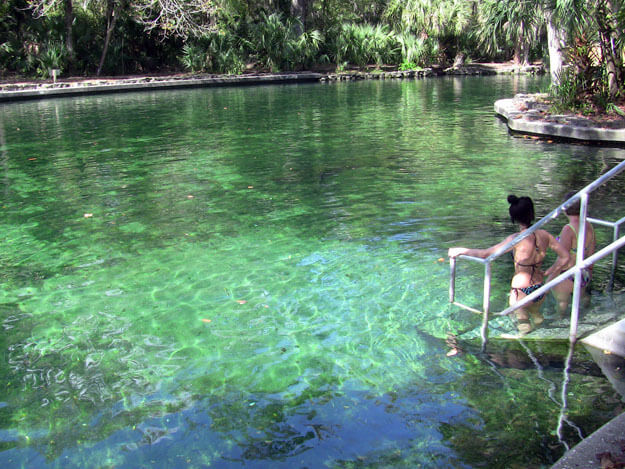 Summer is here with all of its sunshine, heat, and humidity. The hot summer days are also the ideal time to take a dip into some inviting "bubbling water" to refresh and renew as the thermometer creeps to the 100-degree mark. (FYI: "Wekiwa" is an Indian word for "bubbling water")
Wekiwa Springs State Park is a delightful destination about an hour north of Orlando and its major attractions. It's a great place to escape for a more natural adventure … where nature, history, beauty, and clear, cool spring water join forces to give you a welcomed "Old Florida" experience.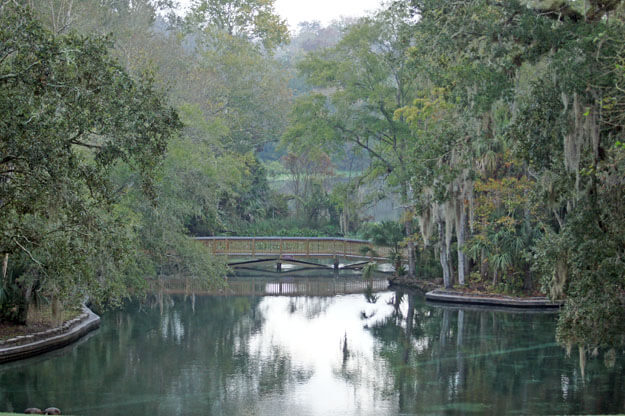 History of Wekiwa Springs State Park
Once inhabited by indigenous Timucuans and Native American Creeks who hunted and fished the region, Wekiwa Springs State Park sits on 7,800 majestic acres complete with nature trails, wildlife, a 72-degree (year-round) freshwater spring, and authentic Florida waterways.
The Wekiwa Spring discharges approximately 45 million gallons of cool, crystal clear water daily and is joined upstream by the Rock Springs Run, both form the headwaters of the Wekiva River, a 17-mile tributary of the St. Johns River. [Note: Spelling for Wekiwa Springs and the Wekiva River are different.]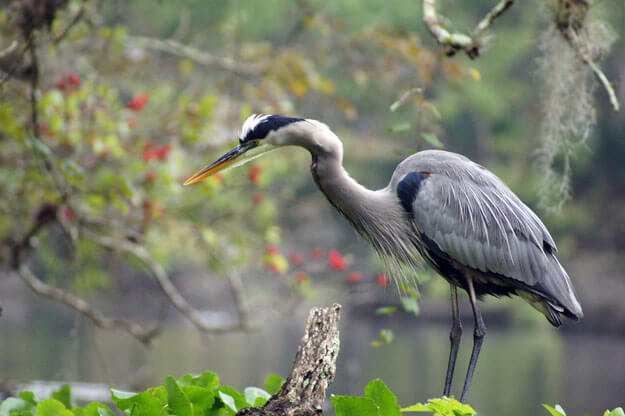 So Many Things to Do!
There's so much to see and do here — swimming, picnicking, hiking, biking, horseback riding, birding, or boating. The mainspring is a short distance beyond the ranger station where visitors can swim and picnic.  The nearby Nature Center provides an overview of the park and its wildlife. Also, Wekiwa Springs State Park is home to Indian middens and shell mounds. These are essentially ancient "garbage hills" which often contain pottery fragments, shells, animal bones, and artifacts.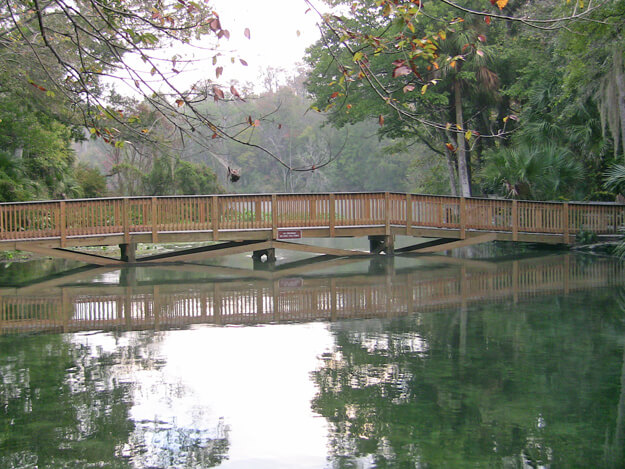 For a special treat plan to arrive early. The park opens at 8:00 am. Often in the early morning hours, river otters will swim and frolic almost undetected. You may spot a white-tailed deer in the nearby hammock, or see a Sherman Fox Squirrel (black face and white ears) foraging for acorns. Be prepared because you may see alligators floating like logs up the river as wading birds stalk prey along the shoreline.
Not far from the mainspring is a boardwalk where you can take a walk complete with ferns, mossy oaks, palms, and other native flora. Be sure to notice the flora and fauna. Wekiwa Springs State Park has 19 distinct biological communities in the park. These range from Flatwoods to hammocks, swamps to marshes, lakes, and streams. There is more diversity here than any single park in the state.  This diversity creates unique vegetation and is home to a wide variety of animal and bird species. Wekiwa Springs has Florida black bears, raccoons, bobcats, gray foxes, armadillos, 27 kinds of snakes, gopher tortoises, bald eagles, and plenty more.
A Paddler's Delight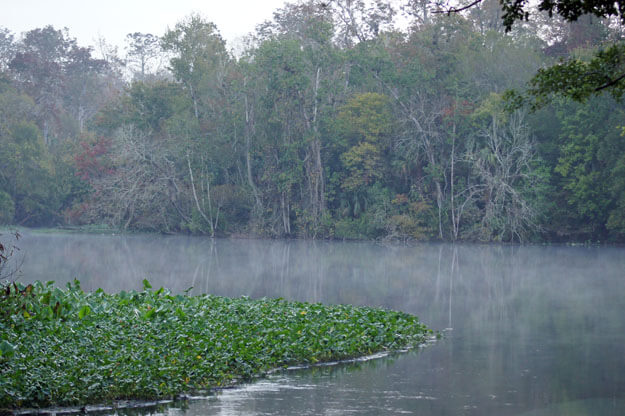 If you are looking for solitude, consider a kayak or canoe trip to see more of the park. Rentals are available in the concession area near the spring.  An easy paddle on the Wekiva River and up the Rock Springs Run convinced us that its designation as a National Wild & Scenic River was well-deserved. Florida wildlife is everywhere –– ospreys, limpkins, wood storks, ibis, egrets, herons, alligators, and loads of turtles sunning on the partially submerged logs.
The Wekiwa Springs State Park is a part of the Wekiva Basin ecosystem. Park neighbors include the Rock Springs Run State Preserve, the Lower Wekiva River Preserve State Park and the Wekiwa Springs State Park total almost 40,000 acres.  Needless to say, there are plenty of nearby parks to explore that are real treasures for the Central Florida region.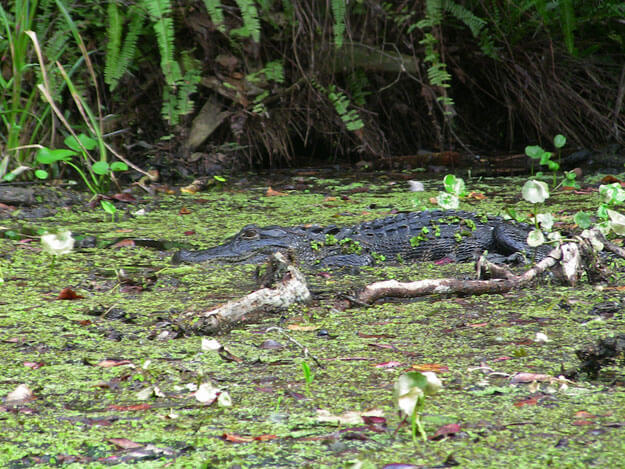 The next time we return and it's not so hot outside, we're going to plan a horseback ride and also take one of the recommended longer hikes. A horse camp and barn are near the north entrance with some great trails.  There's also plenty to explore in the flatwood, sandhill, and scrub areas. These are home to more unique plant and animal habitats.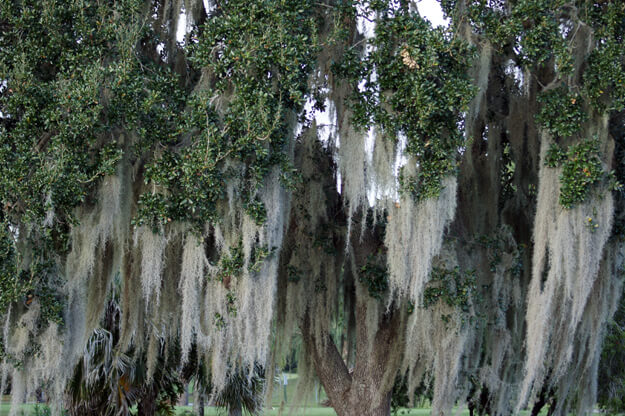 The park concession is open for your convenience daily from 9 am-5 pm.  Snacks and cold drinks are always available. On busy summer weekends, grill items such as hot dogs and hamburgers are also sold.  The concession stand usually has any item that you may have forgotten. These include insect repellent, sunscreen, an underwater camera, towel, or a snorkel mask.  You can also pick up a souvenir to remember your visit — like a Wekiwa t-shirt or hat!
Relax, Splash, and Explore at Wekiva Island
Wekiwa Island is one of Central Florida's favorite watering holes. The indoor/outdoor recreation complex is a great place to enjoy Florida's natural springs. The spacious 2,000-square-foot area offers many activities for landlubbers, like volleyball, cornhole, and a picturesque boardwalk that overlooks the river. Unwind with daily drink specials at The Tooting Otter craft beer and wine bar or enjoy a bite to eat at Without A Paddle Café.
Cabana rentals are available for group outings and celebrations of all kinds. Wekiwa Island is family-owned/operated and the facility is environmentally friendly.
With the growth and development that has spread throughout the Orlando and Central Florida area over the years, we are fortunate to still have these fine natural treasures.
Wekiwa Springs State Park truly provides a perfect oasis for suburbanites and also others who desire a different kind of escape to the simplicity of real Florida.
Want to explore even more sensational Florida springs? Check out: Our 15 Favorite Freshwater Florida Springs

AuthenticFlorida.com was named Best Travel Blog two-times at the Florida Sunshine Awards.
To receive Authentic Florida's free weekly ENEWs, sign up on our Authentic Florida home page.
To inquire about partnerships/advertising, please contact info@authenticflorida.com 
Proud Member of: 

---
Comments are closed.