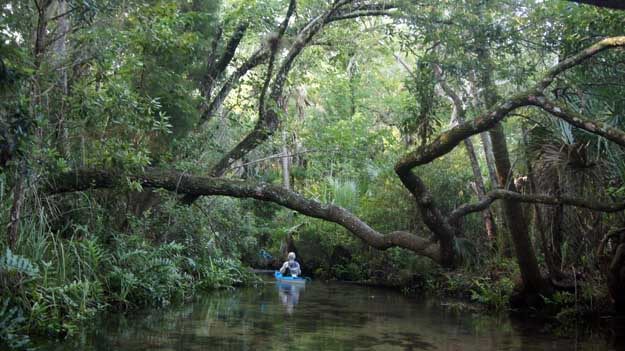 Baird's Creek, the Chassahowitzka River
Experience the Best of Old Florida on the "Chaz"
Locals call it the "Chaz," or the Chassahowitzka River, a waterway that winds through natural Old Florida in Citrus County, south of Crystal River and relatively unknown to many.
The otter family quietly slipped out of the water and onto the riverbank with barely a sound. On the opposite side of the river a raccoon was scouting the shoreline for breakfast within yards of her home, an uprooted Sabal Palm. Close by, I heard the loud grunts of a wild hog foraging for food behind the tall grasses. And if that's not enough, a young alligator, in stealth-mode began crossing the river nearby.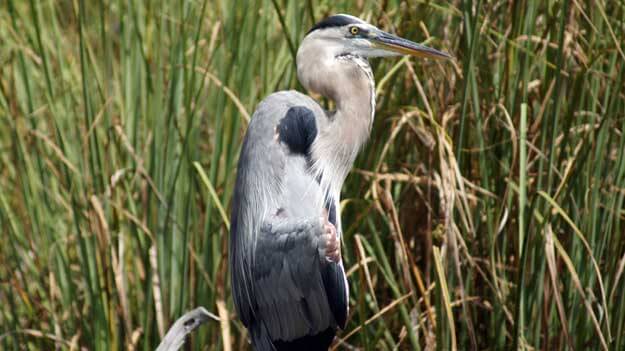 Great Blue Heron, on the "Chaz"
Minutes earlier, we had spotted a manatee and passed a family of dolphins. Nature was clearly abundant as we paddled one of Florida's hidden gems – the Chassahowitzka River.
Chaz-a-who? It's a good thing you don't have to be able to pronounce the name of this river to love it. Northwest of Tampa in southern Citrus County, the five-mile, shallow Chassahowitzka (Chass-a-how-itz-ka) will remind you of a "time before time" in Florida.

Seven Sisters Spring, Chassahowitzka River
Referred to as the "Chaz" by locals, the river is fed by several tributaries and springs appropriately designated as an Outstanding Florida Waterway. The combination of salt marshes, hardwood swamps and crystal-clear springs make it one of the most memorable experiences in the state.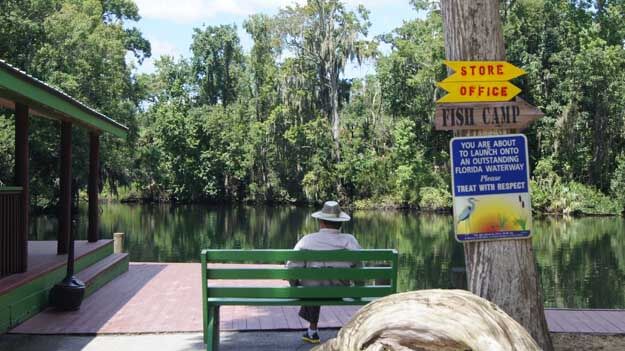 The fish camp, the Chaz River
Because we wanted to make the most of our initial visit, it was recommended we enlist a local for a personalized eco-tour. Aardvark's Florida Kayak Company is local company that will help you with the adventure. You'll want to meet at the Chaz boat ramp, which is at the end of State Road 480, off U.S. Highway 19.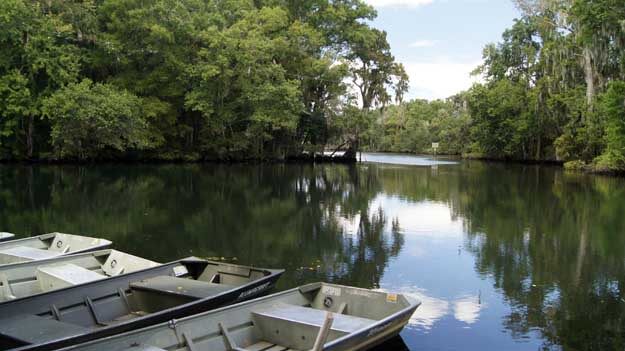 The Chassahowitzka River boat ramp
Equipped with kayaks and paddles, and loaded with in-depth knowledge and expertise, your guide will likely point out birds and an abundance of wildlife, including native plants, while paddling through tributaries you may not be able to find on our own.

The scenic Chassahowitzka River
Our favorite paddle ride was the trip up Baird Creek, a beautiful canopied ribbon of clear water flowing into the Chaz. At the end of the scenic trip was the "Crack," a legendary, and quaint, small spring known and loved by locals. It was small, intimate and to this day, one of my all-time favorite Florida experiences. (I promise, you don't want to miss this one.)

Maggie's Crack, Baird Creek, off the Chaz
We also traveled back into the Salt Creek area, another Chaz tributary loaded with birds, alligators and lush Florida vegetation. If you don't have a guide consider downloading a map and getting advice from the Chaz locals before leaving the boat ramp, so you'll know how to navigate this area and enjoy this serene and spectacular paddle ride.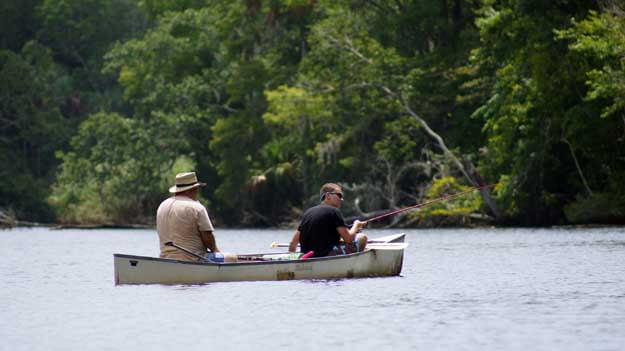 Fishing on the Chaz 
You'll immediately notice that this river is atypical of most Florida waterways where crowds often joy ride and party. Surrounded by the Chassahowitzka National Wildlife Refuge comprising over 31,000 acres, those who visit the Chaz are often a serious lot of anglers, crabbers, and eco-tourists ready to experience a true "wilderness." While you don't have to be serious, you'll be in awe of this very special slice of "real" Florida.
Getting There
To get to the area, take Interstate 75 to Hwy. 98, through Brooksville to U.S. 19 to State Road 480. Proceed west on State Road 480 (also called Miss Maggie Drive); the Chassahowitzka Boat Ramp is located at the end of this road. The refuge is located approximately three miles down river from the boat ramp.
Staying There

The Chassahowitzka Hotel
We stayed at the Chassahowitzka Hotel within walking distance to the Chaz boat launch, near the Chassahowitzka Campground. Fourth generation Floridians David and Kim Strickland own and operate the hotel, which dates back to the Spanish American War and was begun by David's great-grand parents. Later refurbished and restored to its original two-story pine and cypress interior, it's a quiet retreat and "Florida heritage stay" while enjoying the area.
The Plantation, Crystal River
If you want to stay near Crystal River, the Plantation Resort is one of the nicer accommodations in the area. It's fairly reasonable, close to the springs and centrally located. You'll enjoy the amenities of the pool, restaurant and access to water craft, as they have guides and rentals available including boats and kayaks.
Eating Out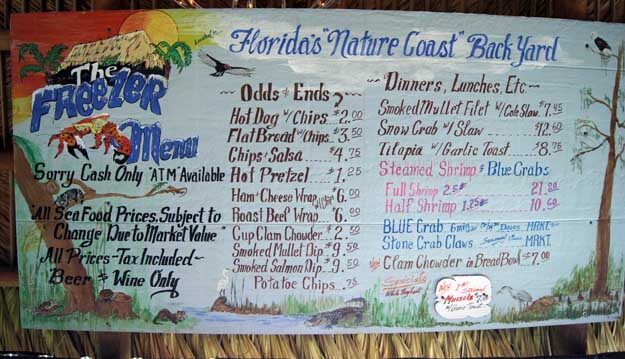 The Freezer Restaurant, Old Homosassa

We love local and authentic Florida food and tried The Freezer, in Old Homosassa. It's a converted old bait freezer, now a restaurant and tiki bar overlooking Otter Creek. I recommend sticking with the local catch: smoked mullet, blue crab, or the steamed shrimp. And when in season,  the stone crabs are as good as it gets.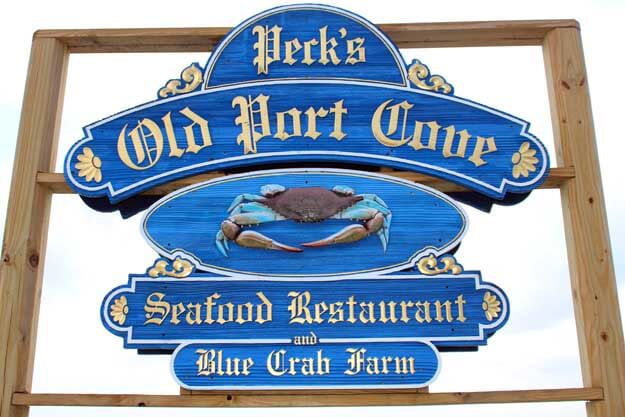 Peck's Old Port Cove, Ozello Trail, Crystal River
Another favorite restaurant in the area is Peck's Old Port Cove in Ozello. It's a bit of a drive north near Crystal River, but if you want a true Florida seafood restaurant, try Peck's. They also will cook any "fresh catch" you may have caught.
Oysters of Crystal River
Another local favorite of ours in Crystal River, is Oysters of Crystal River. Enjoy the freshly caught seafood, mullet dip, tasty gumbo, hush puppies and greens in a family style setting.

Yellow Crowned Heron, The Chassahowitzka
Whether you go for a day, or plan an extended stay, you will enjoy old Florida on the Chaz. It doesn't get much better for the authentic Florida traveler.
To receive Authentic Florida's free ENEWs, featuring travel and living updates, delivered weekly, sign up on the home page Authentic Florida, voted Blog of the Year and Best Travel Blog at the Orlando Sunshine Awards.  
---
Comments are closed.
If You Go
Helpful Tips for Your Visit
Aardvark's Florida Kayak Company
(352)795-5650
8551 W. Miss Maggie Drive
Chassahowitzka, Florida
Phone: (352)382-2075
Boat ramp is situated near the campground
Phone: (352)382-2200
(They also rent kayaks, canoes)
The Plantation on Crystal River
The Freezer Restaurant & Bar
5590 S. Boulevard Dr.
Homosassa (352)628-2452
Pecks Old Port Cove Restaurant
139 North Ozello Trail,
Crystal River (352)795-2806