Up in the Trees & On the Water … Explore Open Spaces and Vibrant Places in Pasco County
Just 30 minutes north of Tampa and 75 minutes west of Orlando, Pasco County is home to endless outdoor adventures, including treetop aerial experiences, sunset island cruises, river kayak trips, Stand Up Paddle Board (SUP) excursions – and one of the best annual outdoor festivals honoring the little petite fruit known as the kumquat.
Among acres of ranches and pastureland in eastern Pasco County, nestled within a shady, oak-canopied forest, you'll find Treehoppers, a zip-line aerial adventure park. At check-in, pick up your equipment and receive an instructional briefing, then gear up for thrilling fun. Harnesses with various safety clasps are provided and designed to create a safe environment so that you can become immersed in your adventure.
The park is designed much like a wagon wheel, with a central starting point high above on a large platform. From there, participants choose a "spoke of the wheel" depending upon the level of difficulty. The challenge is to walk, crawl, climb and zip through the forest across boardwalks, through swinging nets and hoops, over logs and branches, zipping between wooden perches. Watch the excitement as families, children and "friend" groups become absorbed in the experience and spectacular vistas high above the treetops.

Treehoppers Zip Line
You'll be transformed as your courage and confidence grow with each level. However,  the moment of truth will come when harnessed to zip lines, taking a leap of faith and jumping off the platform, feet dangling and wind rushing, flying carefree through the air. This feeling of "letting go" makes it all worthwhile.
After each trek, you'll be cheering with family and new friends with "high fives" all around.
Pasco Stilt Houses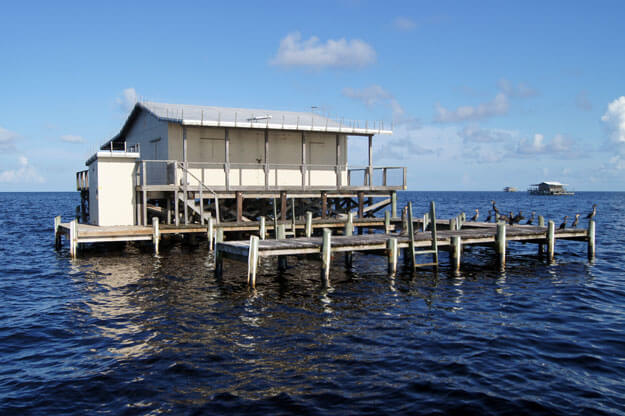 Pasco Stilt House 
Originally constructed as wooden fishing camps elevated over water on deep pilings, these historical stilt houses date back to the early 1900s. They are fascinating reminders of Florida's past and are still being used by local families today. You can view these nine surreal stilt houses situated off the shores of New Port Richey on the Pasco County coast. Towering over clear shallow water, with pelicans and cormorants perched along the railings while mullet jump, these structures provide a platform to enjoy the thriving marine life below.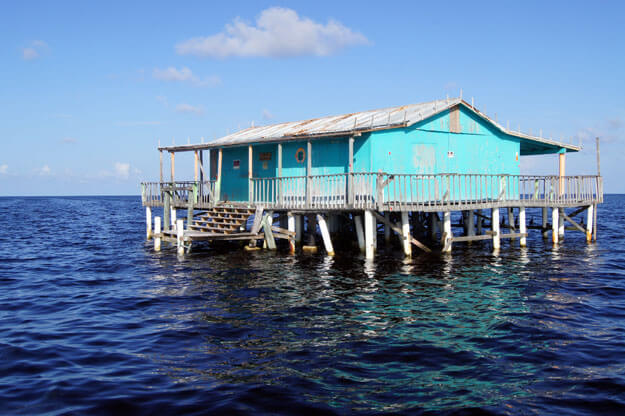 There are nine Pasco Stilt Houses
Before motorboats, fishermen would "pole out" (using long poles) to the fishing flats where fish were plentiful. Today, anglers still catch mullet, redfish, flounder, snook, cobia, blue crab and more. During the early days, after a rigorous poling trek to the grassy flats, fishermen created resting places to prolong their fishing time. These docks with platforms and sheds eventually became known as stilt houses. "Squatters rights" determined the location for each fisherman as they found the spot they liked and built their lodge over the water. At one time, there were as many as 20 houses, but in 1968 Hurricane Gladys destroyed more than half. The Florida Legislature took steps to prohibit homes from being rebuilt. But Pasco County fought back, and the houses were "grandfathered in" allowing homeowners to rebuild. The houses are remote. Fresh water must be hauled in; some have generators, others have no electricity at all.
One of the best ways to see the stilt houses is via a sunset cruise from Port Richey's Gill Dawg Marina. Go with a planned tour, or rent your own pontoon boat. Once on the Gulf, you'll see these rustic fishing lodges, and as the sun sets, the sky will transform into an amazing Technicolor pink-tangerine vista with the Pasco County stilt houses silhouetted against the sunset sky.
New Port Richey fishing boats 
Anclote Key Preserve State Park
Anclote Key Preserve State Park
Coastal Pasco County is beautiful and a good way to enjoy the waters is with a boat trip to Anclote Key Preserve State Park, one of Florida's most stunning barrier islands, located off the county's southwest coast in the Gulf of Mexico.

Anclote Key is known for shelling
Rent a pontoon boat (or take a chartered ferry) to an island the locals call the "sand bar," a popular destination north of Anclote Key. Here you'll join many boaters as they swim and snorkel in the clear shallow waters, picnic on the boat and visit with newfound friends. Then cruise to the Gulf side of Anclote Key where you'll be mesmerized by the pristine white sandy beaches and surrounded by aquamarine water under deep blue skies. If you are fascinated with shells, you'll love the abundance of brightly colored specimens that the island is known for. Hike to the Anclote Key's historic 1887 lighthouse that frames a picture-perfect background. And you just might get lucky if a family of dolphins escorts you on your return trip, surfing the boat wake and jumping in and out of the waves.
River Cruising on the "Cotee"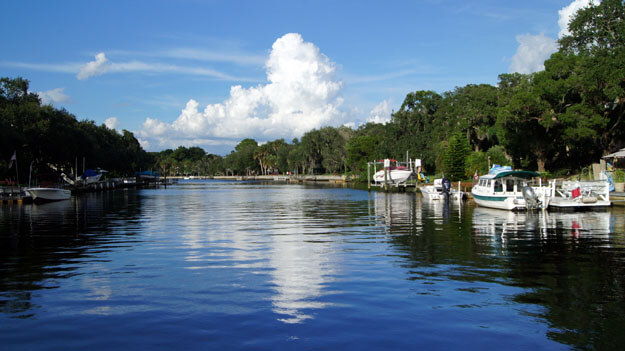 Pithlachascotee River or the "Cotee"
Pasco County's Pithlachascotee River (Cotee to locals) is a scenic waterway that winds through New Port Richey. Many "old" Florida homes, including winter residences for several 1920's era Hollywood legends, line the river. Singer Johnny Cash later frequented the area, staying at his in-law's river bungalow to fish and find solace.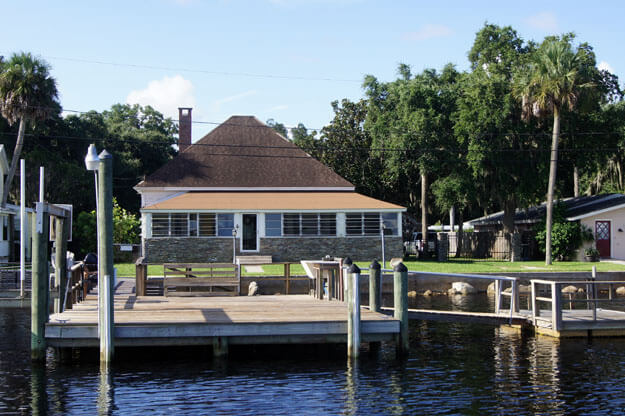 River bungalow once owned by the Cash family 
Contact a local Pasco County outfitter (check listings on Visit Pasco) and meet up at Francis Avenue Park, east of Hwy 19. The outfitter will bring kayaks and provide helpful tips and direction for the one-way journey. Glide with the tide, down river for a leisurely two-hour paddle while admiring the Florida homes, the scenic shady river walk and beautiful birds. Your journey ends at the Gill Dawg Marina Tiki Bar & Grill where you can deliver your kayak, then stroll over to the nearby docks for a delicious fresh seafood lunch overlooking the river.
Werner-Boyce Salt Springs State Park
Werner-Boyce Salt Springs State Park is mid-way along Pasco's coastline. For a fun adventure, try a Stand Up Paddleboard (SUP) ride through the inlets and bayous of the park's salt marshes. Nearby Brasher Park is a good launching point where there is calm water and an easy paddle to the park. Your SUP outfitter will instruct you as to how to paddle, and you'll easily acclimate to this fun sport that gives you a fine view of the marine life below.

Try a Stand Up Paddle Board through the inlets and bayous
Once on the water, you'll love this stunning coastal park, rimmed by mangroves and harboring a plethora of birds and wildlife. You may spot a bald eagle in flight, an osprey catching its prey, dolphins and even manatees. Florida manatees are massive, yet harmless creatures with thick leathery gray skin. Often found munching on sea grass they glide across underwater meadows occasionally surfacing for air, poking a small whiskered snout out of the water.
Pasco County salt marshes
Authentic Things To Do Off the Water
Plan to Attend the 2019 Kumquat Festival (the 2018 Festival took place on Saturday, January 27th and was a big success!)

Dade City Kumquat Festival (courtesy, Kumquat Festival)
To the east in Pasco County, visit Dade City when it celebrates its "Ode to the Kumquat" during the Kumquat Festival honoring its distinction as the world's leading supplier of the tasty petite fruit. Saturday, January 27th marked the 2018 festival date where over 40,000 visitors joined in the fun.

Florida kumquats
So what exactly is a kumquat? Orange in color, this small bite-sized fruit can be eaten – skin and all, providing a flavorful, pungent sweet and sour taste. It is a member of the citrus family and often baked into desserts and used as a glaze or flavoring for main dishes.
Held in downtown Dade City, the Kumquat Festival is a homegrown family event provides fruit tastings of every imaginable combination including kumquat pies, cookies, smoothies, ice cream, marmalade, marinades, vinaigrettes and salsa. And there is plenty of fruit to purchase for creating your own signature dishes at home.
Local entertainment kicks up the celebration giving the event a special homespun feel with acts such as the Strawberry Express Cloggers, the Southern Gospel Centurion Trio, and the Cypress Creek Dixieland Band. And don't miss Mr. and Ms. Kumquat, the arts and crafts exhibition, car show and the downtown storefronts dressed in what else, but "kumquat themes."
Visit Aripeka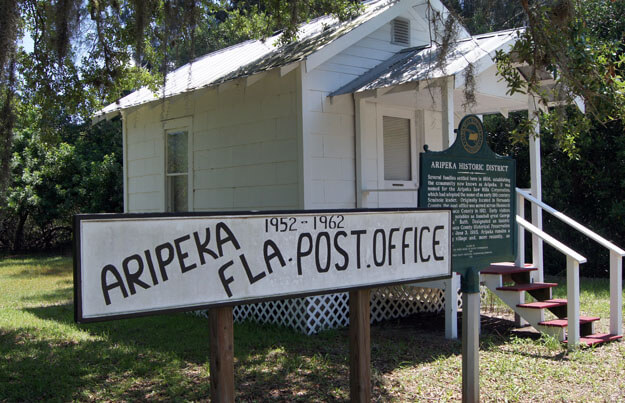 Hidden Aripeka in north Pasco County
And don't miss the community of Aripeka, situated on the Pasco-Hernando County line and named after a Seminole Indian chief. Going through the area is a drive through Florida's past. Take Hwy. 19 to County Road 595 (or Osowaw Blvd.) and meander these backroads for random glimpses of "old Florida." You can't help but love the tiny old homes and classic post office. Make sure you drive out to the local hangout, the Norfleet Fish Camp near Hammock Creek. Baseball legend Babe Ruth spent time fishing and hunting in the area.
JB Starkey Wilderness Park
East of New Port Richey is the JB Starkey Wilderness Park, 8,000 acres of Florida pine flatwoods, cypress swamps, marshes, sand hills and scrub. Now connected to the Suncoast Biking Trail, the former ranch dates back to 1937 when Jay B. Starkey grazed his cattle there. Today it is one of the largest undeveloped tracts in Pasco County. Twenty-seven miles of marked trails are available for biking, hiking and equestrian riding.
Key Vista Nature Park
Key Vista Nature Park
In southwest Pasco County, the Key Vista Nature Park in the town of Holiday is a little gem worth visiting. Aptly named, it takes a short, 10-15 minute walk down a sandy trail shaded by pine trees to get there. You're likely to encounter a slow-moving gopher tortoise while admiring Florida's purple berries and wildflowers along the way. The trail ends at the Gulf of Mexico where a climbing tower provides a spectacular birds-eye view. Nearby benches offer a serene place to rest and enjoy the quiet.
To receive Authentic Florida's free ENEWs, featuring travel and living updates, delivered weekly, sign up on the home page Authentic Florida, voted Blog of the Year and Best Travel Blog at the Orlando Sunshine Awards.
---