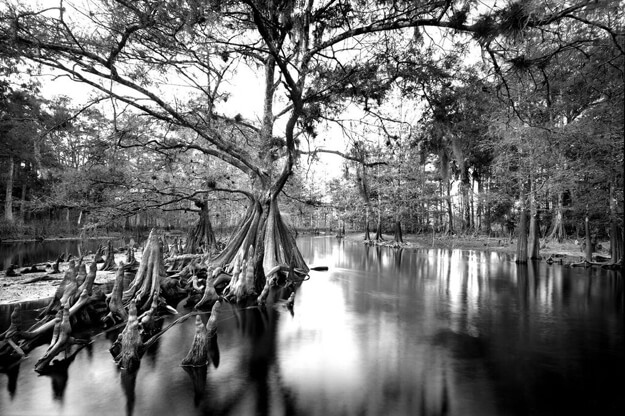 Florida art, artists and their craftsmanship nourish our souls and remind us of the importance of being authentic.  Art elevates us to our highest good and shapes our imperfect world.  Artists are truly the most courageous individuals – following their passion regardless of the opinions of others – and for them, I have the highest regard.
We realize that art is very personal and that each of us looks at art differently.  So, when it comes to Authentic Florida art, we will feature the visual arts and artists who capture authentic Florida, through the beauty of their artistry.
Clyde Butcher, Venice & Everglades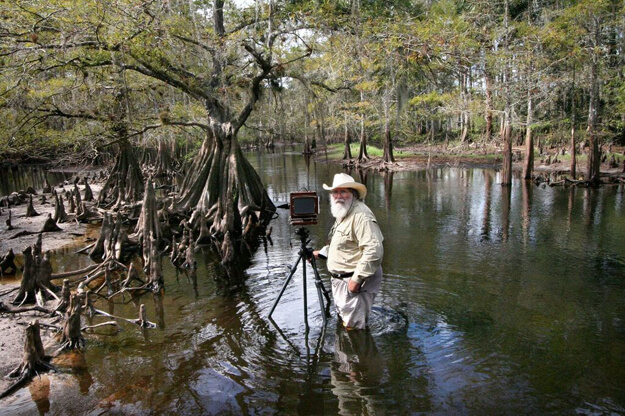 Florida photographer Clyde Butcher has had an enormous impact on our deep appreciation of the Florida environment and black & white photography. Clyde Butcher depicts Florida's beauty through texture, light, and nature's perfect composition.
He has two galleries – one in Venice and the other off Hwy. 41 in the Everglades.  We highly recommend if you are ever in the Everglades, to stop at the  Clyde Butcher Big Cypress Gallery in Ochopee.  His large-sized photography will take your breath away and inspire you to appreciate Florida's beauty even more.
We visited the Big Cypress Gallery following a planned trip known as the Swamp Walk. Butcher owns acres of land behind the Everglades Gallery. He sponsors special forays to help visitors acquaint themselves with the beauty of the Everglades and the Cypress Swamps. We were hosted by a botanist and a biologist and had one of the most memorable Florida Saturdays ever.  There were no alligators in our walking path or creepy crawlies. There was just pristine beauty, gorgeous wild plants, trees, orchids, and vast stillness.
For more information on Clyde Butcher visit: www.clydebutcher.com
The Highwaymen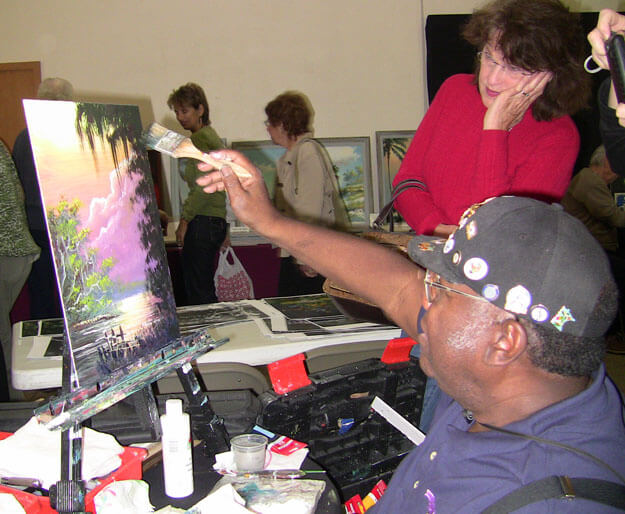 The Highwaymen are a group of 26 self-taught African-American artists from Fort Pierce, Florida who began painting in the 1950s.
At the time, segregation was part of American life and the Highwaymen were unable to show or sell in art galleries. These men (and one woman), resorted to selling door-to-door – from their cars, on roadsides, in offices, on the streets  – anywhere they could sell their work.
They were inspired by a well-know Florida landscape artist named Ernest "Beanie" Backus. He mentored the leader of the Highwaymen, Alfred Hair, a young, ambitious artist who organized his friends to do the same.  To Hair's friends, this was a good way to make a living and find an alternative to picking oranges and tomatoes.
Their landscapes often depict a Florida paradise of billowing clouds, palm trees, lakes, oceans, and also spectacular sunsets. Their work reflects the beauty of old Florida.
A collector and curator by the name of Jim Fitch coined the name Highwaymen. Once the name caught on and the media began to take an interest, collectors began to notice.
Now the art – some say numbering over 200,000 pieces – by the group, is highly valued and also very collectible.  The Highwaymen are indeed an indelible part of American and Floridian folk history.

AuthenticFlorida.com was named Best Travel Blog two-times at the Florida Sunshine Awards.
To receive Authentic Florida's free weekly ENEWs, sign up on our Authentic Florida home page.
To inquire about partnerships/advertising, please contact info@authenticflorida.com 
Proud Member of: 

---