Fall is the season to be outdoors, pick Florida's native Beautyberries – distinctive with the bright purple berries – and make a divine homemade jelly with a rich, flavorful taste.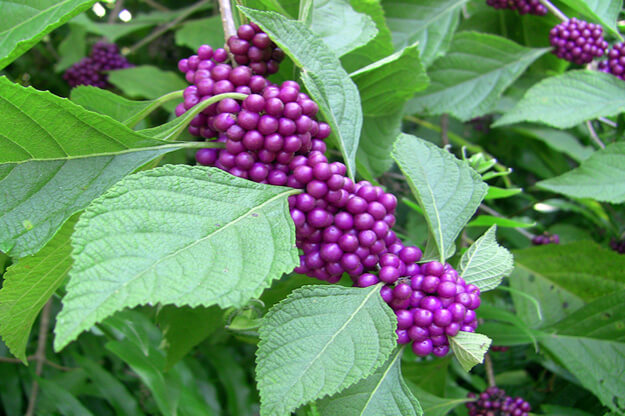 The Florida Beautyberry
Fall is the time to pick Florida's native Beautyberries (Callicarpa Americana) that grow on shrubs in clusters – along roadsides, in pineland and hammock forests, or in parks. Beautyberries are distinctive with the bright purple berries growing on long woody stems, with green leaves.
The first question most people ask is, "Are beautyberries edible?"
The answer is that beautyberries are not very tasty when picked directly from the bush but are delicious when made into a jelly or as a sauce over ice cream.
Some say the jelly tastes like an elderberry jelly. I think it has a very distinct "grape-like" taste – but with a unique flavor – all to its own.
If beautyberries are not growing in your yard, this recipe will require a hike or walk outdoors as the berries are not usually sold commercially, unless purchased in a potted container. This recipe is ideal for those who like to forage outdoors.
To help you identify outdoor areas that may have beautyberries, call your local agricultural extension office and they should be able to direct you to public locations that will allow you to pick your own. Also, most Florida plant nurseries have the shrubs for sale, so you can replant them in your own yard. Even if you don't make the jelly, the bush is a lovely addition to your landscape and will attract wildlife, especially mockingbirds.
So, grab a bucket and collect the berries by slowly combing off the berries from the branches – letting them fall into the containers. Or you may want to take garden clippers to cut the branches, and take them home to remove the berries from the stems. I recommend taking 12-15 branches to get the needed 1 & ½ quarts of berries.
Note
Beautyberries are not toxic and were once used by Native Americans for medicinal use (to treat fever, dysentery, malaria, and rheumatism), while the plant was used as a mosquito repellant. While this recipe was tested and consumed by me, it is still made from wild berries, and you should make this recipe at your own risk.
Also, please follow the required steps for safe canning procedures, sanitizing containers, and refrigerating the jelly after canning.
Ingredients for Florida Beautyberry Jelly 
1 1/2 quarts beautyberries (6 cups), rinsed
2 quarts water (8 cups)
6 cups of sugar
3 tablespoons lemon juice
1 package of Sure-Jell pectin (1.75 oz)
Other:
1 6-quart sauce pan
1 ladle
Cheesecloth (or a muslin cloth, or tea towel) – or a large handheld strainer, by pressing the juice out of the berries using a spoon
9 – 8 oz. glass canning jars, sterilized
Recipe for Authentic Florida Beautyberry Jelly
The first time I made this jelly it did not "jell" so I canned Beautyberry Sauce to pour over ice cream, so if you are new to canning and you are unable to get your jelly to "jell" take heart, the sauce is out of this world and worth the effort. The second time I made it I revised the recipe, and it worked but I almost prefer the beautyberry sauce. So whether you get sauce or jelly, you'll be glad you made it. The flavor is glorious and totally unique.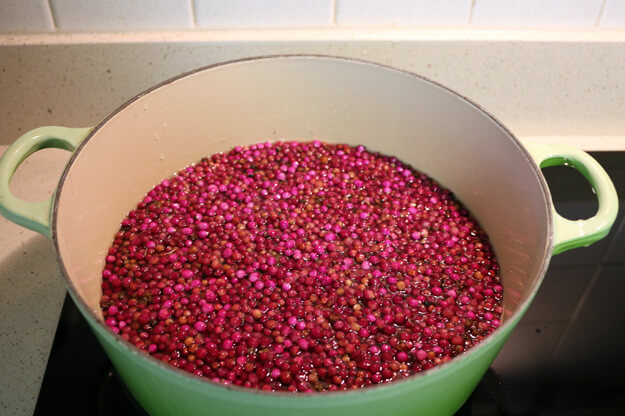 Step One
Wash the beautyberries in a colander to remove unwanted twigs and leaves.
Place the 1 & ½ quarts of beautyberries into a 6-quart pan. Cover the berries with 2 quarts of water. Cover with a lid and bring to a boil, cooking for 20 minutes. Set aside to let it cool down for handling, about 10-15 minutes.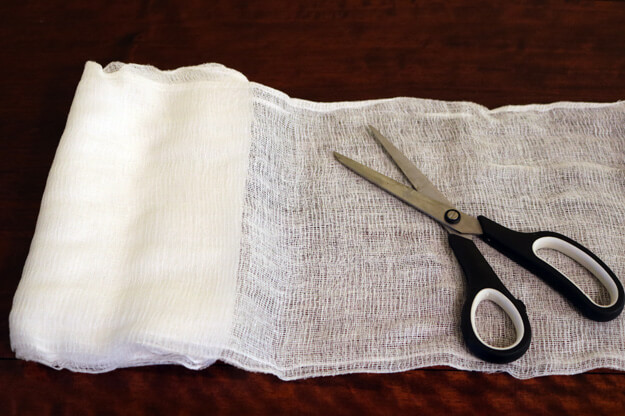 Step Two
While the berries are boiling, measure 3 – 24" pieces of cheesecloth (or use a muslin cloth, or tea towel), layering one on top of another. Alternatively, if you want to use a large hand strainer by mashing the berries to remove the sauce, that works too.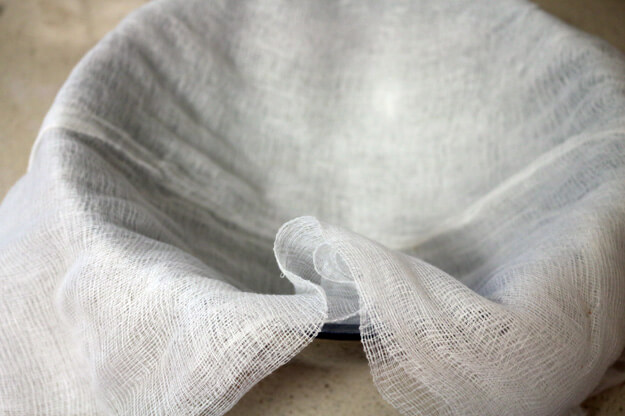 Take a large bowl and place the cheesecloth in the bowl.
Step Three
Next, ladle or pour the boiled berries and juice into the cheesecloth. Pull the ends of the cheesecloth together to form a ball, knotting the top, while squeezing the juice into the bowl. Squeeze the remaining juice out of the ball.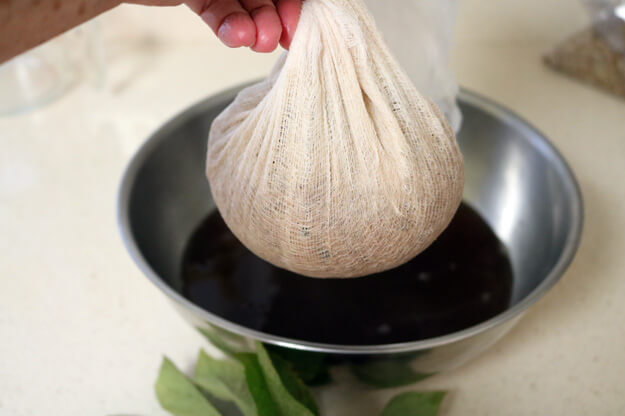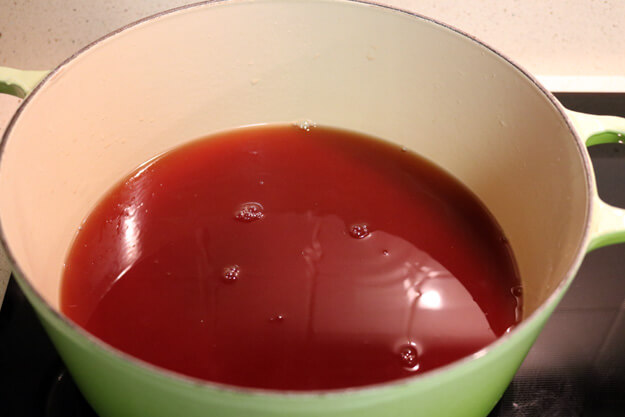 Step Four
Take the remaining juice and place it back into a clean pan. Add: Sure Jell pectin, bring to a boil.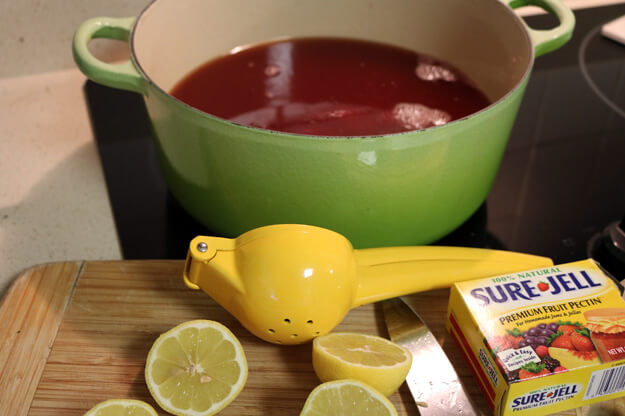 Next, add 6 cups of sugar; 3 Tablespoons fresh squeezed lemon juice. Continue to cook at a steady boil for another 2 minutes or until the juice begins to thicken, coating the back of a spoon (or reaching 212 degrees with a candy thermometer). I found that the jelly thickened even more after canning, sitting over night.
Remove from heat, and skim foam from the beautyberry juice with a spoon.
Step Five
Using a ladle, pour the beautyberry juice into the sterilized jars, securing the lids on tightly.
Notes:
Keep one jar as a tester, to see if it "jells" – if it does not, then use it for the sauce. If there are any canning issues, call the Sure Jell folks at 800-437-3284 as they are good at troubleshooting issues.
Warm Beautyberry Sauce poured over vanilla ice cream
Recipe adapted from Polly Ann Moore from Ft. Pierce, grandmother, and inspiration for the website Suwannee Rose, created by her granddaughter Danielle devoted to creating seasonal "real" Florida food while traveling the state.
Looking for more delicious recipes with berries? Check out this one for delicious blueberry muffins!

AuthenticFlorida.com was named Best Travel Blog two-times at the Florida Sunshine Awards.
To receive Authentic Florida's free weekly ENEWs, sign up on our Authentic Florida home page.
To inquire about partnerships/advertising, please contact info@authenticflorida.com 
Proud Member of: 

---
Comments are closed.