Are you looking for a fun Florida day-trip getaway? Look no further than the Florida Black Bear National Scenic Byway! This 128-mile picturesque highway runs through the Ocala National Forest and has four starting points: Ocala, Pittman, Ormond, and Palatka. Several famous movies were filmed there like Creature from the Black Lagoon and Tarzan.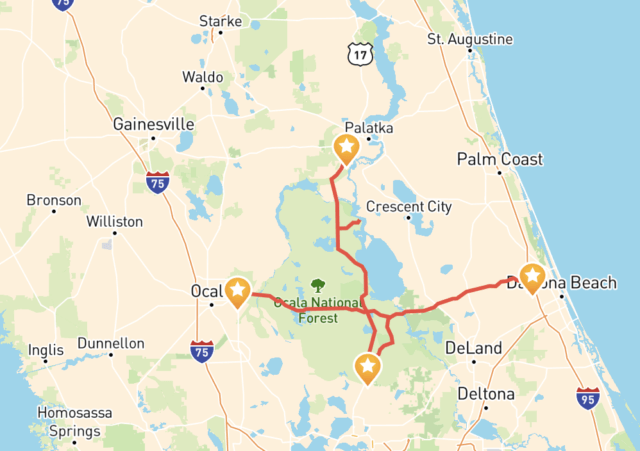 The road surrounds an area known as the "Big Scrub", the largest sand pine forest. This was created from ancient sand dunes capped with vegetation adapted to a lack of water. Check out our list of all the things to do for an amazing Florida day trip!
A shallow pool and sandy beach meet the crystal blue Alexander Spring making it popular for family swimming and diving. The seven-mile Alexander Creek flows from the spring to the St. John's River with easy access for boating. Next to the spring, the Timucuan Trail is perfect for a short hike surrounded by the semi-tropical plant life. Educational signs share cultural information about the native Timucuan people who once lived in the area, and also identify live plants used by the natives in their diet.
Activities: Mountain Biking (Paisley Woods Bicycle Trail), Camping & Cabins, Fishing, Hiking (Timucan Trail, Florida Trail), Birding, Wildlife Viewing, Picnicking, Boating, Scuba Diving, Swimming
Located in Barberville, the Barberville Pioneer Settlement offers an educational look at the pioneer life of yesterday. It began in 1976 when a group of Volusia County teachers: Lura Bell, Anne Johnson, Mary McClancy, Dorothy Felton, Marion Hillabold, Shirley Keppel, Dorothy Johson, and Viola Pierson founded the Pioneer Settlement for the Creative Arts, Inc., a not for profit organization.
The property was first known as the Center School of Barberville, but the growing need for students created a demand for more space. They began moving local and regional historic buildings onto the property and a "village" setting emerged.
The Barberville Pioneer Settlement's mission is to educate and entrust the public and future generations with knowledge of the Pioneer lifestyle, through hands-on experience, folklife demonstrations, preservation, and historical exhibits.
Some of the buildings you can see here include: a railroad depot, community store, pottery shed, log cabin, church, post office, print shop, carriage house, woodwright shop, and blacksmith shop.
In addition, make sure to visit during their annual Fall Country Jamboree which features folk music, arts and crafts show, corn boil, sugarcane boil, living history demonstrations, and much more.
Near Ormond Beach you can find Equestrian Adventures of Florida, owned by Jennifer. They offer a variety of rides such as a Beach Tour, State Park Tour, a Romantic Beach Ride, Lessons, and Custom Packages as well! The Beach rides take place in Palm Coast and the State Park rides take you through the state parks of Volusia and Flagler counties. Jennifer herself says that being around animals, particularly horses, brings peace like no other and she wanted to share that joy with others! They have 11 horses in the herd: King, Jolly, Jazz, Midas, Tex, Poncho, Magnum, Lucky, Rosso, Triton, and Soldier, all who enjoy the rides just as much as the visitors! Schedule a ride here!
If you want to make it a vacation vs a day trip, check out: 12 Authentic Things to Do on the Palm Coast and Flagler Beaches
Juniper Springs, located between Ocala and Ormond Beach Florida is one of the oldest and best-known areas for day trips on the East Coast! It was first constructed in the 1930s by the Civilian Conservation Corps and has hundreds of tiny bubbling springs.  In addition, there are massive springs gushing out of the earth within the desert-like Big Scrub area of the Florida Black Bear Scenic Byway.
Activities: Camping & Cabins, Hiking (Juniper Springs Nature Trail), Wildlife & Plant Viewing, Outdoor Learning, Boating, and Swimming
Check out: Our 15 Favorite Freshwater Florida Springs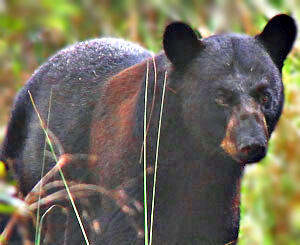 Lake George State Forest is located between the towns of Barberville and Astor. The forest is made up of four tracts of land including slash pine, longleaf pine, bottomland hardwoods, and interspersed cypress and bay depressions. In addition, this includes part of an extensive wildlife corridor that provides habitat and roaming areas crucial to the survival of the Florida black bear population in the area!
The Bluffton Recreation area in the forest was discovered by botanist William Bartram in 1773. He noticed massive mounds of snail shells piled up on the shores of the St. Johns River.  In fact, these were artifacts of civilizations who had used the waters of the river for sustenance and travel. Today the Bluffton recreation area leads you into the past and through habitats common to the uplands along the St. Johns River.
Activities: Interpretive Trail, Fishing, Canoeing, Picnicking, Wildlife Viewing
Ravine Gardens State Park has two ravines that are up to 120 feet deep as well as a spring-fed creek called Whitewater Branch. In 1933, the ravines were transformed into gardens by the federal Works Progress Administration, some of which still exist as formal gardens and trails! Make sure to visit during azalea season, January to March. In fact, the eighteen different types of azaleas follow a "rolling bloom" and top out with about 50 – 60% of the plants blooming simultaneously.
You can visit for a stroll along the gardens and trails, or even go on a ranger-led hike of the area!
Activities: Bicycling, Picnicking, Geo-Seeking, Hiking (Main Park Drive, Azalea Trail), Tours, Wildlife Viewing
Salt Springs Recreation Area is located within the Ocala National Forest and the Florida Black Bear Scenic Byway in a lush and tropical setting. As the name suggests, there is a natural spring in the middle of the recreation area which contains potassium, magnesium, and sodium salts. This gives the water a slight salinity!  Because of this, the spring was named Salt Springs.
Activities: Camping and Cabins, Fishing, Hiking (Bear Swamp Trail, Salt Springs Wildlife Observation Trail), Plant and Wildlife viewing, Picnicking, Boating, and Swimming
Silver Glen Springs is a crystal-clear spring that runs into Lake George, the largest of the St. Johns River Chain of Lakes. Not only is it a possible spot for visitors to visit for a Florida day trip, but it also is an important archeological site!
Activities: Hiking (Lake George Trail, Spring Boils Trail), Outdoor Learning, Boating, Swimming
Located on the Florida Black Bear Scenic Byway, Silver Springs State Park is located in Marion County and contains Silver Springs, Florida's first tourist attraction! The 4,000-acre Silver Springs State Park includes not only the springs but the entire 5-mile Silver River and surrounding sandhill forest. Silver Springs State Park Florida is jam-packed with fun activities and has plenty to do to fill an entire day trip.
Glass-Bottom Boat Tour
An absolute must-do at Silver Springs State Park is the World Famous Glass-Bottom Boat Tours. They have two options: 30 and 90 minutes! You'll see several species of fish, ancient Native American and Spanish artifacts, and even underwater movie props from when Hollywood productions flourished at the park!
Silver River Museum & Environmental Center
For an educational experience, stop by the Silver River Museum & Environmental Center located within the park's campground entrance. The museum has two exhibit areas: The Main Museum and The History Wing. The Main Museum features exhibits related to Florida geology, paleontology, archaeology, and natural history. The History Wing exhibits pertain to Marion County and Florida history.
Cracker Village
Another fun activity is visiting the Cracker Village within the State Park, a replica of a 19th-century pioneer settlement. You can discover what Florida was like at the turn of the century. Tours are given on the 2nd and 4th Saturday of every month at 10 am. During the tour, The buildings will be open and unlocked, and on most tours, the blacksmith will have the forge fired up!
Restaurants & Food
Afterward, if you're looking for a great meal at the park, you can stop by the Springside Restaurant and finish it off with dessert at Paradise Treats. The Springside Restaurant offers many selections including sandwiches, hamburgers, hot dogs, chicken strips, and salads. At Paradise Treats you can find ice cream, fresh baked goods, and hand made fudge!
Activities: Canoeing, Kayaking, Paddleboarding, Hiking (Creek Trail, Spring Connector Trail, Sandhill Trail, Sinkhole Trail & Old Field Loop, Swamp Trail & River Trail) Wildlife sightings, Camping & Cabins
Interested in other things to do in the Ocala area? Check out: Oh, Ocala!
Next, a perfect stop on a Florida Day Trip is the St. Johns River Center. This is a museum that displays the unique and varied ecosystems of the St. Johns River as well as its unique history, culture, and commerce. You can participate in either a group tour or a self-guided visit! Adults and kids alike will enjoy the interactive exhibits and history of the St. Johns River.
After your educational experience, you can enjoy amazing views from the rooftop of the museum overlooking Palatka.
Located in Astor, the St. Johns River Tour is a leisurely boat tour up the branches of the St. Johns River. You'll encounter exotic plant and wildlife that has been in the area since the ancient Indian and Spanish civilizations! Specifically, you'll see alligators, bald eagles, manatees, air plants, ferns, large cypress trees, and much more!
A group two-hour tour has the option for lunch or dinner at the Blackwater Inn!
If you're staying in the Astor area, many of the river resorts use the St Johns River Tour water taxi to take you to a riverside restaurant for dinner and a sunset cruise!
Lastly, Tomoka State Park used to be the home of Timucan Native American Village, known as Nocoroco. The people lived off of the fish-filled lagoon until they were visited by Spanish explorers. Unfortunately, the Timucua people did not have the ability to fight off European diseases that the Spanish brought with them. Subsequently, by the 1700s they were completely gone. Robert Oswald then bought the land to build the Mount Oswald Plantation and used slaves to grow sugar, indigo, and cotton. In 1785 when British rule ended, the plantation was abandoned.
Visiting Tomoka State Park helps you to step back and time and also learn what life was like for the Timucua people. You can explore the nearby trails or stroll along the Tomoka River, which is home to an abundance of marine life. You can even take a hike on their half-mile interpretive trail that takes you through the village site of Nocoroco.
Activities: Bicycling, Boating, Camping, Fishing, Geo-Seeking, Paddling, Kayaking, Picnicking, Wildlife Viewing
Places to Eat Along the Florida Black Bear Scenic Byway
Note: This information was accurate when it was published, but is subject to change without notice. Please be sure to confirm all details directly with the companies/organizations mentioned before planning your trip.
Featured image source: Sandra Friend – FloridaHikes.com

AuthenticFlorida.com was named Best Travel Blog two-times at the Florida Sunshine Awards.
To receive Authentic Florida's free weekly ENEWs, sign up on our Authentic Florida home page.
To inquire about partnerships/advertising, please contact info@authenticflorida.com 
Proud Member of: 

---
Comments are closed.