National Potato Day is August 19th!
Happy National Potato Day! Of course, Florida is known for its oranges, but did you know in Hastings, a town near St. Augustine, they are known as "the Potato Capital of Florida"? There's even a potato farm in Hastings called Blue Sky Farms, which sells potatoes for restaurants and also consumer tables.
Celebrate today by trying out this delicious recipe by Fresh from Florida using Florida potatoes!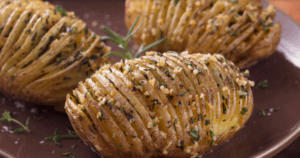 Ingredients:
4 medium to large size Florida potatoes
3 tbsp olive oil
1 tbsp fresh garlic, chopped fine
2 tbsp fresh herbs (rosemary, thyme)
Sea salt and fresh ground pepper to taste
Instructions:
Firstly, preheat the oven to 400 degrees.
Lightly spray a baking sheet with nonstick cooking spray.
Scrub and also rinse the potatoes to remove any debris.
Next, slice a thin strip of the potato off the bottom of each potato to create a flat surface for the potato to rest on (reserve cut piece for later step).
Then, make cuts about 1/8 of an inch apart across the width of the entire potato making sure not to cut completely through. Repeat this process with each potato.
Place each potato on the baking sheet sliced side up. Place the reserved slice of potato under the whole potato creating a slight arch; this will allow the potato to spread apart slightly allowing for maximum flavor.
Then, in a small mixing bowl combine olive oil, chopped herbs, and garlic; mix to combine and season lightly with salt and pepper.
Use half of the herb-garlic mixture to season between the potato slices, making sure that each slice is coated.
Then, lightly season the top of each potato with salt and pepper.
Finally, bake potatoes for 45 minutes to one hour or until crispy outside and completely cooked inside.
Remove potatoes from oven and evenly top each potato with the reserved herb mixture. Serve warm.
Check out more delicious and authentic Florida recipes using potatoes:

AuthenticFlorida.com was named Best Travel Blog two-times at the Florida Sunshine Awards.
To receive Authentic Florida's free weekly ENEWs, sign up on our Authentic Florida home page.
To inquire about partnerships/advertising, please contact info@authenticflorida.com 
Proud Member of: 

---
Comments are closed.