The engine shuts off, and the boat begins to slowly drift. It's early morning, the bay is calm, the far-off horizon meets a cloudless blue sky and it's another postcard perfect day in Florida. We're hanging over the boat rail scanning the six-foot clear shallows below. Manatee grass covers the bottom and our mission is as clear as the water – we're searching for Florida scallops. The mollusks are grayish and large enough to fit in the palm of a hand but easily camouflaged by marine life down under. Soon, we begin to notice them among the blades of grass, sitting upright with royal blue eyes peering out from a narrow opening in their shell.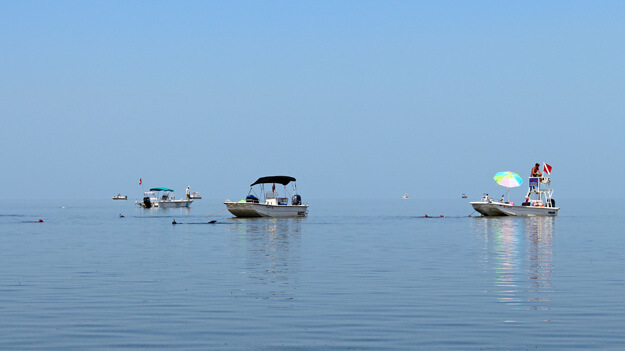 Crystal Bay, Crystal River 
We're on Crystal Bay, west of Crystal River on Florida's west coast. It's just a 10-minute boat ride to the scalloping grounds from the dock where we met our guide, Captain Dave Jefford. From late June to mid-September, the Florida scallop season is open for recreational divers and there are a handful of locations designated as prime scalloping grounds. Florida's scallop destinations include a range of counties along the Gulf of Mexico from Hernando County up the coast through Gulf County on St. Joseph Bay. Standout areas include the Homosassa and Crystal River region, Florida's Big Bend Steinhatchee River area and the fertile bays of the Florida Panhandle.
Aside from scalloping, Captain Dave is a renowned fisherman with two other distinctions. He's called "The Lureman" for his artistic, collectible handmade fishing lures. They also call him the "Red Man" because he can put you "on" redfish better than any other fisherman in the area. Luckily, we heard about him through friends and he'll be taking us to his favorite fishing spots later.

Snorkeling for Florida scallops
But I'm getting ahead of myself. We're enjoying the beauty of the bay but are by no means, alone. Surrounding us are hundreds of colorful boats, in party mode, of all sizes and shapes – concentrated in an area of five or more square miles. Dive flags are atop boats as splashing snorkelers flop their flippers and dive below. There's no doubt that tonight's dinner is on everyone's mind.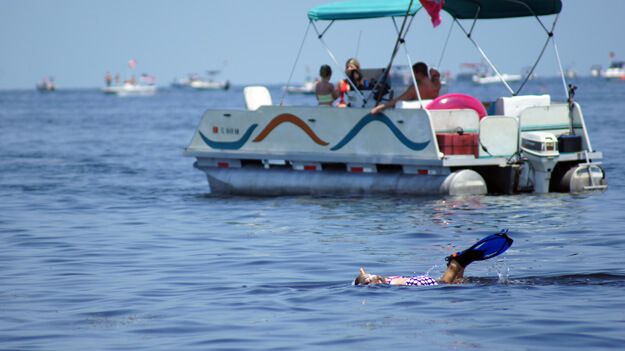 Snorkeler and boaters searching for Florida scallops
To gather scallops you swim on the surface of the water, equipped with mask, snorkel and fins, head down, scanning the area below. You'll begin to spot the scallops, which are often found on the edge of the grass beds near the sandy spots or sometimes on top of floating seaweed. Dive down and grab the scallops – gloves make it easy, and stash your bounty into a mesh bag.

Yay! A Florida scallop
Scalloping is a lot of fun, but the added benefits are being on – and especially under – the water, where we saw beautiful sea life like seahorses, coral, sea turtles, rays and even starfish. Manatees keep clear of the motorboats but are often grazing on sea grasses nearby.
You'll find this sport is addictive, the more scallops you find, the more you'll want. But wisely, there are limits to what each individual can gather. Two gallons of whole scallops or one pint of meat per person is the law.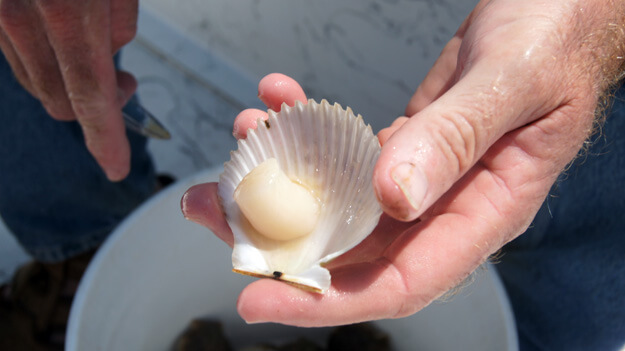 Cleaning Florida scallops
Once back on the boat, scallops should be placed on ice. An oyster knife is used to open the scallop and remove the white muscle from the shell. In some locations, scallop cleaners (for hire) will be waiting on the docks to help. Once you have cleaned the scallops, you'll need to keep them in a cooler in a zip-locked scallop bag.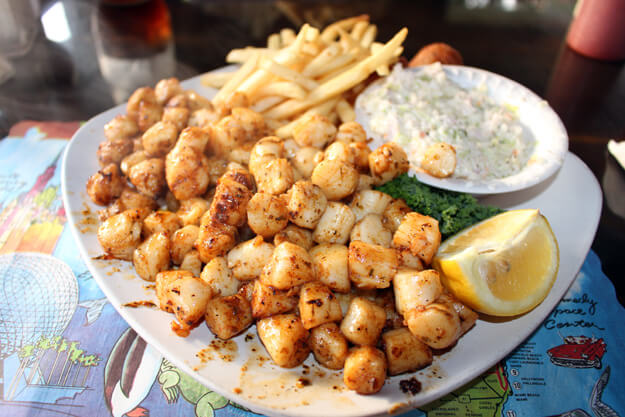 Select Florida restaurants will cook your catch
Some restaurants will cook your freshly caught cleaned scallops – for a fee – but call ahead to check. There's nothing like the taste of freshly caught scallops. They melt in your mouth and I guarantee you'll never taste anything better. To this day, I can't eat them any other way but fresh off of the boat.
If you have a boat, you might want to consider bringing it. (If you go on your own you must have a current Florida saltwater fishing license for scalloping, plus a diver down flag). Another option is to find someone who knows the area. Usually, local captains charge around $250-350 for a half-day trip, but you can split the costs with others or bring friends. Moderately priced group scallop tours on pontoon boats, charge around $75 per person, and are popular for half-day tours. And the captains usually have commercial recreational licenses to cover those on the boat. Be sure to pack sunscreen, cold drinks, snacks or even lunch. Our captain provided the necessary dive gear of masks, fins, snorkels, net bags and a cooler of ice (but be sure to ask the captain if these are provided).

Florida Scallop Bounty
Always be sure you call ahead to book your reservations – for a guide and accommodations. Scallop season is popular and weekends are very busy. If you can manage a weekday outing, you'll be happy you did.
Enjoy one of Florida's most enjoyable sports and past times, it's pure family fun for everyone!
Scalloping Guides
Homosassa Springs/Crystal River
For the Homosassa Springs/Crystal River region, scalloping in Crystal Bay is the main event. The Citrus County or Hernando County Visitors Bureaus will provide you with a list of available guides, restaurants and accommodations. For Hernando's Homosassa area, try Captains William Toney and "Red Ed" Brennan. While in Crystal River, we enjoyed our time with Captain David Jefford or for group tours try Majestic Manatee Tours, with Captain Cindy.
Steinhatchee
For Dixie County's Steinhatchee area, consider starting at the Sea Hag Marina or the River Haven Marina. A friend recommended Captains Steve Rassel or Randall Hewitt for scalloping, and for a great day of fun fishing try Capt. Tommy Thompson. The Sea Hag Marina also has a fleet of 24-foot rental boats for those that want to venture on their own.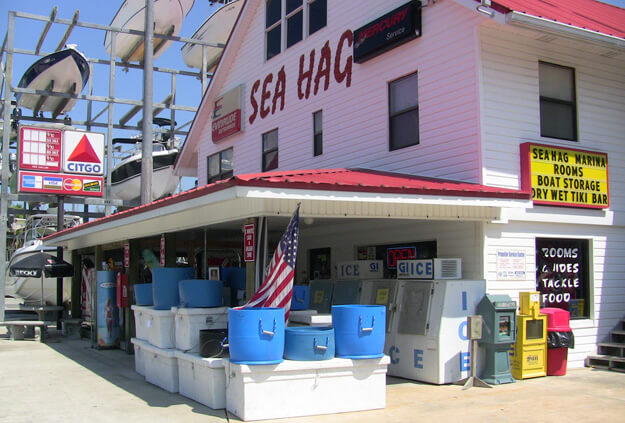 Sea Hag Marina, Steinhatchee
St. Joseph Bay
On the Florida Panhandle, Gulf County is a go-to place for scalloping. Port St. Joe is the main town and St. Joseph Bay is the scalloping area. What is unique about this area is that if you don't want to bother with a boat, you can easily access the shallow scalloping areas by wading in. Drive along the coastal Highway 98, look for crowds of people, (which usually means they have found scallops which travel from location to location), park your car on the side of the road, and wade in with your buckets! (Make sure you have your license.) Another place to go is St. Joseph's Peninsula State Park, where there is easy access to the bay.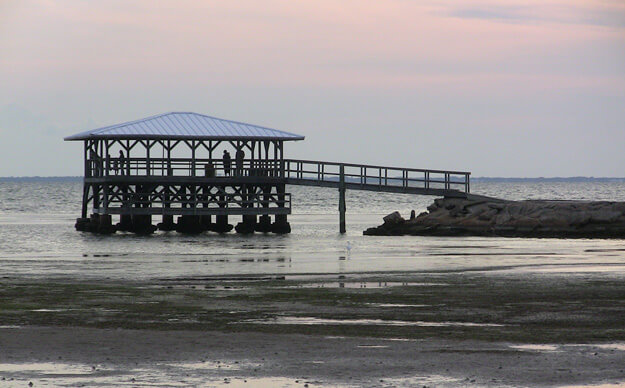 St. Joseph Bay, Port St. Joe
If you want to enjoy the adventure on the water, scallop outfitter Sea Horse Water Safaris will take you on a 3-hour scalloping trip, Happy Ours Kayaking will do guided scallop trips (via kayak) and Daly's Dock & Dive will rent inflatable boats.
Places to Stay and Seafood Restaurants (that will cook your fresh scallops)
Crystal River & Homosassa Springs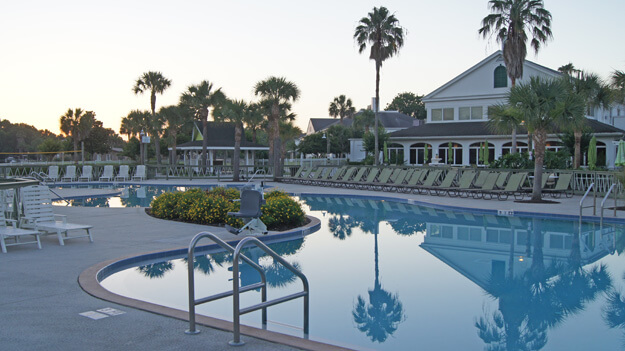 Crystal River's Plantation Resort
The 50-year old Plantation Resort has been hosting divers and scallopers for years. The easy access to Crystal River's Kings Bay and springs allows boats to take visitors for tours of all kinds – dive trips, manatee swims, and scalloping tours. The Plantation Scalloping Packages include a two-night stay with breakfast, guided scalloping trip, 1 dinner where the restaurant will cook your scallop catch.
An alternative to the Plantation is Crystal River's Holiday Inn Express. It's clean and has week day scalloper rates.
For cooking your fresh catch in the area try the local favorite called Peck's Old Port Cove in Ozello (no website), just southwest of Crystal River. Also, Cracker's Bar & Grill will cook your fresh morsels along with Old Homosassa's Riverside Crab House.
Steinhatchee
For authentic Florida lodging, the Sea Hag Marina rents brightly colored "fish camp" cottages directly across the street.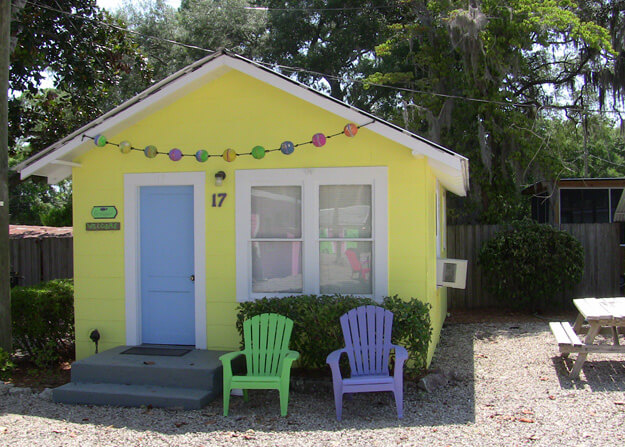 Sea Hag Marina Cottages
Steinhatchee restaurants Fiddler's Restaurant and Roy's will cook your fresh scallops and both specialize in fresh seafood.
Port St. Joe
Recommended places to stay in the main town of Port St. Joe are Port Inn & Port Cottages, or for more moderate pricing, Tiki Palms Inn B & B, or the more upscale Turtle Beach Inn, east of Port St. Joe on Indian Pass. St. Joseph Peninsula State Park has wonderful cabins, but require advance reservations. Additionally, many individual properties are available for rent situated on or near the bay.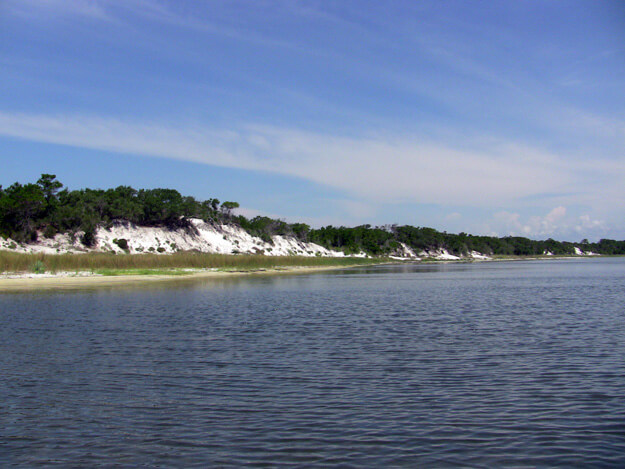 St. Joseph Bay, St. Joseph Peninsula State Park
Port St. Joe's Dockside Seafood and Raw Bar and the Sunset Coastal Grill will cook your fresh-caught scallops. Mexico Beach's Fish House will do the same.
To receive Authentic Florida's free ENEWs, featuring travel and living updates, delivered weekly, sign up on the home page Authentic Florida.
---
Comments are closed.