This recipe shouts summer. Light, guilt-free and both delicious and good for you. Made with fresh Florida seafood and veggies, it's constructed like a burrito using an Asian thin (rice paper) wrap and then dipped in special sauce. Use fresh Florida gulf shrimp or freshly cooked stone crab. You can substitute firm, cooked Florida fish but cold shrimp or crab work perfectly with the spring vegetables.
I recommending trying this when you have a little time to devote to the process. Once you have it mastered, you'll be hooked on the fresh taste and keep making it over and over again.
There's also a lot of room for creativity using ingredients for your wraps. I recommend any combination of carrots, lettuces, avocado, cucumber, peppers or sprouts. But be selective the first time you make a roll by adding a few of your favorite veggies, or it will be too big to manage. The fresh herbs really add to the fresh taste, so be sure to include them. This can also be a meal made with friends. Each person can make his/her own combination which adds to the fun.
Ingredients
For the rolls:
•                2 ounces Vietnamese or Thai rice noodles (found in the Asian section of your super market)
•                6 rice paper rounds, 8 ½ in. in diameter (found at a specialty food store or Asian Market)
•                12 fresh basil leaves rinsed and dried
•                12 large fresh mint leaves, rinsed and dried
•                6 large gulf shrimp, cooked and halved OR ½ lb Florida crab, cracked/cleaned
•                1/2 cup shredded carrot (I used a cuisinart, or you can use a grater)
•                1 small Florida avocado (can substitute other if not in season), cut in small 1/2 pieces
•                Red-leaf lettuce, 5-6 leaves
Other optional veggies (use these to substitute or add as you like)
·       1/2 Florida cucumber, remove outer skin, slice thinly in 1-2″ slices
·       ½ Florida red pepper, core, and slice in thin slices, 1″ each
·       ½ cup of bean sprouts (alfalfa, or any light sprouts)
Vinegar dipping sauce, recipe follows
Directions
1. Take your veggies out and prepare them by chopping, grating or cutting them in small slices. Line up the veggie and seafood ingredients in small bowls before beginning to make rolls.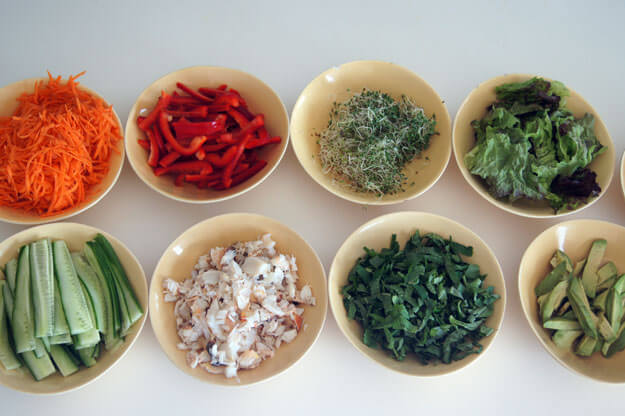 2. Bring water to a boil and cook rice noodles according to package directions. Drain, rinse and cool (makes about 2 cups).  Fill a large bowl or saucepan with very warm water. Place a rice paper round in the hot water. Soak for between 30 seconds or until rice round is pliable and pattern on the round is barely visible. Remove and place on a clean, slightly damp kitchen towel or cutting board.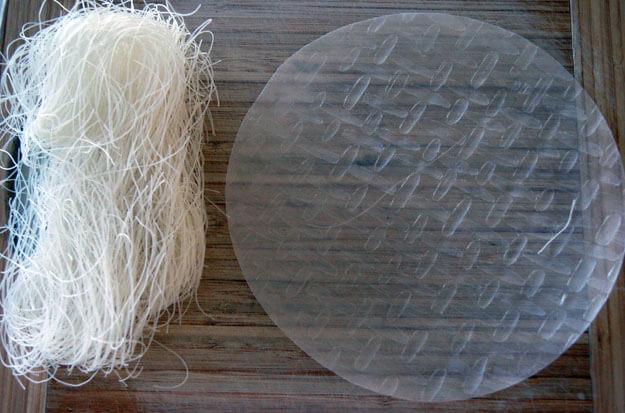 3. Much like constructing a burrito, I recommend stacking the ingredients in the middle of the wrap. Begin with a few 1/2 pieces of shrimp or pinches of crab. Then, carefully layer the veggies and the rice noodles. Less will be more the first time you try it, as it can get unwieldy if stuffed too full. If you prefer to wrap all the ingredients in a lettuce leaf in the middle of the wrap, it will be easier to roll. Then you can close the wrap over the lettuce leaf.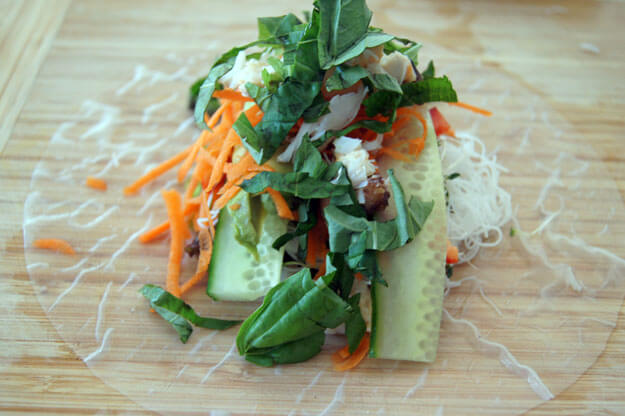 4. Next, overlap two of the edges to partially close it and then starting at one end, begin rolling the wrap keeping the ingredients tucked inside. Repeat with the other rolls, and place under a damp cloth or paper towel. When ready to serve, slice in half and serve with dipping sauce.
Vinegar Dipping Sauce:
•                1 tablespoon sugar
•                2 teaspoons warm water
•                1/4 cup rice vinegar
•                1-2 teaspoon chili sauce
•                1-2 tablespoons lime juice
•                1 teaspoon low-sodium soy sauce
•                1 tablespoon finely shredded carrot
•                1 scallion, thinly sliced
Optional: 2-3 squirts tabasco sauce or to taste
Dissolve sugar in warm water, combine with other ingredients, and chill until ready to use.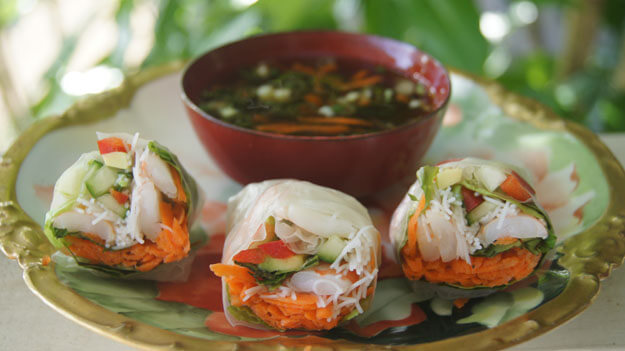 (Recipe adapted from Ellie Krieger's Soft Asian Summer Rolls with Dipping Sauce)
---