Florida Gulf Shrimp & Lemony Pasta for Ultimate Holiday Comfort
Article written by Robin Draper, printed courtesy of Visit Sarasota.
Try this Florida Gulf Shrimp and Lemony Pasta recipe for the ultimate holiday comfort dish that is simple to make, full of flavor and filled with fresh seafood. And did we mention super delicious?
Most Florida food markets have shrimp available in the seafood section, but if you want to be sure you are buying it Florida fresh, be sure to ask in your grocery or seafood markets.
Savor the lemony flavor of this dish while enjoying its lightness and a no-fuss all-in-one meal.
Florida Gulf Shrimp & Lemony Pasta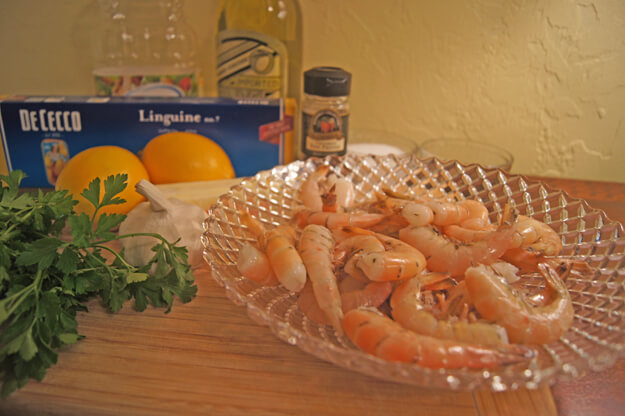 Recipe Ingredients
Vegetable oil
1 Tablespoon kosher salt plus 1 1/2 teaspoons
3/4 pound linguine
3 Tablespoons unsalted butter
2 1/2 Tablespoons good olive oil
1 1/2 Tablespoons minced garlic (4 cloves)
1 pound large shrimp (about 16 shrimp), peeled and deveined
1/4 teaspoon freshly ground black pepper
1/3 cup chopped fresh parsley leaves
1/2 lemon, zest grated
1/4 cup freshly squeezed lemon juice (2 lemons)
1/4 lemon, thinly sliced in half-rounds
1/8 teaspoon hot red pepper flakes
Recipe Directions
Step One: Assemble & Prepare Ingredients
Mince four cloves of garlic (1 1/2 Tablespoons); Chop 1/3 cup of parsley; Zest 1/2 lemon; Juice 1/4 cup of fresh lemon juice (approx. 2 lemons)
Step Two: Boil Pasta
Drizzle one teaspoon of olive oil in a large pot of boiling salted water, add 1 Tablespoon of salt and the linguine, and cook for 7 to 10 minutes, or according to the directions on the package.
Step Three: Drain Pasta
Drain the pasta in a colander. Drizzle a few drops of olive oil over the pasta so it doesn't stick together and mix in.
Step Four: Cook Garlic
Meanwhile, in another large (12-inch), heavy-bottomed pan, melt the butter and olive oil over medium-low heat. Add the garlic. Saute for 1 minute. Be careful, the garlic burns easily!
Step Five: Add Shrimp
Add the shrimp, 1 1/2 teaspoons of salt, and 1/4 teaspoon of pepper and saute until the shrimp turn pink, about 5 minutes, stirring often.
Step Six: Add Ingredients & Pasta
Remove from the heat, add the parsley, lemon zest, lemon juice, lemon slices, and red pepper flakes. Then, add the drained pasta. Toss the entire mixture to combine.
Step Seven: Serve & enjoy your Gulf Shrimp & Lemony Pasta
Adapted from Barefoot Contesssa's Linguine With Shrimp Scampi.
To receive Authentic Florida's free ENEWs, featuring travel and living updates, delivered weekly, sign up on the home page Authentic Florida, voted Blog of the Year and Best Travel Blog at the Orlando Sunshine Awards.
---