August 28th is National Stuffed Green Bell Pepper Day!
Happy National Stuffed Green Bell Pepper Day! Did you know that green peppers have twice the Vitamin C of oranges and other citrus fruits? For this reason, this extra punch of Vitamin C may be helpful in preventing certain types of cancer! Are you looking for a delicious stuffed green bell pepper recipe that uses fresh Florida ingredients? Read on to learn how to make Taco-Stuffed Florida Bell Peppers from Fresh From Florida!
Also, in case you didn't know, green bell peppers grow really well in Florida. Peppers are a heat-loving plant and Florida has plenty of heat to offer. In South Florida and some parts of Central Florida, you can grow peppers year-round. In North Florida, it's best to grow them in the Spring and Summer months.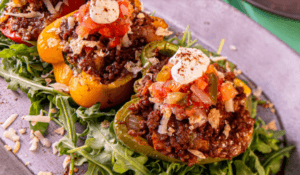 Taco-Stuffed Florida Bell Peppers
Ingredients:
3 large Florida bell peppers, halved lengthwise, then remove the seeds
1 pound lean ground Florida beef
2 cups Florida tomatoes, diced
Florida zucchini, 1 cup diced small
1 cup onion, chopped
Florida squash, 1 cup diced small
1 tablespoon garlic, minced
Lime, juiced
1 teaspoon oregano
2 cups Colby jack cheese, shredded (or your favorite)
1 teaspoon onion powder
Olive oil, for cooking
1 teaspoon smoked paprika
Various toppings, such as tortilla chips, sour cream, and cilantro
1 teaspoon chipotle chili powder
Sea salt and fresh ground pepper, to taste
1 tablespoon chili powder
Instructions:
Firstly, preheat a large sauté pan over medium-high heat.
Then, preheat oven to 375 degrees.
Add olive oil to preheated sauté pan.
Next, add chopped onion to the pan and cook until translucent.
Add garlic and ground beef to the cooking onions.
Then, brown ground beef and drain any excess fat.
Add the lime juice, dry spices, tomatoes, zucchini, and squash; then stir to combine.
Then, remove from heat and let cool slightly.
Add about half of the cheese to the beef mixture and stir to combine.
Then, evenly stuff each pepper half with the beef mixture.
Top each stuffed pepper with the rest of the cheese.
Then, place stuffed peppers on a cookie sheet and bake in preheated oven for 15 to 20 minutes.
Remove from the oven and let cool slightly.
Lastly, serve warm with chips, salsa, and sour cream.
While you're cooking, make sure to share your Florida Stuffed Green Bell Peppers with us after using the recipe using #AuthenticFlorida! Learn more from Fresh From Florida here! Looking for even more delicious Authentic Florida recipes? You can check out all of our Authentic Florida recipes here!

AuthenticFlorida.com was named Best Travel Blog two-times at the Florida Sunshine Awards.
To receive Authentic Florida's free weekly ENEWs, sign up on our Authentic Florida home page.
To inquire about partnerships/advertising, please contact info@authenticflorida.com 
Proud Member of: 

---
Comments are closed.