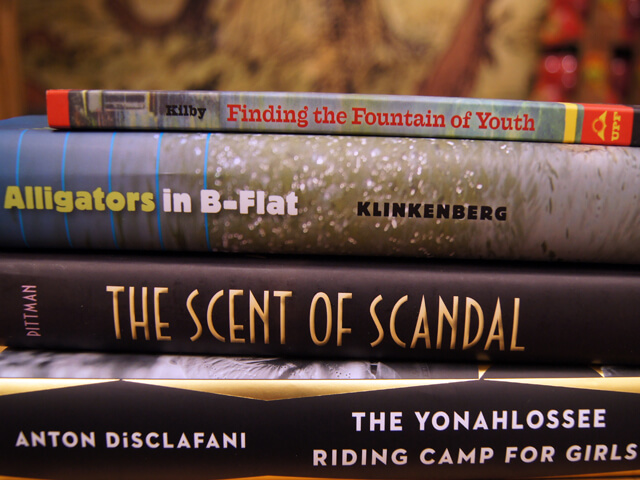 Reviewed by Authentic Florida Book Reviewer, Joyce Sparrow
Looking for a good summer read? Head to the hammock as Authentic Florida's book reviewer, Joyce Sparrow, dishes out four good reads for your summertime pleasure. Florida authors Rick Kilby, Craig Pittman, Jeff Klinkenberg and Anton Disclafani share stories of the Fountain of Youth, crimes of orchids, amusing personalities and a Depression era "coming of age" tale.
Finding the Fountain of Youth, Ponce de Leon and Florida's Magical Waters by Rick Kilby 
Rick Kilby's Finding the Fountain of Youth Ponce de Leon and Florida's Magical Waters provides a kitschy and historical look at Juan Ponce de Leon and the myth of the Fountain of Youth. Kilby traces his recent travels around the Sunshine State visiting all the areas that claim a connection to the Fountain of Youth—from St. Augustine and Melbourne to the Suwannee River and St. Petersburg.
The book includes snapshots, comic books, citrus labels and advertising campaigns highlighting the Fountain of Youth with glorious old Florida photos. Emphasis is placed on marketing Florida as a state of perpetual rejuvenation. The book also includes photos of the Weeki Wachee mermaids and lots of old Florida fun.
The Scent of Scandal: Greed, Betrayal, and the World's Most Beautiful Orchid by Craig Pittman
Craig Pittman, a Tampa Bay Times, award-winning environmental reporter has written The Scent of a Scandal: Greed, Betrayal, and the World's Most Beautiful Orchid for the University Press of Florida's Florida History and Cultural Series. The book's focus is the 2003-2004 federal trials involving the Marie Selby Botanical Gardens Orchid Identification Center scientists and James Michael Kovach, the man accused of smuggling a new orchid species into the United States from Peru. Pittman reveals the consequences when Kovach decided to bring orchids to the Selby Gardens in order for the scientists to name the orchids in his honor. This book has broad appeal to all readers who like a good crime story. Pittman engages the reader in an unlikely world of crime and mischief. Who knew acquiring orchids is such a competitive business.
Alligators in B-Flat Improbable Tales from the Files of Real Florida by Jeff Klinkenberg
Jeff Klinkenberg, Tampa Bay Times cultural writer since 1977, has collected 59 of his newspaper columns into a new Florida book, Alligators in B-Flat Improbable Tales from the Files of Real Florida. Klinkenberg travels the Sunshine State to interview its most interesting Floridians. Klinkenberg calls himself "a cantankerous gray—haired bastard who can't stop exploring, can't stop asking questions, can't stop telling tales tall and small about Florida, the Real Florida".
Klinkenberg travels from the Panhandle to the Keys to find the stories. Readers learn about former burlesque queen and exotic dancer Chesty Morgan who he finds shopping at her favorite Publix. Klinkenberg interviews Sally Lewis who lives across the street from Key West's Southern Most Point buoy at the corner of South and Whitehead for 32 years. She talks about the "constant stream of humanity" who poses for photos there. The journey continues from there. Klinkenberg interviews alligator trappers, baseball fans, photographers, beekeepers, shopkeepers, gardeners, and librarians.
Klinkenberg's book keeps the spirit of Real Florida alive. It is assures readers that the good old Sunshine State still exists.
The Yonahlossee Riding Camp for Girls, by Anton Disclafani
The Yonahlossee Riding Camp for Girls by Anton Disclafani, who grew up in northern Florida, is a haunting novel about precocious 15 year old Thea Atwell who is sent to an alternate boarding and equestrian school in the Blue Ridge Mountains because of an incident with a boy, who happens to be her cousin. The story is set during the Depression. The chapters alternate from Florida to North Carolina to reveal why Thea was sent away. The joys within the book are Thea's comments about living in Florida. Thea says "The ocean was always close to you in Florida, even when you lived hours away . . ." When comparing her surroundings at camp to the life she knows is Florida, Thea comments: "I was a Florida girl, used to hazy skies and flatness."  She talks about returning to Florida where "everything is alive". In a conversation with a friend, Thea comments that she is a Floridian, not a Southerner: "And we're a different breed." Her friend responds: "Unbound by the rules of society and civilization, a breed apart." Additional observations contrast the brutal July heat with perfect winter days. National critics call the book "outstanding" coming-of-age fiction. It has been selected as an Indie Next Pick and a Southern Independent Booksellers Association Okra Pick.
Joyce Sparrow writes "Florida Reads" the book review column for the Florida Library Association's publication, Florida Libraries. She also publishes book reviews in Library Journal. Contact Joyce at ReadFlorida@gmail.com.
In accordance with FTC guidelines regarding endorsements and testimonials, the books reviewed on Authentic Florida are provided at no cost by the guest contributor and this website does not receive compensation for the reviews. 
---
Comments are closed.