Now is the perfect time to venture into the mystical, magical world of Florida's Mangrove Tunnels. Experience Florida's unique ecosystem while admiring wildlife above and below the canopied waterways.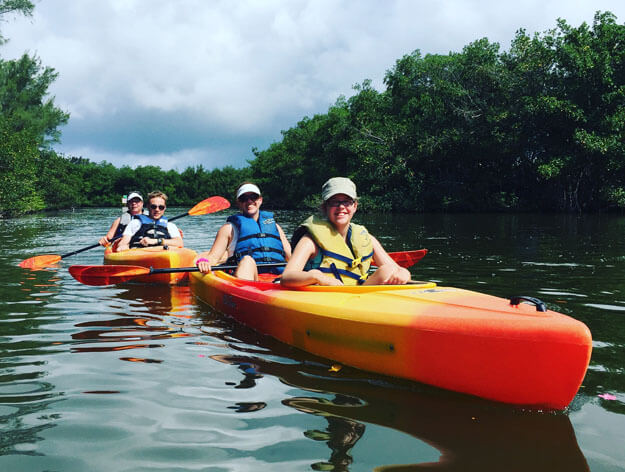 For the outdoor enthusiast, paddling through Florida's mangroves is a very unique adventure many enjoy along the state's coastline. Mangroves are found in coastal areas from as far north as Cedar Key on the Gulf coast to Cape Canaveral on the Atlantic coast all the way to the tip of the Florida Keys. They could be considered Florida's Tree of Life because they create a unique ecosystem that supports many inhabitants.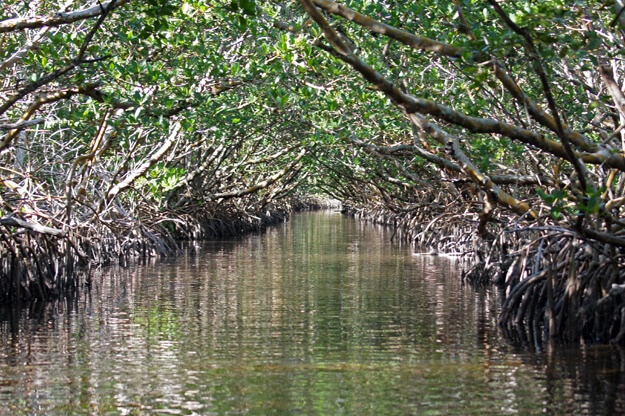 Mangroves serve as nurseries for fish, oysters, crab, and shrimp. Snook, mangrove snapper, tarpon, jack, mullet, sheepshead, and a large variety of other Florida fish feed on this tropical plant. Its branches and boughs become nesting rookeries for many species of birds and its root system helps prevent erosion and stabilize the shoreline.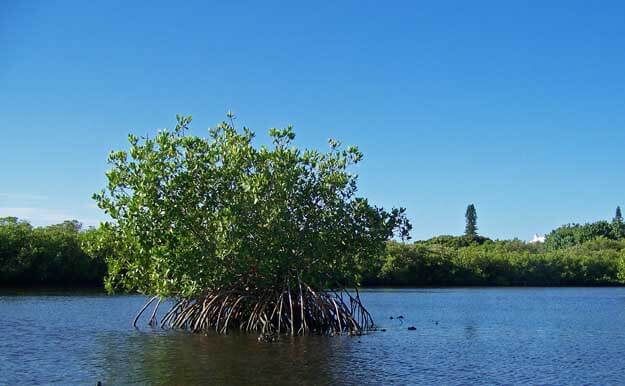 Mangrove Species in Florida
Three mangrove species are found in Florida: the red, black and white mangrove. The red mangrove is the best known, found closest to the water, and distinguished by its prop root system. The black mangrove has finger-like projections that are found in shallower water while the white mangrove usually grows upland of the other species and has yellowish-green leaves with no visible aerial root systems. Mangroves grow in tidal salty environments and are able to obtain freshwater from saltwater.
Popular throughout Florida are "mangrove tunnels" – small waterways under a canopy of mangroves that create a tunnel effect.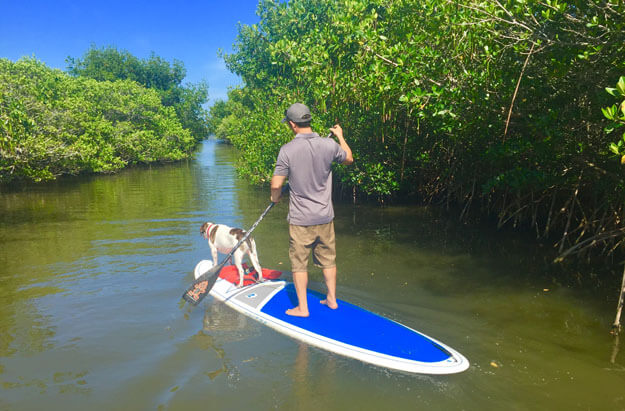 Many of the tunnels were originally ditches dug years ago for mosquito control. The strategy did not work, and the ditches left behind eventually canopied over to become a mangrove arbor. Other mangrove tunnels have formed naturally where tidal waters ebb and flow. Mangrove tunnels are often maintained by parks, conservationists, and eco-tour outfitters to give paddlers a unique and enjoyable eco-adventure on the water.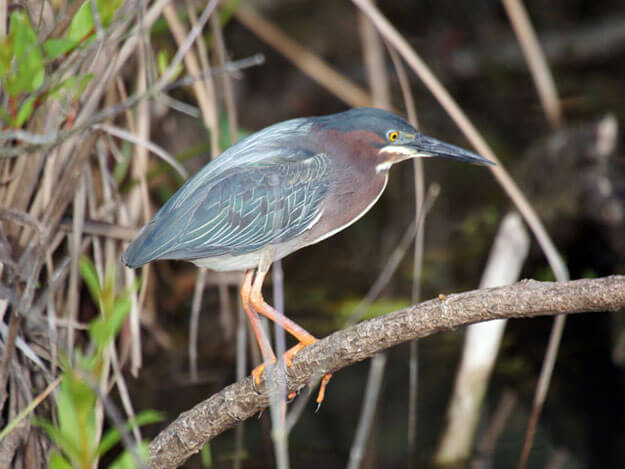 Paddling Mangroves
Paddling a mangrove tunnel is a magical venture. Whether on a kayak or paddleboard, it is a quiet and cool, almost ethereal, escape where the light is subdued, the breeze flows through the shady overhang, and wildlife, above and below the waterline, flourishes.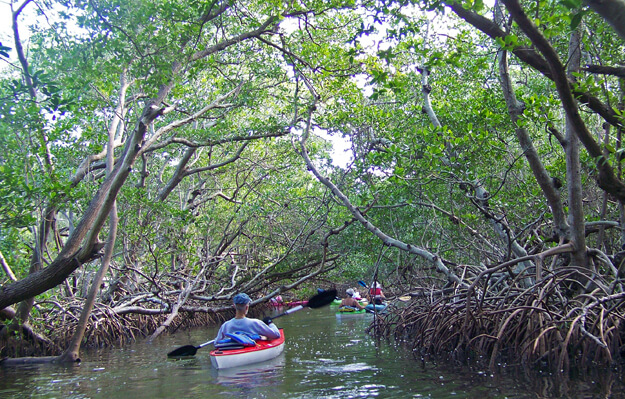 Consider paddling mangrove tunnels on your own or with an eco-guide. Many experts recommend you consider a guided tour for your first time on a trail. Eco-tours vary between 2 – 4 hours depending on the route. Guides carefully explain the magical eco-system that is an essential part of Florida's environment. Costs range from $30 to $55 per person, with special rates for kids.
Be sure to take your time and enjoy all the beauty of this unique experience and let your paddle do the work. Florida has many areas to discover mangrove tunnels but here are some to get you started (scroll to the bottom of the page for a linked guide to outfitters):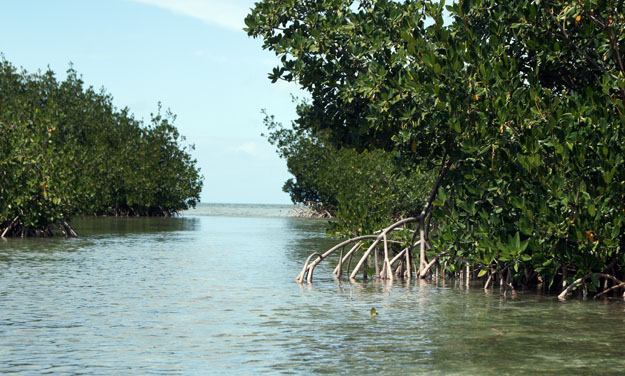 The Florida Keys
Florida Bay Outfitters offers tours to Key Largo's Dusenbury Creek, located on the boundary of the Everglades National Park. The tour offers access to side creeks with "old growth" mangrove tunnels, considered some of the most beautiful in Florida. Along the way, enjoy the exceptional and colorful marine life of the Florida Keys.
At Tavernier Key see more old-growth mangroves with "Kayak David" of Paddle! The Florida Keys. He is a veteran guide who welcomes any level of the paddler and will guide you on a three-mile leisure paddle ride through lagoons and mangroves. Leave from Sombrero Beach, and along the way you are likely to see birds, jellyfish, dolphins, manatees, raccoons, tarpon, lobsters, and turtles.
Islamorada
legendary Robbie's Marina, where visitors feed the tarpon, is also home to the Kayak Shack that provides kayak rentals for self-guided tours within easy reach of extensive mangrove tunnels.
Or try the three-hour red mangrove eco kayak tour where Marathon Kayak Tour takes you through stunning old red mangroves amidst the tidal lagoons of uninhabited Boot Key. Osprey fly overhead, cormorants perch on branches, their wings spread to dry as they watch you enter this hallowed space.
Or book a tour with Bill Keogh, author of Florida Keys Paddling Guide, at Big Pine Kayak Adventure. Start at No Name Key's Old Wooden Bridge Fish Camp for a tour through local mangrove tunnels. You're likely to see the petite Key Deer or even a Great White Heron, both protected within the National Wildlife refuges.
Sup Key West and Kayak Kings host a two-hour guided tour leading from Low Key Channel between Stock Island and Key West, paddling to Rivera canal and through the salt ponds. Along the way see manatees, rays, fish, and crabs as you enter a mystical world of mangrove ecosystems.
After your Keys adventures head up Florida's Gulf Coast.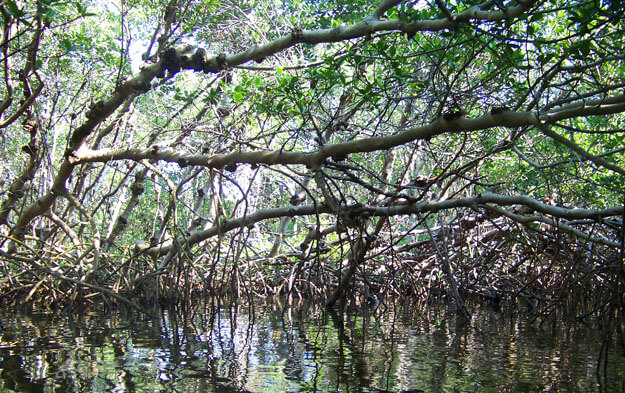 Turner River, Everglades, Everglades City
Everglades Area Tours takes you through several different habitats from Cypress swamps to the coastal estuary where the freshwater Turner River meets the saltwater Gulf of Mexico. The mangrove tunnels here are natural waterways through the wilderness of Florida's Everglades. Look for alligators, otters, freshwater turtles, and shorebirds along with tropical fauna of bromeliads and orchids. The nearby Collier-Seminole State Park also provides easy to access mangrove tunnels where you can rent canoes for self-guided tours, or you can go with a park ranger from mid-December through March.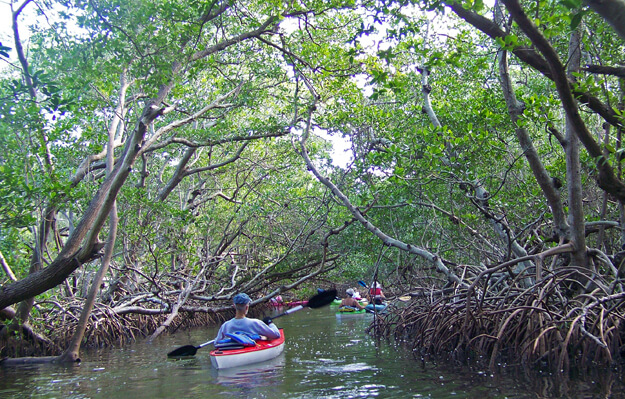 Sanibel Island, Captiva Island, Fort Myers, Pine Island
Sanibel's Ding Darling Preserve sets the stage for this excursion. Enjoy a trip with Tarpon Bay Explorers through Sanibel's Commodore Creek. This 90-minute tour through the heart of a mangrove forest with an expert will teach you about the amazing ecosystem and also how integral it is to the island's conservation efforts. Nearby Captiva Island is home to a short mangrove tour of Buck Key with Adventure Sea Kayak & SUP. Ft. Myers also is home to many mangrove tunnels by accessing the Calusa Blueway trail map for self-guided exploration. The authentic Pine Island offers many trails, as veteran guide Carmen Driscoll of Carmen's Kayaks takes you on a custom tour leaving Matlacha while paddling into a pristine estuary. Meet dolphins and manatees while admiring a wide range of bird species, especially at low tide while gliding over oyster shoals.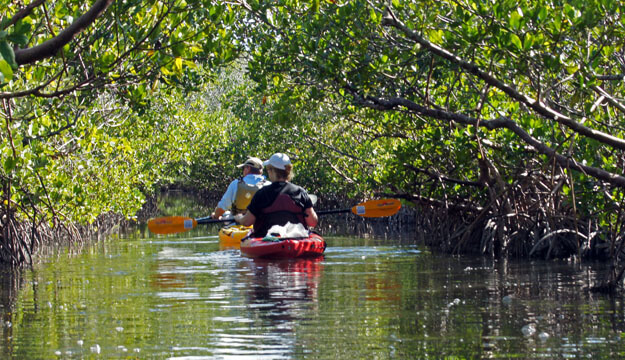 Englewood's Don Pedro State Park, Charlotte Harbor
Continuing up the Gulf Coast, paddle pristine mangrove waterways with Hooked on Sup, guided by master naturalists. Spot dolphins on the way and then, with a cooling breeze flowing gently through the tunnels, observe starfish, jellyfish, sponges, horseshoe crabs and live shells within a hidden lagoon.
The lunch destination is Englewood's Don Pedro Island State Park, with its stunning beach and azure blue water. Swim in the Gulf, enjoy shelling, or also look for the famous shark teeth found here.
(Note: Another favorite paddling trail is the Woolverton Trail in Placida but locals report it has not been maintained for safe passage.)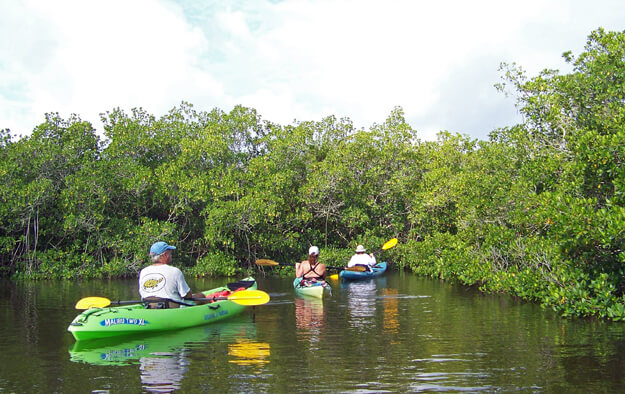 Sarasota & Bradenton
Sarasota's Lido Key mangrove tunnels are also a very popular spot. Island Style Sports provides activities for visitors who want to experience an exotic adventure in southwest Florida. Next door is Manatee County, home to the Robinson and Emerson Point Preserves and also more tunnels. For a cool magical ride try Kayak Jacks Paddle Sports.
Weedon Island, St. Petersburg
Tampa Bay's most popular mangrove tunnel trail offers a two or four-mile loop, both with a cool ride through shady mangroves. Sweetwater Kayaks provides a guided tour where you may see a fever of stingrays or also a pod of dolphins, plus fish, manatees, and many birds. At the end of the tour, be sure to climb the 45-foot observation tower for a magnificent view, or check out the Weedon Island Preserve Center to learn about the area's rich archaeological past as well as its recent history.
Thousand Islands, Cocoa Beach
Minutes away from Cocoa Beach, enjoy an "old Florida" mangrove tunnel called "The Amazon" in the Thousand Islands with Cocoa Beach Kayak as a naturalist guide provides insight into this magical world. Before entering the network of tunnels you are likely to see dolphins and manatees. And once exploring the depths of the mangrove forest, you may encounter many birds including Roseate Spoonbills, Ibis, Great Herons, and Green Herons.
Kayak and Stuff also offers a mangrove tunnel tour through St. Lucie Inlet Preserve State Park's Mosquito Creek, accessible by kayak or SUP, with a launch from Cove Road Park, and also access to a rare find in Florida – a secluded beach.
Kayaking mangrove tunnels has to be one of Florida's most unique experiences. They are truly special places. Once you have experienced one, you'll discover an enchanting serenity.
It's a feeling you don't want to miss.
The following represent Authentic Florida reader favorite mangrove tunnel suggestions, with recommended eco-tour guides
Southeast Florida
Turner River, Everglades (Everglades Area Tours)
Everglades National Park (Everglades Area Tours)
Fakahatchee Strand State Park, East River
Miami, Biscayne National Park, Crocodile Creek, (Homestead Bayfront Park, LaPlaya Grill)
Key Largo (Florida Bay Outfitters)
Tavernier Key (Paddle! The Florida Keys)
Islamorada, at Robbie's (Kayak Shack)
Marathon, (Marathon Kayak Tour)
Big Pine Key (Big Pine Kayak Adventure) – post-Hurricane Irma, guided tours back mid-December 2017
Key West (SUP Key West, Kayak Kings)
Stock Island (Lazy Dog Kayaking)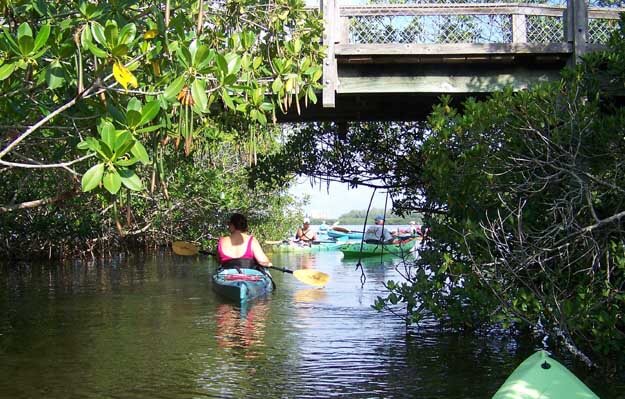 Central East Florida
Cocoa Beach (Cocoa Beach Kayaking, Sobe Surf)
St. Lucie Inlet Preserve State Park (Kayak and Stuff)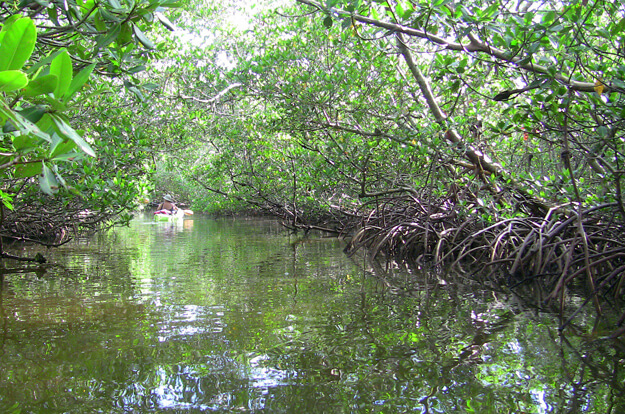 Southwest Florida
Bradenton Emerson Point Preserve (Kayak Jack's)
Sarasota Lido Key Tunnels (Island Style Sports, Economy Tackle for rentals; Note: we did not list all the recommended Sarasota outfitters but there are many good ones to choose from)
Bradenton Robinson Preserve (Kayak Jack's)
Bradenton, Little Manatee River, Cockroach Bay (Canoe Outpost)
Englewood, Don Pedro Island, Charlotte Harbor (Hooked on SUP)
Great Calusa Blueway, Ft. Myers
Cape Coral, 4 Mile Cove Eco Preserve (Cape Coral Kayak Shack)
Naples, Collier-Seminole State Park (ranger-led tours)
Sanibel Island, Ding Darling Preserve, Commodore Creek (Tarpon Bay Explorers)
Captiva Island, Buck Key (Adventure Sea Kayak & SUP)
Pine Island (Carmen's Kayaks)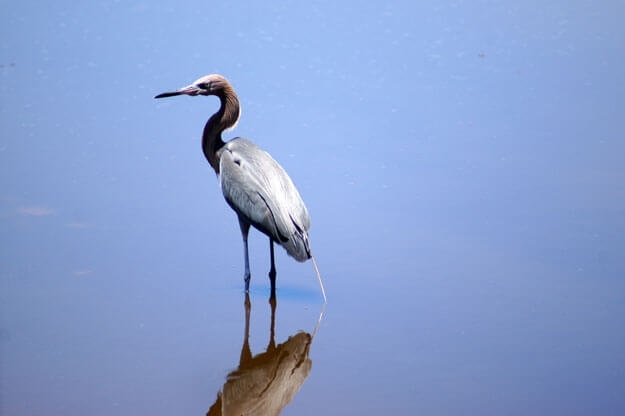 Central West Florida
Weedon Island (Sweetwater Kayaks)
Dunedin Caladesi Island State Park (outfitter in the park)
Fort Desoto (outfitter in the park)
Clam Bayou, St. Pete (Kayak Nature Adventures)
Please also feel free to let us know of any mangrove tunnels you have enjoyed and if you recommend an outfitter to help you with the tour in the comments below.

AuthenticFlorida.com was named Best Travel Blog two-times at the Florida Sunshine Awards.
To receive Authentic Florida's free weekly ENEWs, sign up on our Authentic Florida home page.
To inquire about partnerships/advertising, please contact info@authenticflorida.com 
Proud Member of: 

---