Discover 12 authentic reasons to launch your trip to Florida's Space Coast with a rocket launch, an airboat ride, surfing, encountering sea turtles, or just kicking back on the beach.
 
Kennedy Space Center Rocket Garden
Ever wish you could soar like an eagle, blast off like a rocket, glide over a river marsh or paddle through mangrove tunnels, be dazzled by bioluminescence, dine dockside on fresh seafood, relax on a beach, learn to surf, discover the wonders of sea turtles nesting, see Florida's most beautiful birds, explore space history, and pick strawberries and blueberries yourself?
There's a special place in Florida where you can do all of that. It's of course the Space Coast, stretching 72 miles along the Atlantic Ocean in Brevard County, anchored by Titusville to the north, Melbourne Beach to the south, with Port Canaveral and Cocoa Beach in between.

Cocoa Beach Pier
There is especially plenty of space history in this area. Think rocket launches, a mission to Mars, flights to the moon. But beyond the space program, there is much more to discover including plenty of "real", natural and historic Florida.

72 miles of coastline on the Space Coast
Miles of beaches, vast wilderness areas, and numerous waterways make the Space Coast a leader in Florida eco-tourism. There's a major wildlife refuge, sanctuaries, parks, and one of Florida's primary sea turtle nesting grounds. And the Space Coast is also a surfing mecca with a collection of charming beach towns and wide expanses of sandy beaches.
 
Authentic Florida takes a bi-plane ride with Florida Air Tours
Soar Through the Air
Certainly a unique start to your Space Coast adventure is to see it from the air aboard a vintage bi-plane with Florida Air Tours. From high above the mosaic of wildlife refuges, towns, farms, waterways, the seaport, and the spaceport is unforgettable. And true adventurers can give the pilot the "thumbs up" for some aerial acrobatics. Florida Air Tour excursions include flights over Merritt Island, the St. Johns River, Cocoa Beach, Port Canaveral, Kennedy Space Center – or combine the sights into an all-in-one trip. Florida Air Tours also offers helicopter excursions leaving from the new Port Canaveral site with whirlybird views of the Space Coast.

Port Canaveral 
Fresh Catch at the Port
Hungry after your flight? Port Canaveral offers plenty of fresh seafood. Enjoy a dock-fresh meal from local favorites such as Wild Ocean Seafood, Seafood Atlantic, or Rusty's Seafood. Dine and watch cruise boats stream by or fishing boats hauling in the fresh catch. Afterward, drive around one of the busiest U.S. cruise ports and tour through Jetty Park. To get some real insight into the port, and also get a taste of area culture, head to the seven-story Exploration Tower where there's a dazzling array of colorful sculptures depicting marine life made from recycled materials sourced from local beaches. Then head upstairs for the observation tower for a panorama of blue skies, cruise ships, cargo tankers, and fishing vessels navigating the aqua blue waterway.
 
Kennedy Space Center
Blast Back
Plan to spend a full day at the Kennedy Space Center Visitor Complex chronicling more than 50 years of space history through displays and exhibits. Meet an astronaut in the Astronaut Encounter, and see the Space Shuttle Atlantis in an immersive exhibit telling the compelling story of the shuttle program. Try a simulated shuttle launch, watch a Space Station IMAX 3-D movie, and see real rockets up close and personal in the Rocket Garden. And don't miss the Apollo/Saturn V Center featuring an authentic representation of the 1960's Apollo 8 launch. Afterward, walk around the Saturn Center to experience the spectacle of a moon landing.
 
The Shuttle Atlantis, Kennedy Space Center
And you may want to check the Space Coast Launch schedule for the next rocket launch to time your visit for a one-of-a-kind experience. Locals report the best places to see a launch is from Cocoa and Playalinda Beaches ($5 per car, for daytime launches) Titusville's Space View Park on the Indian River, the Exploration Tower Observation Deck ($15 fee, Port Canaveral), or Jetty Park fishing pier (entry fee, Port Canaveral.
 
Merritt Island National Wildlife Refuge
The Wild Side
Titusville is not only the gateway to the Kennedy Space Center but also to the Merritt Island National Wildlife Refuge. Spanning 140,000 acres the refuge protects more endangered animals than any other U.S. refuge. Here you'll see manatees, bald eagles, Florida scrub-jays, gopher tortoises and alligators. Also on Merritt Island is the Canaveral National Seashore, which extends 24 miles with pristine beaches and majestic sand dunes. The refuge and seashore are both ideal locations for hiking, biking, kayaking, and bird watching. And plan to visit the Indian River Lagoon too, where fresh and saltwater meet creating a rich estuary of fish, birds, plants, and manatees.
 
The Space Coast is a renowned birding destination 
Birds, Birds and More Birds
The Space Coast is located on the Atlantic flyway and is a nationally renowned birding location with more than 300 species of birds. During January Titusville hosts the Space Coast Birding & Wildlife Festival where festival attendees mix with distinguished birding experts as they conduct workshops and field trips.
Many birders follow these trails at the Merritt Island Refuge: Black Point Wildlife Drive (for wading birds), the Bio Lab Road (for wading and shorebirds), East Gator Creek Road to Peacocks Pocket (for shorebirds and ducks), the Scrub Ridge Trail (for the endangered Florida scrub jay), and the Oak Hammock (for songbirds). For even more adventures, try a guided kayak ride to Bird Island, a major bird nesting island in the Refuge.
Also gaining wide recognition among birders is the Ritch Grissom Viera Wetlands, a series of connected ponds with observation areas often frequented by rare species.
 Bioluminescence Kayak Tour,

photo courtesy, Day Away Kayak Tours
Mesmerizing Lights
As the evening stars twinkle, head back to the Merritt Island National Wildlife Refuge to experience an evening bioluminescence kayak tour. Titusville's Day Away Kayak Tours features a nighttime paddling trip where living lights dance in the water. Mullet jump as manatees and dolphins keep you company. With each water movement, bioluminescence sparkles with emerald green flashes caused by tiny organisms that glow when stirred up. Darting fish create glowing trails, and paddle strokes produce eerie wisps of mesmerizing nightlight. Tours run from May through September.
 
Titusville historical mural 
After your outdoor adventures take some time to tour Titusville. Stop at the North Brevard Historical Museum that chronicles the experiences of rugged pioneers before the arrival of the Kennedy Space Center. From there, take a walking tour of Titusville's picturesque murals depicting history, culture, and the environment. For good eats, try down-home soul food at Loyd Have Mercy with mullet, blue crab, catfish, barbecue, fried green tomatoes, then follow with a slice of sweet potato cake. For local rock shrimp (and more), try the well-known Dixie Crossroads, owned and operated by Laurilee Thompson, a local leader, and eco-tourism champion.

Authentic Florida takes an airboat tour on the St. Johns River
Where the Gators Go
Climb aboard an airboat and skim over the St. Johns River marsh. Enjoy the beauty of the unique ecosystem and get a close-up view of alligators, bald eagles, blue herons, grazing horses, cattle, and even hogs. Florida's longest river is home to freshwater marshes, swamps, and wetlands. Airboat Rides at Midway in the town of Christmas offer tours with knowledgeable boat captains. Experience the wondrous St. Johns River Conservation area and the cypress forest of the Tosohatchee Wildlife Management Area. Or nearby, in the town of Cocoa, the Lone Cabbage Fish Camp features airboat tours. Afterward, enjoy a meal at the Lone Cabbage serving a "sampler" of fried catfish, frog legs, and alligator. In Melbourne, consider the Camp Holly Airboat Rides featuring eco-rides, night tours, and Indian artifact expeditions.
 
Sea Turtle crawls to the Atlantic Ocean, photo courtesy, Ed Perry
Starry Night Sea Turtle Crawls
Sea turtles nest on Space Coast beaches from May through October. Guided evening turtle walks, carefully managed by local conservation groups, let you observe mother sea turtles lumbering onto shore to dig sandy nests and deposit more than 100 eggs. It's a magical experience. There are tour locations on the north end at the Canaveral National Seashore but most are concentrated in the southern end of the county in Melbourne at Spessard Holland Park, in Satellite Beach at Pelican Park, both managed by the Sea Turtle Preservation Society; in Melbourne Beach Barrier Island Sanctuary and Sebastian Inlet State Park. If you miss the walks or visit at a time other than summer, consider seeing the sea turtle conservation exhibits at the Barrier Island Sanctuary located in the Archie Carr Refuge.

Find beaches with more privacy,

Cocoa Beach Place Guesthouses
Dig in or Hang Ten
With more than 70 miles of coastline, you can dig your toes into the sand at one of many beaches. Want to escape the crowds? Try Picnic Tables Park at Patrick Air Force Base, or two sandy spots at Melbourne Beach, Ocean Avenue, or Juan Ponce de Leon Landing Park. And to really escape, make sure to head north to the pristine, undeveloped Canaveral National Seashore.

Canaveral National Seashore 
If you like action, Cocoa Beach is your place. Eleven-time World Surfing Champion, and Cocoa Beach native, Kelly Slater, learned how to ride the waves here and you can too. Take a lesson with local outfitter Sobe Surf at the beach, offering surfboard or SUP instructions from a local pro. Surfing hot spots include the Patrick Air Force Base Second Light Beach (for longboarders); Playalinda Beach at the Canaveral National Seashore; or for advanced surfers, the Sebastian Inlet State Park.

SoBe Surf provides lessons on the Space Coast 

SoBe Surf also provides stand up paddleboard (SUP) lessons
While in Cocoa Beach, a must-see is the historic Cocoa Beach Pier, the iconic backdrop to Florida's east coast surfing capital. And you'll want to visit the famous Ron Jon Surf Shop – the world's largest surf shop.

Cocoa Beach Pier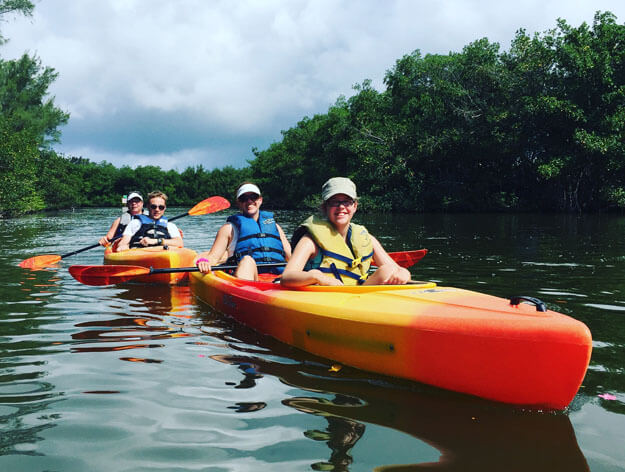 Tunnel Through Mangroves
Mangroves, "Florida's Trees of Life," create a unique coastal ecosystem that supports many inhabitants as nurseries for fish, oysters, crab, and shrimp shelter and feed among the roots of this tropical plant. Additionally, many varieties of birds roost in the branches. And mangrove forests are popular with people too. Throughout Florida are "mangrove tunnels" – small waterways under a canopy of mangroves that create a tunnel effect. Paddling a kayak, canoe, or SUP through a mangrove tunnel is a magical venture where the light is subdued, and nature is amplified.

Florida mangrove tunnel
There's an "old Florida" mangrove tunnel in the Thousand Islands just minutes away from Cocoa Beach called "The Amazon." Enjoy a tour with Cocoa Beach Kayaking as a naturalist guide provides insight into this magical world. You are likely to see dolphins and manatees on your way in and once in the depths of the mangrove forest you may encounter roseate spoonbills, ibis, and herons.

Farm fresh strawberries 
U-Pick Farm Fresh Eats
For a change of pace, visitors can enjoy fresh produce from local farms when touring the Space Coast. Near Titusville, the community of Mims is home to small family farms specializing in U-Pick crops. Sledd's U-Pick Strawberry Farm, with more than 30 acres of strawberries, blackberries and vegetables are great for picking during the growing season. Strawberries ripen on the vine in January, and blackberries follow in May. During the Fall (and Spring) Sledd's opens its farm for families to walk through a towering sunflower maze then choose a prize pumpkin. Other local farms open for U-Pick around May (but call ahead first). These include Meadors Blueberry Farm, Holland Family Farms, and Williams Blueberry Farms.

Blueberry season on the Space Coast
Other farm fresh opportunities include Saturday farmers market at Rockledge Gardens, and coming soon a 6-acre hydroponic farm operated by the Riley family that will grow mangos, avocados, bananas, and some citrus and provide U-Pick kale, spinach, lettuce, blueberries, and blackberries. And there's Harvey's Groves, one of the few remaining old-timey citrus operations, open from late October through April.

Cocoa Beach Place Guesthouses 
Accommodating You
The Space Coast also has many accommodations, from ultra-modern to old-fashioned.
Beach Place Guest Houses located in historic Cocoa Beach offers "boutique" accommodations and magnificent views of the Atlantic Ocean. Seagrapes line the courtyards, while outdoor sculptures and colorful artwork creating a tropical relaxing vibe. Wooden decks equipped with chairs, hammocks, and fire pits provide the perfect perch for viewing the seascape. At night, enjoy the stars and ocean breezes and watch for sea turtles coming ashore to lay their eggs before returning to the ocean.
 
Tuckaway Shores Resort offers "old" Florida charm right on the beach
And Tuckaway Shores Resort in Indialantic provides a comfy, authentic, and memorable experience full of "old" Florida charm. Reminiscent of the 1960s, but updated for comfort, and directly on the Atlantic, you will enjoy the miles of stunning world-class beach taking you into a "no-worry zone."
 
Titusville's Fairfield Inn & Suites provides comfortable lodging with easy access 
Another comfortable getaway, near Titusville, and also a good choice is the Fairfield Inn & Suites (Kennedy Space Center) is ideally situated off I-95 with easy access to the Kennedy Space Center, the Merritt Island National Refuge, and Port Canaveral.

AuthenticFlorida.com was named Best Travel Blog two-times at the Florida Sunshine Awards. 
To receive Authentic Florida's free weekly ENEWs, sign up on our Authentic Florida home page.
To inquire about partnerships/advertising, please contact melanie@authenticflorida.com 
Proud Member of: 

---