If you long for Authentic Florida, complete with old beach cottages and cafes, historic fishing piers, exquisite beaches, and nature preserves coupled with a nearby fishing community, Anna Maria Island and Cortez Village may be just what you need.

Anna Maria Island historic pier
Anna Maria Island (AMI), located between Tampa and Sarasota off Florida's Gulf Coast, is perfectly suited for those longing for an island retreat. The island stretches along the Manatee County coast and is connected to the mainland by two bridges (Palma Sola Causeway and Cortez Road) with an additional bridge to Longboat Key to the south.
 
Star Fish Restaurant, Cortez Village
And while there, don't miss the chance to visit the charming and historic fishing village of Cortez, off the island, but convenient to AMI.
Park Your Flip Flops

Bamboo Apartments, for authentic lodging
Begin your stay on Anna Maria Island at the Bamboo Apartments near the public beach mid-island. This collection of five cottages and apartments overlooks sea oat-covered sand dunes and the pure white beaches of Anna Maria. The property was originally owned and operated by Carmen and Avelino Torres. They immigrated from Spain to Tampa in the 1920s worked in the cigar industry and managed to acquire property on the island. Their granddaughter Alice Torres Sutton now manages the authentic property. While this "slice of old Florida" is one thing to appreciate, Alice's warm hospitality also keeps folks coming back. Ask, and she will even share her family scrapbook of vintage island photos dating to 1912 with plenty of historic 1930's-40's snapshots of her grandparent's time on the island.
Catch the Vibe

Ginny & Jane E's, gift and food emporium
In the morning, take advantage of the authentic island vibe for breakfast at the popular Ginny & Jane E's, a gift and food emporium at the north end of AMI. Feast on homemade baked goods and coffee while lounging in the intimate setting of tropical-themed chairs, tables, and décor that is distinctly island style. Sisters Ginny and Jane combined their talents into a wildly popular business. Ginny specializes in antiques and Jane handles the cooking and baking. Once an IGA store, it now is filled with one-of-a-kind locally sourced art and antiquities plus postcards, handmade jewelry, and shell art.
Another breakfast hotspot, directly on the beach, is the Anna Maria Island Beach Café, home of the Yummy Sandwich, and all-you-can-eat pancakes.
Go Cruising

Anna Maria Island is perfect for biking
The island is a place where you'll want to bring your bike – or rent one. Cruise through the charming streets extending from beach to bay and you'll discover a mix of old cottages, funky homes, numerous beach accesses, and colorful beach life. Just 4 Fun or Beach Bums Island Attitude will rent you a bike or any beach accessories you may need.
Another fun option is to jump aboard the free AMI Trolley, traveling from 6 am to 10:30 pm north and southbound along the entire island.
Pine Avenue and Beyond

Anna Maria fishing pier (not currently open to the public)
Pine Avenue could be considered the main street on the island's north end and is a good place to begin your adventure. Pine Avenue leads to the historic Anna Maria Pier, damaged by Hurricane Irma and while not currently open to the public it remains a scenic view with a distant glimpse of the Sunshine Skyway bridge beyond. Before cars could access the island, the pier was a ferry dock for visitors from Tampa. Beachgoers would come via boat ferry and walk down Pine Avenue to the crystalline sandy beach.
 
The iconic "old Florida" Rod & Reel Pier

Rod & Reel Pier Restaurant
Just north of the historic city pier, you'll find the hidden and beloved Rod & Reel Pier that is open to the public. At the end of the pier, a restaurant has been serving up famous fish and seafood specials since 1947. Dine with a fabulous view and an "old Florida" vibe.
 
Roser Chapel, circa 1913
Back along Pine Street, enjoy the historic AMI Green Village. Here local and sustainable businesses, shops, and boutiques specialize in recycled, refurbished goods bordering the street. The local Historical Society and the whimsical Anna Maria Jail add an element of nostalgia to the area and for more history, enjoy a stop at the Roser Chapel, circa 1913. Designed as a community church and open to all visitors, it was funded by Charles Roser, an early resident and successful businessman credited as the inventor of the Fig Newton.
 
Paint a sand dollar at the Shiny Fish Emporium
For some fanciful family entertainment, don't miss the Shiny Fish Emporium, where visitors can shop and hand paint sand dollars to take home. And speaking of art, the Studio at Gulf & Pine is the island cultural arts gallery offering weekly exhibits and shows.
Stumble onto Bridge Street

Bridge Street is lined with eateries, bars, and shops
Head south on the island and you'll find the town of Bradenton Beach and Bridge Street, named for the wooden bridge (now replaced by a modern bridge to the north) that once linked the island to Cortez Village on the mainland. Bridge Street is lined with eateries, bars, and shops leading to a fishing pier. There, the Anna Maria Oyster Bar overlooks the Bay with a scenic vista of the new bridge, the Intracoastal Waterway, and a fleet of moored sailboats.
And while on the south end of the island, take a walk on nearby Coquina Beach. Stroll along the Gulf all the way to Longboat Key Pass at the island's southern end. Enjoy discovering local shells including the tiger's paw, lettered olives, and of course, tiny coquinas. Plus you may even find a few fossilized shark teeth.
Go with Nature

Enjoy the wildlife while visiting the nature preserves
You may be content to sit and relax on the quartz white sandy beaches while admiring the aquamarine shimmering water. If you want to check out the local nature scene, there are plenty of choices to consider.
The Robinson Preserve

Robinson Preserve is a nearby 487-acre preserve
The 487-acre lush preserve is a salt marsh coastal wetland located east of Anna Maria. It's also accessible by water from the Palma Sola Causeway. The Robinson Preserve is a perfect spot to launch a kayak and get to know Florida's natural environment including choice Florida birds like the Roseate Spoonbill and the Night Heron. The Preserve has paddling trails where you are likely to see a dolphin or manatee while winding through the scenic waterways.

Robinson Preserve 53-foot observation tower
Once there, boardwalks lead to a 53-foot observation tower. It's well worth the climb for the panoramic view of the mouth of Tampa Bay from Anna Maria to the Skyway Bridge.
 
Surferbus.com for kayak or paddleboard rentals
For kayak or paddleboard rentals to the Robinson Preserve, try Surferbus.com located on the Palma Sola Causeway. You can launch and have direct access to the preserve with a trip through Florida's magical mangrove tunnels.
Jump aboard with fourth-generation Floridian Kathe Fannon, with her first mate Cocker Spaniel Pup-Pup, who will take you on a local sightseeing and adventure boating tour. Kathe, a Cortez native, and gifted storyteller spent her childhood fishing and listening to her fisherman father while learning about the area.
Her pontoon boat is docked at the Starfish Restaurant in nearby Cortez. Tours introduce passengers to the natural wonders of the area including bird sanctuaries, mangrove islands, and local marine life. You just may see a dolphin catching a boat wave, and even stop at a sandbar to find some local sea treasures.

Take a sailing trip for a sunset vista
Set sail with Kathleen D Sailing Trips that leave from the Keys Marina. Guests can choose from a variety of trips! Excursions include the Dolphin Watches, Sunset Sails, custom trips, and even a day on Egmont Key, a local island state park preserve with historic fort ruins and a lighthouse, and prime areas for snorkeling, shelling, and lunch.
Cortez Village: A Timeless Adventure
 
Cortez Village offers genuine and historic charm
For those who enjoy authentic Florida, Cortez Village offers genuine and historic charm. It is one of the last remaining fishing villages in Florida. If you pick up some fish, check out our favorite recipe for authentic Smoked Fish Dip here!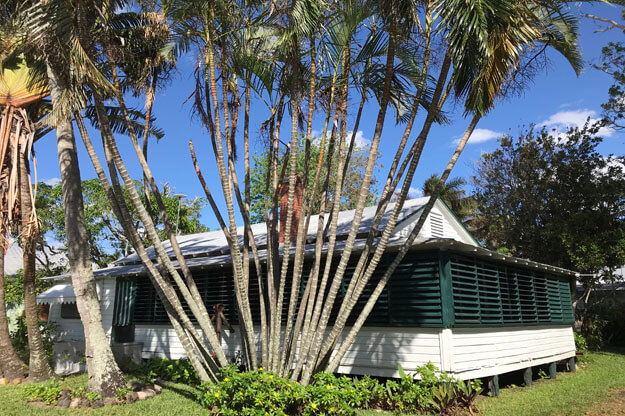 Charming homes of Cortez Village
Situated nearby but not on AMI, over the Cortez Bridge, you will enter a small, timeless community that embraces its Florida maritime heritage. Locals still build and refurbish boats in their front yards where towering rows of crab traps are stacked ready for the next fishing trip. Little has changed since the last century. In fact, not much has changed since the village was first settled in the 1880s.
Here you will also find some of Florida's best, and freshest, "dock to table" seafood restaurants.
 
The iconic Cortez Fish House
Begin your Cortez visit at the Star Fish Restaurant with a waterfront view of fishing boats and the iconic Cortez Fish House. Feast on the variety of freshly caught fish while admiring the view.

The Star Fish Restaurant serves fresh dockside fish
Kick back and enjoy being on "Cortez time" where you'll need some patience with the service, especially during the winter tourist season (and a cash-only restaurant). Following your meal, consider taking home some "fresh catch" from the Star Fish market.
Other restaurants in Cortez include the Cortez Kitchen, the Swordfish Grill, and the Tide Tables Restaurant – all dishing out fresh local Florida fare.
 
White pelicans are part of the Cortez wildlife
Photography buffs should bring a camera along to capture a prize photo of the large flock of white pelicans congregating (primarily during the winter and spring months) on the sandbar in front of the Cortez Kitchen. The perfect photo spot is accessible by walking the docks.
 
Florida Maritime Museum, Cortez Village
After lunch, you can walk over to the Florida Maritime Museum housed in a historic 1912 Schoolhouse. Admission is free to stroll back in time and learn about the area's earliest residents. These include the indigenous tribes to the first settlers and up to the present day. The maritime treasure trove showcases tools, shells, nets, and other local antiquities including a boat skiff – all showcasing the history of this old-timey fishing village.
 
The Sea Hagg, Cortez Village
If you enjoyed the museum here's a place you shouldn't miss. It's a store full of nautical treasures. The Sea Hagg is a shop located on Cortez Road that is well worth the stop. This place could be considered a museum as you enter a fantastical world of wood carvings, mermaids, nets, antique buoys, brass portholes, hand-carved statues, shell statues in and outside in the salvage garden – all perfect for the sea lover in your life.
At the end of the day and after a delicious meal, a stroll on the docks, some history, and shopping, you may want to find a comfortable spot to watch the stunning sunset in your new-found authentic getaway.

AuthenticFlorida.com was named Best Travel Blog two-times at the Florida Sunshine Awards.
To receive Authentic Florida's free weekly ENEWs, sign up on our Authentic Florida home page.
To inquire about partnerships/advertising, please contact info@authenticflorida.com 
Proud Member of: 

---
Comments are closed.