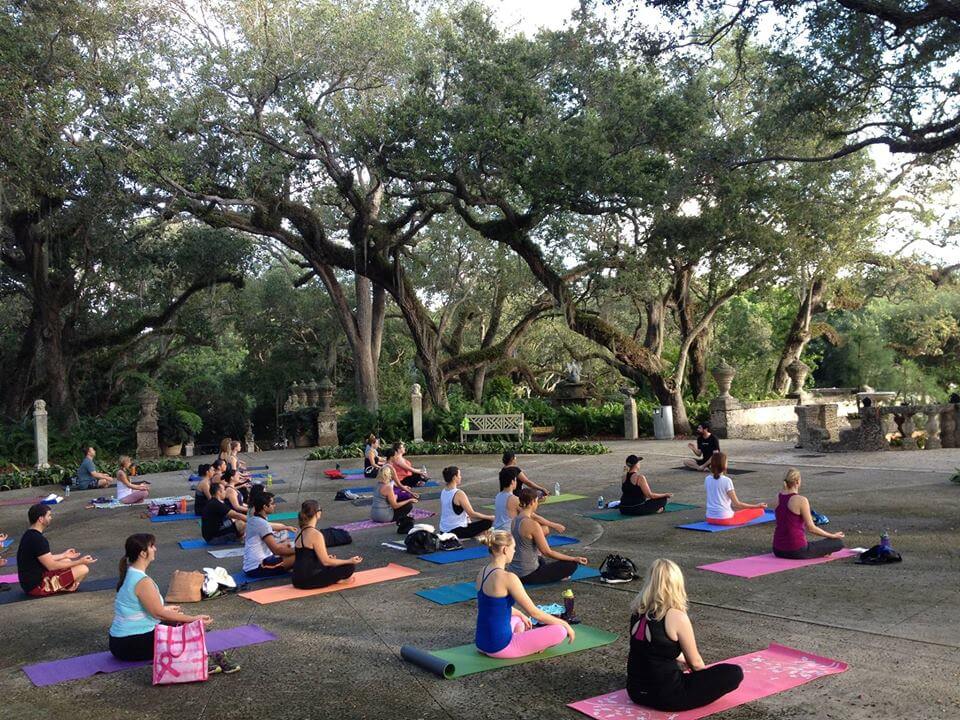 There are so many great yoga classes to enjoy across the Sunshine State! Read on to check out our favorite places for outdoor yoga in Florida!
Photo Credit: www.Facebook.com/YogaInLakeEolaPark 
Lake Eola Park is located in Downtown Orlando. Every Sunday from 11 am-12 pm, yogini Amanda "#NamasteBitches" Reh instructs a class for just $5! Amanda started teaching yoga in the City Beautiful in 2013 to bring more awareness of health and community. Her yoga class (she sometimes has guest instructors) has become one of the most popular places to be on a Sunday morning. There's also a wonderful Farmers' Market just across the lake from the practice which is a great place to have an after-practice smoothie or meal and pick up some fresh produce and other treats.
No prior yoga experience is needed. Just bring your yoga mat, water, $5, and friends! Be sure to follow them on Facebook to find out if there are any location changes or event cancellations due to special events or other activities in Lake Eola Park. Amanda also teaches indoor yoga at Harmony Yoga in Maitland, which we recommend as well.

Photo Credit: www.Facebook.com/MennelloMuseum 
The Mennello Museum hosts "Yoga in the Sculpture Garden" on the last Sunday of every month. Instructors from Full Circle Yoga will lead the class from 9 am-10 am. The yoga practice is made for beginner to moderate levels. Admission is $10 or if you are a Mennello Museum pass holder it is $5. With the $10 admission, this is also a complimentary pass to the indoor exhibit of the Museum. If you like to save money, buy a three-pack of classes that you can spread out throughout the year for only $25.

Photo credit: www.Facebook.com/AuthenticFlorida
Yoga Instructor Suzanne O'Connell has created a very intimate, nature-inspired yoga practice at lovely Leu Gardens! Moving with patience and breath, attendees examine poses from the roots to the branches, finding ways to modify for all levels and bodies. This outdoor yoga in Florida is perfect for new yoga students, yogis wanting to work on building safety, space, and alignment awareness, and anyone needing a chance to stretch, breathe and manage stress in a beautiful and peaceful setting. Classes sometimes include a meditation walk through the gardens, weather permitting. All you need is a yoga mat and anything else that will make your practice more comfortable.
It's best to call Leu Gardens for information since these classes happen in clusters of weekly sessions throughout the year. The classes are always on Wednesdays from 10 am-11:30 am. Locations sometimes vary. The front desk will guide you to the designated location for each class. There is a discount for Leu Garden members. Non-members are welcome to enjoy the gardens when the class is over. Prices vary depending on the number of classes per session. Phone number: 407.246.2620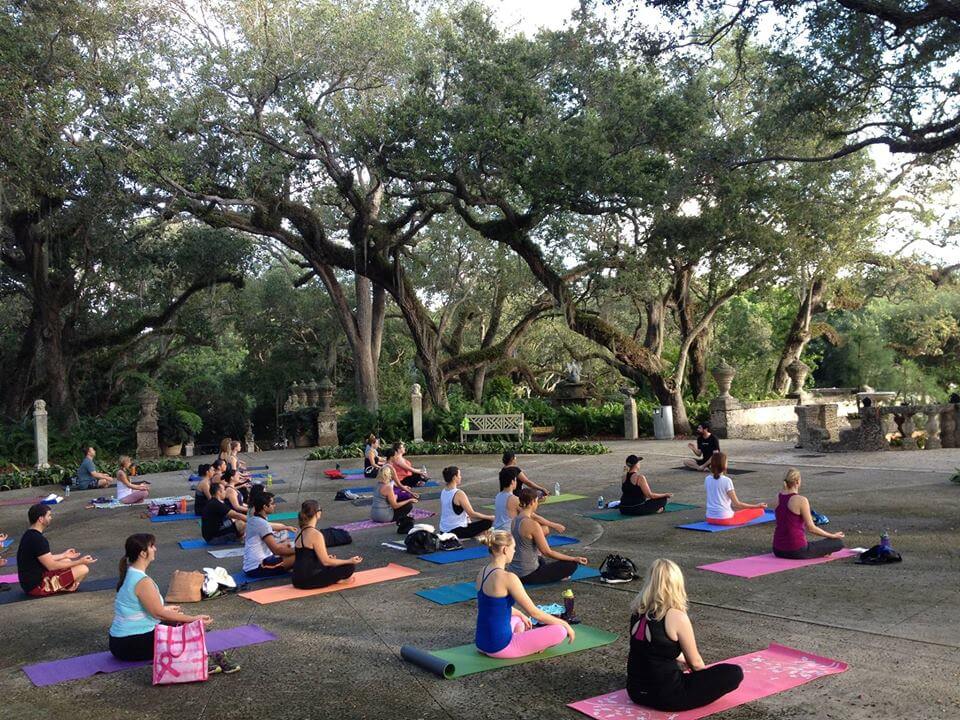 Photo Credit: www.Facebook.com/VizcayaMiami 
When it comes to enjoyment, it's hard to beat a 60-minute yoga class with a view at the Vizcaya Museum and Gardens. Originally designed for leisure and relaxation as the winter home of James Deering, Vizcaya partnered with Arianne Traverso of Bizzy Yogi Yoga to offer a vinyasa yoga series in the estate's expansive gardens. All-level yoga is held on the last Sunday of each month. Make sure to reserve your spot online for only $15. Along with the yoga class, you will enjoy a free entrance to the museum and garden after your class. If you are interested in becoming a member of Vizcaya, your membership includes a free yoga class. They also offer a Moonlight Meditation, which is definitely worth looking into.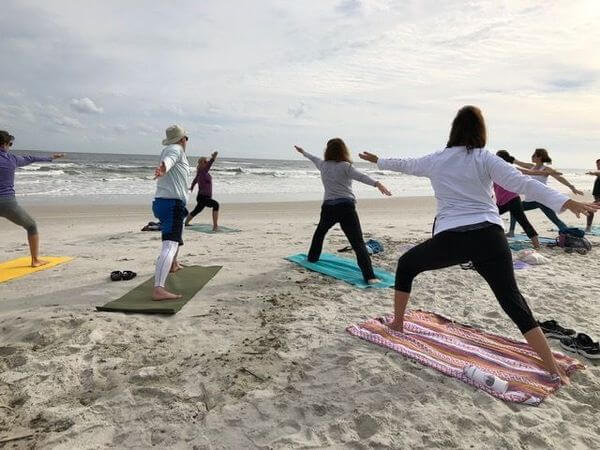 Photo Credit: Michelle S on www.Meetup.com/beach-yoga-in-NSB
Start your weekend off right with a beach yoga session at 9:30 am every Saturday. Yoga mats are not required (towels work great, too), and neither is a class fee … although donations are always a nice gesture! The idea behind this beach session is to build a community of health-minded, positive individuals. All levels are welcome! The philosophy "the more the merrier" rings true in this class, so don't forget to bring your friends or family for a relaxing morning with a view. The class is in the south part of New Smyrna Beach. Enter Hiles Blvd. or plus Mi Mexico Restaurant into your GPS. They meet on the beach very close to the beach ramp!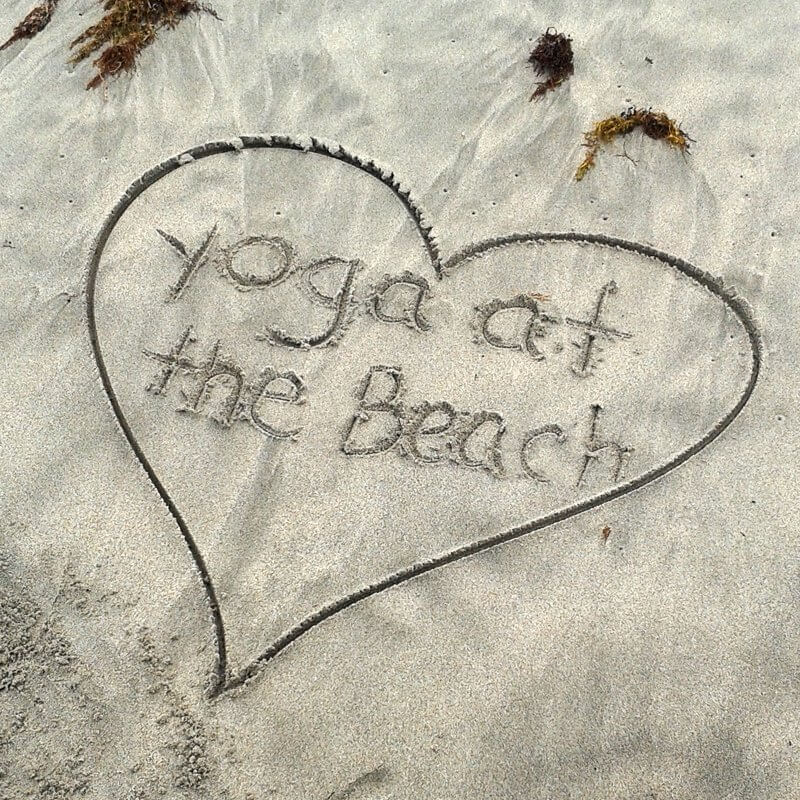 Photo Credit: www.facebook.com/yogaatthebeachboca 
If you are looking for outdoor yoga classes in Florida on the beach and overlooking the Intracoastal in Boca Raton, Yoga at the Beach is the place! Classes are appropriate for both beginner and intermediate yoga students. Each month, they offer full moon yoga classes, sunset yoga classes, and workout yoga classes. You can drop in or become a member any day of the week. Children aged 12 and over are also welcomed to attend. Check their schedule on-line to see what time works best for you. In your 60-minute class, you focus on meditation and physical movement, but remember, whatever class you take everybody's bodies are different so never overdo yourself or compare yourself to the person on the mat next to you.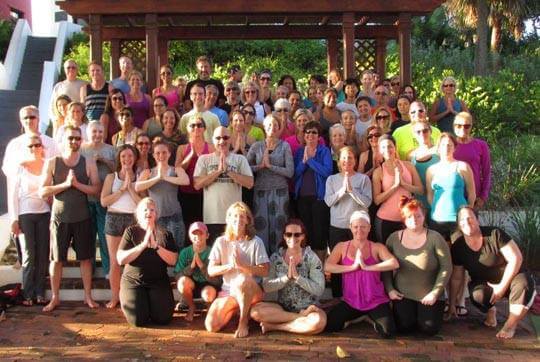 Photo Credit: www.Facebook.com/jupiterinletlighthousemuseum 
Experience "Twilight Yoga" with Mary Veal every Monday at 7 pm for an hour of all-level practice on the Lighthouse Deck. All you need is your mat, flashlight, and $10. The classes are weather permitting, so make sure to check the website for any schedule changes. Just meet at the Jupiter Inlet Lighthouse Museum 10 minutes before class is in session. It's something to look forward to every Monday.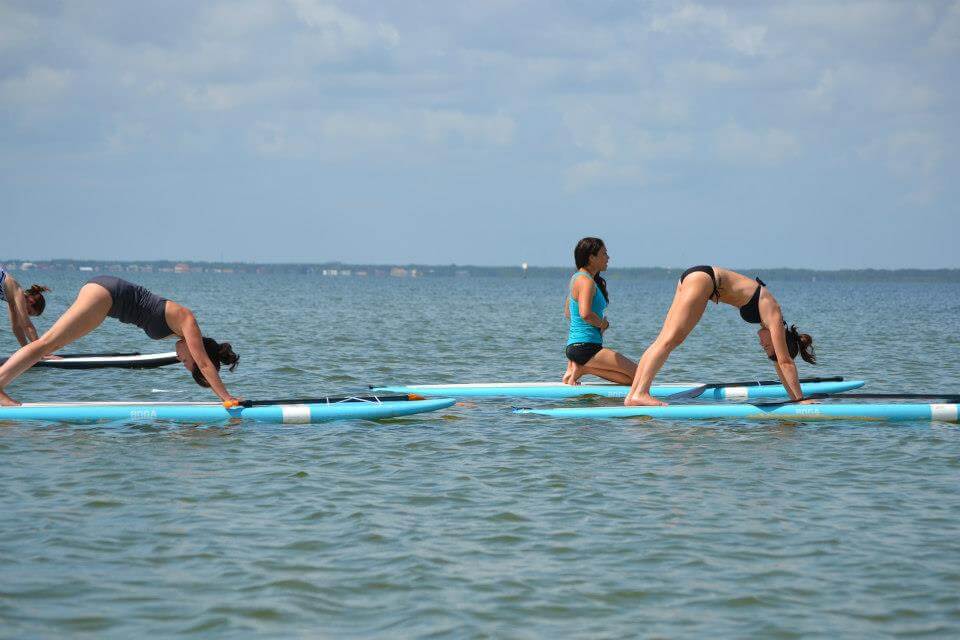 Photo Credit: www.Facebook.com/sobesurfSUP
For those of you who want to take your namaste up a couple of notches, Cocoa Beach/Merritt Island offers a one-hour stand-up paddleboarding yoga class for only $30 per person. It includes all of the equipment needed. After your yoga lessons, feel free to explore the rest of the beach. There are lots of other activities you can do in the area as well. It is highly recommended to bring a water bottle and a towel. Make sure to book online and check for availability at http://www.sobesurf.com/cocoa-beach/.

Photo Credit: www.Facebook.com/ZooWorldPCB
Doing outdoor yoga in Florida next to the lion cub exhibit or next to the alligator pond at Zooworld in Panama City Beach is just as adventurous as it sounds! The all-level classes are offered every Monday, Tuesday, and Thursday at 6 pm.  You won't want to miss out on an hour of fun, exercise, and exotic views. All that is needed is your mat, water, and $10 to participate.

Photo credit: www.Facebook.com/yogawithelin

Join Elin Monday thru Sunday from 8 am-9 am for a free yoga class on Venice Beach! Elin made the classes free because she designed them to help you evolve physically, mentally, and spiritually. If mornings aren't your thing, you can also join Elin in a sunset yoga class Monday thru Thursday at 5 pm. Make sure to bring your yoga mat or beach towel, water bottle, and an open mind. Follow @YogaWithElin on Facebook for the latest info.

Photo credit: www.facebook.com/TheEvergladesWonderGardens 
We definitely saved one of the best places for outdoor yoga in Florida for last. There's nothing better than to Spring forward into "Yoga with the Flamingos" with Susanna Tocco (a certified yoga instructor), Amigo the Flamingo and his amigos every Tuesday & Thursday at 8 am-8:45 am. We're not aware of any other place you can get your namaste on with flamingos. It's just too cool and so very Florida! RSVP's are not required, but they are preferred.  $5 for Everglades Wonder Garden members and $10 for non-members.
Check out even more of our favorite yoga classes in Florida here!

AuthenticFlorida.com was named Best Travel Blog two-times at the Florida Sunshine Awards.
To receive Authentic Florida's free weekly ENEWs, sign up on our Authentic Florida home page.
To inquire about partnerships/advertising, please contact info@authenticflorida.com 
Proud Member of: 

---
Comments are closed.