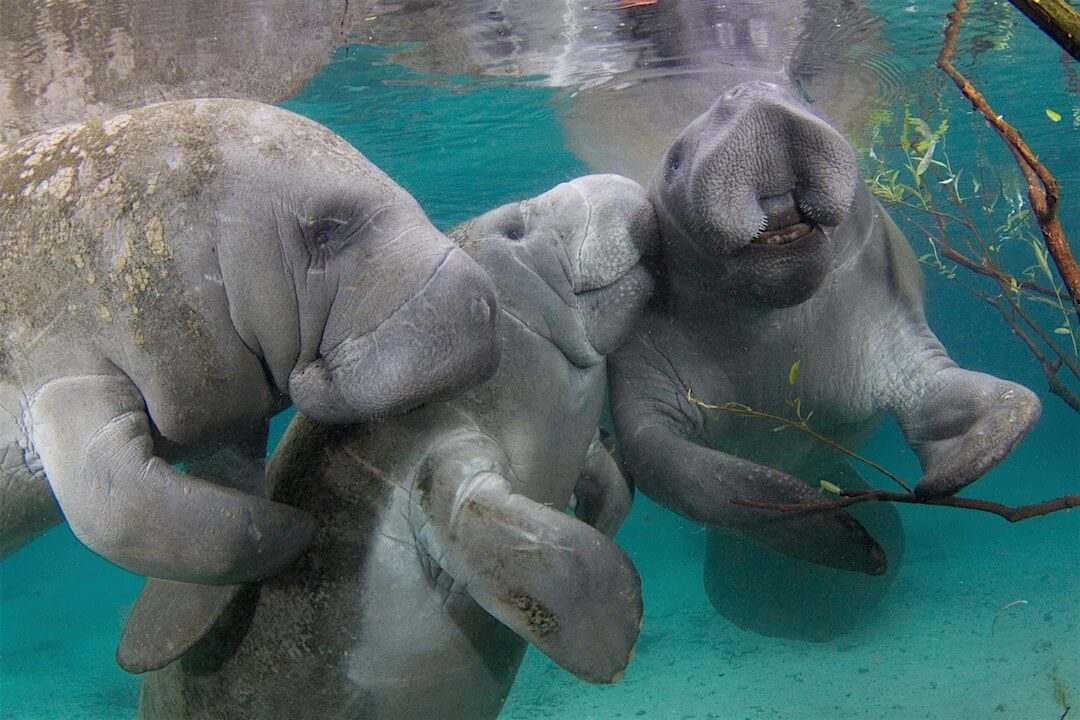 Snow has fallen in the Northwest region and most of the state has been under Freeze Warnings for several nights. Besides the bitter cold temperatures making headline news, Florida Manatees have been in the spotlight as they congregate in large herds to stay warm during these bitter cold snaps.
The manatee, Florida's gentle giant (aka, the "sea cow"), may be spotted in the largest numbers during the winter and early spring months. When water temperatures dip below 68 degrees, manatees gravitate towards warmer waters making Florida's 72-degree freshwater springs an ideal respite for the warm-blooded mammals. The added benefit for us is that we can observe them in the clear water.
Manatees are often found congregating around bubbly springs, within state and marine water parks, or near power plants where the outflow of warm water keeps their body temperatures constant. Right now is an ideal time to look for these true Florida natives, because as summer approaches, these endearing creatures will scatter.
Manatees, Three Sisters Spring, courtesy Discover Crystal River
Manatees are related to the elephant, with grayish thick, leathery wrinkled skin. Propelled by huge powerful tails, manatees are actual slow swimmers. They lumber along quietly through Florida's waterways. If you look, you can find them year-round in Florida, but it is much easier in cooler months when large numbers cluster near the temperate water.
As herbivores, manatees usually dine on marine and freshwater plants, grazing along grass flats and aquatic meadows, surfacing for air while breathing through their whiskered nostrils. These gentle creatures are definitely heavyweights, tipping the scales anywhere between 1,000-3,500 pounds and consuming up to ten percent of their body weight in marine vegetation each day. The females give birth to calves typically weighing more than 60 pounds as they nurse underwater.

Florida manatees, courtesy, Discover Crystal River
So where do you find a Florida manatee?
There are various places to see our state's unique underwater mammals. Some locations have platforms where visitors may observe them from lookout decks. Many parks have created boardwalks adjacent to waterways where manatees can be seen in masses.
Many Florida outdoor adventure outfitters specialize in manatee trips, either by boat, canoe or kayak where adventurers can get an up close and personal look. But do not get too close, as there are strict rules about keeping a safe distance from the official marine mammal of the State of Florida. Expert guides are trained to spot the enormous creatures while providing information about how to both observe and protect these endangered species.
Two of the most popular locations in Florida to see manatees are located in Central Florida: Blue Spring State Park and Crystal River.

Boardwalk look out, Blue Spring State Park
Located north of Orlando in Orange City, Blue Spring State Park is a designated manatee refuge and ideal for viewing. The refreshing, 72-degree water of Blue Spring has welcomed warmth from the cooler St. Johns River. A half-mile boardwalk borders the Blue Spring Run, the main manatee viewing area, with the translucent spring on one end and the St. Johns River on the other. Interpretive displays along the boardwalk provide history and education about the wildlife (particularly manatees) and the ecological wonders of the area.
Manatee, Homosassa Springs State Park, courtesy, William Garvin
North of Tampa and west of Orlando, along Florida's Gulf coast, Citrus County's Crystal River has an abundance of freshwater springs. Known for its first magnitude spring system originating in Kings Bay, it has the distinction of being the largest gathering area for Florida manatees in the United States. This is one of the few locations where you can snorkel, swim and drift (from a distance) with the manatees.

Crystal River's Hunter Springs, courtesy, Discover Crystal River 
If you would rather walk than swim to see manatees, try Hunter Springs. This local city park added a walkway providing premium manatee viewing opportunities. There is also expanded parking, a kayak launch and a beach area.

Crystal River's Three Sisters Springs, courtesy Discover Crystal River
Three Sisters Springs, tucked away in one of the last undeveloped tracts in Crystal River, is a collection of three springs feeding into Kings Bay. Considered to be one of Florida's most visually stunning springs, its translucent blue hues create an "other-worldly" feel. Shafts of sunlight pierce through the lush overhanging greenery into glittering crystal clear water bubbling up from the sandy bottom as manatees gently glide below the surface. A boardwalk with viewing platforms gives visitors a perfect vantage point. Visitors can access the boardwalk via a  trolley tour departing from the Three Sisters Springs Center every half hour. The Trolley also provides access to Hunter Springs Park.
Citrus County's Homosassa River offers kayakers another option to see manatees. Launch at the Old Homosassa public ramp and paddle upriver towards the Ellie Schiller Homosassa Springs Wildlife State Park, an easy one-hour ride. "Blue Water" is your destination where manatees congregate outside the park before they enter to be around the warmer springs. This is a prime location for manatee observation and a favorite with paddlers (kayakers cannot enter the park from the River).

Florida Manatee, courtesy Tracy Colson
Here are some additional locations for manatee viewing in Florida's outdoors:
Citrus County's Chassahowitzka River, south of Homosassa Springs, is considered one of the most scenic rivers in all of Florida. Travel with a guide as you will get more from your visit and spot more wildlife, including manatees, if you are with someone who really knows the area.
The Weeki Wachee River located on Florida's Adventure Coast in Hernando County is another popular spot for manatees as they travel up and down the river often in route to the Weeki Wachee Springs. You may want to start at the Weeki Wachee Springs State Park or take a kayak down the translucent waterway with a shallow sandy bottom. The slow, easy, five-mile, three-hour kayak paddle downstream is an ideal day on the water and you are likely to spot manatees along the way. Boating In Florida, located adjacent to the Weeki Wachee Park, will provide equipment and tips for an enjoyable kayak ride. You'll paddle under a shady natural canopy of cypress and oak trees while enjoying plenty of wildlife. They also provide transportation back to the park, making it an easy one way, downstream paddle.

Mosquito Lagoon, Merritt Island National Wildlife Refuge
A manatee observation area is located within the Merritt Island National Wildlife Refuge (NWR). The location is where the Haulover Canal connects the Mosquito Lagoon and the Indian River. (Call the NWR before you go, as the sightings are variable.) Also, across the street at Bairs Cove Boat ramp, manatees are often spotted. You may want to consider a kayak tour if you want to be guided to the best spots.
During the cooler months, manatees travel up the Suwannee River in search of Florida's springs. Manatee Springs State Park has a connected run that leads manatees into the spring area. Call ahead before going. Best times to view are November through April.
Located in Fort Myers Beach, Lovers Key is a popular destination for the manatees, particularly in the canal areas. The park ranger will give you tips on best places. Rentals boats and kayaks are available.
The Beachside Park suffered damage from Hurricane Irma, however, the manatees are in the Cove on the West Side, the intercoastal riverside. There's a dock at this public park where you can spot manatees. You can also rent a kayak nearby.
The Warm Water Flow: Manatees Congregate at Power Plants
An easy way to see manatees is adjacent to power plants situated on or near bodies of water. The discharge of warm water from the industrial station sends a steady stream of warm water. This creates a hospitable environment for the manatees.
Tampa Electric created the Manatee Viewing Center after people began seeing manatees congregating near the Big Bend Power Station discharge canal. Designated as a manatee sanctuary, the Apollo Beach location has a manatee educational center.
Visitors to Manatee Lagoon can view Florida manatees as these gentle giants huddle in the warm-water outflows of Florida Power & Light Company's (FPL) Riviera Beach Next Generation Clean Energy Center.
Located on Florida's east coast, the Center is managed by Ft. Pierce Power Authority, but no longer physically connected to the power plant. Overlooking Moore's Creek that runs into the Indian River Lagoon, the Center provides a resting spot for manatees with a boardwalk and observation deck providing viewing opportunities. Swampland Tours and Lisa's Kayaks provide adventure tours to get on the water for closer observation.
Situated across the street from Florida Power & Light Company, the Manatee Park is located on the discharge canal. It is a walking park with boardwalks and plenty of opportunities to see the mammals. Guided kayak tours are also offered by Florida Naturalists by calling the Calusa Blueway Outfitters.
The Wakulla Springs State Park is not only one of the best state parks in all of Florida with the deepest freshwater spring, it is also a haven for manatees. The park boat tours will point out the wintering manatees and plenty of wildlife in the park. March through September is the best time of year for viewing.

Wakulla River, South of Tallahassee
Wakulla River and the St. Marks River, North Florida
Manatees can be viewed year around, but especially when they are traveling to the warm Wakulla Springs. Harry Smith Outdoors offers tours where manatees are often seen in the river.
Protecting the Manatee

Florida Manatee, courtesy Tracy Colson
Sadly, there are so many threats to these endangered creatures. The greatest ones are the destruction of their coastal and freshwater habitats. Also, careless boaters driving too quickly through "manatee zones" often scarring and killing the animals with sharp boat propellers. And one of the hardest realities is global climate change that continues to affect both temperature and water quality. But don't lose hope – education and awareness will go a long way in creating a better future for the manatee, its environment and us as well.
For information and tips on how you can help the manatee, visit the Save the Manatee website. Also, a highly recommended YouTube video is called Manatee Manners that provides an excellent overview of our gentle giants.
For more Florida Manatees stories on Authentic Florida, check out: Find Out Where to Observe Manatees in the Wild
Signature photo credit: David Schricte, www.manateepics.org

AuthenticFlorida.com was named Best Travel Blog two-times at the Florida Sunshine Awards.
To receive Authentic Florida's free weekly ENEWs, sign up on our Authentic Florida home page.
To inquire about partnerships/advertising, please contact info@authenticflorida.com 
Proud Member of: 

---
Comments are closed.
If You Go
For more information on visiting key manatee viewing locations: