It's Florida strawberry season and I love making homemade ice cream using fresh berries. This morning I went to a local u-pick farm and filled my bucket. Once home, I carefully washed the sweet berries and began making old fashioned ice cream. My family was lined up with spoons as I took it out of the freezer.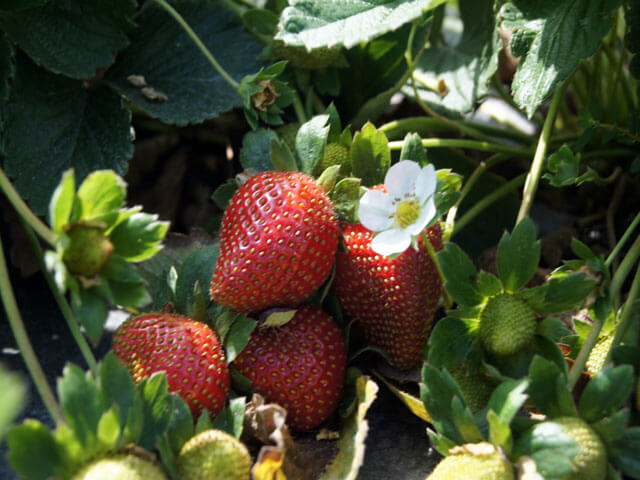 Strawberry Caption
What a treat it is to pick your own berries right from the farm. I particularly enjoy watching families and children enjoying a day outdoors. Kids seem to eat as much as they pick while strawberry juice runs down their smiling faces. The entire experience reminds me what a treat it is to share Florida's bounty with children, connecting our food to the earth.
Enjoy this easy recipe and the delightful pleasure of making your own homemade ice cream.
Homemade Strawberry Ice Cream
Ingredients
3   Cups fresh Florida strawberries, stemmed and sliced
4   Tablespoons freshly squeezed lemon juice
1 ½ Cups of sugar divided (1/2 cup & 1 full cup)
1 ½ Cups of whole milk
2 ¾ Cups heavy cream
1 ½ Teaspoons pure vanilla extract
Step One
In a small bowl, combine the strawberries with the lemon juice and ½ cup of the sugar.
Stir gently and allow the strawberries to macerate in the juices for 2 hours.
Using a strainer, strain the berries, reserving the juices.
Then, mash or puree half the berries.
Step Two
In medium mixing bowl, use a hand mixer on low speed to combine the milk and remaining granulated sugar until the sugar is dissolved, about 1-2 minutes. If you don't have a mixer, use a hand whisk for 3-4 minutes.
Stir in the heavy cream, reserved strawberry juice, mashed strawberries and vanilla.
Step Three
Turn the machine on; pour the mixture into the freezer bowl, and let mix until thickened about 20-25 minutes.
Five minutes before the mixing is completed, add the reserved sliced strawberries and let mix in completely.
If you don't have an ice cream maker, don't despair, you don't need one, just:
Pour in the reserved strawberries, mix and place into a plastic container covered with a tight lid and chill in the freezer over night, stirring occasionally until hardened. 
Note: The ice cream will have a soft, creamy texture. If a firmer consistency is desired, transfer the ice cream to an airtight container and place in freezer about 2 hours. Remove from freezer about 15 minutes before serving.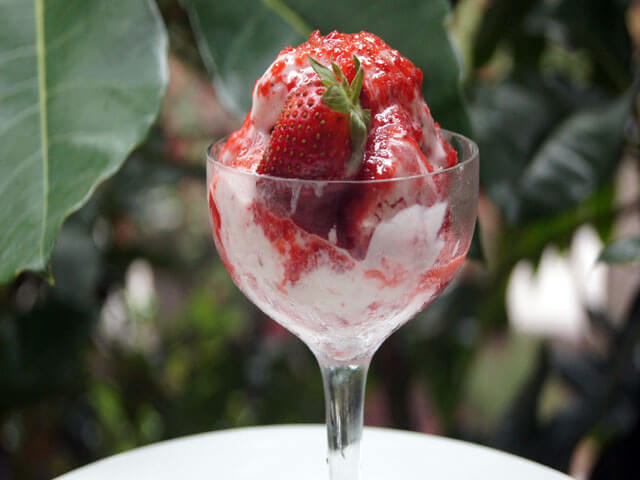 Adapted from Cuisinart recipe. 
---
Comments are closed.