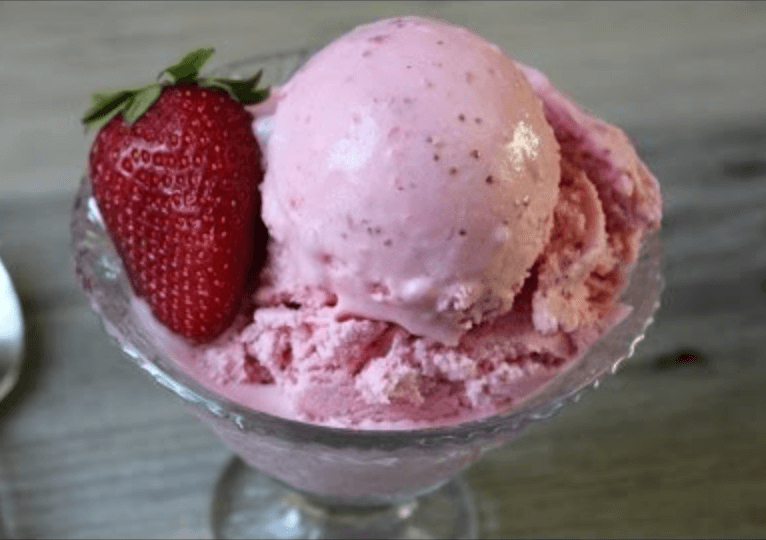 Did you know that Plant City, Florida is the Winter Strawberry Capital of the World?!? Right now is the perfect time to take a trip to Plant City or to your local pick your own strawberry field and fill up a bucket of fresh, delicious strawberries. Grocery stores and farmers' markets are also keeping a plentiful inventory. Read on to see how to use these delicious fresh-picked berries for an authentic Florida fresh Strawberry Ice Cream Recipe.
Enjoy this easy recipe and the delightful pleasure of making your own homemade ice cream.
Ingredients for Florida Fresh Strawberry Ice Cream Recipe
3   Cups fresh Florida strawberries, stemmed and sliced
4   Tablespoons freshly squeezed lemon juice
1 ½ Cups of sugar divided (1/2 cup & 1 full cup)
1 ½ Cups of whole milk
2 ¾ Cups heavy cream
1 ½ Teaspoons pure vanilla extract
Step One
In a small bowl, combine the strawberries with the lemon juice and ½ cup of the sugar.
Stir gently and allow the strawberries to macerate in the juices for 2 hours.
Using a strainer, strain the berries, reserving the juices.
Then, mash or puree half the berries.
Step Two
In medium mixing bowl, use a hand mixer on low speed to combine the milk and remaining granulated sugar until the sugar is dissolved, about 1-2 minutes. If you don't have a mixer, use a hand whisk for 3-4 minutes.
Stir in the heavy cream, reserved strawberry juice, mashed strawberries and vanilla.
Step Three
Turn the machine on; pour the mixture into the freezer bowl, and let mix until thickened about 20-25 minutes.
Five minutes before the mixing is completed, add the reserved sliced strawberries and let mix in completely.
If you don't have an ice cream maker, don't despair, you don't need one, just:
Pour in the reserved strawberries, mix and place into a plastic container covered with a tight lid and chill in the freezer overnight, stirring occasionally until hardened.
Note: The ice cream will have a soft, creamy texture. If a firmer consistency is desired, transfer the ice cream to an airtight container and place in freezer about 2 hours. Remove from freezer about 15 minutes before serving.
Adapted from Cuisinart recipe. 
SIDEBAR:
Don't miss the 2021 Strawberry Festival March 4th – 14th in Plant City. For more info, visit: http://flstrawberryfestival.com/
Looking for the best spots to get ice cream across the state? Check out our favorite sweet treats here!

AuthenticFlorida.com was named Best Travel Blog two-times at the Florida Sunshine Awards.
To receive Authentic Florida's free weekly ENEWs, sign up on our Authentic Florida home page.
To inquire about partnerships/advertising, please contact info@authenticflorida.com 
Proud Member of: 

---
Comments are closed.