The open-air pontoon boat is docked near Ft. Myers Beach at Salty Sam's Marina, across San Carlos Bay from Sanibel Island. The passengers are boarding dressed in shorts, hats and sandals as the smell of sunscreen wafts through the air. Buckets, bags, and small coolers are in tow.

Pam Rambo, i Love Shelling.com
A tan, blonde-haired bubbly woman dressed in aquamarine colored shorts and matching flip flops greets everyone as they board. Pam Rambo is our leader, who will be guiding us on our sea shelling adventure. As the boat begins to leave the dock, she welcomes us on board and asks, "Who knows the name of this shell? As Pam holds up a spiral shell in her hand, we closely examine it. A woman immediately shouts, "That's a worm shell!"
Pam smiles and acknowledges her correct answer and the woman is delighted with the affirmation. Pam shares that the worm shell, and many others such as the Lettered Olive, the Horse Conch and the Lighting Welk will be some of the shells we are likely to find today. They are typical of what is found off southwest Florida's coastal waters near Sanibel Island, the renowned "shell capital of the world."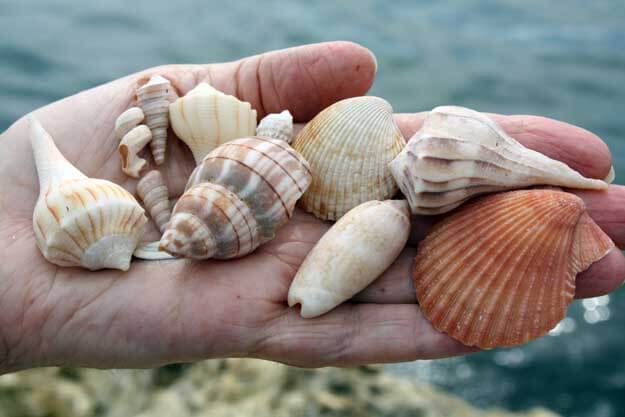 Shells found in Southwest Florida
Pam has years of shelling experience as a longtime resident of Sanibel Island where she is also an evangelist. She hosts beach tours and owns a website filled with shelling information called "i Love Shelling.com". Several guests on the boat are Pam's devotees, and share her passion for shells and shelling.
Pam then passes around her "lucky shell bucket" overflowing with colorful, local shells with a goal for us to select one, and place in our pockets. In this way, she hopes we will garner "good luck" for our upcoming beach hunt.
As we comb through the lucky bucket we are thinking about shells we might find on our adventure. Will we find a Sunray Venus, Florida Cone, Fighting Conch or even the rare Junonia?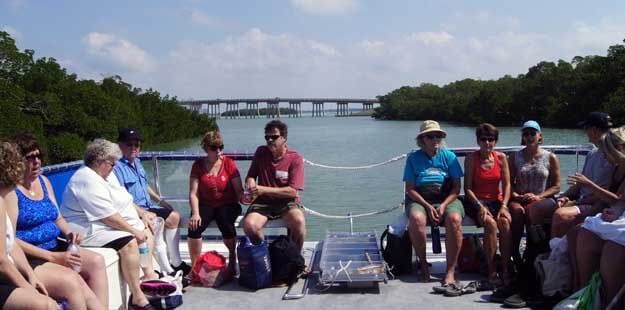 Shelling enthusiasts aboard the boat
Our 25-minute boat ride takes us south along the Intracoastal Waterway in route to Big Hickory Island, southeast of Sanibel Island. The short cruise gives Pam an opportunity to share some of her shelling tips:
"The beaches change every day. So before you go shelling, check the tide charts. One hour before or after low tide is usually the best time to go. A full moon or new moon is another good time to shell because of the extreme tides."
"And don't forget about the winds. If you are shelling on Sanibel, northwest winds are good for the north end of the island towards Captiva. Southwest winds are best for the south end of Sanibel. And shelling after a storm is usually ideal."
And Pam reminds us of the Golden Shelling Rule: Leave any shell with a living creature inside. She grins and says "Let's leave the live creatures so they stay healthy and breed for future generations."
After getting some good shelling pointers, we arrive at Big Hickory Island and the crew helps us onto the beach. We are eager to begin this treasure hunt.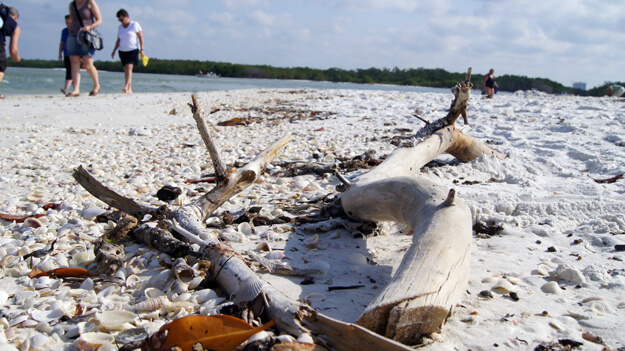 Shells and driftwood on Florida's beaches
Storm ravaged trees are scattered around turning to driftwood in the bright sun and salty breeze. A bird shrieks overhead. The large white and black coastal bird known as an Osprey is circling above clutching a fish in its talons, ready to take to its nearby nest.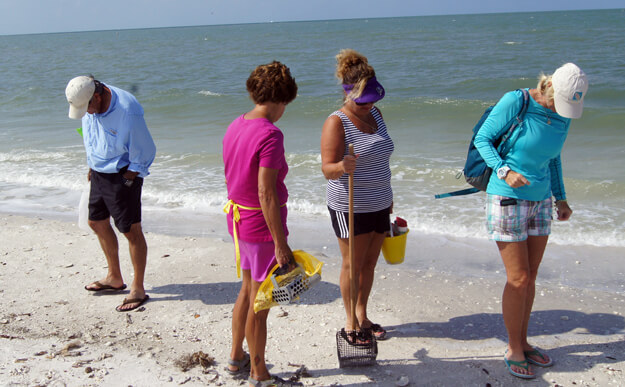 Pam Rambo leads shellers 
Some in the crowd follow Pam closely to learn more about the "art of shelling" while others scurry down the beach to find the fresh batch of incoming shells. As we reach the shelling grounds most everyone assumes the hunched over position known as the "Sanibel Stoop," as they scan the sands for nature's precious gems.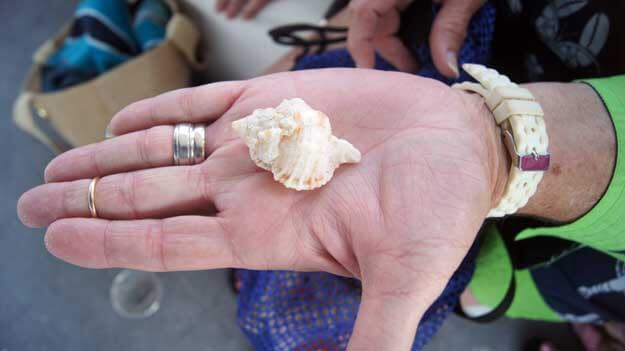 Apple Murex 
"Don't be in a rush," shares Rambo, "it takes a while to train your eye," as she moves – almost in slow motion – scanning the beach while providing tips to the small group tagging along. A woman finds a shell known as an Angel Wing and Pam quickly identifies the fragile shell, sharing further tips for finding them. Rambo is a walking encyclopedia of shelling knowledge with her years of experience as both a shelling enthusiast and artist.
With every step, someone is picking up a specimen and examining it, stashing it in their container. Sand Dollars, Turkey Wings, Kitten's Paws, tiny Coquinas and Tulips are found as everyone peers to see and learn the names.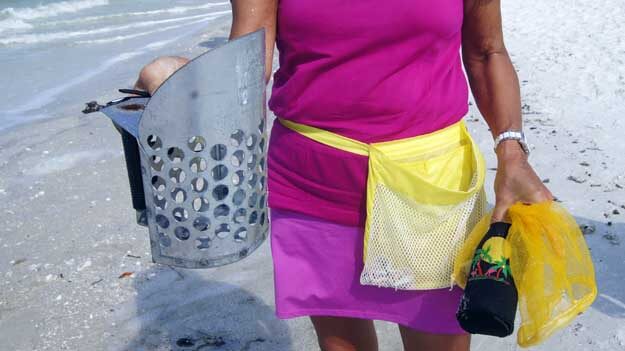 Some shellers use tools and bags for the hunt
We spend almost two hours on the beach looking for our shelling gems. Some participants are serious shellers, using special tools with sieved baskets similar to shovels. Others are happy to use their hands to sift through the sand, and some are even content to enjoy the beach walk and swim in the Gulf of Mexico.
Before we know it, Pam calls us to begin returning to the boat. We try to get in a few more minutes of shelling before we have to return, happy to have a stash to add to our collection.

Sight Sea-R Cruises
As we pull anchor for the return trip, Pam circles around the boat to examine the finds. She also answers questions from the group, many of whom are staying on Sanibel Island, providing tips so they may continue their shelling experience there.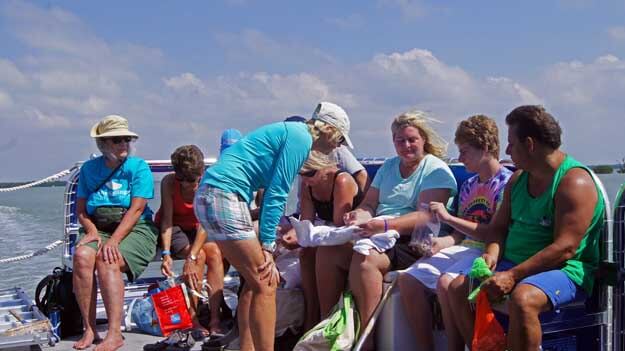 Pam Rambo examines the "loot" from shellers
Then, one of the passengers spots a pod of dolphins off the stern of the boat. "Dolphin!" Two dolphins are following the boat and jumping in and out of the waves. It's a magical end to our day. Our trip is complete with newly found treasures and fond memories of our shelling adventure.
Pam Rambo's Shelling Trips
Rambo hosts two half-day shelling expeditions. One to Big Hickory Island through Sight Sea-R Cruises and another to Cayo Costa State Park through Captiva Cruises. For more information, visit www.iLoveShelling.com.

Cayo Costa Island is also a shelling paradise
Visiting Sanibel Island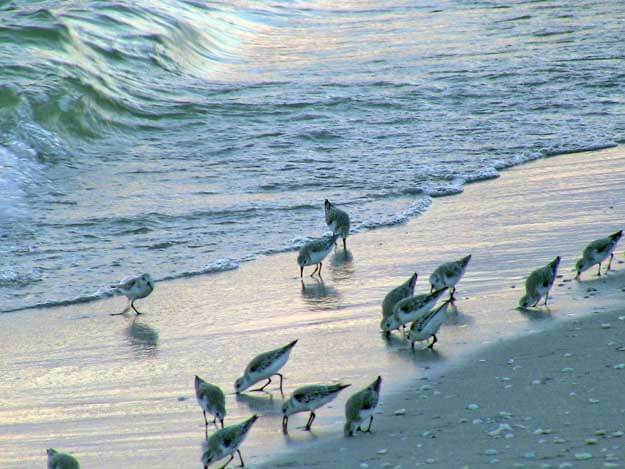 Sanibel Island
Just offshore of Fort Myers on Florida's Gulf is Sanibel Island, offering an island paradise with spacious beaches, world-class shelling, and exceptional fishing. With a range of accommodations including tropical and quaint lodgings, delicious restaurants and a renowned wildlife refuge – it makes the ideal beach getaway. To get a good overview of the island, stop at the Sanibel & Captiva Visitor Center. The staff is super friendly and they have plenty of information to make your visit special.
Things to Do
Even if you are just there for a day you may want to park the car, grab your beach chairs and watch a sunset. Look for the Green Flash at the moment the sun hits the Gulf on the horizon. If you experience a brief flash of bright green it is said to be good luck.
If you want to stay for a while here are some suggestions.
Keep on Shelling
Since Sanibel is known as the "Shell Capital of the World" you'll likely want to continue seeking the delightful gems. Shells are abundant because the island's unique geography forms a ladle scooping shells from the Gulf of Mexico. Locals claim that best shelling is at Blind Pass (San Cap Road), Gulfside City Park (2001 Algiers) and Lighthouse (112 Periwinkle Way) beaches.
Beach It

Island Inn Cottage
Find your beach. For "Old Florida" accommodations try the Island Inn. Or down island stop at Mitchell's Sand Castle for adorable cottages on the beach.

Calusa Indian Exhibit, Shell Museum
Learn even more about the treasures you may have found with a visit to the Shell Museum. Colorful displays of local shells from Southwest Florida and around the world make this a one-of-a-kind stop.
Visit the J.N. Ding Darling Wildlife Preserve
Sanibel's Ding Darling is one of the nation's top nature preserves.  Begin your morning on the informative one-hour tram tour along Wildlife Drive. Keep your eyes on the tidal mud flats where you are likely to see pink roseate spoonbills, herons, and egrets, and if you look up you often see ospreys wheeling in the wind.
Stop at the Sanibel Lighthouse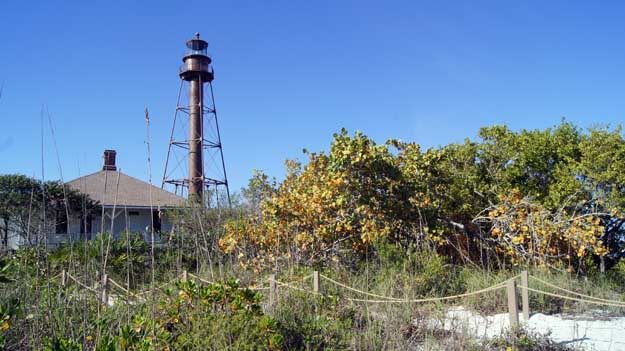 Sanibel Lighthouse
On the east end of the island is where you'll discover the historic Sanibel Lighthouse (Point Ybel, Perwinkle Way), beach, and fishing pier.
Where to Eat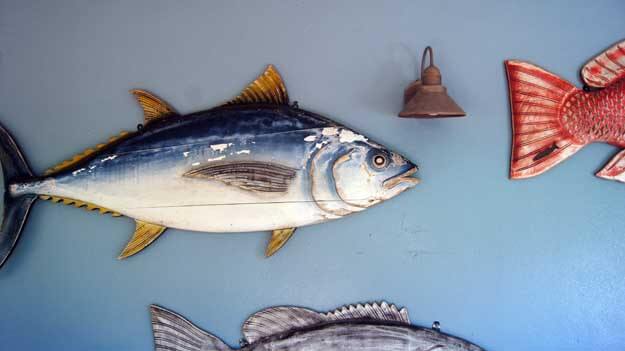 Doc Ford's Rum Bar & Grille for fish tacos
Lazy Flamingo for fresh fish
Overeasy Café Try the stuffed coconut pancakes and sunrise mimosas
Bailey's General Store for the fresh coffee bar and specialty food items, or grab a picnic lunch
Favorite Local Shell Shops
While There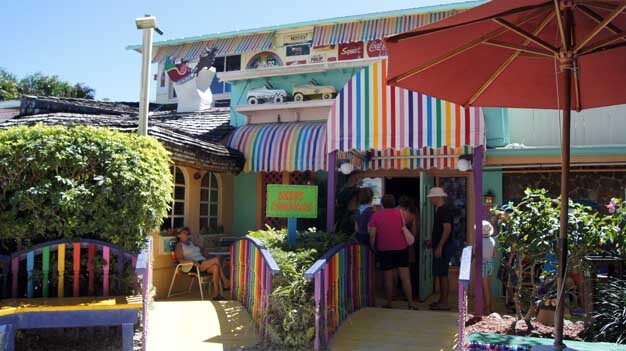 The Bubble Room, Captiva Island
Drive due north to Captiva Island. Park in the village and walk. Have lunch at the eclectic Bubble Room decorated with zany Hollywood and Christmas kitsch. Then meander to the Mucky Duck neighborhood pub for a cocktail on the beach – the sunset gathering spot.

Chapel-by-the-Sea, Captiva
For a special treat, check out the quaint Chapel-by-the-Sea that served as both a schoolhouse and church surrounded by sea grapes and gumbo limbo trees.
To receive Authentic Florida's free ENEWs, featuring travel and living updates, delivered weekly, sign up on the home page Authentic Florida.
---