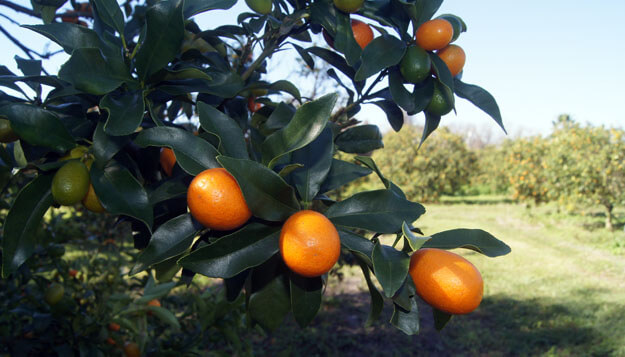 It's time to check the 2018 Dade City Kumquat Festival off your Bucket List … it's fun, free and so Florida … and you may want to try this delicious guilt-free kumquat salad when you return home.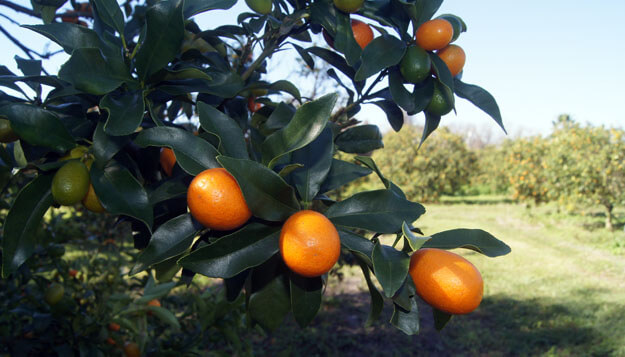 So, what exactly is a kumquat?
Orange in color, this small bite-sized fruit can be eaten – skin and all, providing a flavorful, pungent sweet and sour taste. It is a member of the citrus family and often baked into desserts and used as a glaze or flavoring for main dishes.
The kumquat is believed to be a native of China and has long been a symbol of prosperity during the Chinese New Year celebrations. It was brought to the U.S. where two species are grown, the Nagami and the Meiwa. The more common Nagami (oval-shaped) kumquat is tart and ideal for marmalades and jellies, while the Meiwa (round-shaped), is sweeter and ideal for snacking, lacking the tartness of a Nagami.
Kumquats are a member of the Florida citrus family and are a small, bite-sized fruit, characterized by a distinct sweet and sour taste. They can be eaten – did we mention, skin and all – but they do have seeds. Many Floridians love to pop them in their mouth and eat them whole. Plus, the word "kumquat" is just so fun to say.
Florida's Dade City celebrates its "Ode to the Kumquat" on Saturday, January 27th, during the annual Kumquat Festival honoring its distinction as the world's leading supplier of the tasty petite fruit.
Amidst green hills and pastures north of Tampa and about an hour west of Orlando, you'll find groves of Florida's "golden gem," known as the kumquat. Held the last Saturday in January year after year, attendees join in the fun … and admission is free. We suggest you arrive early since the festival fills up fast.
Held in delightful downtown Dade City, the Kumquat Festival is a homegrown family event that provides fruit tastings of every imaginable combination including kumquat pies, cookies, smoothies, ice cream, marmalade, marinades, vinaigrettes, and salsa. And there is plenty of fruit to purchase for creating your own signature dishes at home.
Dade City has a great downtown area, so make sure you take time out to explore some of the great shops and stores.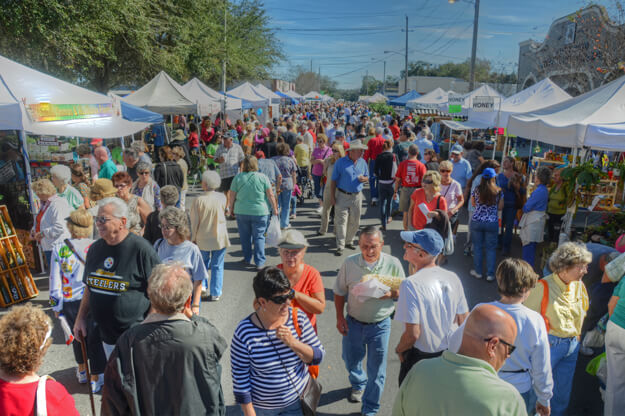 Over 425 vendors and 40 sponsors come together to make this a fun-filled day of celebration as local entertainment kicks up the celebration giving the event a special homespun feel. The Strawberry Express Cloggers, the Cypress Creek Dixieland Band, and church groups perform Christian, Soul, Pop, and Gospel music. And don't miss Mr. and Ms. Kumquat, the arts and crafts exhibition, the antique car show, and the downtown storefronts dressed in what else, but "kumquat themes."
So, after your visit to the Kumquat Festival with your take-home fresh kumquats, you may be inspired to create this guilt-free salad filled with fresh Florida ingredients.

Florida kumquats are a small edible fruit from the citrus family

Florida Strawberry Kumquat Salad
Recipe for Florida Strawberry Kumquat Salad
Florida Strawberry & Kumquat Salad is one of my all-time favorites and is not only beautiful to look at, but you will also be amazed at the flavorful combination of sweet strawberries, citrusy kumquats, a hint of mint, toasted almonds tossed with a balsamic vinaigrette.

Florida Strawberries
Kumquat season is generally November through March, almost overlapping the Florida strawberry season (December through April). Add fresh seasonal Florida kale (or a salad green of your choice) and you have Florida's "Triple Crown" Salad.
Serves four as a main course.
Salad Ingredients



Strawberry Kumquat Salad ingredients
1 pint of strawberries
½ cup of raw, unsalted sliced almonds
1 pint of kumquats (Nagami, oval-shaped, found in most grocery stores)
3 Tbsp. fresh mint (3-4 sprigs), diced (or sliced in strips)
1 kale bunch (fresh or cut in pieces in bags), or arugula
For the Vinaigrette
¼ cup of balsamic vinegar
½ cup of olive oil
2 Tablespoons minced shallots (one large shallot)
Steps
Preheat oven to 350 degrees. Spread the almonds on a baking sheet and bake in the oven until toasted 5-10 minutes. (Tip: set a timer to keep watch). Let cool.

Toast the almonds
Meanwhile, rinse the kale, pat dry and remove the stem of the kale (if not already removed), take the leaves of the kale, roll like a cigar and cut thin strips. Place in a large bowl.

Kale can be purchased as a bunch or pre-cut in bags
 
If purchased in a bunch, remove stem, roll the leaves and cut in strips

Rinse the fruit well and cut into slices
Next, rinse 6-8 strawberries, remove the stems, and thinly slice the strawberries. Set aside.
Then, rinse 8-10 kumquats. Pat dry. Next, with a sharp knife, thinly slice off the ends. Carefully cut the kumquat in thirds. The middle slice will have the most seeds and you'll want to take the point of the knife and remove the seeds.  Set aside. Take the kale salad greens, sprinkle the strawberries, kumquats, mint, and almonds. Don't forget you can grab some kumquats from the Dade City Kumquat Festival!

Take the stem off the kumquats, cut in thirds, and remove seeds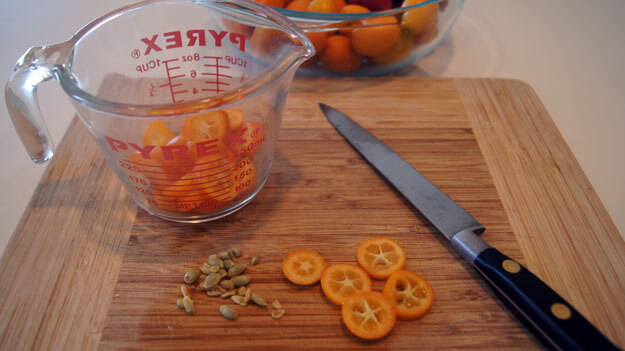 Dice the mint in small pieces, sprinkle on the salad
Making the Vinaigrette
For the dressing, in a bowl, pour 2 tablespoons of minced shallots, add ¼ cup of balsamic vinegar, and whisk in ½ cup of olive oil. Pour over the salad (you may not need all of it), and toss the salad before serving.

Dice the shallots
 
Create the vinaigrette with balsamic vinegar and olive oil
Enjoy this delicious recipe as well as the Dade City Kumquat Festival!

Single serving Strawberry Kumquat Salad

AuthenticFlorida.com was named Best Travel Blog two-times at the Florida Sunshine Awards.
To receive Authentic Florida's free weekly ENEWs, sign up on our Authentic Florida home page.
To inquire about partnerships/advertising, please contact info@authenticflorida.com 
Proud Member of: 

---
Comments are closed.