Join the Fun at a Florida Sugar Cane Syrup Boil
Experience a Sugar Cane Syrup Boil, a long-standing Florida Cracker tradition dating back to the earliest pioneers where you can even join in the fun. 
The country morning fog shrouds giant oak trees at the Melton family farm. Faint outlines of grazing cattle are barely visible among 1,500 acres of hay fields as I drive through the gate and up the hilly, sandy road.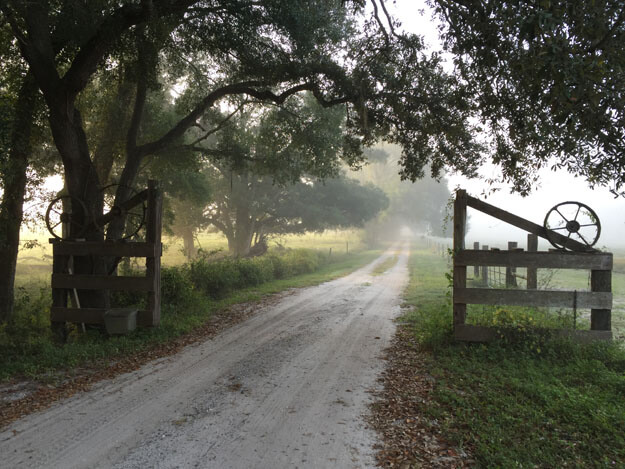 Melton Family Farm, Dade City
I am in rural central Florida in a community called Dade City, on the Pasco and Hernando county line. When I arrive to my destination I see two barns. One resembles an airplane hangar where Steve Melton houses his personal museum of antique farm machinery, and the other is a smaller building with an overhanging roof, known as a cane barn.
There is no doubt this is a busy working farm as I spot a truckload of freshly cut sugar cane piled next to tractors and farm equipment. I stop, get out of my car, and approach a group clutching coffee cups warming up in the crisp, cool morning.
My host, Steve Melton, greets me and extends a handshake. Steve sports a white cowboy hat, blue jeans, a plaid shirt and has a deep southern accent. His warm cowboy welcome is filled with excitement. "I am so glad that you are here today. It's going to be a 'grand' day," he says as he grins with pride.
"Today is our first cane syrup boil of the season, but I also have another treat in store for you." He points to a large machine – an imposing antique contraption perched on a cement block. It has a fresh coat of blue and silver paint, flanked with giant wheels and attached to a 30-foot belt powered by a 1940's red International Farmall tractor.
He walks me over to the machine and explains, "This here is a sugar cane press, owned by the Petters family dating back five generations when the family patriarch Bernard Petters purchased it around the 1920's. The press (a Columbus No. 20 Sugar Mill) had been sitting on the Petters family property unused and decaying for decades. My friend, Charlie Kirksey, also a cane grinder, spotted it while visiting the property and encouraged me to contact the family. I called Debbie and Tim Petters and offered to restore it and put it back in use. Today is the official inauguration of this 95-year old sugar cane press."
From there he introduces me to Debbie, Tim and their son, Nicholas Petters, who are standing by the press, beaming with pride. They are eager to see this piece of history placed back in service and are clearly excited to witness their family heirloom pressing sugar cane – the way it was intended.
And this is much more than an equipment demonstration. Friends, neighbors and members of the Melton's church have gathered to witness this event and to celebrate an old cracker tradition still practiced in the heart of rural Florida.
It's Cane Boil Day at the Melton Family farm.
Cane syrup is caramel-flavored, slightly bitter syrup made from the juice of sugarcane. Making sugar cane syrup is an historical tradition dating back to the earliest pioneers – still a custom throughout the southeastern United States and rural parts of Florida.
Historically, cane syrup was the main source of sweetness for small communities where sugar was harder to come by. Even today, for many, it is the preferred natural sweeter over refined sugar – poured over pancakes, bacon, sausage, grits, eggs and biscuits. Cane syrup is also found in sauces, baked goods and hard candy recipes.
But let's get back to the sugar cane grind and the cane boil process.
Steve alerts the crowd of 20 individuals that the process is about to begin as he jumps on the tractor. The engine sputters and fires creating a loud roar as the long belt motors the sugar cane press.
Immediately, folks gather to feed a truckload of lengthy sugar cane stalks, stripped of outer leaves, into turning rollers. The rollers crush and squeeze the stalks, extracting juice that flows into a separate bin, producing a 60-gallon batch of juice. The used flat stalks are then heaped in a pile for cattle feed.
The cane juice is immediately transferred through a hose to the large kettle to begin boiling the juice. This metal cauldron sits perfectly in a large brick vat over a fire of oak and lighter wood. Lighter is from the heart of a pine tree and is used as a fire starter for a very hot fire.
Once the juice is extracted, the three-hour process of cooking down the juice begins – thickening it to a syrupy consistency.
Initially, the juice boils to 190 degrees. Floating grey impurities are skimmed off the top using long handled skimmers. For over an hour the impurities continue to be skimmed and poured into a dump bucket.
Soon, white foam begins to appear and linen cloth is tucked around the kettle to continue absorbing and purifying the juice.

Sugar cane boil creating foam
These next steps, and the unique names identifying them, surely reflect the Florida Cracker culture:
Little black specks appear in the foam and are skimmed off. These called "tadpoles."
Next, the syrup begins to create larger bubbles. These are called "fish eyes."
Later, the syrup bubbles and thickens like pudding. This is called "hominy hop."
In between the skimming steps Steve entertains the crowd with yet another skill. He is a Florida poet cowboy regaling us with his country stories while spinning humorous Cracker tales.
Over time the syrup begins to turn a rich golden hue and that's when the recipe testing begins. The old timers will dip a paddle into the vat and scoop, allowing the juice to flow off (like candy making) to test the consistency, hoping for a "stringy" effect, while the younger crackers will test the temperature until it reaches a 227 degree temperature (or 35 degree balm hydrometer reading). As the syrup begins to bubble and thicken, a sticky residue forms along the top rim of the kettle. The resulting sugar candy is called "polecat" and is a favorite step with young and old.
When the temperature and consistency are just right (often as determined by the most senior Florida Cracker) bucket-shaped dippers are brought out and a fast and furious scooping begins to collect the remaining thick syrup, which is then placed in a cloth-sieved bucket.
Once the syrup is out of the kettle, a famous tradition ensues:
"Pull the Fire!" yells Steve Melton, and the hot wood still burning in the stove is yanked out to the yard to remove the heat and let the kettle begin to cool.
Immediately thereafter, the syrup bottling begins. Spouted containers of freshly made and strained syrup are poured directly into empty bottles while the syrup is hot, then it is capped and labeled. The crowd of family and friends makes this process easy by making it an assembly line.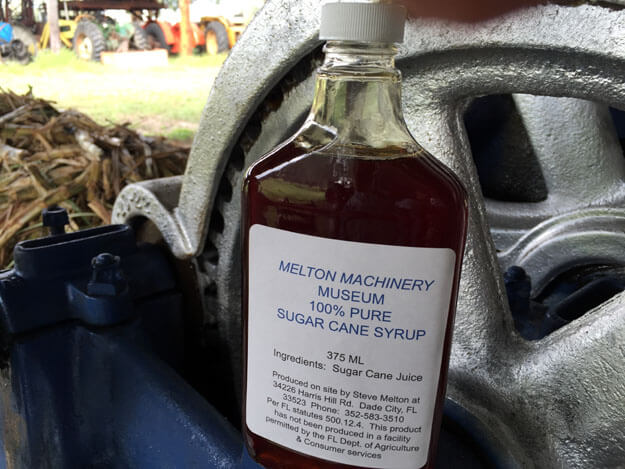 The result is the dark, bittersweet and gooey nectar that was a staple in pioneer Cracker households.
Making cane syrup is more than just a farm process. It's a fall tradition that centers on family, friends and community coming together to lend a hand and socialize at the same time. Even today many families make it part of their Thanksgiving, celebrating the harvest and their blessings. Old timers compare notes about their recipes and argue about the best ways to make syrup, but it seems to really be about being with those you love and celebrating the best of Florida.
Best Time to See Sugar Cane Syrup Demonstrations
Most Sugar Cane Syrup is made in the fall that coincides with sugar cane harvesting time. Sugar cane boils typically occur between Thanksgiving and the New Year.
Buying Cane Syrup
Many historical museums, nature centers, or places with public demonstrations listed above should have syrup for sale. There are also sources listed online found with a quick search.
See the accompanying side bar for places you can see a live sugar cane boil.
To receive Authentic Florida's free ENEWs, featuring travel and living updates, delivered weekly, sign up on the home page Authentic Florida, voted Blog of the Year and Best Travel Blog at the Orlando Sunshine Awards.
For more reading on places to experience Florida history consider the Guide to Florida Pioneer Sites Exploring the Cracker Heritage, by Rodney & Loretta Carlisle.
This guidebook provides a tour of more than twenty of Florida's historic pioneer and cracker villages. With more than 50 photographs, it is an indispensable guide for tourists as well as for parents and teachers looking for a meaningful glimpse of the vanishing lifestyles of Florida's pioneers.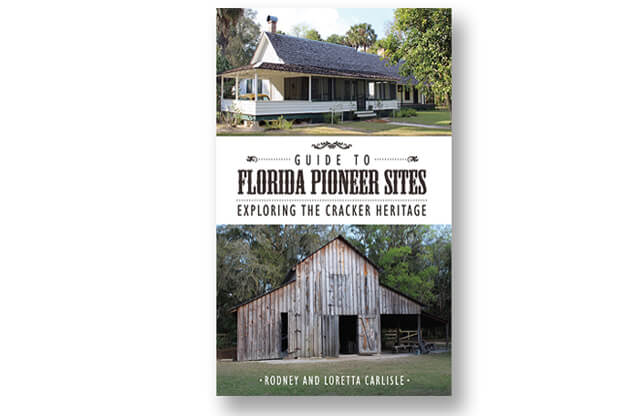 ---
If You Go
Do you want to experience a Florida Sugarcane Boil? Here are events coming up:
North Florida
Tallahassee Museum Fall Farm Day, Tallahassee, December 9, 2017
Bradley's Country Store Old Fashioned Fun Day, Tallahassee, November 18, 2017
Spirit of Suwannee Old Tyme Heritage Farm Days, Live Oak, November 24 & 25, 2017
Panhandle Pioneer Settlement, Sugar Cane Syrup Making Day, Blountsville, November 25, 2017
Stephen Foster Folk Cultural Center, Rural Folk Life Days, White Springs, November 1 & 2, 2017 (plan for next year)
Central Florida
Dudley Farm Historic State Park Fall Farm & Cane Festival, Newberry, December 2, 2017
Cracker Christmas (Florida Pioneer Demonstrations), Fort Christmas Historical Park, Christmas, December 2 & 3, 2017
Morningside Nature Center, Cane Boil & Fiddlefest, Gainesville, November 25, 2017
Ocali Annual Country Days, Silver River Museum, Ocala, November 11 & 12, 2017
Pioneer Florida Museum & Village Dade City, Raising Cane & Pancake Fest, January 13, 2018
Ortuna Cane Grinding Festival, Moore Haven, Ortona Indian Mound Park, (off SR 78 in Glades County), February 3, 2018
Barberville Pioneer Settlement, Fall Country Jamboree, Barberville, November 4 & 5, 2017 (plan for next year!)
South Florida
If you don't get a chance to see a Sugar Cane Boil during the fall, check out the Florida State Fair schedule:
Riverbend Park Pioneer Farmstead Day, Jupiter, November 4, 2017 (plan for next year)
Florida State Fair, Cracker Country, Tampa, February 8-19, 2018