Harmony Dark Sky Party at Bok Tower (Lake Wales, FL)
Saturday, January 13, 2017
Located in the heart of Central Florida, between Tampa and Orlando, the Bok Tower Gardens is a favorite Authentic Florida destination. On Saturday, January 13th, visitors will be able to learn about the night sky with astronomers, meet animals who survive in the dark, and enjoy a special astronomy inspired carillon concert. The event is open to the public and is included with the price of admission.

Darkness not only adds to the aesthetic qualities of nature, but is important to the health of wildlife. As most of the world is faced with the effects of artificial light pollution, the Dark Sky Star Party aims to educate citizens about the importance and magic of natural darkness. By attending this special event, you will learn how you can make the darkness enjoyable and safe for all Earth's inhabitants.

According to the International Dark-Sky Association (IDA), more than 80% of the world's population lives under light polluted skies and 99% of Americans are experiencing the harmful effects of artificial "skyglow."  Darkness not only adds to the aesthetic qualities of life, but it's also important to the health of wildlife and humans.
Central Florida is listed as one of the world's hot spots for artificial light pollution. In anticipation of the festival, the level of artificial light above Bok Tower Gardens was measured by an IDA representative and was found to be only three points higher than the darkest point on the globe and the Milky Way was visible to the naked eye.
The event is proudly sponsored in part by Harmony Institute and Harmony on Lake Eloise.
Schedule of Events:
Magnolia Room
4:00 pm – Richard Stevens
A Modern Marvel turned Urban Blight: the "Wicked Problem" of Light Pollution
7:00pm – Richard Stevens
A Modern Marvel turned Urban Blight: the "Wicked Problem" of Light Pollution
8:00pm – Russell Romanella (NASA)
History of Space Exploration
Discovery Center
5:00pm – Tampa Bay Bats and Francine Prager
Bats of the World
6:30pm– Joshua Colwell
The Ringed Planet: Cassini's Voyage of Discovery at Saturn
Visitor Center
6:00pm – 9:00pm – Orlando Science Center
Hands-on science
Theater
6:00pm, 7:00pm & 8:00pm – Orlando Science Center
Digital planet
Terrace Garden
6:00pm – 9:00pm – Owls
6:30pm – 8:30pm – Bats
Carillon Concert – 8:00pm
Entrance gate closes at 9:30pm
For more info, visit: https://boktowergardens.org/
The Space Coast Birding and Wildlife Festival will celebrate its 21st year January 24 through 29, 2018. Think of this event as a crash course in birding. Based at Eastern Florida State College's Titusville campus, the Festival will feature an extravaganza of the bird industry's most renowned experts who will conduct immersive field trips, classes, panel discussions, hikes and expeditions. An Exhibition Hall will demonstrate the latest equipment, showcase art and photography, and give participants a central meeting place to foster new friendships and reconnect with birding friends from all over the world.
This event is all about the love of birds, wildlife and nature. The Festival is designed to appeal to birders and wildlife fans of all ages, from beginners to veterans. Field trips are led by local experts and internationally renowned tour leaders guide participants to identify birds from gulls to shorebirds, warblers to sparrows. Birding field trips will inspire and may even further your appreciation of birds. Sample trips include boat tours introducing Beach Birds or the Offshore Birding and Wildlife Adventure aboard the 85-foot Canaveral Princess. Attendees may travel by bus on the Beginning Birding Field Trip to the Merritt Island National Wildlife Refuge with leaders or take a guided walk at the Blue Heron Wetlands.
The full Festival registration is $85, which includes entrance to all afternoon socials and unlimited classroom presentations from Wednesday, January 24th through Monday, January 29th. Field trips, keynote presentations, workshops and photography sessions are additional. Participants must register for the Festival in order to participate in field trips, workshops, keynote presentations, classroom talks and photography sessions.
The Space Coast Birding & Wildlife Festival is based at Eastern Florida State College (formerly – Brevard Community College – BCC) – Titusville Campus, 1311 N. US 1. The registration desk, seminars, workshops, field trip staging, exhibits, and food service can be found there.
Keynote Topics & Speakers:
January 24th Birds of Prey: Hawks, Eagles, Falcons and Vultures of North America
Birding experts Kevin Karlson and Pete Dunne will discuss their latest book, Birds of Prey while entertaining with anecdotes, stories and colorful photos of raptors. Karlson is a veteran birder, tour leader and wildlife photographer. Dunne is one of the most influential birders, authors and nature writers in North America.
January 25th Protecting Wild Places…One Trip at a Time
Kevin Loughlin, Owner of Wildside Nature Tours shares his life-changing experience when he visited Central America's Belize and became inspired by the people and their dedication to protecting natural areas. Loughlin returned from his trip and begin his lifetime mission to lead tour groups all over – from the Galapagos to the Amazon – while inspiring protection and conservation of birds and their habitats.
January 26th Voyagers on the Open Sea – The Pelagic Birds of Florida
Michael Brothers brings a fresh perspective of the Pelagic Birds of Florida who often pass through unseen from as far away as the Artic, Antarctic, the Caribbean, South America, Europe and Africa. Brothers serves as the Director of the Ponce Inlet Marine Science Center and is a renowned expert in gulls and seabirds.
Additionally, special highlighted festival presentations include a wide range of topics such as: Hawks and Me – 40 years of Chasing Hawks by Clay Taylor; Gulls Simplified: Ask the Experts by Pete Dunne and Kevin Karlson; Continental Drift – A Journey Across North America by Sam Fried; Baby Birds: An Artist Looks into the Nest by Julie Zickefoose.
Register at: http://www.spacecoastbirdingandwildlifefestival.org
Kumquat Festival (Dade City, FL)
Saturday, January 27, 2017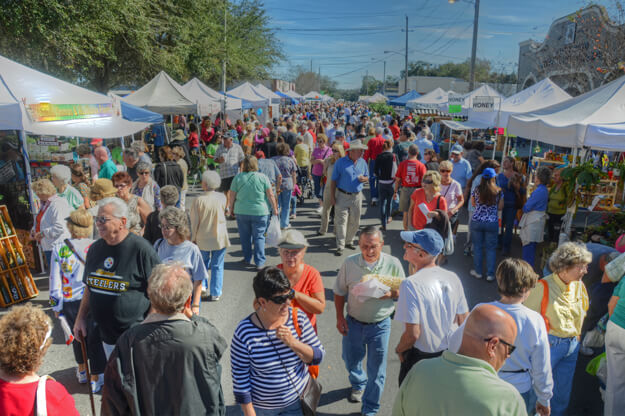 Held in downtown Dade City in Pasco County, the Kumquat Festival is a homegrown family event that provides fruit tastings of every imaginable combination including kumquat pies, cookies, smoothies, ice cream, marmalade, marinades, vinaigrettes and salsa. Plus, there is plenty of fruit to purchase for creating your own signature dishes at home.
Over 425 vendors and 40 sponsors come together to make this a fun-filled, family-friendly day.  Local entertainment kicks up the celebration giving the event a special homespun feel. The Strawberry Express Cloggers, the Cypress Creek Dixieland Band and various church groups perform Christian, Soul, Pop and Gospel music. Be sure not to miss Mr. and Ms. Kumquat, the arts and crafts exhibition, the antique car show and the downtown storefronts dressed in what else, but "kumquat themes." 
Entertainment Schedule (at the historic Courthouse Square):
9:30 am – 10:00 am – Saint Leo University – Totally TABS
10:00 am – 11:00 am – Calvary Assembly of Dade City – Christian Contemporary; National Anthem/Prayer
11:15 am – 11:45 am – Strawberry Express Cloggers
12 Noon – 1:30 pm – Eli Mosley – Country
1:45 pm – 2:00 pm – St. Rita Catholic Church Folklore Dancers
2:15 pm – 3:15 pm – Dean Johnson's Music and Friends – Various Styles
3:30 pm – 4:30 pm – Seventeenth Street – Contemporary/Country
Admission is FREE, transportation from two satellite parking areas is FREE, city-owned public parking downtown is FREE and the experience of a unique, authentic and fun-filled festival is unforgettable. 
For more information, visit the Dade City Chamber website:  http://www.dadecitychamber.org/Annual%20Kumquat%20Festival.cfm  
To receive Authentic Florida's free ENEWs, featuring weekly authentic Florida travel and lifestyle updates, be sure to sign up on our home page: Authentic Florida. Also, we'd love to socialize with you, so please follow us on Facebook, Twitter, Instagram, and Pinterest.
---
Comments are closed.