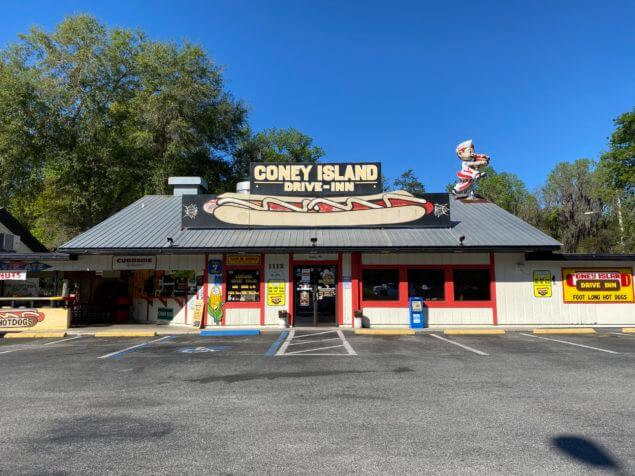 July 22nd is National Hot Dog Day!
July is National Hot Dog Month!
Did you know that Americans eat an estimated 7 billion hot dogs between Memorial Day and Labor Day? Hot Dogs are truly a staple of American culture and there's no better way to celebrate summer! Check out our list of the best hot dogs in Florida – we believe that you'll find some "wieners"!
Source: theallamericanhotdog.com
All American Hotdog & Sandwiches was started in 1972 by the Salameh family and has been family-owned and operated in the Jacksonville area ever since! Their goal is to serve customers with quality food at an affordable price! Not only do they have delicious Hot Dogs, but they're also known for their steak pitas, cold cut sandwiches, and cherry lime aid!
Source: arbetterhotdogs.com
Arbetter's Hot Dogs in Miami is a family-owned restaurant that boasts the "world's greatest chili dogs"! Dave Arbetter's parents started the restaurant and created their famous chili dogs with his mother's Italian chili recipe. Family is everything to Arbetter Hot Dogs, and Dave wants to make people happy like his parents through hard work, being honest, and treating your customers like gold. Grab a chili dog at this family restaurant that has been serving the Miami area for 57 years!
Source: famousfootlongs.com
Coney Island Drive-Inn was started in 1960, and just one year later in 1961, they had an incredibly exciting customer! Elvis Presley was in Inverness, Florida filming a movie and ventured to the Coney Island Drive-Inn for one of their Famous Footlongs! To honor this customer, Coney Island regularly hosts a free Elvis show on the 1st Wednesday of the month at 6 pm in Brooksville and the 2nd Thursdays of the month at 6 pm in Zephyrhills (bring your lawn chair in Zephyrhills).
Looking to make it a day trip? Check out our favorite things to do on Florida's Adventure Coast!
Harrell's Hot Dogs in Downtown Winter Garden
Located in picturesque downtown Winter Garden, Harrell's Hot Dogs not only has delicious hot dogs and fries but ice cream cones as well! Harrell's has multiple options for hot dogs such as beef, vegan, brat, and grilled and fried chicken as well as the option for classic, brioche and poppy buns or a spinach and arugula leaf! From there you can choose your own toppings and sauces for the perfect create-your-own hot dog!
Next on our list of the best hot dogs in Florida is Hazel's Hot Dogs in St. Augustine. Hazel's is one of The South's Best Hot Dogs by Southern Living magazine. The hot dog stand located at 2400 N. Ponce De Leon Blvd. is known for serving up some of the tastiest, most authentic hots dogs in the Sunshine State. People refer to Hazel's as "home to the Datil Dog," featuring the restaurant's datil pepper relish. Another one of their other popular hot dogs is the "Spicy Dog," with datil-infused mustard and sauerkraut. You can also never go wrong with their chili cheese dog or bratwurst.
Source: https://www.facebook.com/Hot-Dog-Heaven-263386279959
Hot Dog Heaven in Orlando serves classic Chicago-style Hot Dogs made with Vienna beef! Their hot dogs, buns, and toppings are all straight from Chicago! Hot Dog Heaven opened in 1987 with a small 500 square foot store. Once word of their delicious food got out, they quickly expanded and are still serving happy customers today!
Source: schnappershots.com
Schnapper's Hots has been serving Sanibel Island in a friendly and fun place since 1998 – over 20 years! Not only does Schnapper's have quality Hot Dogs, but they also serve delicious burgers, fries, onion rings, fish & chips, milkshakes, and 48 flavors of hand-dipped ice cream! They've also been voted the best takeout on all of Sanibel Island!
Source: eatvoodoodog.com
Last on our list of the best hot dogs in Florida is Voodoo Dog in Tallahassee! Voodoo Dog is decorated with 80's and 90's memorabilia and references to arcade games, hair metal, and skateboarding! Their menu has fun items like the Wake-N-Bake, Das Autoburger, Atomic Veggie, and more! Voodoo Dog is on the top-ten list of local Tallahassee restaurants that need your support during the Coronavirus crisis! Make sure to play a game of Pac-Man after you've enjoyed your meal!

AuthenticFlorida.com was named Best Travel Blog at the 2018 Sunshine Awards.
To receive Authentic Florida's free weekly ENEWs, sign up on our Authentic Florida home page.
To inquire about partnerships/advertising, please contact info@authenticflorida.com
Proud Member of: 

        
---
Comments are closed.