Let's Go to Apalachicola: Florida's Oyster Republic!
Apalachicola, known as the "Oyster Republic" is a charming town on the Panhandle where the majority of oysters are harvested making it one of the state's most authentic getaways.
Time doesn't exactly "stand still" in Apalachicola, but it sure moves a lot slower. A dog sleeps on the sidewalk, then slowly rises as his master, a rubber-booted fisherman leaves the post office; the raw oyster bar posts a sign that reads "the oyster rests today" which means it is Sunday; and the downtown coffee shop opens just a little later than usual – just because. 

Florida pelican languishes on the dock
Apalachicola is unhurried and laid-back. Referred to as "Apalach" by locals, it is one of Florida's most authentic getaways.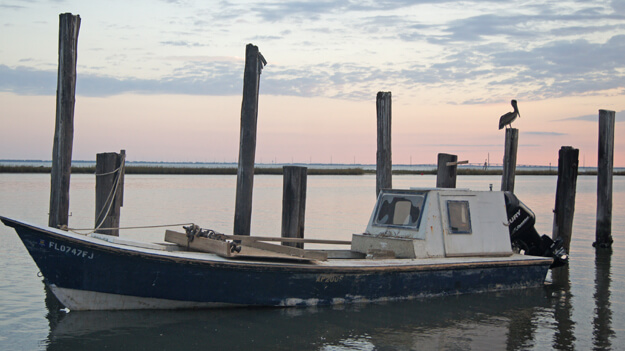 Apalachicola oyster boat 
Located on Florida's northwest Gulf Coast, about 75 miles southwest of Tallahassee, this historic city is more than a fishing village. In fact, at one time it was the third largest port on the Gulf of Mexico. Its maritime heritage is evident everywhere you turn.

Apalachicola shrimp boats
Walking around town you can't miss the waterfront view where shrimp boats dock while fishing boats motor out to Apalachicola Bay. Along the waterfront are red brick buildings that once served as sponge warehouses, ship stores and net factories. Today, they have become an eclectic collection of shops, restaurants and museums. Inns, antique, art and garden shops fill the compact and picturesque downtown.

Downtown Apalachicola
Charming 18th and 19th century homes, many listed on the National Register, are built along wide, shady streets on spacious lots as designed by the earliest city planners, and are reminiscent of other Old South coastal cities. The feeling is quiet and peaceful, almost sleepy. You'll quickly note this is not your typical tourist town obsessed with packing in busloads of visitors. This is a town that has wisely managed change while honoring its deep historical roots.

First United Methodist Church, 1839
But don't be fooled by the easy-going atmosphere, this is a hard-working community deeply rooted in centuries of Florida fishing, shipping, trade and commerce. As Florida's oyster capital, it has historically supplied the majority (90%) of the state's delectable mollusks. In fact, many of America's top chefs consider "Apalach" oysters the finest in the country, distinguished by their mild and briny flavor. Fresh, local and daily harvested seafood is found on most restaurant menus giving plenty of reasons to visit.

Apalachicola's Gibson Inn
Michael Koun is the innkeeper at the historic Gibson Inn, one of Apalachicola's most well known accommodations. He is tall and dignified in a "mayoral" way (although not the mayor) but is down-home and proud of his town. Michael moved here in 1983 and could be considered one of the town's most notable historians. He'll gladly share the historical highlights of the town, including a recap of the Gibson Inn restoration, now assigned to the Registry of Historic Places. Built during the heyday of the shipping and lumber industry in 1907, the three-story Victorian Gibson Inn is constructed of black cypress and wood pine topped with a cupola and a widows walk. Its signature wrap-around porches with comfy rocking chairs invite weary travelers to "sit a spell" while enjoying this charming town. The Inn's architecture dons a metal roof, raised floors, high ceilings, center hallways – all surrounded by a white painted verandah – reminiscent of days gone by.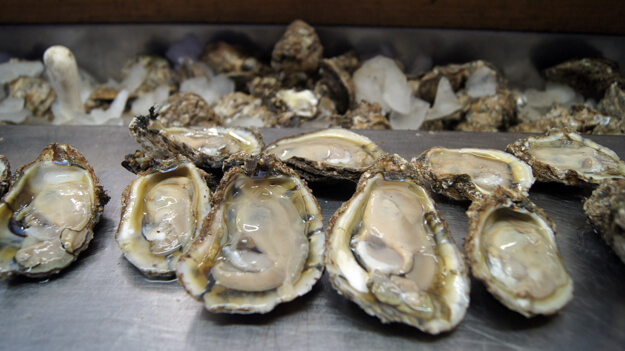 Famous Apalachicola oysters
With a population of less than 3,000, Apalachicola is usually a bucolic, low-key retreat. But the pace picks up in November during the annual Florida Seafood Festival. Activities are kicked off by the Blessing of the Fleet (shrimp, oyster, and fishing vessels) followed by oyster shucking and eating contests, blue crab races, and the crowning of the Seafood Festival Queen – all of which bring the locals together in an old-timey fair atmosphere.

Oysters are King in Apalach
Oysters are King in Apalach. So why do oysters grow so well here? It's simple. Salt water from Apalachicola Bay mixes with fresh water from the Apalachicola River creating prime estuary conditions for oyster beds, and also serving as nurseries for a myriad of sea life. Apalachicola Bay has historically been one of the most productive and least polluted estuarine systems in the Northern Hemisphere. Fully 60% of local residents earn their living from the industry. Apalachicola and the National Estuarine Research Reserve have worked earnestly to protect the Bay from development in an attempt to maintain its traditional way of life. In fact, it's the last place in the U.S. where wild oysters are manually harvested the old-fashioned way from small boats using oyster tongs.

John Gorrie State Park Museum exhibit
But there is a problem in this seafood paradise. The simplest explanation is that not enough fresh water is reaching the estuary. The Apalachicola River Basin receives its water from three rivers – the Apalachicola, Chattahoochee and Flint. The Chattahoochee River originates in North Georgia and connects to the Flint River at the Florida border, where they become the Apalachicola River. People in Georgia are using more water, and pull it from the river, reducing the amount of fresh water flowing into the Apalachicola Bay. As the fresh water flow is reduced, the salinity of the bay rises, changing growing conditions for oysters and threatening the estuary, its wildlife and the livelihood of 900 fishermen who hold oyster harvest licenses. The issue has become a complex battle between the governments, agencies and citizens of both states.

Local seafood restaurant in Apalachicola
Today there are still enough oysters to go around and visitors can get them freshly served raw or cooked  at many local eateries. Some favorites are the Hole in the Wall (23 Avenue D), the Up the Creek Raw Bar (313 Water Street), Boss Oysters and the more upscale Owl Cafe (15 Avenue D). Eating oysters is a top activity, but you certainly won't run out of other things to do.

John Gorrie Museum State Park
While in Apalach stop at the John Gorrie Museum State Park, a tribute to a physician who is credited with creating air conditioning, or "mechanical refrigeration" to help comfort yellow fever patients in the mid-1800's. Another highlight is the 1938 Orman House, an antebellum home once owned by cotton merchant Thomas Orman who was instrumental in helping Apalachicola become a key cotton port. For peaceful contemplation, walk over to the nearby Chapman Gardens, a tribute to local botanist (and physician) Dr. Alvan Wentworth Chapman. Enjoy the winding pathways, outdoor setting and butterfly garden, and be sure to take in the beloved Three Soldiers Monument (71 Avenue B), a tribute to the southern soldiers who served in Vietnam.

The Tin Shed, a nautical antique shop
Also check out a few of the offbeat boutique shops. The Tin Shed (170 Water Street) houses a huge collection of nautical antiques and collectibles with buoys, ship wheels, shells, fishing nets, crab traps. And, the Green Door features some funky art and knickknacks for home décor lovers. Be sure to stop by the downtown Olde Time Soda Fountain (93 Market Street), a timeless old ice cream and sweet shop lined with souvenirs.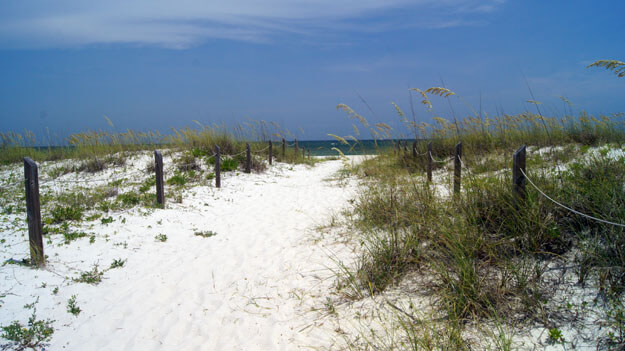 Nearby St. George Island State Park
Not far away, just across Apalachicola Bay, several Gulf coast barrier islands offer beachfront getaways including some spectacular state parks and preserves. It is certainly worth the visit and just a bridge away.
Along the coast to the east are some interesting neighboring towns. Eastpoint and Carrabelle are located on U.S. Highway 98. Both carry the similar friendly, fishy vibe and are charming in their own way. Eastpointe is home to many of the fishermen and families who work the bay. For local oysters right off the dock try Lynn's Oyster Bar where you can watch the oyster boats deposit their oyster filled burlap bags right to the kitchen door.

The Old Carrabelle Hotel, Carrabelle

The verandah, Old Carrabelle Hotel, Carrabelle
Continuing east, take some time in Carrabelle. Stay at the Old Carrabelle Hotel where owners Skip and Kathy Frink have lovingly refurbished a late-1800's railroad hotel that interestingly enough was once a brothel. The rooms are charming and the Frinks are delightful and welcoming. Skip will provide you with all you need to know by pointing the way to the world's smallest police station (not to be missed), breakfast at the retro Carrabelle Junction and lunch at 2 Als At the Beach Café for signature biscuits and grits.

The City of Carrabelle Police Station

Crooked River Lighthouse, Carrabelle
Don't miss Caravelle's Crooked River Lighthouse, an historic landmark, restored and rescued by the community.  You might even want to consider one the area's most unique hiking experiences such as the High Bluff coastal trail at Tate's Hell State Forest (don't be put off by the name) an easy stop off Hwy 98. Afterwards, stop at the whimsical Beach Trader, located at 1781 Hwy. 98 packed with fun beach treasures.

The Beach Trader, Carrabelle
For dinner try the Fisherman's Wife (201 8th Street, Carrabelle), where owner Pam Lycett, wife to local shrimper Jim, began her trailer business cooking seafood as it came off the docks. She has since moved to a building with inside seating and the shrimp, cheese grits and homemade buttermilk or key lime pie are the favorites.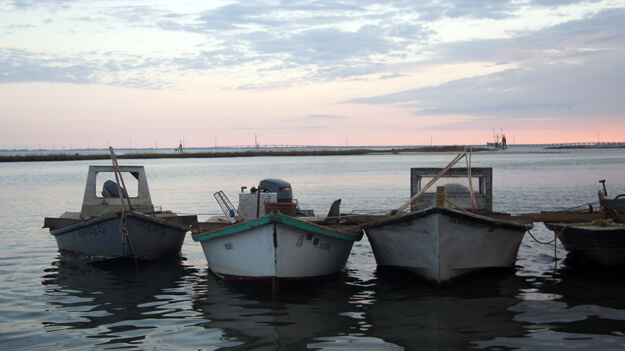 Oyster boats, Apalachicola Bay
This area of Florida has been called "The Forgotten Coast" but after a visit you will probably agree that it is unforgettable.
Authentic Florida shares tips on how to Shuck Oysters:
To receive Authentic Florida's free ENEWs, featuring travel and living updates, delivered weekly, sign up on the home page Authentic Florida, voted Blog of the Year and Best Travel Blog at the Florida Sunshine Awards.
---