Letting it all Go on the Hillsborough River
Let it all go with the gentle current of the Hillsborough River, a well-shaded downstream easy paddle ride loaded with Florida fauna and wildlife. 
Let the river run through you.  "Unplug" and drift with the slow moving current of the Hillsborough River, an easy glide downstream. Ideal for beginner and intermediate paddlers, a canoe or kayak trip on the Hillsborough River is great fun, and you'll love the Authentic Florida scenery along the way.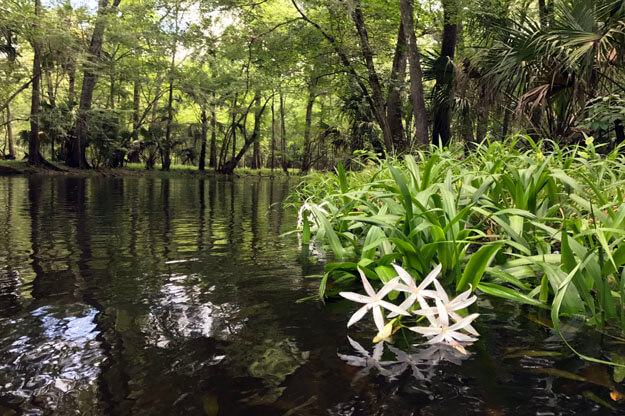 Thousands of years ago the Hillsborough River was home to indigenous tribes including the Calusa Indians. It doesn't take much imagination to visualize Florida history while experiencing the river in its natural state. Fallen trees and branches stretch over the shady river, and while paddling under and around green mossy cypress trees, you can't help but be moved by the beauty and stillness. Some stretches were swampy and slightly primeval while other areas were forested with palms, river lilies and ferns, creating an emerald green Florida landscape.
The Hillsborough River runs 54 miles downstream from the Green Swamp (which lies in the four-corner area of Lake, Pasco, Polk and Sumter Counties, west of Hwy. 27) through wilderness, agricultural and eventually urban landscapes including downtown Tampa where it flows into Tampa Bay.  The Green Swamp Wilderness Preserve creates the headwaters for not only the Hillsborough River, but also the Withlachoochee, Ocklawaha and the Peace Rivers. Sometimes called the "hydrologic heart" of Florida, the Green Swamp is vital to the state's water supply.  In its upstream reaches, the Hillsborough River is surrounded by nature and remains relatively untouched, but as you get closer to the mouth of Tampa Bay, homes and neighborhoods begin to pop up and eventually an urbanized environment becomes predominant.  The Hillsborough Paddling Trail will provide you with an excellent overview.
We launched our adventure at John Sargeant Memorial Park in Thonotosassa, northeast of Tampa. Choosing the upper part of the River, we avoided the urban stretch further downstream.
Canoe Escape, the canoe and kayak outfitter, is located within the park and will provide all the necessary equipment and instructions.  They'll pick you up downstream and return you to your car.  Be sure to call ahead and reserve your space.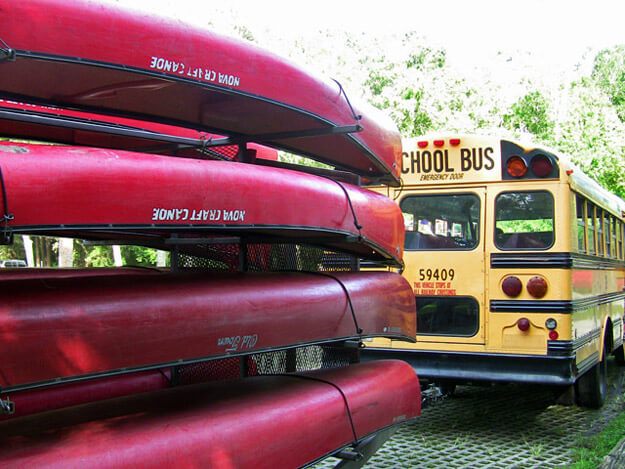 There are four self-guided trips offered by Canoe Escape (they also offer guided trips).  We chose Trip One & Two, but if you are a true beginner, I recommend Trip One – which is an easy two-hour ride.  If you choose to take both trips, be prepared for a four hour trip at a slow pace.  Both are lovely and slightly different.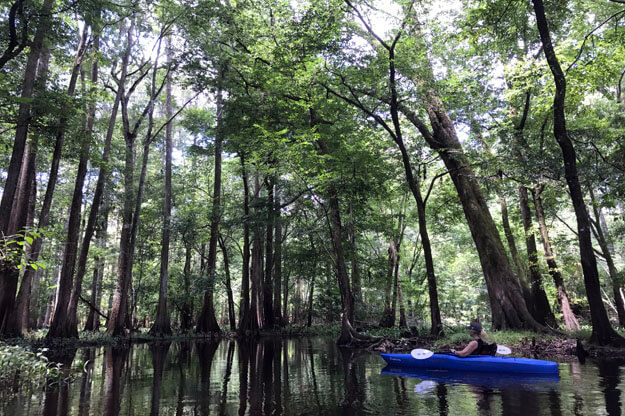 Trip One begins at the Sargeant Memorial Park and ends at Morris Bridge Park (4 ½ miles). Facilities and parking are available. Directions: (Thonotasassa) From I-75, exit onto Fowler Avenue and head east 1.5 miles.  Turn left onto US 301 and head north 3.5 miles.  John Sargeant Park is on the left.  At the end of trip #1, we pulled over at Morris Bridge Park and had lunch at the shady picnic area. From there, we continued the second leg of the trip.
Trip Two begins at Morris Bridge Park and continues to Trout Creek Park (an additional 4 miles). I recommend this leg of the trip for intermediate paddlers. Expect alligators but they keep their distance preferring to avoid humans.  Restroom facilities are available and this is the location where Canoe Escape will pick you up and return you to your car.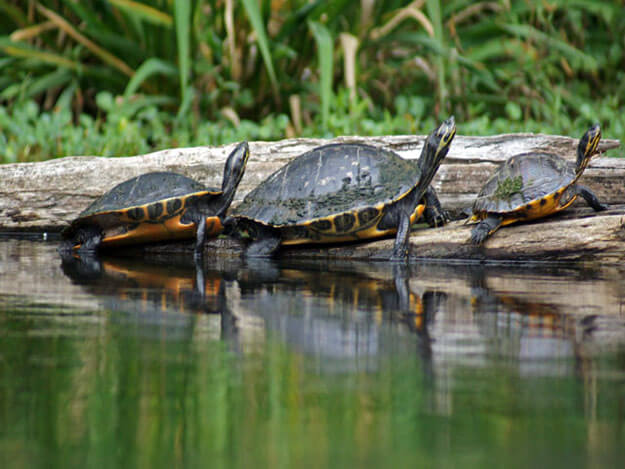 On our paddle ride, we saw nesting ospreys, turtles sunning on the logs, egrets, anhingas, herons, ibis, and a fair number of alligators (primarily on Trip #2). Wildlife is present everywhere, but sightings vary depending on the time of year and the water level.  If the water level is low, the wildlife is more abundant. You may see limpkins (they make the sounds often heard in Tarzan movies), wood storks, roseate spoonbills, pileated woodpeckers, red shouldered hawks and even some water snakes (most are non-poisonous).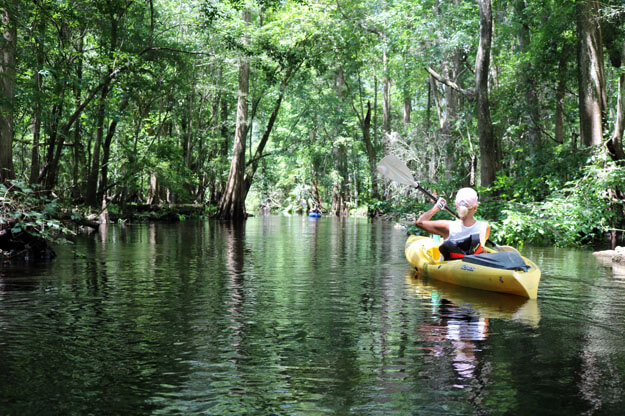 I was pleasantly surprised by the experience. Expecting a more urban river trip, I was not prepared for the stunning beauty of the Hillsborough River, another great adventure in Authentic Florida.
To receive Authentic Florida's free ENEWs, featuring travel and living updates, delivered weekly, sign up on the home page Authentic Florida, voted Blog of the Year and Best Travel Blog at the Orlando Sunshine Awards.  
---
If You Go
For more information: