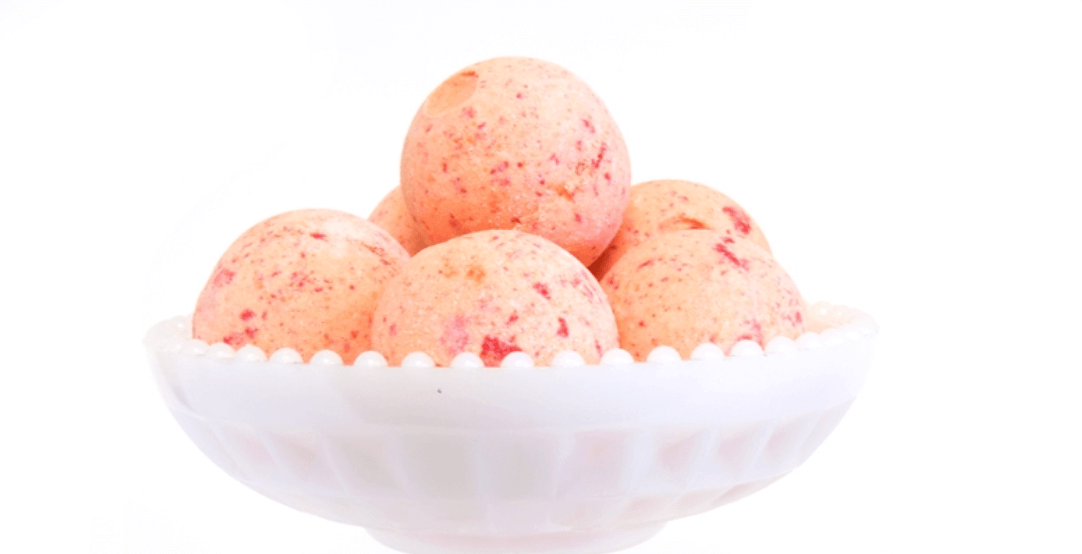 Try something for the "bath lover" in your life. It's easy and fun to make and an ideal gift. Why not treat yourself? Drop one fizzie in the tub and you'll instantly feel like a "Florida Queen." The creamy white mixture is both nurturing and soothing for your body. You'll feel so renewed!
Using essential oils and food coloring, you can make many combinations. We chose to make Florida Pink Grapefruit fizzies, but the combinations are endless. Just use your imagination!
Ingredients
1 ¾ cup of baking soda (grocery store, baking section)
1 cup of Citrus Acid (found at a hardware store, or Walmart – canning section)
2 cups of cornstarch (grocery store, baking section)
1 box of food coloring (grocery store)
1-2 bottles of essential oils (health food or specialty bath store)
Equipment
2-ounce travel spritzer bottle (can be larger but fill no more than 2 ounces of water)
1 baking mold tray (or ice cube tray). I found a mini-bownie "bites" pan with individually molded squares, but a tray with any small molded shapes can work.
1 storage jar
1 measuring cup (2+ cup size is preferable)
1 hand held strainer (or sieve)
1-2 large glass bowls
Directions
1.     Mix the baking soda, citric acid and cornstarch in a glass bowl. With a wire strainer, pass the combined mixture through the sieve into another bowl.
2.     Fill a spray bottle with 2 ounces of water, and add 6 drops of food coloring.
3.     Spritz the "sieved" mixture with water and stir. Important: the mixture should become DAMP, not wet or runny.  It will bubble as you spray and then become absorbed.  It will also resemble damp powder and you will be able to gently "mold" it in your hands. Do no let it get runny. The color will become evenly distributed.  (I did not end up using all the spritzing liquid.)  Recommendation: Look at the story photos to get a better idea of the consistency.
4.     Add the essential oil, one drop at a time, so that it smells like the scent you have chosen.
5.     Continue spritzing if the mixture dries out, but be careful it doesn't get wet. Add 5 drops of oil for the stronger scents (peppermint, lavender) and 6 drops for the weaker scents (grapefruit and lemon).
6.     Spoon into a mold tray, press firmly and let dry/mold for 2 hours.
7.     Place in jar and decorate.
[Note: It took me a few trys to get the consistency correct so try a few 1 cup batches as a trial.  You can also experiment with different color tints by using several different spray bottles.}
Some ideas for your fizzies:
1. Pink Grapefruit
2. Yellow Lemon
3. Green Eucalyptus
Recipe adapted from Martha Stewart Living.
---