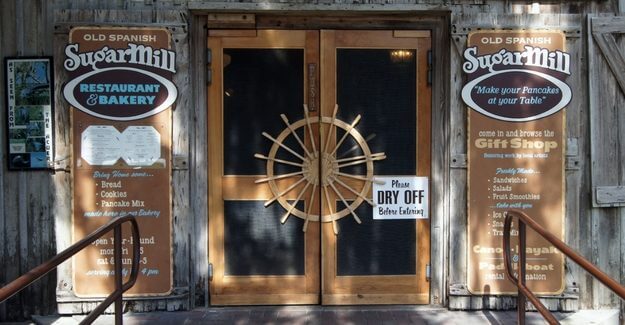 Note: Due to COVID-19, DeLeon Springs State Park has updated policies and procedures. The park and Old Sugar Mill restaurant will remain open. Picnicking and trails are available. Restroom availability may be limited. All other park facilities are closed. Visitors are expected to maintain distances of at least six feet apart.
There is always something very special going on in the Old Spanish Sugar Mill Grill & Griddle House. Among the wooden dining tables, hot griddles sizzle. It's breakfast and the restaurant is jammed with families – children, parents, and grandparents sitting around large tables while servers explain the menu.

Old Sugar Mill Restaurant bustles with families
What makes this restaurant experience unique, is the guests cook their own breakfast right at their table. Yep, you heard us correctly. It's such a great bonding experience whether it's your first time visiting or you are a frequent diner.

Guests make their own pancakes at the table
Each of the tables is equipped with a griddle and the servers bring you pitchers of homemade pancake batters (a stone-ground mixture of five different flours and an unbleached white flour). You simply pour them on the griddle and flip them over right at your table. You may order blueberries, bananas, peanut butter, pecans, chocolate chips, apples, or apple sauce to create whatever sort of pancakes you choose. They also have sausage, bacon, ham, eggs, homemade bread, and an assortment of other treats to accompany your pancakes. If you don't want pancakes, French toast and eggs are available. Bacon and sausage are cooked in the kitchen, and fresh salads and sandwiches (with fresh bread, of course) are served for lunch.
It's not only a memory-making experience for the entire family, the food is authentically delicious.
Plus, DeLeon Springs is just a delightful place to spend a few hours or the whole day. It is very rich in history and offers visitors a great place to swim, kayak, and enjoy the park's natural beauty.

Wooden mill wheel once used to grind sugar cane
The restaurant, constructed of pine and cypress, resembles a wooden barn. Rustic screened doors and windows allow fresh air to flow through the room. Flanking the side of the building is a towering wooden mill wheel. Once powered by the nearby spring, the original mill was constructed in the 1830s to grind sugar cane.
In 1961, the old mill building became a restaurant thanks to Peter and Marjorie Schwarze, who saved it from demolition. It has since become an authentic Central Florida institution that people travel from all over the state to visit.

Making pancakes at the Sugar Mill (

vintage photo courtesy Florida Memory Project)
Patty Schwarze, the daughter of the founders, began helping her parents in the 1980s. "My dad was a 5th generation grist miller. Basically, he milled grain to create flour. It was always his vision to have a restaurant that created a place for families to cook together and enjoy one another," reminisces Schwarze.

De Leon Springs State Park
The restaurant has been part of De Leon Springs State Park since 1982 when the State of Florida took over the property to preserve the spring and pristine property around it.

De Leon Springs eventually feeds into the St. John's River
De Leon Springs pumps around 19 million gallons of shimmering emerald green water into an enclosed swimming area where visitors can enjoy the refreshing, 72-degree water. The park also showcases the spring's rich history spanning thousands of years.
 
De Leon Springs' water temperature  is  always 72 degrees  
Six thousand years ago native people called the Mayaca lived around the Springs. In the 1500s, according to local legend, explorer Ponce de Leon found the spring as he searched for the Fountain of Youth. Of course, there are no records or evidence to support the claim.

De Leon Springs State Park was once a plantation
In the early 1800s, the park property was a plantation where settlers farmed sugar cane, corn, and cotton. Then in the late 1880s, a small tourist resort was built for wealthy winter visitors to gain the healthful benefits of the natural "healing waters." Later in the "pre-Disney" 1950s, the resort added an attraction with gardens, a jungle cruise, and a star performer: Ava, the water skiing elephant.

De Leon Springs, a tourist resort, 1925 (courtesy Florida Memory Project)
We can't recommend this place enough. It's truly a gem and an opportunity to step back in time to the Old Florida we cherish and love.
Come for breakfast, stay for a park visit. Learn some interesting history, enjoy the natural beauty of the spring, walk shady trails lined with blooming azaleas and towering oaks. You're sure to enjoy your visit and come away with a contented and full tummy.
Fishing at the De Leon Springs State Park
The Old Spanish Sugar Mill Grill & Griddle House is open every day except Thanksgiving and Christmas, from 9 am to 5 pm on weekdays and 8 am to 5 pm on weekends and holidays. Serving until 4 pm.
The park is located about 6 miles north of Deland.  From I-4, take Exits 114 or 118 west to US 17 then north to the town of De Leon Springs.  Turn left on Ponce de Leon Blvd. and proceed 3/4 mile to the entrance.  From Ocala and I-75, take SR 40 east to US 17 in Barberville then south 7 miles.  Turn right on Ponce de Leon Blvd.
Looking for even more springs across the state? Check out our favorites here!

AuthenticFlorida.com was named Best Travel Blog two-times at the Florida Sunshine Awards.
To receive Authentic Florida's free weekly ENEWs, sign up on our Authentic Florida home page.
To inquire about partnerships/advertising, please contact info@authenticflorida.com
Proud Member of:

---
One response to "Make Your Own Pancakes in De Leon Springs"