March 2019: Our Favorite Events in Authentic Florida
Spring has sprung up in Florida (in fact, it felt like Summer last week). The month of March is the ideal time to attend some of the most fun festivals/events of the year. We've narrowed our March list down to a few of our personal favorites that happen to be sprinkled throughout the Sunshine State. We highly recommend planning a weekend getaway and exploring the surrounding areas of these festivals. Their locations are chock full of authentic treasures.
To keep up with our favorite Florida Festivals throughout the year, be sure to follow us on Facebook and visit our Events tab.
2019 Strawberry Festival (Plant City)
Feb 28 – Mar 10
The Florida Strawberry Festival in Plant City has it all: strawberries galore, concerts, rides, shows and animals! This festival is family-friendly and guaranteed to provide attendees a berry sweet time. Gate admission is good for any one day. Gate admissions fees are as follows: Youth (ages 6-12) are $4.00 (plus convenience or handling fees), while adults are $8.00 (plus convenience or handling fees). Headliner concert ticket prices vary. This year's performers include Willie Nelson, the Oak Ridge Boys, Kool and the Gang, Pat Boone and many others.
More info at https://flstrawberryfestival.com/
26th Annual Swampfest (Weeki Wachee)
March 1-3
The 26th Annual Swampfest is held in Weeki Wachee. On March 2nd at noon, a Swamp Monster costume contest will be held with three prizes for the best dressed Swamp Monsters. Vendors from all over the country will also be in attendance with food and items you will be able to purchase. Entrance fees are as follows: adults $5, kids ages 6-12 are $3; and kids 5 and under are free!
More info at https://swampfestweekiwachee.com/
Saint Sophia 41st Annual Greek Festival (Miami)
March 1-3
Interested in getting a little taste of authentic Greece? Don't miss Saint Sophia's 41st Annual Greek Festival in Miami, March 1st-3rd. There will be live Greek music and dancing along with a tour of the Byzantine Cathedral. The three-day festival has free admission on Friday for all guests. Children under the age of 12 are free all weekend!
More info at https://www.stsophiamiami.org/upcomingevents/?fbclid=IwAR3Yy9BeictHA_Qk8_AEuwB-E5fl9ew0KU5LeQWavo75h0WrSPWgnYGPB-o 
32nd Lake Mary-Heathrow Festival of the Arts (Lake Mary)
March 2-3
The 32nd Annual Lake Mary-Heathrow Festival of the Arts is a free event! It is held at Oval Park in Lake Mary. On March 2nd the festival is from 9:00am-5:00pm and March 3rd from 10:00am-4:00pm. More than 150 fine art and craft exhibits will be featured along with live entertainment, beer/wine, and food trucks. There's everything you could possibly want to have a great time while strolling through the festival.
More info at https://www.lakemaryheathrowarts.com/
Sunken Gardens' Flamingo Festival (St. Pete)
March 3
Show off your love of flamingos and celebrate Sunken Gardens' young flock's birthday! Wear pink for $1 off admission! Kids' activities in collaboration with Great Explorations Children's Museum and live steel drum music free with garden admission or membership. Beer, wine, & food from Carrabba's Italian Grill- St. Petersburg/4th Street will be available for purchase.
More info at https://www.visitstpeteclearwater.com/event/flamingo-festival-sunken-gardens/9428 
91st Annual Arcadia All-Florida Championship Rodeo (Arcadia)
March 7-10
The 91st Annual Arcadia All-Florida Championship Rodeo is taking place March 7th-10th with the gates opening at 11:00am and closing at 4:30pm each day. Food and drink vendors will be available on site. Tickets prices vary due to seat and viewing selections. A list of the order of events is posted on the festival's website. Visit the festival's website for more information.
For more info at  http://arcadiarodeo.com/
109th Founder's Day Parade and Heritage Festival (Zephyrhills)
March 9
The city of Zephyrhills celebrates its 109th Founder's Day Parade and Heritage Festival on March 9th! If you go, you'll be able to enjoy live music, local entertainment and vendors selling food and merchandise. There will be lots of activities going on throughout the festival including a beard and mustache competition!
More info at https://www.mainstreetzephyrhills.org/all-events/2019/3/9/109th-founders-day-parade-heritage-festival
43rd Annual Original Marathon Seafood Festival (Marathon)
March 9-10
The 43rd Annual Original Marathon Seafood Festival will be held in Marathon on March 9th and 10th. This festival is truly a family-friendly event you don't want to miss. Fresh-caught local Keys seafood will be available at great prices. There will also be beverages for adults and kids, and live entertainment. With over 220 vendors, you can bet your shopping needs will be fulfilled.
More info at http://marathonseafoodfestival.com/
60th Annual Winter Park Sidewalk Art Festival (Winter Park)
March 15-17
The Winter Park Sidewalk Art Festival debuted in March of 1960 and has grown to become one of the nation's oldest, largest, and most prestigious outdoor art festivals! The festival has always been a forum to bring artists and art lovers together. With over 1,100 artists from around the world applying to get a spot in this year's festival, a panel of judges picked 225 to exhibit their work. Plan to make a day of it with a stroll up and down beautiful Park Avenue, a scenic boat tour, sidewalk dining, and great shopping at 140 boutiques.
More info at https://www.wpsaf.org/
The Florida Mermaid Festival (Spring Hill)
March 16-17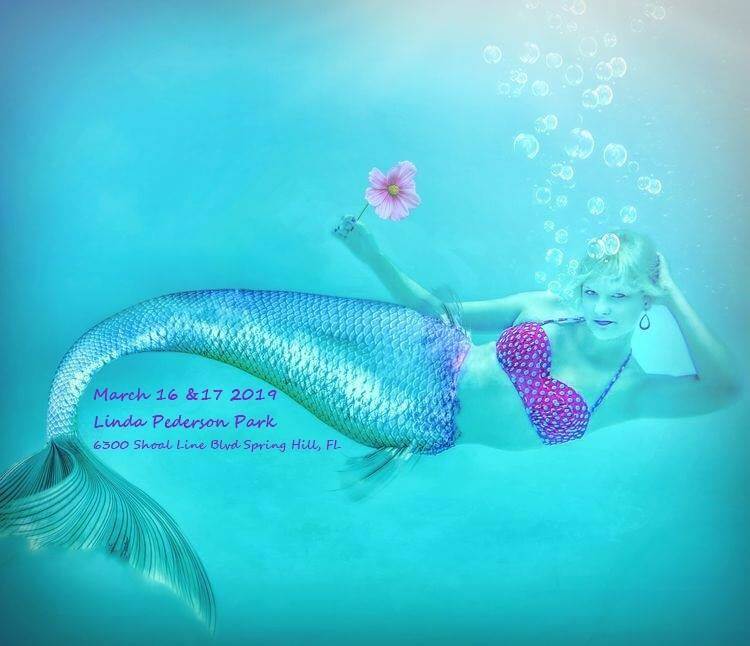 If a mermaid festival in Florida isn't the most fitting event, we don't know what is! Relax and enjoy this family-friendly, historical festival from March 16th-17th. It's only $5. During the festival, there will be vendors selling food and beer. There's a mermaid costume contest both days. To keep yourself active, like mermaids, a 5k kayak race is happening on both days of the festival as well.
More info at https://thefloridamermaidfestival.com/
No Meat March Tasting Event (Atlantic Beach/Jacksonville)
March 24
The Girls Gone Green (who we've been following since they started) invite you to an exclusive tasting of their new creations at Plantology Café. While there, you are able to try foods from savory and sweet treats, smoothies, and kombucha. At this event, there will be girls from the company promoting and answering any questions you have about their company, product, or just good conversation.
More info at https://www.eventbrite.com/e/no-meat-march-tasting-event-tickets-55412665775
Florida Blueberry Festival (Kissimmee)
March 28-31
The Florida Blueberry Festival is taking place March 28th-31st in its new home, Kissimmee. Enjoy fresh and locally produced Florida blueberries during the festival. Allow yourself to enjoy the pleasure of award-winning blueberry and fruit wines along with foods and other delicious goodies!
 More info at https://floridablueberryfestival.org/ 
Springtime Tallahassee Festival (Tallahassee)
March 29-30
The free Springtime Music Festival on Kleman Plaza in Tallahassee will take place on Friday, March 29th from 6:00pm-10:30pm! Chris Janson, a platinum-selling, award-winning singer/songwriter, and youngest living member of the Grand Ole Opry will be performing. The Grand Parade is the next day followed by the famous "Jubilee in the Park" featuring hand-crafted items, children's activities, and local entertainment you won't want to miss.
More info at http://www.springtimetallahassee.com/st_event/music-festival-with-beer-garden/ 
A shout out to Authentic Florida's Kendall Sexton for helping us compile this list.
NOTE: None of these Festivals paid us to be included in this article. 
To receive Authentic Florida's free weekly ENEWs, sign up on the Authentic Florida homepage. AuthenticFlorida.com was voted "Best Travel Blog" at the 2018 Florida Sunshine Awards. 
---
Comments are closed.