Martin County, a Florida Remembered on the Treasure Coast
Martin County mirrors a Florida Remembered with historical and charming small towns and a distinctive vibe that embraces the natural environment on the Treasure Coast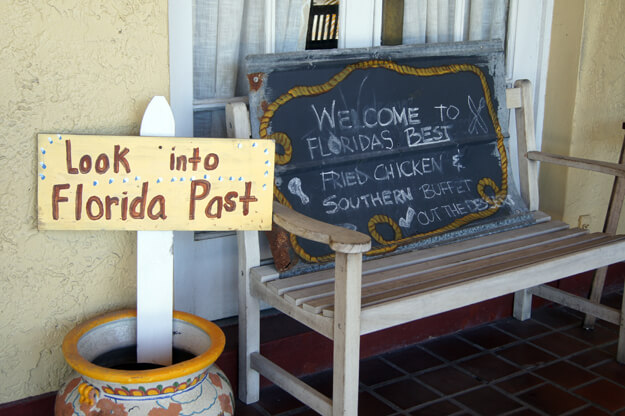 Martin County's Seminole Inn
As I grew up in Florida I was able to visit much of the state through weekend road trips with my family. We often would pile into the car having just come up with a destination and then head out knowing we could find a motel and places to explore and new things to discover. 
We'd visit roadside attractions, marvel at the natural landscape, whether broad unspoiled beaches or vast pine flatwoods or an endless expanse of sawgrass. Sometimes we would stay at a motel, where we could park the car right outside the door to our room; other trips found us in cozy beach cottages or a group of Florida-style cabins. We'd stop to eat at "mom and pop" restaurants and buy fresh citrus at a fruit stand.
Now I travel the state finding pieces of the past to appeal to my inner nostalgia. One recent stop was in a place with enough of my past to evoke those emotions combined with a sense of community expressed in art, nature and downright friendliness, that I am already planning to return.
Martin County, on Florida's east coast is an escape from the congested beaches and bumper-to-bumper traffic found in many places. Here there is a distinctive vibe that embraces both the natural environment and the arts, in places that maintain the human scale and sense of community I remember from my youth. The small towns and cities are inviting and comfortable. But this modern version of Martin County is not stuck in the past. It celebrates all of the Florida lifestyle with recreation, beaches, shopping, fine restaurants and enchanting inns.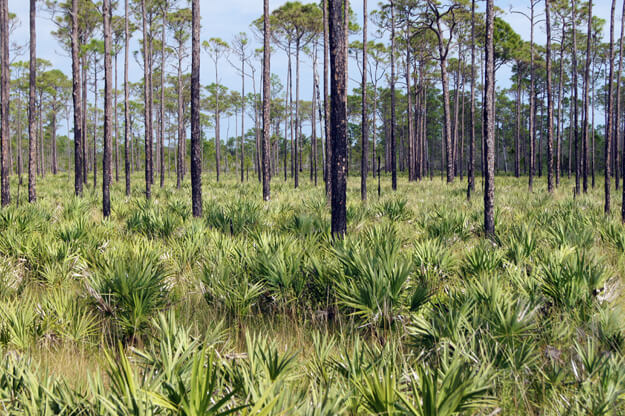 Johnathan Dickson State Park, Martin County 
From the laid-back Atlantic coastal towns, to the open prairies, pastures and groves in the west, there are plenty of reasons to visit this county.
As you look at Martin County on a map it is rather square-ish, bounded by the Atlantic Ocean on the east and by Lake Okeechobee on the west. There are several charming coastal towns sharing a similar vibe but each is still distinctive. Then there is an outpost over near the "Big Lake" with its dramatically different "Old Florida" charm. Here's a whirlwind tour from north to south to west to help plan your visit.
Jensen Beach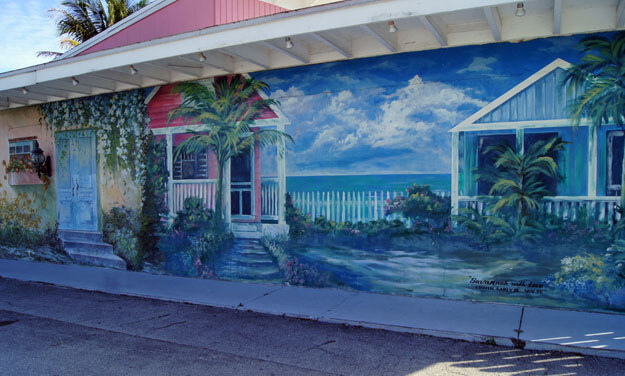 Brightly painted cottages and murals in Jensen Beach
Starting on the northern border is the tiny town of Jensen Beach on the Indian River. It is easy to spot. You know you have arrived when you see brightly colored "Key West" style cottages. Drive to the center of the small community to enjoy the galleries, studios, restaurants and boutiques of this artsy small town. For dining enjoy Pineapple Jack's Bistro, named for the pineapple plantations that were once the area's claim to fame, or try the highly regarded, 11 Maple Street Restaurant.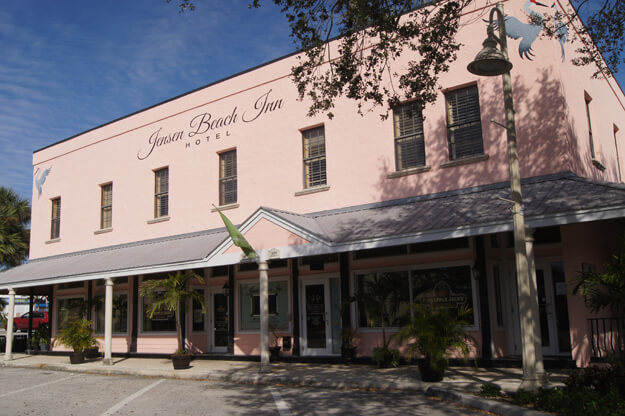 Jensen Beach Inn & Pineapple Jack's Bistro
For lodging, consider the Jensen Beach Inn. It is a beautifully appointed inn with rooftop views and easy access to this walking town.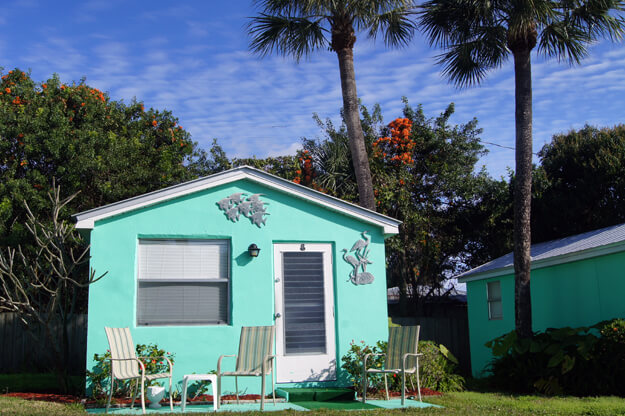 Jensen Beach Driftwood Motel 
But for a truly authentic "old Florida" experience, try the Driftwood Motel with its down home ambiance overlooking the Indian River Lagoon.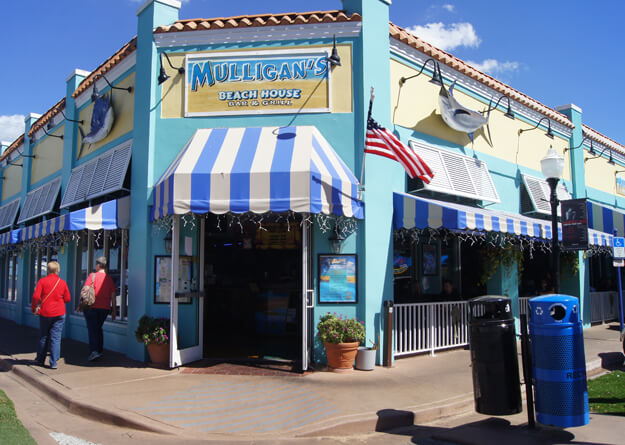 Historic downtown Stuart
Stuart
A few miles south is Stuart with a thriving pedestrian-friendly downtown of shops, galleries and restaurants. Many of the buildings date to mid-20th century, updated, of course, but still maintaining the human scale of decades past and melding nostalgia, history and art. Stuart shines either as a destination, or as a jumping off spot to dive into all that Martin County offers. Once the hub of Florida's pineapple plantations, where the fruit was packed and shipped north by rail, the town still has local trains passing through, adding historic ambiance of an era when locomotives took produce north and brought the first wave of tourists to Florida's east coast.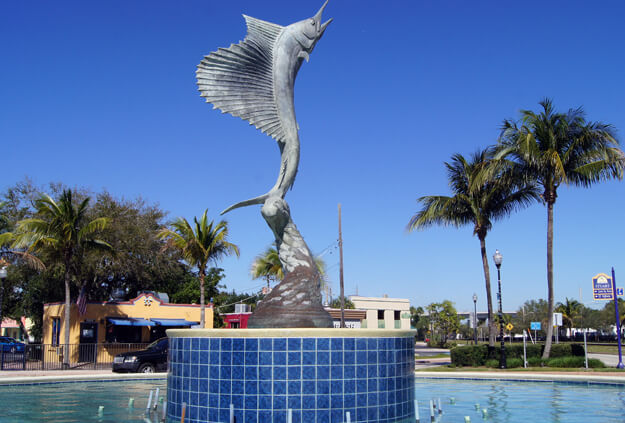 Stuart's Sailfish sculpture, by Geoffrey C. Smith
In the center of downtown is Sailfish Circle where Stuart's signature bronze Sailfish sculpture, created by local sculptor Geoffrey C. Smith, towers above the sparkling fountain. It's a perfect place to begin a walking tour.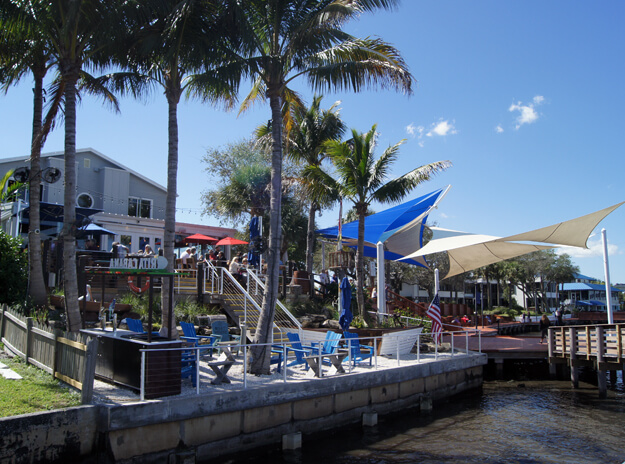 Stuart's Riverwalk extends along the St. Lucie River
From there you can stroll to the Riverwalk, a mile-long waterfront promenade along the St. Lucie River. Soak in the warm sunshine and feel the gentle breeze. Consider a cruise aboard the historic Schooner Lily, a popular wooden sailing vessel docked at the pier, or continue to Riverwalk Plaza for a bite to eat at one of the restaurants, or to admire public art with a view of the waterfront.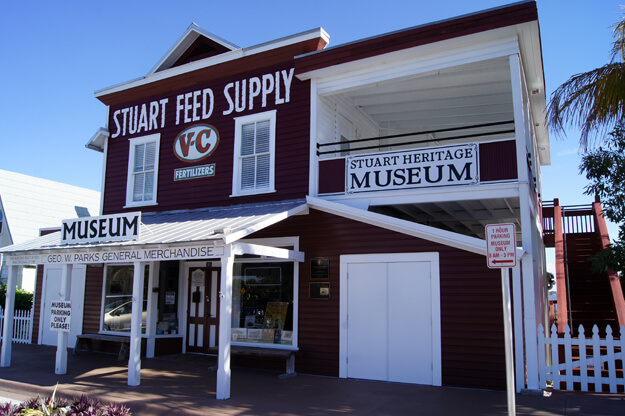 Stuart's Heritage Museum
Nearby is the Stuart Heritage Museum. Housed in the red barn Feed Store it chronicles the history and spirit of the people, businesses and community of Stuart and Martin County.  Hungry? There is a wide variety of delicious restaurants in the historic downtown.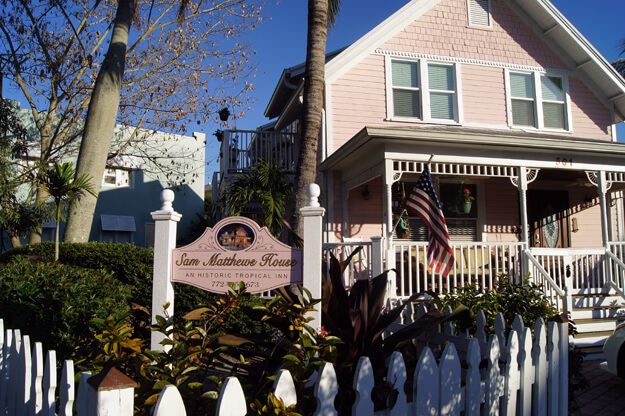 Sam Matthews House
If you want to stay overnight Stuart has many options. For genuine history and charm, consider the Sam Matthews House, a downtown inn offering gracious accommodations. The inn is the original home of Sam Matthews, who came in 1903 to work on railroad baron Henry Flagler's Royal Poinciana Hotel.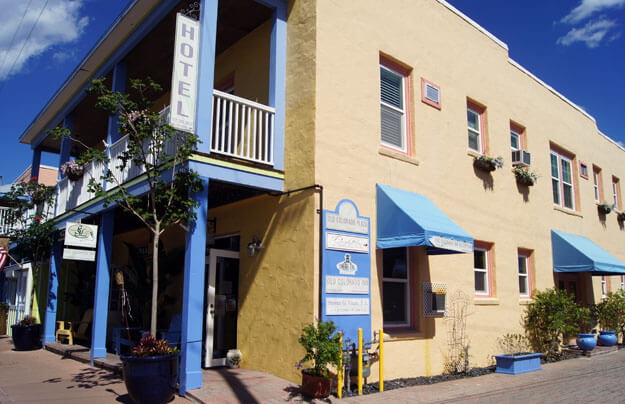 Stuart's Old Colorado Inn
Another choice is the Old Colorado Inn. Here, situated in the historic district, is an inn with studios, suites and a cottage. The boutique inn dates to 1914 and has been beautifully restored with elegant furnishings.
After a restful night you can wake up and smell the coffee at one of the local coffee shops or a restaurant with some home cooked food.  Then stroll and shop in this walking town's eclectic and unique shops and one-of-a-kind art galleries.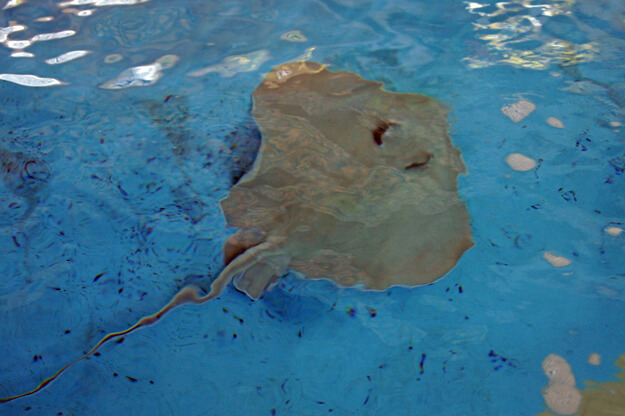 Feed the stingrays at the Florida Oceanographic Coastal Center
You also may want to cross the Intracoastal Waterway and "beach it" on Hutchinson Island, where the Florida Oceanographic Coastal Center, a marine life center, offers hands-on learning with a touch pond of local fish, and the most popular draw, especially for kids, is the feeding of the stingrays.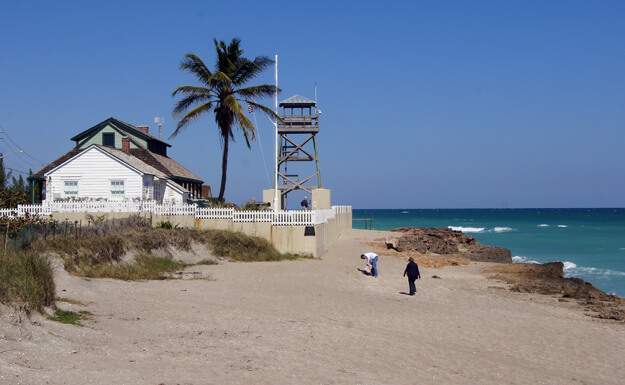 Hutchinson Island's House of Refuge
Also on Hutchinson Island is the 1875 House of Refuge, Martin County's oldest building, which overlooks the ocean with waves crashing onto the limestone rocks below. Originally constructed in the days when sailing ships sailed the coast, it was inhabited by a keeper whose job was to walk along the shore in search of shipwreck victims and to provide sanctuary.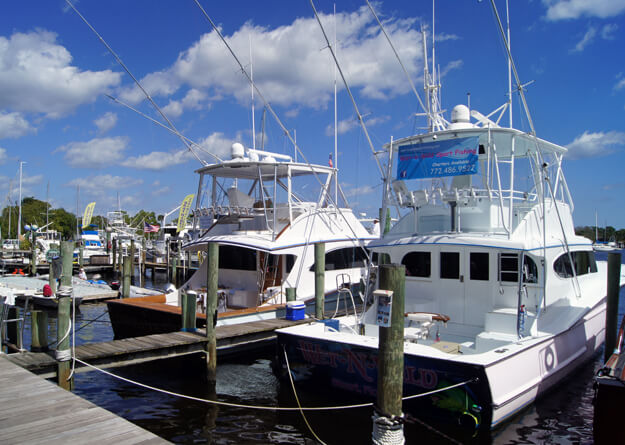 Port Salerno
Port Salerno
Just down the coast is Port Salerno. "Authentic" truly describes this place where the Indian and St. Lucie Rivers meet and flow into the vast blue Atlantic. It's perfect for those who want to head to the harbor for a day on the water. Captains are standing by ready to book a world-class sport fishing charter or even an ocean cruise. Enjoy a beverage at one of the waterfront restaurants, and if hungry, get your fill of shrimp cooked any way you like at where else –Shrimpers.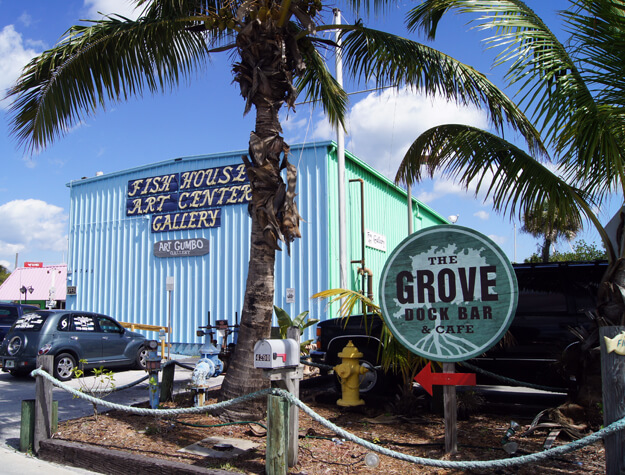 Fish House Art Center
While there, enjoy another taste of the area's artistic side by visiting the Fish House Art Center on the port docks. In this interesting combination of working studios and galleries you will enjoy meeting local artists in person and perhaps selecting something special for your trip home.

Hobe Sound Bridge Road 
Hobe Sound
On Martin County's south side is the quaint community of Hobe Sound, where tree-lined streets and stunning beaches make this small town a real charmer. Art is evident in more than 22 public murals inspired by local artisans to create the feel of an outdoor art gallery. Boutiques, antique shops, jewelers, galleries and delicious restaurants create a special one-of-a-kind experience.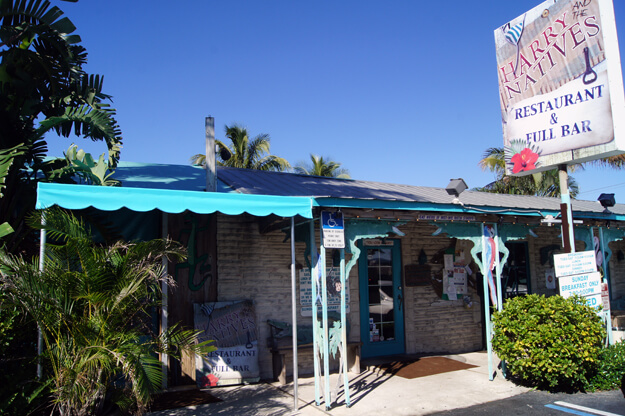 Hobe Sound Harry and the Natives Restaurant
Hungry? Ask any local and they'll tell you that for food, no visit to Hobe Sound is complete without visiting Harry and the Natives. It is an offbeat, local hangout with unusual décor that serves breakfast, lunch and dinner, and is a popular venue for live music.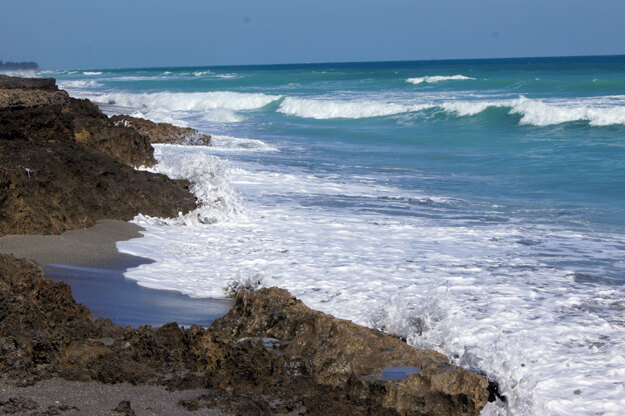 Hobe Sound Blowing Rocks
Drive the scenic Bridge Road passing under an enchanting magical canopy of Florida banyan trees to get to Hobe Sound Beach. There, you can walk south along the spectacular Atlantic Ocean, past beachcombers and anglers warmed by the sunshine, to find Blowing Rocks, a unique destination where coastal waves are forced into limestone rock crevices creating a geyser effect, often erupting 40-50 feet in the air.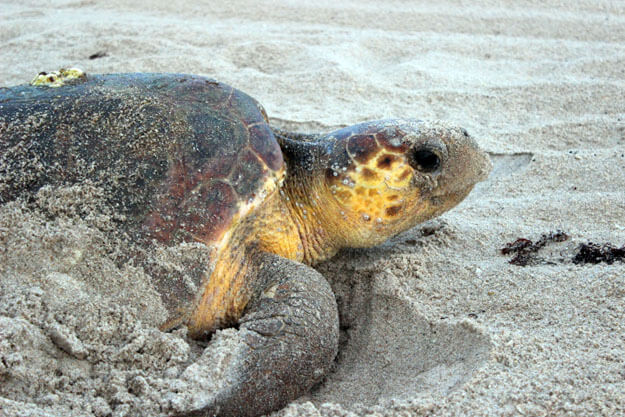 Join a Summer Sea Turtle Walk (photo, courtesy Ed Perry)
And for Florida beaches the way they used to be, don't miss the Hobe Sound National Wildlife Refuge highlighted by miles of unspoiled beach. Also, the Hobe Sound Nature Center features naturalist-guided tours providing an overview of the coastal area and its native inhabitants such as the gopher tortoise, the manatee, and soaring overhead eagles and ospreys that make their home in the lagoon, the coastal hammock and pine scrub. If you visit during sea turtle nesting season, consider booking a summer evening walk to witness live sea turtles nesting on the beach, a not-to-be-missed opportunity.
Martin County's Other Side: Indiantown
Miles of ranchlands, citrus groves, sugar cane fields and flatwoods separate the coastal towns with the other town in Martin County. On the west side is Indiantown, the county's rural center, which has a charm all its own.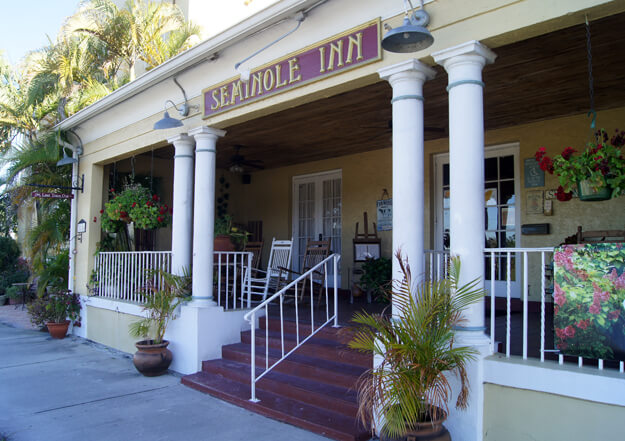 Indiantown's 1926 Seminole Inn
At its heart is the gracious Seminole Inn, a 1926 restored historical inn built during the Florida Railroad boom. In the lobby, greeting every visitor while 1920's era music wafts in the background, is a 30-year old parrot named Crackers.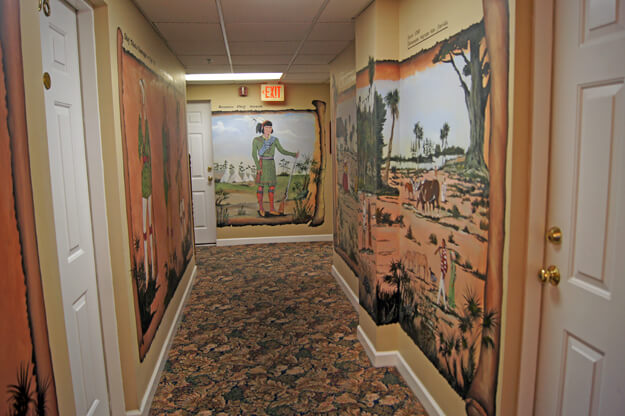 Seminole Inn murals depicts Seminole history
Here you can learn about history and hear of bygone eras, but what you really don't want to miss is the restaurant, where the menu is legendary and Sunday Brunch is a must. Mainly known for its fried chicken, sweet potato casserole and "the best fried green tomatoes anywhere," it also serves scrumptious homemade desserts, especially the peach cobbler.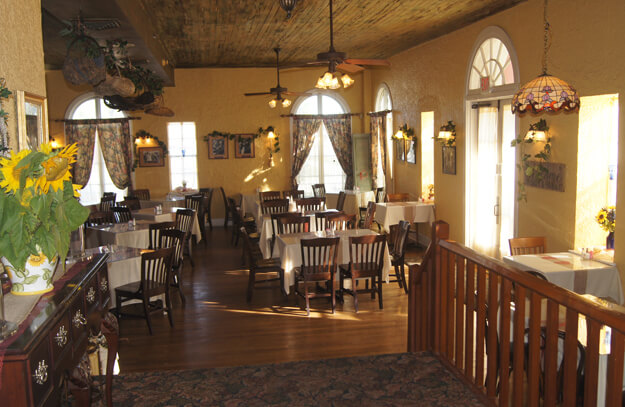 Seminole Inn's Sunday Brunch is legendary, Windsor Room
For those wanting an "outdoor fix" there is a special outdoor tour that leaves the Seminole Inn October through May. The "Tromp the Swamp" expedition takes you to the Barley Barber Swamp. The tour is conducted free of charge and takes you along a boardwalk through 1,000-year old growth cypress trees giving visitors special insight into a rare ecosystem that was once a Native American hunting ground.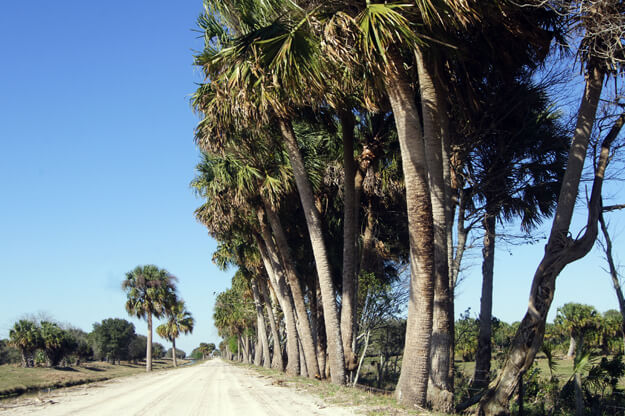 Allapattah Flats
If your "outdoor fix" still needs a boost, there is one other place worth mentioning. The Allapattah Flats, in the northwest corner of the county near Palm City, is ideal. This open preserve contains some of Florida's wild country where cowboys roam in open pastures, cattle graze, and bird watching is outstanding. Enjoy seeing flocks of rare birds such as the Woodstork, Roseatte Spoonbill and hawks surrounded by groves of Sabal Palms.
Both sides of Martin County reflect a Florida that is disappearing. Friendly small towns, historical and cultural charm, and beauty in art and nature certainly make this place the priceless gem of the Treasure Coast. You'll want to visit soon and see so much of what used to be.
To receive Authentic Florida's free ENEWs, featuring travel and living updates, delivered weekly, sign up on the home page Authentic Florida, voted Blog of the Year and Best Travel Blog at the Orlando Sunshine Awards.
---
If You Go
For more information on your visit: