Meet the "Ansel Adams" of Florida, Photographer Clyde Butcher 
Meet photographer Clyde Butcher, the gifted landscape photographer who specializes in large format black and white images and considered Florida's Ansel Adams.
This post was written by Authentic Florida and originally published with Visit Sarasota.

Photographer Clyde Butcher in his Venice darkroom
He's a large man with a full Santa Claus beard and eyes that twinkle behind wire-frame glasses. Looking constrained as he sits at a small desk in his Venice office cubicle it's obvious this is not a man who spends his time indoors.
But lately he has been indoors a lot more than he would like. After suffering a stroke in May, Butcher, at age 75, is journeying back to fieldwork with one rather specific goal. "I just want to get back on the water in my canoe," quips Butcher. The stroke may have affected Butcher's physical abilities but not for long. He plans to be back outside traipsing through swamps, camera and tripod in tow, photographing the majestic natural beauty of Florida within a few short months.

Clyde Butcher, Oscar Scherer State Park
For those who are unfamiliar with Clyde Butcher, he is a gifted fine art photographer specializing in black and white large format landscape images. He has been called Florida's Ansel Adams. Butcher has gained fame photographing Florida's outdoors (and landscapes throughout North America), and displaying his work in enormous sized prints. His expansive horizons and powerful images intimately connect the viewer to areas of Florida many have never witnessed.

Clyde and Niki Butcher
He and his wife Niki frequently trek through beautiful, and often remote, areas of the state, photographing the stillness and beauty of Florida. Most people agree that once you've witnessed his photographic artistry, you'll appreciate the state with a fresh, and deeper perspective.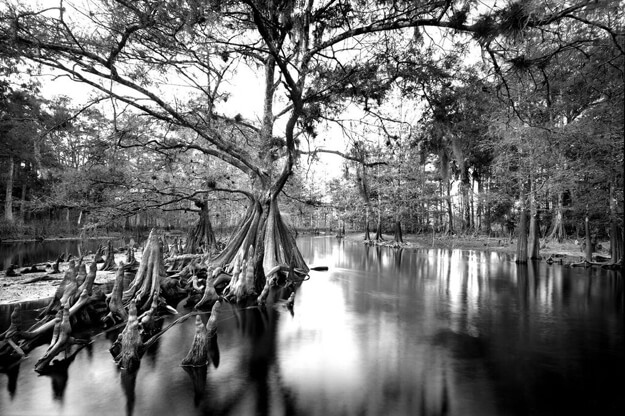 Fisheating Creek, Clyde Butcher
Clyde initially moved to Florida from California in the late 1970's after selling a successful photography business. And though his roots had been in black and white he had switched to color to meet market demand. So, when he first arrived in Florida he photographed images in color. But then in 1986 tragedy struck the Butcher family when Clyde and Niki's 17-year old son, Ted, was tragically struck and killed by a drunk driver. Clyde "lost the color from his life," and committed fully to black and white photography, and found solace in capturing images of nature. 

Cayo Costa State Park, Clyde Butcher
Through years of grief he never returned to color, dedicating his craft to black and white photography. But, he learned something more in the process. "There is so much color in Florida, that it's actually distracting to the eye. So, my theory is that we don't see the true image as well as when photos are contrasted in a black and white format."
Even in the face of tragedy, his new artistic style transformed him into one of Florida's most formidable artists. Butcher's lengthy list of national, international and state awards recognize his artistic, humanitarian and conservation achievements. He is a recipient of the Florida Artist Hall of Fame Award, an invited TED speaker and has been personally featured in many award-winning film documentaries.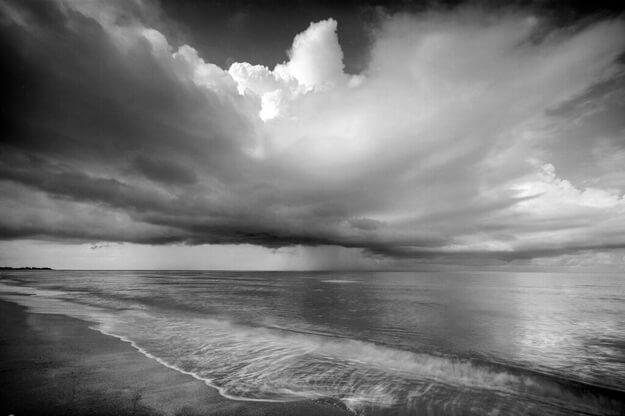 Casey Key, Sarasota, Clyde Butcher
To see his work, visit one of Butcher's three galleries: Venice Gallery; the Big Cypress Gallery south of Naples; and the recently opened Sarasota Gallery on St. Armands Circle. All galleries feature his large-scale black and white photos, along with calendars and coffee table books. Observers are in for a visual feast while admiring the images as Butcher's work entices you to join him in his walk through the beauty of Florida. The wide-angle view and large format, with his combined artistic techniques of light, composition and texture, draw the viewer in, as if stepping into the primordial beauty of Florida nature.
"People, whether visitors or residents, don't realize what a beautiful state Florida is and the extent of our diversity," shares Butcher. He further shares this insight about his perspective. "In the western United States, photographing natural landscapes like the Grand Canyon and Yosemite is about geology, whereas in Florida it's all about biology. There is a subtle beauty of plants, trees, and water – surrounding us everywhere – even in our own backyards."

Walton Ranch, Sarasota, Clyde Butcher
When Clyde reflects on his favorite areas in Florida, he credits "the moment he really understood Florida" to an unplanned stop at Tom Gaskin's Cypress Knee Museum, a legendary "old Florida" roadside attraction. Invited by Gaskin to take a walk on a boardwalk out back he discovered an almost magical cypress swamp along a tributary feeding into Lake Okeechobee called Fisheating Creek. The stand of tall cypress trees reminded him of the California Redwoods from his past. That moment transformed his view of Florida. That same week he was introduced to another photographer and Floridian, Oscar Thompson, who took him into the Big Cypress National Preserve and the Everglades. There, he found his future home and to this day, Clyde has become one of the most influential champions of the swamp.
It was in this swamp that Clyde and Niki Butcher decided to set up their home and gallery. Along the Tamiami Trail between Naples and Miami is the Clyde Butcher Big Cypress Art Gallery, one of the few businesses along a seemingly endless roadway.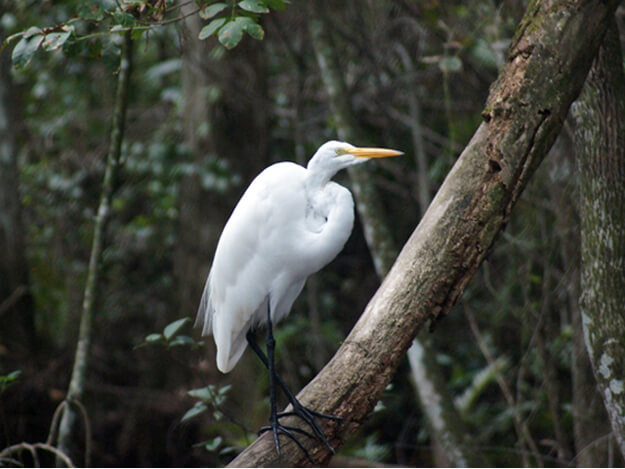 Cypress Swamp, Robin Draper
The gallery is actually within the boundaries of the Big Cypress National Preserve, a biologically diverse ecosystem that is distinct from the Everglades. Covered in fresh water and dotted with dense hammocks of Bald Cypress trees, the Big Cypress is essentially a slow-moving river gently flowing towards Florida's Gulf coast, emptying into prolific estuaries that serve as nurseries for Florida's marine life. It is a place of immense natural beauty and relative isolation from Florida's developed areas.

Clyde Butcher Swamp Walk, Big Cypress, Robin Draper
After years of spending time in the Big Cypress and the Everglades, Clyde and his family wanted to share their love and appreciation of the area and to dispel the notion that these places are scary and dangerous. So, they created a walking tour of the area and the Swamp Walk was born.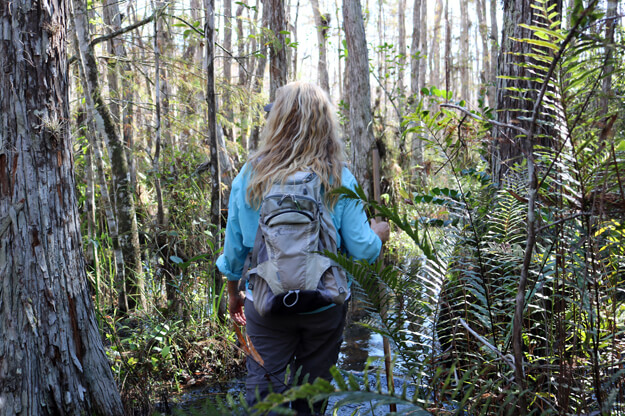 Swamp Walk, Big Cypress Swamp, Robin Draper
Swamp Walks are conducted directly behind the Big Cypress Gallery. Clyde owns 13 acres there and he and his staff have been giving tours for more than 20 years. These are get-your-feet-wet walks. And sometimes you will be wading knee high or more through the swamp. But people love it.
Whether you walk the swamp, or witness Clyde Butcher's photos in a gallery, or at a friend's home or office, you will likely be transformed by the images.
"One thing I love is watching people leave the walks, or my shows and galleries, with a smile," Butcher says.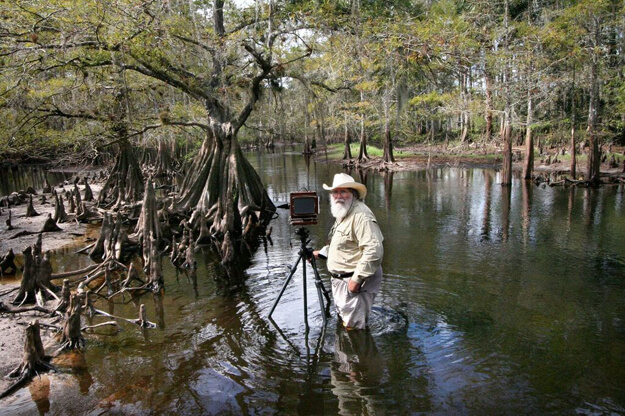 Clyde Butcher, Fisheating Creek
And he clearly wants people to connect to the work. He hopes to forge an emotional bond that instills the same love for nature, and desire to conserve and protect natural resources, that he feels. As Emmy Award-winning filmmaker Ken Burns said, "Like the work of Ansel Adams, Clyde Butcher's remarkable photographs give us an access to nature we rarely see or experience … they also remind us of the abiding kinship we mortals share when we work together to preserve these magnificent places."
To receive Authentic Florida's free ENEWs, featuring travel and living updates, delivered weekly, sign up on the home page Authentic Florida, voted Blog of the Year and Best Travel Blog at the Orlando Sunshine Awards.  
---
If You Go
For more information: