Brendan and Nicole Coudal make a good team because they play to each other's strengths in their studio, all while having lots of fun.
Brendan is also creative across many areas – painting, writing, designing, and playing music. He always has a sketchbook in his pocket; gets inspiration from fishing, diving, and paddle-boarding; works in an eclectic studio filled with Hemingway books, pictures of fish he has caught, art from fellow artists, his ukulele, vintage fishing gear, old pinup calendars, well-worn brushes/paint tubes, an electric guitar, and a '74 VW bus he's restoring.  It's all there – travels, treasures, and experiences that end up in his paintings.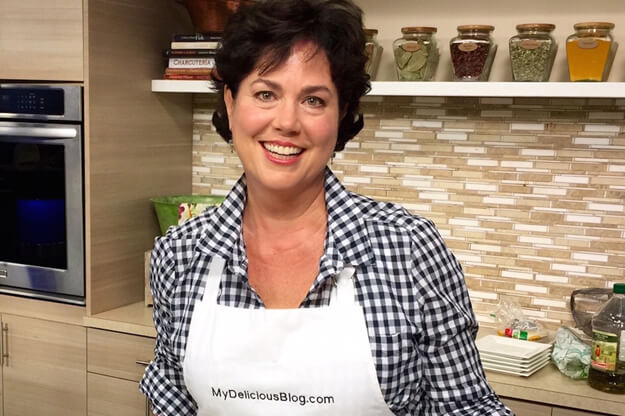 Nicole is a retired corporate gal who handles the business behind the scenes, along with modeling for Brendan's paintings and working hard to prevent their pets from getting fur on wet paintings.  She has dabbled in many creative pursuits but especially loves cooking and gardening. Her recipes are inspired by the fish she and Brendan catch, the coastal community in which they live, her New England roots, and what's growing in her garden. It all forms the foundation for  MyDeliciousBlog, a site she created to showcase recipes, fishing stories, and farms, and to simply inspire folks to enjoy Florida's offerings.
Fabulous Florida Poster
In 2017 Authentic Florida collaborated with the Coudals on a project highlighting things we love about the Sunshine State. Brendan created "Fabulous Florida," a painting filled with iconic imagery reminiscent of a vintage postcard. Together, we sold limited edition posters, which were a big hit with Florida-lovers.
Good news! There are still a few posters available. They are $12, plus shipping/handling. You can also order the poster on our eBay page.
Not on eBay? Please email melanie@authenticflorida.com, if you are interested in purchasing a poster and we will send you a PayPal request (or you can also mail us a check if you prefer). 
We thought you'd like to know what Brendan and Nicole Coudal are up to now …
Brendan continues to create marine-life and retro-style paintings, and you can also find his prints, postcards, and t-shirts at many retail shops throughout southwest Florida and on his website.  He also stays busy creating graphic designs for clients, and digitally printing his art onto apparel for wholesale buyers. But Brendan has a special project up his sleeve – a new, groovy line of designs that will make you smile.  So stay tuned, because he's targeting a summer, 2019 release. In the meantime, you can also see his work at www.BrendanCoudal.com, which also has wood and canvas prints of that "Fabulous Florida" painting.
Nicole has been busy creating recipes for her blog (plus she also guest blogs for Authentic Florida on occasion), conducting cooking segments on local TV stations, collaborating with food industry folks on special projects, and also writing freelance articles for organizations like Visit Sarasota.  And somehow she even found the time to launch a line of flour sack kitchen towels in March. They are colorful, bright, and lovely images of sea turtles, crabs, fish, culinary quotes, and more. The towels are designed and printed in their studio.
Nicole shifted gears when COVID-19 hit and started making face masks. You can also find the towels and masks, as well as lots of tasty recipes at www.MyDeliciousBlog.com.

AuthenticFlorida.com was named Best Travel Blog two-times at the Florida Sunshine Awards.
To receive Authentic Florida's free weekly ENEWs, sign up on our Authentic Florida home page.
To inquire about partnerships/advertising, please contact info@authenticflorida.com 
Proud Member of: 

---
2 responses to "Meet the Creative Team of Brendan and Nicole Coudal!"