Written by Authentic Florida guest blogger, Laura Albritton, author of Miami for Families. Laura and her husband Zickie have a new travel blog, Island Runaways.

A Coconut Grove cottage peeks behind a coral rock wall [photo, Laura Albritton]
In the village-like neighborhood of Coconut Grove, you'll trade the urban bustle of Miami for shady streets with canopies of gracious, old oaks. Here clapboard cottages, bungalows, and Spanish-style homes lie tucked behind coral rock walls and white picket fences. Wild peacocks with their lapis-colored tails freely strut their stuff along narrow lanes. In the marinas blue-and-white sailboats shine against the serene backdrop of Biscayne Bay. The small-town atmosphere and waterfront setting are two reasons that I'm happy to call Coconut Grove my home. Historic house tours, quaint shops, and waterfront activities make "the Grove," as we locals call it, an excellent choice for an Authentic Florida mini-escape.
 Coconut Grove's oak lined tree [photo, Laura Albritton]
Out-of-towners like myself have been falling in love with the Grove for over a century. One of the very first settlers, Ralph Middleton Munroe, ventured down from chilly Staten Island, New York, in the late 1800s. Munroe became so enamored of this remote paradise that he bought a waterfront parcel of land and in 1891 built a house he named "the Barnacle." Here with his wife Jessie and their two children, this transplanted New Yorker designed boats, founded the area's first yachting club, and cultivated a fascinating circle of adventurers, fellow visionaries, writers, and artists. Throughout his life Munroe remained deeply committed to conserving Coconut Grove's natural beauty.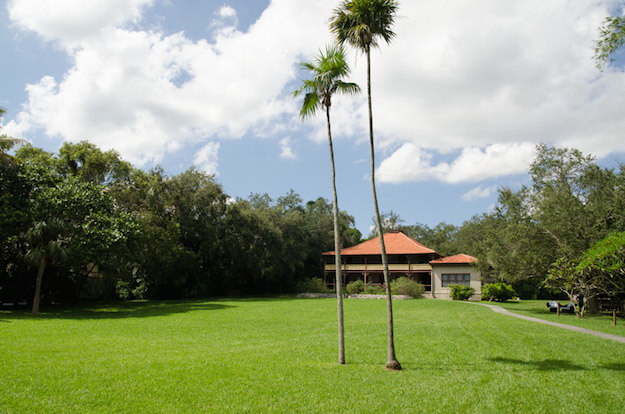 The Barnacle Historical State Park [photo, Zickie Allgrove]
Today, you can tour the Barnacle and visit the bay-front grounds, which contain some of Miami's only surviving tropical hammock. A volunteer leads you through the simple but well-designed two-story home; family possessions, from hand-hewn toys to an early refrigerator, create a sense of life in a different era. It's worth looking on the Barnacle Society's website for special events, like the Barnacle Under Moonlight concerts, when you can bring a picnic and listen to live tunes out under the stars.  

Child's bedroom, The Barnacle State Park, [photo, Zickie Allgrove]
After touring the Barnacle, you might want to head over to one of my family's favorite spots, Scotty's Landing, for lunch overlooking Grove Key Marina. This open-air, no frills restaurant serves up seafood and sandwiches with cold beer or refreshing iced tea. To get there: take Pan American Drive as though you're heading to Miami City Hall. Park in a lot on either side of the road, and then walk through the boatyard on your left. At the very back on the bay you'll find Scotty's. Sun, sea, and sailboats create a gorgeous backdrop. Whenever I order their delicious cheeseburger, I can't help but start humming a certain Jimmy Buffett tune. (You know the one!) Other tasty menu items include the smoked fish dip and, in season, stone crab claws.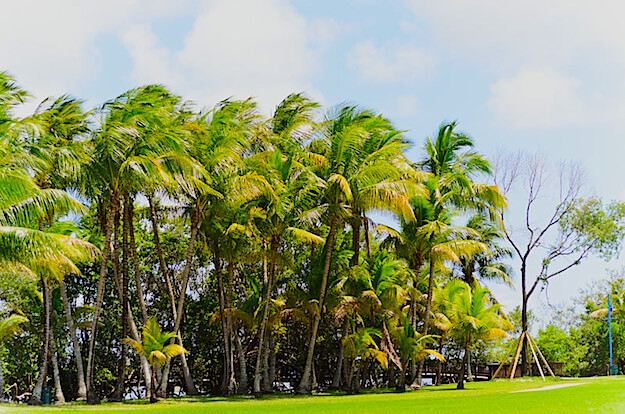 Peacock Park's coconut grove [photo, Zickie Allgrove]
After lunch with a view, sometimes I'll stroll a few blocks over to Peacock Park. This grassy expanse, fronted by mangroves, is named after English couple Charles and Isabella Peacock, who built Miami's very first hotel here in 1883. Back then there were no roads, and the mail arrived by boat. Decades later, in the 1960's and 70's, hippies, protestors, and musicians used the park as a hang-out, making Coconut Grove synonymous with wild bohemia. Today the park holds several festivals, including Woodystock, the Reggae Festival, Grovetober Fest, and the hugely popular Coconut Grove Arts Festival. But I also love Peacock Park's quiet times, when we can walk out on the little boardwalk and spot stingrays and puffer fish skimming the ocean floor.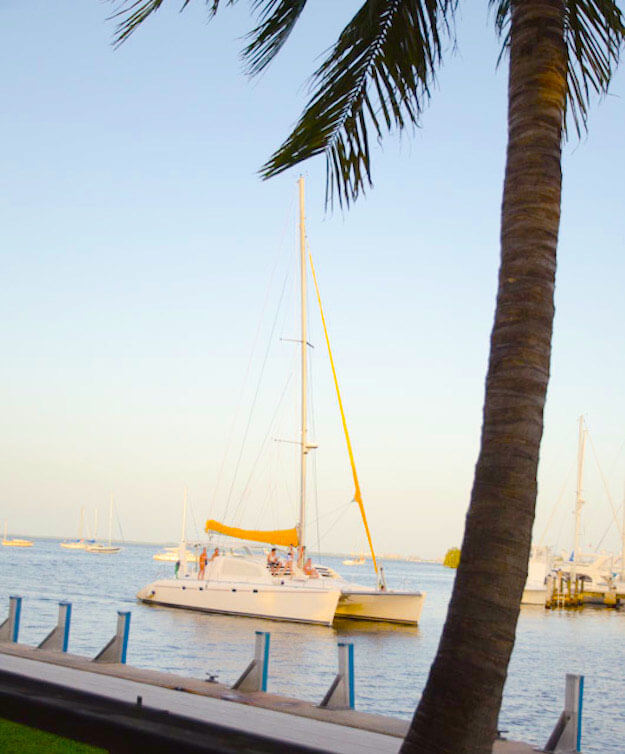 View from Scotty's Landing Restaurant [photo, Zickie Allgrove] 
For those of us who aren't content with simply looking at the sea, Coconut Grove Kayak & SUP provides an easy way to explore Biscayne Bay. You'll find this kayak and paddleboard rental outfit at Dinner Key Marina, where 27th Avenue dead-ends into Bayshore Drive. Their office resides inside a boat, and depending on the tide, it can require a little agility to get aboard. Once the helpful staff sets us up with kayaks or paddleboards, we take our time, paddling among small mangrove islands where egrets, herons, and cormorants love to perch.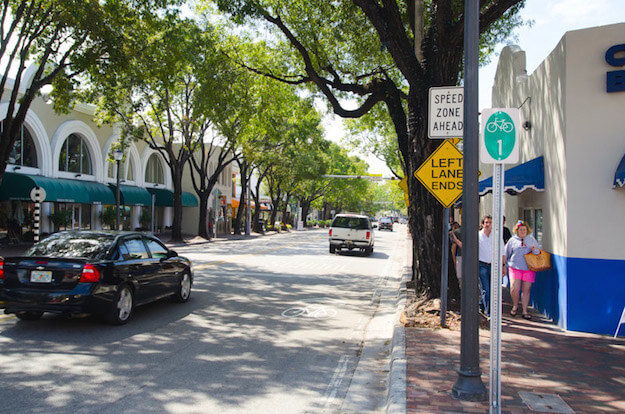 Coconut Grove downtown [photo, Zickie Allgrove]
Back on land, locals and visitors alike enjoy ambling through Coconut Grove's compact "downtown" with its quaint shops, restaurants, and bars. You can start on McFarlane Road, which runs by Peacock Park. (History buffs should keep an eye out for the coral rock Housekeeper's Club, founded by early settler Flora McFarlane.) As you head up McFarlane, you'll pass Catch A Wave, a surf shop selling flip-flops and bathing suits. Continue onto Main Highway, where the Olfactory Company continually tempts me with their gourmet teas, imported candies, and yummy-smelling soaps. Tucked away on Commodore Plaza is the This 'N That Shop, a church thrift store which has yielded unexpected treasures, like a cute Lilly Pulitzer shift and inexpensive used books.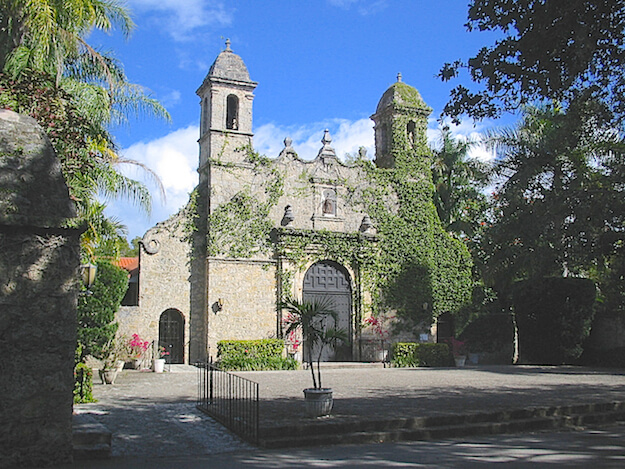 Plymouth Congregational Church [photo, Laura Allbritton]
To fully appreciate Coconut Grove's charms, take my advice and make a detour through the residential area. Ride a bike or a drive down Main Highway to Plymouth Congregational Church on Devon Road. This beautiful, coral rock house of worship was built by a single Spanish artisan, from 1916 to 1917. It's been used as a backdrop in films and remains a popular location for Miami weddings.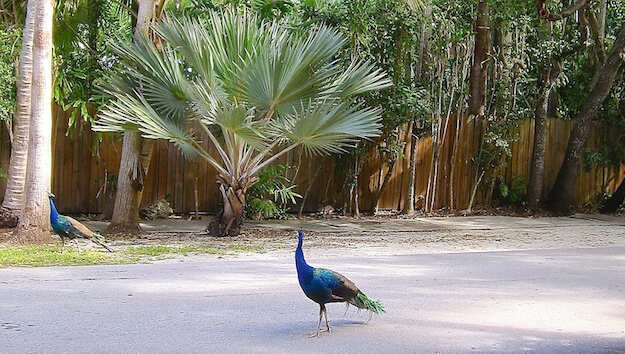 Coconut Grove wild peacocks [photo, Laura Albritton] 
Then take a short journey through the neighborhood, to see a variety of Grove houses, from historic cottages to Mediterranean Revival mansions. Palm trees, masses of bougainvillea, gumbo limbos, and oaks grow in a profusion of green. (Here's my inside scoop for not getting lost: follow Devon Road until it dead-ends on Hibiscus, veer left and take an immediate right on Avocado Avenue. After one block, take a left on Plaza Street, go two blocks to Palmetto Avenue, and then head left on Palmetto until you reach Hibiscus again. Go right on Hibiscus and continue until you're back on Main Highway.) Drive or cycle slowly, and you may just see some of Coconut Grove's signature wild peacocks. It's even better if you get the chance to wander on foot.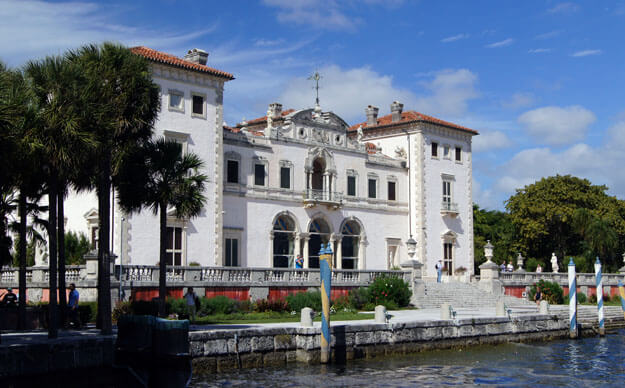 Vizcaya Museum & Gardens
There's plenty more to do in my adopted home turf, from the impressive Villa Vizcaya Museum to the Kampong, the home and gardens of famous naturalist David Fairchild. In the historically Bahamian neighborhood Village West, you'll discover the bright pink Christ Episcopal Church, which church-goers founded in 1901.

Coconut Grove Farmers Market [photo, Zickie Allgrove]
On Saturdays people flock to the Coconut Grove Farmer's Market on Grand Avenue for organic veggies, fruits, and home-baked breads. I love buying a chilled coconut, which the vendor slices open so you can drink fresh coconut water with a straw.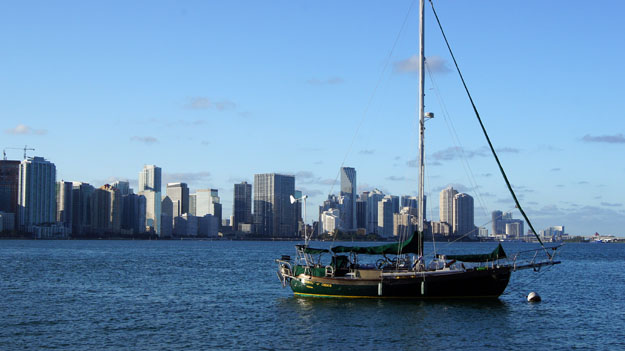 Miami skyline
While it may not be as glitzy as South Beach, Coconut Grove reconnects me to Miami's past and the authentic pleasures of life on the bay. If you're in town, I hope these tips help you make the most of your visit, and that you enjoy "my" tropical, seaside village.
Florida native Laura Albritton wrote the recently-published guidebook, Miami for Families, and, with her husband Zickie has started a new travel blog, Island Runaways.
To receive Authentic Florida's free ENEWs, featuring travel and living updates, delivered weekly, sign up on the home page: Authentic Florida.
---
One response to "Miami's Charming Coconut Grove"