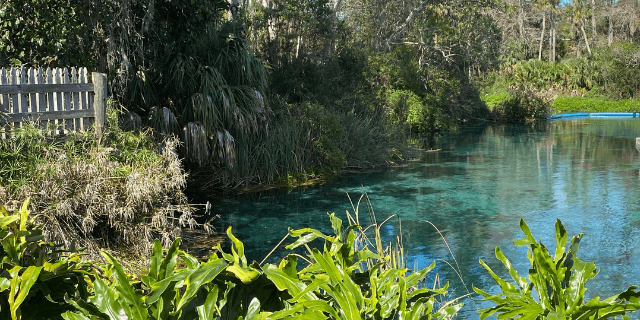 Every day is a great day to celebrate waterparks, the unique attractions that offer us a cool escape especially during the pinnacle of summer. However, natural springs are enjoyable in the winter, too. Waterparks are fun for the entire family and in Florida, we have a LOT of options! In Central Florida, people often think of the Walt Disney World, Sea World, and Universal Studios Florida waterparks. However, we prefer the natural ones! Check out these authentic spots around the state where you can enjoy a natural spring any day!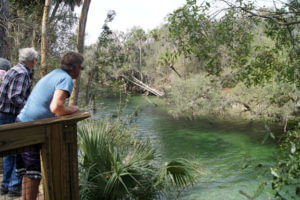 First on our list of natural waterparks in Florida is Blue Springs State Park. North of Orlando and west of Orange City, Central Florida's Blue Spring State Park is home to the largest spring on the St. Johns River. The circular translucent hole percolates with tiny bubbles rising to the surface, also known as a boil –but it's not hot. Like other Florida springs, it's a consistently cool temperature. Blue Spring is popular with swimmers, snorkelers, and scuba divers, especially for the extensive underwater cave system.
A half-mile boardwalk along the bank of the Blue Spring Run begins at the bubbling spring and ends at the St. Johns River. The boardwalk has panoramic views of picturesque "old Florida" and interpretive displays provide history about the park. Moss-draped oaks lining the blue-green river and fallen trees along the banks help compose prize-winning photographs. During the winter, Blue Spring is another popular gathering area for manatees. This is one of the best places for viewing these gentle giants!
This crystal blue "Shangri-la" just west of High Springs was recently purchased by the Florida State Park system. Blue Springs is situated in a quiet rural 250-acre area and pumps out 55 million gallons of freshwater daily, eventually emptying into the Santa Fe River. The park is reminiscent of a "Central Florida" summer camp. Swimmers jump from a huge wooden diving platform into the crystal clear bubbly water; families picnic under the shade of the sprawling oak trees; paddlers launch kayaks or paddleboards along the spring run. And no trip to Blue Springs is complete without a short walk on the rustic wooden boardwalk to the scenic Santa Fe admiring more springs along the way. Turtles sun on the logs below and a variety of fish including bass, mullet, red bellies, and catfish swim below.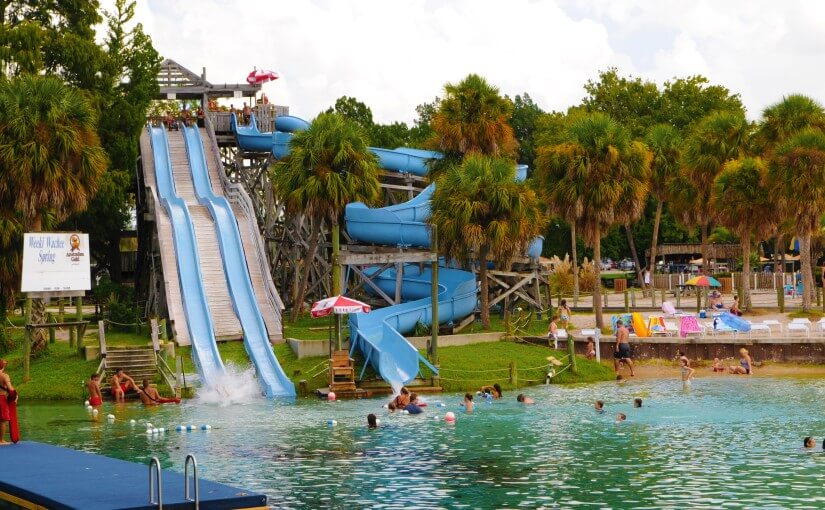 Since 1947, Weeki Wachee Springs has been home to the famous mermaid show, amusement park, river cruise, and first magnitude spring. Fish-tailed human mermaids delight audiences with synchronized underwater ballet performances. Springwater flows up from subterranean caverns while visitors watch through huge glass windows in a submerged theatre.
Make sure to stop by Buccaneer Bay, a favorite natural waterpark in Florida! It is the state's only spring-fed water park located at Weeki Wachee! Not only do they have four water slides and flumes for the thrill-seekers, but they also have relaxing white-sand beaches where you can catch some rays! For even more relaxation, you can take an inner tube on the natural lazy river that goes around the park!
To discover more of the beauty and nature on the Weeki Wachee River, consider a slow, easy, five-mile, three-hour kayak or canoe paddle downstream. Begin at Paddling Adventures located adjacent to the Weeki Wachee State Park. They provide all the equipment with tips to make it enjoyable for the one-way trip, downstream. Paddle under the shade of cypress and oak trees while enjoying wildlife everywhere! Look for the bald eagle's nest, turtles sunning on submerged logs, a plethora of birds, otters, and manatees.
NOTE: Buccaneer Bay and some other park amenities are closed. Visitors can canoe or kayak on the Weeki Wachee River. Rental equipment will be available. Weeki Wachee Springs State Park is open for kayak launch only. Restroom availability may be limited, all other park facilities are closed. Visitors are expected to maintain distances of at least six feet apart.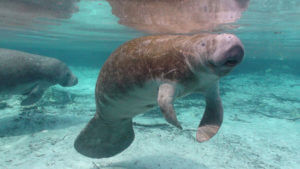 North of Tampa and west of Orlando, along Florida's Gulf coast, is the community of Crystal River, which is known as Florida's "water lover's paradise" for the abundance of freshwater springs throughout the region. Each winter, from November through March, visitors delight while observing the largest known gathering of manatees in Florida as they congregate in the relatively warm 72-degree water of Crystal River.
In the summertime, Citrus County bustles with those who want to cool off in a natural waterpark in Florida. Crystal River is a first magnitude spring system, originating in Kings Bay, and encompassing more than 40 springs flowing into the river as it meanders six miles westward to the Gulf of Mexico.
To see this spring system, you'll have to go by boat. Local outfitters will take you to visit the springs where a beautiful world, on or below the water, awaits. The largest spring in Kings Bay is Kings Spring. It spans 75 feet across and is 30 feet deep at the entrance to a 60-foot cave. This is very popular for swimmers, snorkelers, and scuba divers. But there is one more that stands out above many others! Considered to be one of the most beautiful springs in Florida, local outfitters transport swimmers and snorkelers to the roped-off spring where they can swim into the area to get a closer look. It's an enchanting spring and thanks to local caring citizens, it has been preserved for future generations.
Devil's Den features a breathtaking underground spring that has been turned into a snorkeling and scuba diving site! The spring is an inverted mushroom shape and has a depth of 54 feet. On cold mornings, steam rises from the underground spring, thus giving it the name "Devil's Den". With crystal clear water, year-round 72-degree water temperatures,  ancient rock formations with stalactites, fossil beds dating back 33 million years, and much more, you're guaranteed to leave with memories that will last a lifetime!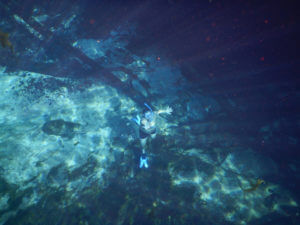 Located on the Suwannee River, Fanning Springs produces 65 million gallons of water daily! Not only can you see an array of wildlife, but visitors can also go boating, camping, fishing, hiking, paddling, picnicking, scuba diving, snorkeling, and swimming! If you're looking for a quick trip, Fanning Springs is centrally located seven miles to Manatee Springs State Park. For those who like shorter paddle trips, enjoy exploring the spring run and river surrounding the park.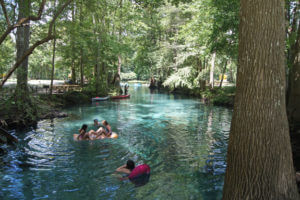 Not far from the Gilchrist Blue Springs, northwest of High Springs, Ginnie Springs encompasses 200 acres of natural Florida with shady trees lining the banks of the Santa Fe River.
Known for its camping amenities it is also one of the most popular diving springs in the state. Water gushes from seven natural springs, forming spring runs and grottos. With a sandy limestone bottom reflecting light from above, it's a beautiful new world down under awaiting swimmers, snorkelers, and scuba divers.
Tubers enjoy a two-mile stretch along the Santa Fe for a day of aimless drifting. It is also a great place for a kayak, canoe, or paddleboard. Laughter and fun are everywhere on this stretch where all can enjoy the serenity of the Santa Fe River.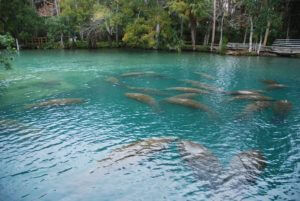 Homosassa Springs used to be a popular train stop in the early 1990s where visitors could stop and take a dip while the train cars were being filled with supplies. Now you can visit and go boating, bird watching, hiking, and see numerous animals on the paved wildlife walk! You can also learn more about the wildlife on the daily tours – one for the manatees and another for alligators and hippopotamus! Make sure not to miss The Fish Bowl Underwater Observatory! This is located in the mainspring and allows an underwater view of the spring and the fish and manatees. A television screen with a viewing control is located on the sundeck allowing visitors in wheelchairs to appreciate a view out the underwater windows.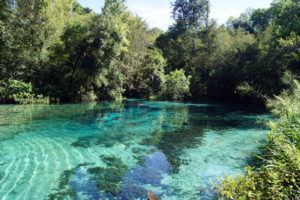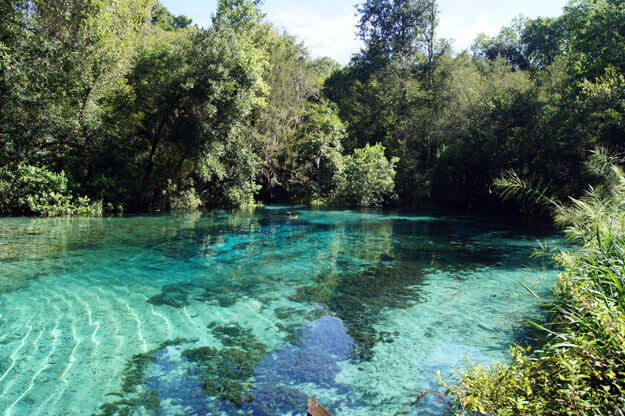 Northwest of Gainesville, near Fort White, the Ichetucknee Springs and River has long been a destination for campers, college students, and Floridians. You can seek the delightful experience of floating down the six-mile river before it empties into the Santa Fe.
From Memorial Day until Labor Day, the Ichetucknee Springs State Park resembles a bustling summer camp. Families and larger groups "raft-up," tethering their tubes as they float down the river. Alternately, there will be some areas where you will have the river all to yourself. And one thing is certain for all who go – everyone on the river gets to enjoy one of the best natural waterparks in Florida.
To maximize your Ichetucknee experience, go early, and if possible, go on a weekday.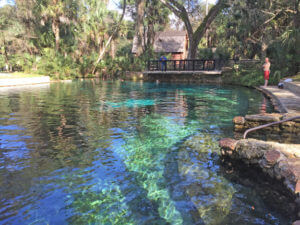 Another fantastic natural waterpark in Florida is Juniper Springs. The headspring, Juniper Spring, is the site of the main swimming hole. A limestone wall surrounded by a lawn and picnic tables, originally built in the 1930s by the Civilian Conservation Corps, encloses the park's spring. Swimmers and campers delight in the beautiful deep blue spring. An old historical mill, also built by the hard-working conservation corps to provide electricity for the park campground, is adjacent to the swimming area. This includes a historical and informational exhibit center for park guests. The adjacent Juniper Springs Run is considered one of the most scenic kayak excursions in Florida.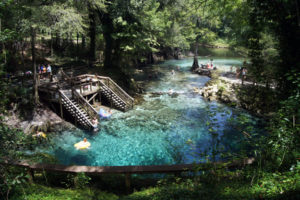 Madison Blue Springs State Park lies east of Tallahassee and the town of Madison. As you enter this state park there is an "otherworldly" feel and something magical about this first-magnitude crystal clear spring. It is easy to imagine fairies flitting through the trees and sprites peeking at you in the greenery.
The spring is a translucent blue hole in a forest of green, surrounded by hardwoods and pines along the Withlacoochee River. There are several paths that lead to the spring and plenty of rocks to sit upon. This offers spectacular viewing as the spring runs 100 feet over limestone to the tannic Withlacoochee River.
A wooden platform with steps provides easy access for swimmers and divers and this spring also has underwater caves.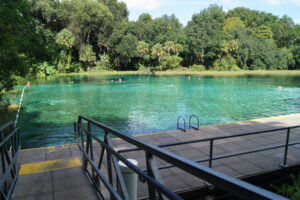 Next on our list of natural waterparks in Florida is Rainbow Springs State Park. Rainbow Springs State Park, located southwest of Ocala near Dunnellon, is home to the headspring of the Rainbow River and one of the most beautiful and beloved waterways in the state. This river has enjoyed a reputation as a scenic and popular playground since opening in the 1930s as a family-owned attraction. Years later, in 1990, the spring became part of the Florida State Park System. At the main park spring, swimmers can enjoy a large roped off area for swimming with a dock and stairs for ease of entry to the spring.
Rainbow River could be called Florida's natural swimming pool. The white sandy bottom lies between areas of smooth limestone creating a "pool–like" effect. But in this swimming pool, you will share the water with turtles as they sunbathe on fallen logs, along with blue herons and white ibis feeding along the riverbank.
Starting at the popular KP Hole outside the state park, children and adults can float downstream in inner tubes stopping often to jump off ropes tied to over-hanging tree limbs. The gentle current of the river dictates the pace as smaller springs bubble up and feed into the river. This creates plenty of areas to get out and swim.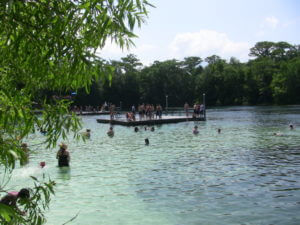 Fourteen miles south of Tallahassee Wakulla Springs State Park is where the largest and deepest freshwater spring in the world (yes, the world) bubbles up and flows into the Wakulla River. The spring is also home to Florida's deepest and most extensive underwater cave system! This makes it a destination for scuba divers and home to a popular swimming hole and wooden jumping tower at the mainspring attract throngs of folks.
Be sure to check out the Wakulla Springs State Park Lodge, a 1930's Mediterranean revival old hotel with a spectacular lobby and a restaurant with an excellent menu.
Consider the ranger-guided Jungle Cruise that covers a loop through the wildlife sanctuary. You'll ride over the Wakulla spring that includes seeing pristine "real" Florida. While on the cruise, you're likely to see alligators, manatees (in season) turtles, and an amazing array of birds.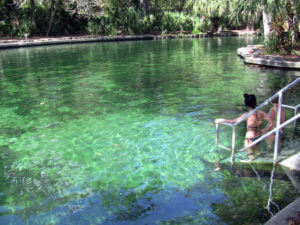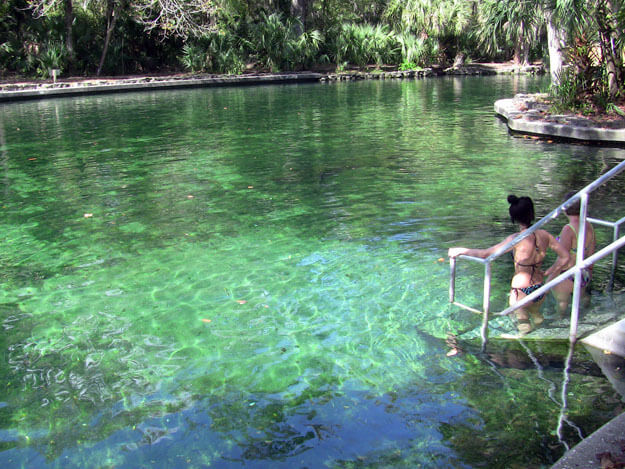 Last on our list of natural waterparks in Florida is Wekiwa Springs. North of Orlando, Wekiwa Springs State Park is a delightful retreat with an "Old Florida" feel. Wekiwa is an Indian word for "bubbling water" which perfectly describes the freshwater spring. The emerald green freshwater pool sits at the base of a grassy amphitheater with steps leading to the swimming area.
The 7,800-acre Wekiwa Springs Park is a part of the Wekiva Basin ecosystem. Nearby neighbors such as the Rock Springs Run State Preserve, the Lower Wekiva River Preserve State Park, and the Wekiwa Springs State Park make up the full basin.
Consider renting a kayak or canoe to see more of the park. An easy paddle on the Wekiva River and up the Rock Springs Run will confirm its designation as a National Wild & Scenic River. Florida wildlife is everywhere! You might want to be on the lookout for some early morning otters and birds feeding near the water's edge.
Here are some other related Authentic Florida articles you may be interested in:

AuthenticFlorida.com was named Best Travel Blog two-times at the Florida Sunshine Awards.
To receive Authentic Florida's free weekly ENEWs, sign up on our Authentic Florida home page.
To inquire about partnerships/advertising, please contact info@authenticflorida.com 
Proud Member of: 

---
Comments are closed.