Nine Books to Add to Your Authentic Florida Holiday Bookshelf
Do you need special ideas for holiday gifts? This season, Authentic Florida has you covered with nine book recommendations for your holiday bookshelf – covering a wide range of subjects for you – or for the special people in your life.
Our list covers everything from a quintessential "must have" Florida novel detailing the lives of three generations, to a book that highlights the achievements of soul music's golden age, establishing Florida as one of the great soul music capitals of the United States.
Or learn to make Key lime beignets or cornbread-stuffed quail with strawberry-ancho-guava jam, from a well-known chef and cookbook author who creates tasty recipes from the Sunshine State.
And don't leave out something for your favorite young Floridians with three mystery books covering Key West, Amelia Island and the Everglades.
For the history buff in your life, consider an historical retrospective of Key West's Duval Street detailing one of the most famous streets in America.
And if you have any fascination with Florida architecture from Craftsman to Modern, we've got you covered with a visual and narrative historic journey through Ft. Myers and some of its famous historical homes.
And for those who love the outdoors, Authentic Florida offers book suggestions ranging from beaches, to hiking, and even an historical biohistory of animals, people and plants.
Whether you are looking for yourself, a friend or your loved ones, keep it authentic this holiday season with books that share the love of Florida.
A Land Remembered
by Patrick D. Smith
The must-have book in every Authentic Florida Library! Ranked #1 Best Florida Book eight times, A Land Remembered tells the story of three generations of the MacIveys, a Florida family battling the hardships of the frontier to rise from a dirt-poor Cracker life to the wealth and standing of real estate tycoons. The sweeping story that emerges is a rich, rugged Florida history featuring a memorable cast of crusty, indomitable Crackers battling to carve a kingdom out of the swamp. But their most formidable adversary turns out to be greed, including finally their own. Love and tenderness are here too: the hopes and passions of each new generation, friendships with the persecuted blacks and Indians, and respect for the land and its wildlife.
Key West's Duval Street
By Laura Albritton and Jerry Wilkinson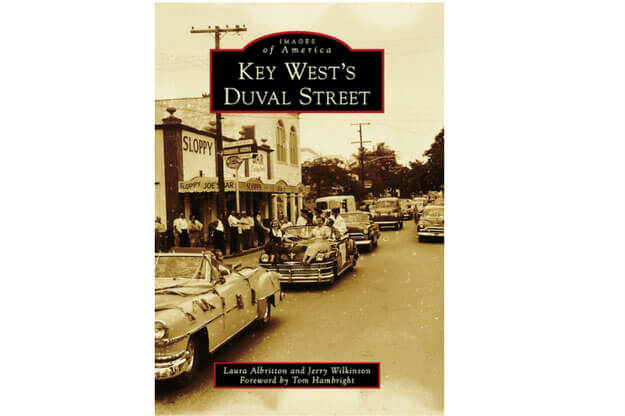 Compiled by writer Laura Albritton and historian Jerry Wilkinson, Key West's Duval Street, just out from Arcadia Publishing, promises to be a favorite with any fan of the Florida Keys. Duval Street, the pulsing heart of historic Key West, is one of the most legendary avenues in the United States. Stretching from the Atlantic Ocean to the Gulf of Mexico, this iconic thoroughfare has seen everyone from Ulysses S. Grant to Ernest Hemingway. Collecting 200 remarkable archival photographs, Images of America: Key West's Duval Street features famous buildings such as Key West's Oldest House, St. Paul's Church, the Southernmost House, the Strand Theater, the San Carlos Institute, and La Concha Hotel, along with fabled bars like Sloppy Joe's and the Bull & Whistle. This book celebrates the irrepressible spirit and heritage of a much-beloved American destination.
Florida Soul: From Ray Charles to KC and the Sunshine Band*
By John Capouya
When recalling the roots of soul music, most people are likely to name Memphis, Detroit, New Orleans, Muscle Shoals, or Macon. But Florida also has a rich soul music history—an important cultural legacy that has often gone unrecognized. Florida Soul celebrates great artists of the Sunshine State who produced some of the most electric, emotive soul music America has ever heard. John Capouya draws on extensive interviews with surviving musicians to re-create the excitement and honor the achievements of soul's golden age, establishing Florida as one of the great soul music capitals of the United States.
Florida historical novels for young adults
Kidnapped in Key West 
by Annelle Rigsby and Edwina Raffa
A daring adventure on Henry Flagler's Over-Sea Railroad! Twelve-year-old Eddie Malone sets out for Key West with his faithful dog, Rex, on a daring mission just as preparations are under way for the arrival of Flagler's first train.
Treasure of Amelia Island
by M. C. Finotti
Winner of the Florida Historical Society's Horgan Award, The Treasure of Amelia Island focuses on eleven-year-old Mary Kingsley, daughter of historical figure Ana Jai Kingsley, an African slave married to Zephainiah Kingsley. He freed her and their three children and they lived at a plantation that you can visit today in northeast Florida. In 1813 Patriots fighting the Spanish want to make Mary's family slaves again. In the midst of all this, Mary decides to search for a legendary pirate treasure.
Escape to the Everglades*
by Annelle Rigsby and Edwina Raffa
Set within the history of the capture of Seminoles' and their imprisonment in St. Augustine in 1837, this is the story of a young Seminole boy eager to prove his courage as a warrior against the U.S. Army in the Second Seminole War. The boy faces the daunting challenge of honoring his heritage while struggling to hold on to his dream—offering valuable lessons about friendship, perseverance, and the power of the truth.
Norman Van Aken's Florida Kitchen*
By Norman Van Aken
Award-winning chef and restaurateur Norman Van Aken invites you to discover the richness of Florida's culinary landscape. This long-awaited cookbook embraces the history, the character, and the flavors of the state that has inspired Van Aken's famous fusion style for over forty years. Drawing from Florida's vibrant array of immigrant cultures, and incorporating local ingredients, the dishes in this book display the exciting diversity of Van Aken's "New World Cuisine." Recipes include Key lime beignets; cornbread-stuffed quail with strawberry-ancho-guava jam and sweet and sour parsnips; "Spanglish" tortillas with hash browns, creamed spinach, and serrano ham; pork stew with raisins, tamarind, plantains, and chiles; and fully loaded cracked conch po' boys.
River and Road: Fort Myers Architecture from Craftsman to Modern*
By Jared Beck and Pamela Miner
River & Road is a visual and narrative history of the architectural evolution and urban development of Southwest Florida as shown in Fort Myers, Florida. A top tourist destination to this day, the Gulf Coast city has been home to the winter estates of the rich and famous, including Thomas Edison, Henry Ford, and oil tycoon Ambrose McGregor. The city's famed McGregor Boulevard continues to draw visitors with its eclectic blend of houses and unique histories dating back to the nineteenth century. Jared Beck and Pamela Miner share stories about the creators and owners of these one-of-a-kind properties, accompanied by striking photographs.
Florida's Living Beaches 2nd Edition 2017
by Blair & Dawn Witherington
Florida has 1200 miles of coastline, almost 700 miles of which are sandy beaches. Exploring along those beaches offers encounters with myriads of plants, animals, minerals, and manmade objects–all are covered in this comprehensive guide with descriptive accounts of 822 items, 983 color images, and 431 maps. Beginning with the premise that beaches are themselves alive, this guide to the natural history of Florida beaches heralds the living things and metaphorical life near, on, and within the state's sandy margins. It is organized into Beach Features, Beach Animals, Beach Plants, Beach Minerals, and Hand of Man. In addition to being an identification guide, the book reveals much of the wonder and mystery between dune and sea along Florida's long coastline.
Backcountry Trails of Florida: A Guide to Hiking Florida's Water Management Districts*
By Terri Mashour
Experience wild Florida with this guide to 100 off-the-grid hikes from every corner of the state. Florida's five water management districts encompass millions of acres of public property that include thousands of miles of public trails. Terri Mashour explains where to find these little-known routes, which ecosystems they feature, and how to plan your perfect outdoor adventure. Whether you are a hiker, trail runner, off-road bicyclist, or equestrian, this guidebook will help you locate and enjoy wide expanses of pristine nature not far from your own backyard.
Biohistory of Florida
by Francis William Zettler
Florida has an amazing biohistory of animals, people, and plants, prehistoric to present-day. The fossil record reveals that 8-ton ground sloths, giant beavers, and tiny horses once roamed its 66,000 square miles. Its human history is the story of people who arrived some 12,000 years ago. Florida's early plant history includes many of the native plants we see today and moves on to the introduction of myriads of ornamentals and invasive exotics. Hosting a diverse ecology and a rich human history, Florida now faces a challenging future. This history of Florida is told with verve and clarity. The result is a fascinating story of how people, plants, and animals all interrelate.
*These books are available at discount prices and $1 per book shipping through December 15. To order, readers should visit University Press of Florida and use code XM17 at checkout.
To receive Authentic Florida's free ENEWs, featuring travel and living updates, delivered weekly, sign up on the home page Authentic Florida, voted Blog of the Year and Best Travel Blog at the Orlando Sunshine Awards.   
---
If You Go
More holiday book ideas: