Authentic Florida is pleased to welcome Ken Kister, a veteran book reviewer who has lived in Florida since 1973. His career as a book reviewer has spanned 40 years with various publications including the Library Journal as a full-time editor with Kirkus Reviews. Ken's book, Florida on the Boil: Recommended Novels and Short Story Collections set in the Sunshine State was released in 2007.
Nine Stories, by Marjory Stoneman Douglas   Reviewed by Ken Kister
If you've been lucky enough to live in Florida for more time than it takes to say "I love the state's beaches, sunshine, palm trees, and Disney's Mouse," then you have almost surely heard the name Marjory Stoneman Douglas, and probably know of—might even have read—her epic book, The Everglades: River of Grass (1947).
To put it simply, Marjory Stoneman Douglas (1890-1998) is Florida literary royalty. Her aforementioned book, a masterpiece of ecological observation and argumentation, has quite correctly been said to have "changed the course of Florida history."
But don't think Ms. Douglas was a one-book woman. The daughter of the Miami Herald's founding editor, Frank Stoneman, she early on followed in her father's footsteps as a journalist at the newspaper. Then came an avalanche of short fiction for magazines she produced as a full-time freelance writer (46 stories published between 1924 and 1943). After that, she began writing novels and books of nonfiction, the latter including The Everglades tour de force, which made her famous, and later her autobiography, Marjory Stoneman Douglas: Voice of the River (1987).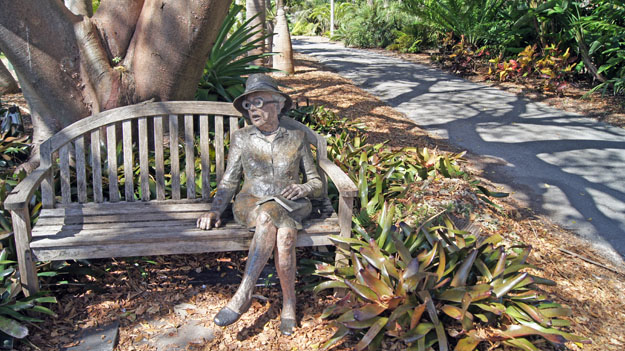 Marjory Stoneman Douglas, Sculpture, Fairchild Gardens, Miami
Happily, in 1990, Kevin M. McCarthy, a professor of English at the University of Florida (now retired), put together a 200-page collection of nine of Ms. Douglas's best short stories, all of which were originally published in the Saturday Evening Post between 1925 and 1941. Moreover, each of the stories takes place in South Florida in either the late 19th or early 20th century, a time when that area of the state was largely an undeveloped wilderness. For instance, in 1915, when Ms. Douglas came to Florida soon after graduating from Wellesley College in Massachusetts, Miami was little more than a frontier town, populated by some 5,000 stalwart individuals. At the time, American readers craved to know more about this enigmatic place that had exotic flora and fauna and seemed to be ripe for unadulterated adventure. So, after her stint at dad's Herald, Ms. Douglas began writing intriguing tales about this mysterious place called Florida—tales expertly researched and written, adroitly plotted, and peopled with memorable characters.
What makes the stories in this collection, however, is the writer's exceptional ability to give fiction readers a dose of authentic history accessible to both literate young people and adults. Each story deals with real issues that any Floridian living in the late 1800s or early 1900s might have encountered.
Some examples:
"Pineland" (first published in 1925) concerns the recollections of an old woman who came to Florida years earlier from the north when she was young. Her life has been filled with hardships and heartaches, including a devastating freeze in 1894-95 that killed her orange trees and nearly killed her. "It was like death. Business was stopped. All the banks were ruined. Then the people begun to go away." Only fortitude and perseverance saved her from giving up on Florida.
"Plumes" (1930) is a fictionalized account of the very real wholesale slaughter of herons and egrets in the Everglades by greedy plume hunters seeking feathers to adorn the hats of fashion conscious women in the latter part of the 19th century. Its perhaps the saddest of the nine stories.
"By Violence" (1930), set in the Ten Thousand Islands in the southwestern part of Florida, features a 14-year-old boy out in his boat navigating the mangrove-snarled waterways near Chokoloskee Island. Eventually he encounters three strange-acting men, two of whom have murder on the mind.
"September-Remember" (1935) appeared in the Post on December 7, 1935, just three months after the worst hurricane ever to hit Florida devastated Key West, demolished Henry Flagler's Overseas Railroad, and killed up to a thousand people, including more than 400 World War I veterans at work camps in the Keys. Ms. Douglas's training as a newspaper reporter is on display in this story, as she provides an unforgettable blow-by-blow account of the tragedy. By the way, the title of the story is taken from an old hurricane jingle: "July—stand by. August—look out you must. September—remember. October—all over."
I encourage you to read—or reread—Nine Florida Stories, an outstanding collection of short fiction by the leading member of the state's literary royalty.
---