Are You A Frequent Florida Farmers' Market Shopper? If not, you may be missing out on some great Florida Finds!
Boy, are we fortunate to live in Florida. While other states tend to have a "season" for Farmers' Markets, the Sunshine State has an abundance of incredible choices year-round. Most of the markets happen once a week, usually on the weekend; while some of these markets are open daily. No matter where you live in the great state of Florida, you are pretty much guaranteed that an authentic Farmers' Market is not too far away.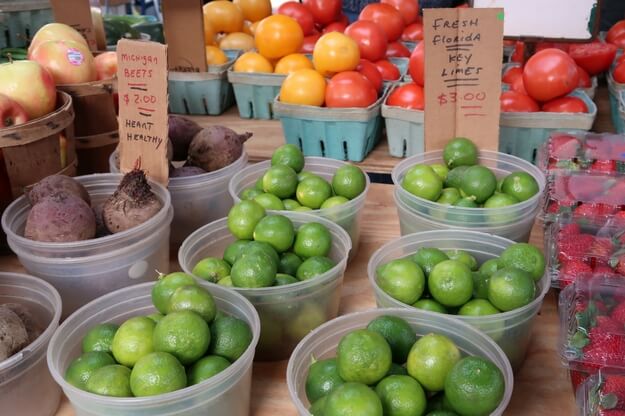 it's always an adventure to explore these unique, homegrown markets. A farmers' market is one of the best ways to learn from and buy directly from food producers. We recommend hitting one whenever your travels bring you to a new city/town. It's a great way to experience the flavor of the community. Each one tends to have its own personality and usually includes a surprise vendor or two … or dozen. Plus, the vibe is always very casual, laid back and friendly. There's something for everyone no matter what age they are.
Make sure you wear comfortable shoes because you'll be doing some serious walking, especially at the larger markets. We love to grab a cup of coffee or fresh juice and simply roam around without an agenda. We will scan the whole market before deciding what we are going to purchase.
Farmers' Markets are also a great place to do some serious people-watching. It's always fun to observe which booths attract the most traffic and what is being purchased.
Here's a tip: Try to remember to bring your own reusable grocery bags, so you can fill them up with your purchases. Many of the vendors offer plastic bags, but it's a good idea to bring your own.
The majority of markets have traditional fruit and vegetable selections, but there is so much more to be sampled and revered since each Market is different. We spoke with several farmers and vendors who told us they travel away from their farms/homes to other parts of the state to set up their booths. Some jump around each week, while others put a stake in the ground and build up a loyal following at one particular market. We find it's always exciting to stumble upon a booth whose home base is another county in the state and sometimes the vendors come from out-of-state. It's also enjoyable getting to know the farmers/vendors and hearing their backstories. Many grew up on farms and it has been a part of their family for many generations.  Several farmers told us they work on their farm several days a week and spend their weekends traveling to various farmers' markets around the state.
The last Farmers' Market we visited had a Jerky booth. We expect in Florida to see alligator jerky, but Kangaroo Jerky?!?  (Are there kangaroos in Florida besides at zoos/attractions?). Anyway, we certainly weren't expecting to see something like that nor were we interested in sampling it, but it did stop us in our tracks and inspire us to check it out. As we enjoyed our grilled brie sandwich with arugula and green apples, we had fun watching people checking out the various jerky options. People watching is so much fun!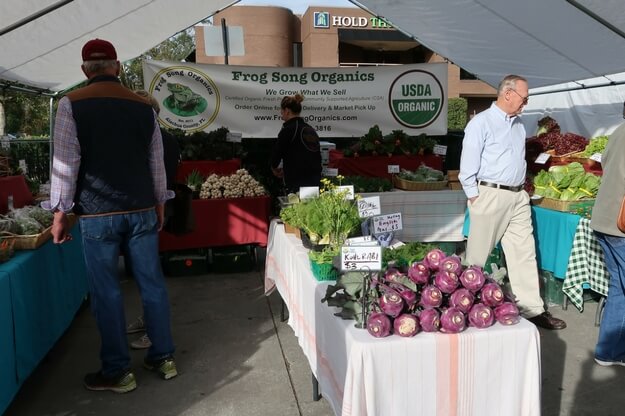 Authentic Florida is now based in Central Florida and it's amazing how many options we have at our disposable. One of our favorites is the Winter Park Farmers' Market. Every time we visit, we realize that this market truly goes above and beyond what one might expect to find at a local "farmers" market. If you know the quaint town of Winter Park, you probably won't be surprised that crepes, kombucha, and a mobile library are just some of the items/experiences you'll find at this particular market. When our son was younger, we purchased a butterfly kit and literally watched a caterpillar morph into a butterfly … and fly away. It was incredible. Plus, the selection of fresh veggies, fruit, coffee, orchids, plants, herbs, honey, etc., are always impressive and delicious.
Most markets showcase the work of an artist or two … and usually a couple of vendors focus on items organic selections for furry family members. There are usually a couple of food trucks that offer delicious ethnic foods or authentic barbeque. It's such a nice outing whether you pop in for a few minutes or you spend a nice, relaxing time just browsing through each booth.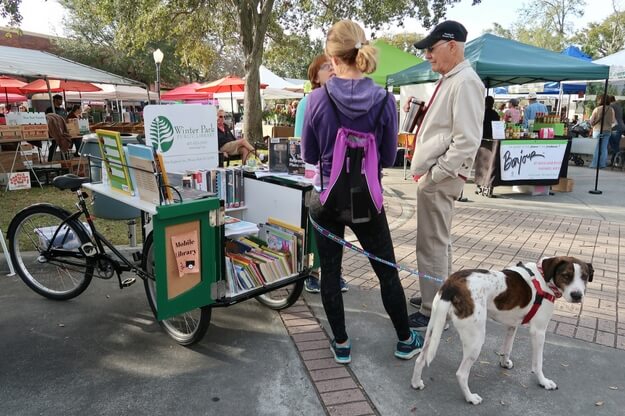 It's also a great place to buy gifts for the people in your lives. We've bought wicker baskets, filled them up with various Farmers' Market finds and given them as gifts. We usually collect business cards from the vendors because so often are baskets are the hits of the party and everyone wants to know about the suppliers.
Florida freshness is at the heart of all of these markets and expectations of purchasing high-quality locally grown food is what keeps so many of us coming back week after week … Also, a lot of these Florida farmers do trades with farmers from other parts of the state and country, so the selection of items is usually very diverse and impressive. So many of your grocery needs can be found at a fraction of the cost and you know you are getting the freshest of the fresh … plus, you are helping keep our fellow Floridians afloat financially as you enjoy the fruits of their labor. Now that's a win/win for everyone!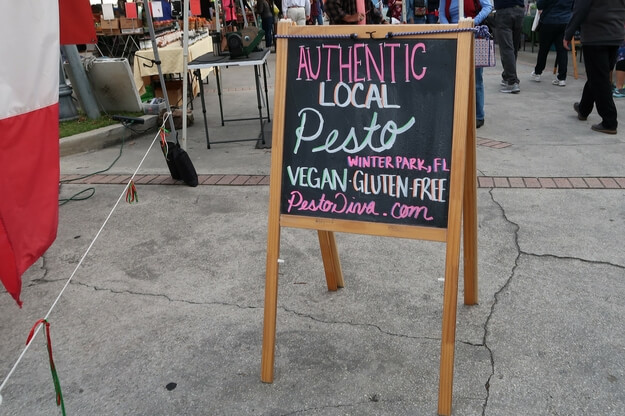 A Few of Our Favorite Authentic Florida Farmers' Markets:
Audubon Park Community Market
Orlando, FL (Orange County)
Since 2009, the Audubon Park Community Market has been a Central Florida hub for the best selection of local food. From freshly picked produce to fully prepared meals, this pet- and family-friendly gathering is truly a celebration of food, friends, art, and live music. It takes place in the Stardust parking lot every Monday (rain or shine) from 5pm to 9pm.
City of West Palm Beach GreenMarket
West Palm Beach, FL (Palm Beach County)
Located in the historic district of downtown West Palm Beach on the Waterfront, the GreenMarket is open every Saturday (October thru April) from 9am – 1pm. In addition to fresh food and local goods, the GreenMarket features live music and refreshments in a shady seat seating area. We recommend taking the historic walking tour. 

Downtown Fort Myers' Farmers Market
Fort Myers, FL (Lee County)
This Downtown farmers' market takes place on a different day than most normal markets. It is held every Thursday, year-round, from 7am-1pm. They offer local produce, seafood, honey, nuts, flowers, and much more! If you're a local, or on vacation make sure to stop by early in the morning to collect your fresh products.
Fresh Market at the Shops at Wiregrass
Wesley Chapel, FL (Pasco County)
Fresh Market is help on the first and third Saturday of each month, year-round, from 10am-2pm (except in November, December and January when it's only held the first Saturday of each month). This open-air destination showcases 50-80 vendors. There's always a good variety of local, certified organic, hydroponic and conventional produce, Florida grown plants, herbs and flowers, organic garden food/supplies, locally made take-home foods and so much more. Local artists also exhibit their creative efforts and the eco-friendly products are endless.
The Grand Lagoon Waterfront Farmers' Market
Panama City, FL (Bay County)
The Grand Lagoon Waterfront Farmers' Market is known for hosting the regions favorite makers, bakers, and growers every Saturday and Sunday mornings from 8am to 2pm. Be sure to find them outside of Captain Anderson's Restaurant bright and early …. many produce vendors and bakers sell out midway through the market. This Farmer's Market stays open year-round and twice a week for the locals and visitors to enjoy.
Jacksonville Farmers' Market
Jacksonville, FL (Duval County)
The Jacksonville Farmers Market is open daily from 7am to 6pm and is known for its authentic, ethnic and imported specialty items that are not only unique but typically hard to find elsewhere. It's North Florida's largest and oldest Farmers Market. 2018 will mark its 80th anniversary. A great place for seafood, flowers, plants, honey, boiled peanuts, syrups, gourmet dressing and more.
Lakeland Downtown Farmers Curb Market
Lakeland, FL (Polk County)
The Downtown Farmers Curb Market is a positive force in bringing people Downtown to purchase fresh produce, plants and local handcrafted items every Saturday from 8am to 2pm. The 11-month Market (closed in August) is a showcase for the talents and the work of local artisans and local growers. Check their website for the tasty produce picks of the week.
Lincoln Road Farmers' Market
Miami, FL (Miami-Dade County)
It's Sunday and your weekend is almost over, end it right starting at 9am with a stroll to the green market on South Beach. You have until 6pm to continue your stroll or stop by to get hydrated with an icy (still in the shell) coconut water. If that doesn't do it for you, make sure to visit the vendors with hand-cut flowers, fresh produce, local honey and much more for sale.
The Market at Rockledge Gardens
Rockledge, FL (Brevard County)
The Market is a community farmers' market featuring their very own crops as well as those of other local Space Coast growers, including pick-your-own herbs. Wonderful local vendors provide eggs and meats, cheese, fresh breads, jams, pasta, and a range of small-batch prepared foods. The Market is open Wednesdays and Saturdays 9am-2pm (in the Garden Center yellow building).
Robert Is Here
Homestead, FL (Miami-Dade County)
Family-owned and operated, this daily market is well known for its wide range of tropical fruits. Come hungry, Robert Is Here has the most exotic fruits blended into hand-spun delicious milkshakes.  Try something unique like guanabana or tamarind. This market is open from 8am-7pm every day.
St. Augustine Amphitheatre Farmers Market
St. Augustine, FL (St. John County)
Fresh foods, artisan goods, local art and music happen every Saturday from 8:30 am to 12:30 pm at the St. Augustine Amphitheatre. Great variety of vendors. Don't leave without trying the kettle corn. They also offer donation-based yoga the first Saturday of each month next to the Front Porch.
St. Petersburg's Saturday Morning Market
St. Petersburg, FL (Pinellas County)
Vendors at the Saturday Morning Market represent a wide variety of ethnicities and nationalities, contributing to a rich multicultural experience of food, crafts and music. The mission of the market is to be the 'heart' of St. Petersburg — the place that people feel a strong sense of joyful connectedness and creative community. The market first opened in November 2002 and runs every Saturday from 9–2pm in the Al Lang Field parking lot. It's open from early October–late May each year. A smaller Summer Market changes venues for shade at Williams Park from June to August from 9am–1pm.
Sarasota Farmers Market
Sarasota, FL (Sarasota County)
The Sarasota Farmers Market was established in 1979 and continues its tradition of serving the community with 80  vendors providing local produce, plants, prepared foods and artisans. The vegan food vendor has delicious selections at reasonable prices. Bring your pets, listen to music and enjoy the experience. Open Saturdays from 7am to 1pm.
Stuart Green Market
Stuart, FL (Martin County)
From kombucha to coffee, French pastries to fresh veggies, honey to herbs, prepared gourmet delicacies to live toe-tapping music each and every Sunday from 9am to 1pm – there is something for everyone at the Stuart Green Market. This market is full of fresh, local, hand-crafted and exceptional items. The barbeque ribs are delicious!
Tallahassee Downtown Market
Tallahassee, FL (Leon County)
For over 20 years people have been enjoying their Saturday mornings under the many beautiful oak trees as they stroll along Park Ave at Monroe Street. March thru November you can enjoy the Tallahassee Downtown Market every Saturday from 9am to 2pm. In addition to fresh organic produce and loaves of bread, you will find arts and crafts for sale along with LIVE entertainment. There are also hands-on arts and crafts stations to keep the kids occupied.
Winter Garden Farmers' Market
Winter Garden, FL (Orange County)
The Winter Garden Farmers' Market has quickly grown into a community landmark. It's located in the beautiful town of Historic Winter Garden every Saturday from 9am to 2pm (Summer hours are 8:30 am to 1:30 pm). There's a large selection of vendors from fresh baked goods, locally grown produce, and homemade soaps. Don't forget to bring your friends (furry four-legged friends too) and family to experience the Winter Garden Farmers' Market with live music playing from 10am-2pm.
Winter Park Farmers' Market
Winter Park, FL (Orange County)
Located a block away from the shops and restaurants of popular Park Avenue, the Winter Park Farmers' Market is held at an old train depot that has been restored into a historical landmark. This is one of the top produce and plant markets in all of Central Florida (and there is a lot of competition: Maitland, Lake Eola, Winter Garden, etc.). The market takes place every Saturday morning from 7am to 1pm and always offers a few surprise specialty vendors.
Yellow Green Farmers' Market
Hollywood, FL (Broward County)
The Yellow Green Farmers' Market in Hollywood is South Florida's largest farmers market. With the focus on promoting green living, this market features over 300 booths where you will find everything from flowers, to smoothies, to organic produce. You won't want to miss spending your Saturday or Sunday here. It's open from 8am to 4pm.
Did you know that Authentic Florida has a whole section of wonderful Florida recipes? Here's a link: http://www.authenticflorida.com/cuisine/authentic-florida-recipes-from-our-kitchen/
We recently asked one of our favorite foodie/blogger, frequent Farmers' Market shopper, and friend, Nicole Coudal of @MyDeliciousBlog, to share with us one of her favorite Farmers' Market recipes. Since February 4th is National Homemade Soup Day, how could we possibly resist …
 Nicole's Homemade Tomato Soup Story: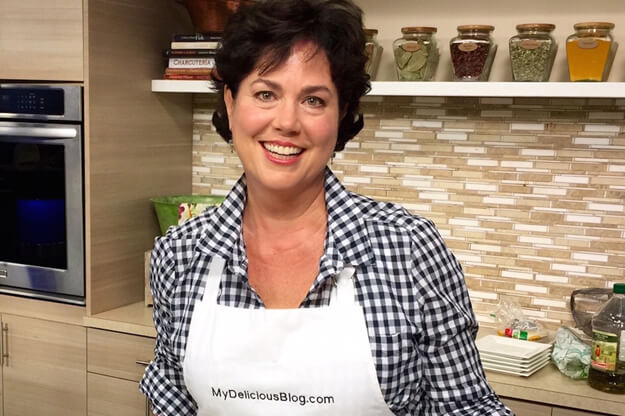 Homemade Tomato Soup — it's creamy, warm, satisfying, and a true comfort food.  
This is a perfect dish to enjoy during Florida tomato season, especially on unusually chilly days.  And it's easy to find tomatoes at farmer's markets throughout the State, so when my own garden tomatoes aren't quite ready, I like to visit the Sarasota Farmers Market or the St. Petersburg Saturday Morning Market to see what local growers have available.  I suggest picking up some traditional red beauties, but also, some heirloom varieties that offer beautiful colors, shapes and textures.
Tomato soup is a great way to fill your bellies with something warm and delicious. And if a golden, crispy grilled cheese sandwich, say, were to appear alongside that bowl of soup, well, your meal would be soaring to a whole new level!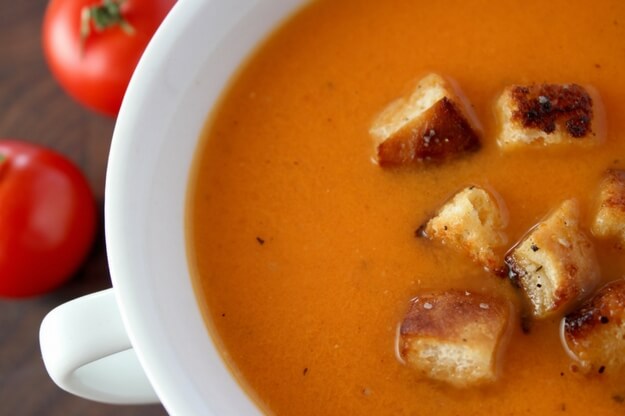 Nicole's delicious recipe is available at:  http://www.authenticflorida.com/articles/what-to-eat/authentic-homemade-tomato-soup/ 
AuthenticFlorida.com was named Best Travel Blog at the 2018 Sunshine Awards. 
To receive Authentic Florida's free weekly ENEWs, sign up on our Authentic Florida home page. To inquire about partnerships/advertising, please contact melanie@authenticflorida.com 
---