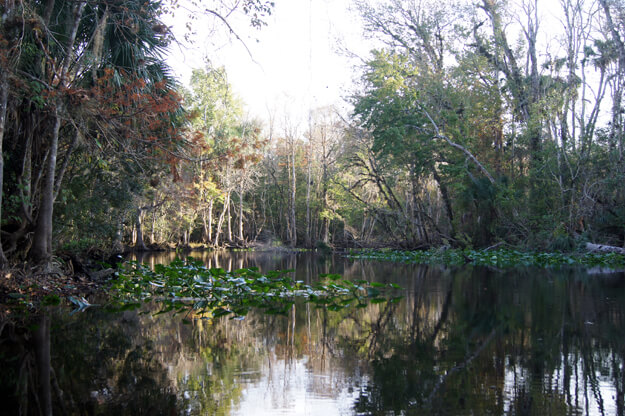 I fell in love again, only I didn't know it was going to happen. Sweet memories of growing up in Florida flooded me while enjoying the quiet pine forests, sandy scrubs, thick palmettos and towering oak hammocks. Central Florida's Ocala National Forest, the second largest in the U.S., has plenty to offer any traveler in search of authentic Florida.  The Forest is home to four major springs referred to as "jewels of the Ocala National Forest." The bubbly, aqua clear springs of Juniper, Alexander, Silver Glen and Salt Springs offer unique and lovely retreats away from it all.
The Ocala National Forest is known as the "The Big Scrub" by virtue of its dense Florida scrub vegetation, particularly the sand pine scrub, considered one of the most endangered ecosystems in Florida. The Forest provides year around recreation with almost 400,000 acres, 600 lakes, numerous rivers and springs. If you are seeking adventure on a canoe or kayak, you are in for a treat. This Forest is also one of the best destinations for the paddling enthusiast. Want to hike? There are hundreds of miles for the casual and serious hiker. Want to swim or sit in some cool springs and do nothing? Fish? Camp? Horseback ride? Look no further. 
The diverse ecosystems of this forest offer unique habitats for a wide variety of plants and animals. Threatened species such as manatees, black bears (Ocala National Forest has the largest concentration in the U.S.), turtles, alligators and many rare birds enjoy a special haven and you may be lucky enough to see some while enjoying this beauty.
I have highlighted a few of my favorite Ocala National Forest excursions to help plan your next trip. Consider starting your journey at one of several Visitors Centers, where you'll find plenty of information, maps and tips.
Juniper Spring Park, Ocala National Forest
The stunning Juniper Spring Park and Creek qualifies as one the BEST that Florida has to offer. This adventure is a solid "10" on the Authentic Florida scale and I'm ready to go back.
Juniper Creek Run
This pristine, stunning journey is filled with lush, tropical forest, palms, cypress and southern hardwoods at almost every turn. The canoe/kayak run is a seven-mile, five-hour, one-way trip down Juniper Creek, through the (Juniper) Prairie Wilderness Area.  The Juniper Spring is the origin of the main swimming hole, which empties into the Creek, and eventually flows by the Wayside Park (Highway 19 bridge). Canoes can be rented at the main concessionaire and you may also reserve your bus seat for the return trip. Note: This excursion is recommended for intermediate paddlers. Or consider sharing a canoe with someone more experienced.
Juniper Springs Nature Trail
For those who don't want to try the Juniper Creek Run, an easy trailhead sits adjacent to the Juniper Spring.  A boardwalk along the Juniper Run to the Fern Hammock Spring is considered well worth it. Once at the spring, watch the water bubbling upward through small natural vents.  While you can't swim or canoe there, it's considered one of the most stunning springs in all of Florida.
The Yearling Trail, Ocala National Forest
In the midst of thousands of acres of scrub in the Ocala National Forest and the Juniper Prairie Wilderness, lies a special area that provided inspiration for Marjorie Kinnan Rawling's 1938 novel, The Yearling.  She based her Pulitzer prize-winning story on a real life Florida family who homesteaded in this same scrub. In the 1870s, Reuben and Sara Jane Long established a home in an area named Pat's Island. Pat's Island is a shady, high spot surrounded by Florida pine scrub, not water. The Longs carved out a pioneer existence living on small crops, cattle, hogs, fishing and even moonshine.
The Yearling Trail is located across from the entrance to Silver Glen Springs Park, 6.2 miles from SR 19 and SR 40 with parking. There are two recommended trails – one 6-mile trek or a shorter 3-mile loop.
Hikers can visit historical remains and artifacts such as two homesteads, a graveyard, water cistern, cattle dip vat (for ridding ticks) and a large, dry sinkhole. The kiosk at the trailhead provides information that includes a trail map and history of Pat's Island.
The trails are considered "easy to intermediate," beginning with a well-worn sandy pine scrub path. Further on, you'll walk through ecosystems of scrub, long and short leaf pines and hardwoods.  You'll definitely gain some insight into "island scrub" existence, the beauty and the challenges pioneer families faced.
St. Francis Trail, Ocala National Forest
One of my favorite Florida hikes, the St. Francis Trail, is located in the southeastern corner of the Ocala National forest.  This spectacular trail passes through six Florida ecosystems including oak hammocks, swamps and river floodplains, hardwoods, scrub and pine flatwoods. This challenging, but well maintained pathway will lead you through a dazzling spectrum of central Florida's finest.
Each subtropical ecosystem reveals Florida's past which deepened my love for the state's natural forest. Depending on the time of year, keep an eye out for scrub jays, red-tailed hawks, pileated woodpeckers and red-winged blackbirds. Animal signs are everywhere, and we saw fresh bear and deer scat, a darting blacksnake, many spiders and webs on the trail. Bright red and orange fungi peppered the forest floor.
An added bonus is that the trail eventually leads you to the remains of a turn-of-the-century port town on the St. John River floodplain – the half-way point of the seven mile hike. In the late 1800s, St. Francis was a thriving port town that included a hotel, general store, stable and homes.  Steamboats traveled from Jacksonville along the St. Johns where citrus and timber were traded for household goods. A series of events threatened the town's existence that included the late 1800's freeze, railroads, fires and hurricanes of the 1920s.
There are two choices for your hike. For intermediate hikers, there is a round trip 7-mile hike or an alternate 3-mile loop, Rattlesnake Well Trail, which includes a small spring. The longer hike takes approximately four hours.
The St. Francis trailhead is located on Forest Road 42-29.3 off County Road 42, across the street from the River Forest Group Camp.
Timucuan Trail, Alexander Springs Park
The Timucuan Trail, located at Alexander Springs Park is ideally suited for a family hike surrounded by semi-tropical vegetation. The Timucuan Trail boardwalk is not only beautiful, but informative. Interpretive signs share information about the indigenous Timucuan culture, their diet and the surrounding natural vegetation.
A shallow pool and sandy beach surround the crystal blue Alexander Spring and are very popular for family swimming and diving. The 7-mile Alexander Creek flows from the Spring to the St. John's River and is a lovely canoe run to enjoy wildlife, particularly the native turtle species sunning at the water's edge.
The Alexander Springs Park is located at 49525 County Road 445, Altoona in the Ocala National Forest.
Recommended Tips
Some recommendations for visiting the Ocala National forest: Plan ahead and do your homework. Be prepared with plenty of water, food and mosquito repellant.  If you have a GPS, I recommend bringing it.  If you aren't sure that you want to take on lengthy hikes or canoe trips, start with an easier walk or run. 
Enjoy Your Visit
The memories of the Ocala National Forest filled my heart with serenity and deep appreciation for authentic Florida and all its tremendous beauty.
Enjoy one of Florida's best.
---
If You Go
For more information: