Our Favorite Authentic Florida Events in October 2019
As soon as we feel the slightest drop in the heat and humidity, we know it's Fall Festival season in Florida. We've decided to focus on some of the most historic, interesting and fun events happening in October around the Sunshine State … beyond the spooky ones that celebrate Halloween.
Here are a few of our favorites:
46th Annual Winter Park Autumn Art Festival, Winter Park
October 12-13, 2019
The 46th Annual Winter Park Autumn Art Festival is the only juried fine art festival exclusively featuring Florida artists. The Winter Park Chamber of Commerce is proud to host the festival on the second weekend in October each year. The community-oriented sidewalk show presents quality visual art and live entertainment the whole family can enjoy. The festival is held in beautiful Central Park located along historic Park Avenue in downtown Winter Park.
More info at https://winterpark.org/autumn-art-festival
15th Annual Creekside Music & Arts Festival, Palm Coast
October 12-13, 2019
The 15th Annual Creekside Music & Arts Festival invites guests from all over to gather under the majestic oaks at Princess Place Preserve for a local tradition that celebrates the natural beauty of Northeast Florida. Bring a lawn chair and enjoy live music, soak in the scenery of one of Flagler County's gems, shop rows of unique arts & craft vendors, bring the kids to have fun in the free kids zone, grab a bite in the flavorful food court, enjoy fall festival brews in the beer garden, or explore the Princess Lodge and other historic sites. There's something for everyone to enjoy! Brought to you by the Flagler County Chamber of Commerce.
More info at http://www.flaglerchamber.org/pages/creekside-festival
30th Annual Lobster Festival & Tournament, Panama City Beach
October 14-20, 2019
The 30th Annual Schooners Lobster Festival & Tournament is recognized as the largest seven-day lobster festival and tournament in the Southeast. With huge local lobsters on the weigh-in scales, fresh lobster prepared every mouth-watering way you can imagine, and the 20th Annual Schooners Sand Sculpting Contest, it's an event that draws thousands of divers and lobster fans from all over. Proceeds benefit the Florida Aquatic Marine Institute and the Toys For Kids Foundation.
More info at https://www.schooners.com/events/lobsterfestival
Key West Fantasy Fest, Key West
October 18-27, 2019
A fest above the rest! This famous and wild festival celebrates its 40th anniversary in 2019. It features ten days where you can escape your everyday life and live out your Fantasies! There are multiple events every day ranging from costume contests, street fairs with food & art, theme parties, fundraisers and a parade like you've never seen. The 2019 theme is "In Tune But Off Key." 
More info at https://www.fantasyfest.com/
Organized by the Cedar Key Lions Club, the 50th Cedar Key Seafood Festival marks a half-century of fine food, entertainment, music, shopping and family fun. The event celebrates the area's fishing heritage, offering two days of fantastic food, a Seafood Festival parade, 120 arts and crafts exhibitors, and free live music on a working clam boat stage on the beautiful old Florida island city of Cedar Key. 
More info at https://www.facebook.com/events/cedar-key-florida/50th-cedar-key-seafood-festival-official-page/414753405806208/
53rd Annual Rattlesnake Festival, Dade City
October 19-20, 2019
The 53rd Annual Rattlesnake Festival is an educational family event featuring rattlesnake and other wildlife shows, an arts and crafts village, music, bounce houses, children's activities, fair rides, a pumpkin patch, local talent, a food court, and lots more. Proceeds benefit The Thomas Promise Foundation, which provides weekend lunches to food-insecure students in Pasco County. 
More info at https://rattlesnakefestival.com/
South Florida Seafood Festival, Key Biscayne
October 19-20, 2019
The South Florida Seafood Festival is a celebration of all things seafood and waterfront living, giving people their fill of the freshest, tastiest delicacies of the sea. Set in Miami's historic Marine Stadium, this seafood festival allows guests to experience a slice of Florida's diverse culture. What better way to kick off Stone Crab season than to enjoy it by the sea with LIVE Caribbean beats, family fun zones, mojitos bars, and more!
More info at https://www.southfloridaseafoodfestival.com/
10th Annual Naples Stone Crab Festival, Naples
October 25-27, 2019
The 10th Annual Naples Stone Crab Festival celebrates the kickoff of the stone crab season on the waterfront in Naples. Sponsored by the Old Naples Waterfront Association, the festival is designed to show off the historic center of Naples. It also helps that this area of the Gulf Coast, especially the Ten Thousand Islands, is one of Florida's prime stone crab harvesting regions. Most of the events are hosted at waterfront businesses. Free water taxis will transport you to all waterfront locations participating in the festival.
More info at https://www.stonecrabfestival.com
65th Annual Florida Gateway Fair, Lake City
October 25 – November 2, 2019
The 65th Annual Florida Gateway Fair (formerly called the Columbia County Fair) is October 25th through November 2nd! It's fun for the whole herd! Gates open at 5 pm on weekdays and at noon on Saturday and Sunday. Enjoy exhibits, fair food, a petting zoo, rides, games, livestock show and sale, entertainment shows, and the talent competition!
More info at https://FloridaGatewayFairgrounds.org
St. Marks Stone Crab Festival, St. Marks
October 26, 2019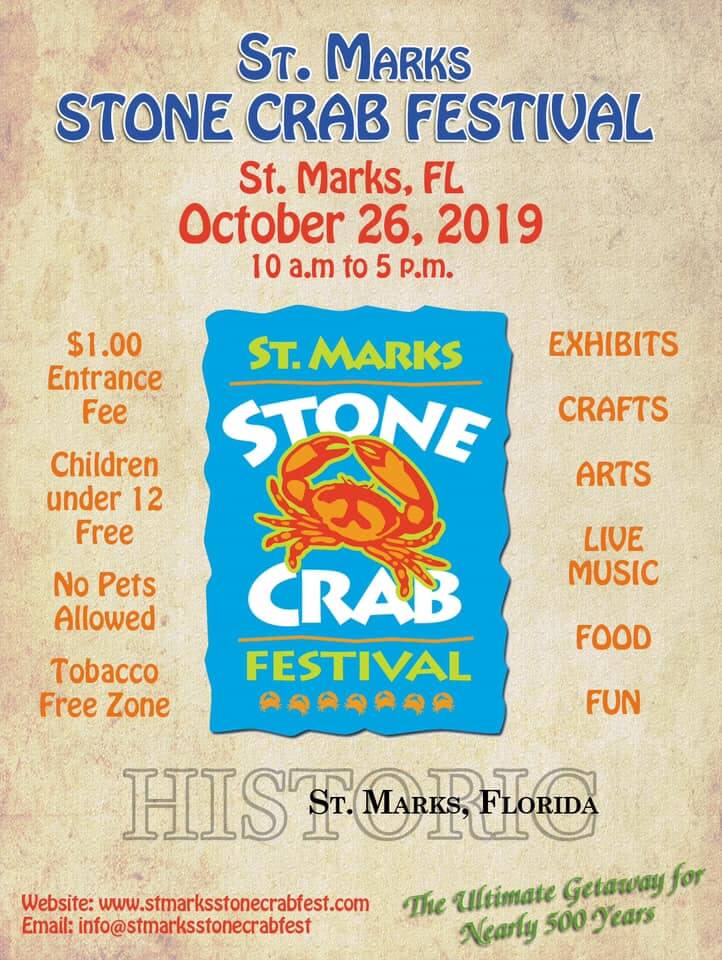 This community festival has been celebrating the opening of stone crab season every year since 1997, but this historic little fishing village has been around a lot longer than that. Since the weather is always perfect towards the end of October, it's an ideal excuse to enjoy great food, music, parade and, of course, the crowning of the Stone Crab Queen! The festival provides a venue for local musicians and artisans. Proceeds from the festival are donated to charities in St. Marks and the surrounding area.
More info at http://www.stmarksstonecrabfest.com
44th Annual Pioneer Days, Lake Wales
October 26-27, 2019
Family-friendly heritage education activities offered throughout the44th Annual Lake Wales Pioneer Days weekend celebration include historic architecture tours of downtown Lake Wales, canoe carving, Florida Cabin Fever Quilters, Polk County Woodturners, SWEAT – Early American Trades, The Country Boutique – candle making, Thomas Geer Artisan – blacksmith, Civil War Camp – reenactors & cooking, Florida Citrus Hall of Fame with Miss Florida Citrus and citrus labels, Talako Indian Dancers, Lake Aurora Archery, Polk County Fiber Guild, a 1861 Cracker Chuck Wagon & Pioneer Camp, antique car show and parade (at 12 PM on Saturday, October 26), Flywheelers antique tractor and engine exhibits, old-fashioned family games, pumpkin patch, face painting, and petting zoo.
More info at https://www.lakewalesfl.gov/782/Pioneer-Days-Festival

AuthenticFlorida.com was named Best Travel Blog at the 2018 Sunshine Awards. 
To receive Authentic Florida's free weekly ENEWs, sign up on our Authentic Florida home page. 
To inquire about partnerships/advertising, please contact melanie@authenticflorida.com 
Proud Member of: 
---
Comments are closed.