It's easy to keep kids entertained no matter where you travel in Florida. Tourism is Florida's largest industry. Starting in the late 19th century, people traveled to Florida to ride glass-bottom boats, to watch mermaids, and to interact with the out-of-the-ordinary, exotic environment. Although the majority of these unique roadside attractions no longer exist, many are still thriving and are a great option to create family memories that will last a lifetime.
Here are a few of our favorite Authentic Florida family-friendly Old Florida Attractions:
Named for its rocky Anastasia limestone shoreline, Blowing Rocks offers a rare window into Florida's natural history. Located in Martin County, on Florida's east coast, visitors can get a glimpse of one of our state's rarest surviving landscapes. An intact Florida dune habitat with beach sunflower, bay cedar, sea grape, and sea oats. It's incredible to watch coastal waves force through limestone rock crevices creating a geyser effect, often erupting 40-50 feet into the air.
Three hiking trails and boardwalks feature interpretative signs all along the paths. You may swim, snorkel, and scuba dive from the beach during listed hours. The Hawley Education Center provides tourists and the local community an opportunity to learn about efforts to protect native habitats, plants, and animals in Florida and around the world.
Drive the scenic Bridge Road to Hobe Sound Beach passing under an enchanting canopy of Florida banyan trees. From there, walk south along the spectacular Atlantic Ocean to the Blowing Rocks. It's well worth the walk.
On Florida's Gulf Coast, north of Tampa and west of Orlando, is Citrus County. It is the world's largest natural winter refuge for the West Indian Manatee. It's no wonder it's known as the "Manatee Capital of the World." The manatees are attracted to the area because of its abundance of freshwater springs.
These "gentle giants" congregate near the springs, especially during the winter (November until March). They seek the warmer spring water when Gulf water temperatures dip below 68 degrees. Often called "gentle giants" these slow-moving, 1,000-pound, 10-foot long, grayish-brown creatures are related to the elephant, as evidenced by their thick, leathery wrinkled skin.
According to manatee expert and U.S. Geological Survey research biologist Bob Bonde, "Citrus County draws an average of 1,000 manatees per year, and with a total Florida population just exceeding 6,000, that makes the area a significant draw for winter migrating herds."
The area's abundance of freshwater springs offers many places where visitors can observe manatees. Crystal River Kings Bay draws the largest aggregation of manatees, especially at the King's Spring known as the Key Hole; or Hunter Springs, a local county park that provides a walkway for viewing. The emerald blue-green Three Sisters Springs has surrounding boardwalks for viewing manatees in crystal water and the Ellie Schiller Homosassa Springs Wildlife State Park offers an underwater observatory.
Even when the manatees are not in abundance, it's a wonderful way to spend the day.
Note: Due to COVID-19, Ellie Schiller Homosassa Springs Wildlife State Park has updated their policies and procedures. The wildlife walk and above-deck area of the underwater observatory are available. The visitor center, trams, boats, reptile house, discovery center, and below deck of the underwater observatory will remain closed. Programs are not available. The Wildside Café and west entrance gift shop are open with limited capacity. All other park facilities will remain closed until further notice. Visitors must maintain distances of at least six feet apart.
Many people don't realize that LEGOLAND® Florida has made an incredible commitment to preserving the integrity of "Florida's First Theme Park" — the historic and enchanting Cypress Gardens. LEGOLAND® Florida restored the beautiful botanical gardens to pristine condition. The collection of native plants, including azaleas and camellias, has been reclaimed and combined with a range of exotic species to create a horticultural masterpiece. Still standing guard in the garden is the vast Banyan tree that was planted as a seedling in 1939.
In addition, LEGOLAND® Florida retains the garden's main attraction: daily water ski shows, which now feature swashbuckling LEGO® pirates.
Note: Due to COVID-19, LEGOLAND® Florida has updated policies and procedures. Guests must wear masks at all times in all indoor locations and on all rides. Guests will be temperature screened upon entering the park, and anyone with an elevated temperature (at 100.4º F or above) will be asked to leave. A six-foot distance must be maintained at all times, and indoor facilities will have limited capacity. 
Cypress Gardens is preserved as one of 14 zones within the Resort. It's important to note that admission is not available without a ticket to LEGOLAND® Florida Resort. They offer great annual pass options for Florida Residents.
The St. Augustine Alligator Farm Zoological Park began in the late 19th Century as a small exhibition of Florida reptiles and soon became a quintessential Florida attraction. Today it functions as a modern zoo serving the public and the scientific community with educational shows and exhibits, important research, and worldwide conservation efforts.
Alligator Farm is an Old Florida Attraction that is the longest continuously running attraction. The Alligator Farm's history as an attraction and an accredited zoo are nearly as exciting as zipping across the Alligator Lagoon on Crocodile Crossing, the park's thrilling zip-line attraction.
Keep in mind, Alligator Farm is a hop, skip, and a jump from downtown St. Augustine, America's Oldest City. St. Augustine's rich history is well chronicled by the landmarks that bear witness to the various occupations. The assortment of historical attractions such as the fortress-like Castillo de San Marcos and the fabled Fountain of Youth brings history to life, shedding light on its captivating and colorful past.
Located in Northwest Central Florida's Marion County, Ocala is an adventurer's paradise and home to an Old Florida Attraction, Silver Springs State Park.
Visitors will enjoy a nostalgic tour of "old Florida" in a vintage glass-bottom boat. Boat captains share the history and ecological features while everyone views the bubbly springs and wonders below.
Those who want to be on their own should consider a kayak paddle of the Ft. King Waterway. This adventure provides a two-mile loop over the springs and past Ross Allen Island. It's a chance to step back in time while you admire the alligators, otters, manatees and even the non-native rhesus macaque monkeys brought in years ago that still swing from tree to tree.
Signage warns people not to feed the monkeys and to avoid interaction that might elicit an aggressive response. Just obey the warnings and there's nothing to worry about. If you feel at all uneasy, stick with the glass bottom boat experience.
Note: Due to COVID-19, Silver Springs State Park requires all passengers to wear facemasks on the Glass Bottom Boat Tours. They are also no longer providing shuttle service from Ray Wayside Park. Guests must maintain a six feet social distance at all times. 
Before motorboats, fishermen would "pole out" (using long poles) to Pasco County's fishing flats where fish were plentiful. Today, anglers still catch mullet, redfish, flounder, snook, cobia, blue crab, and more. During the early days, after a rigorous poling trek to the grassy flats, fishermen created resting places to prolong their trip known as Stilt Houses. "Squatters rights" determined the location, and as fishermen found the spot they liked, they built their lodge over the water. At one time, there were as many as 20 houses. Sadly, in 1968 Hurricane Gladys destroyed more than half of them. The Florida state legislature wanted to prohibit homes from being rebuilt. However, Pasco County fought back, and the houses were "grandfathered in" allowing homeowners to rebuild.
The houses are remote. Residents must haul in their water; while some have generators, others have no electricity at all.
One of the best ways to see the stilt houses is via a sunset cruise from Port Richey's Gill Dawg Marina. Go with a planned tour, or rent your own pontoon boat. Once on the Gulf, you'll see these rustic fishing lodges. As the sun sets, the sky will transform into an amazing Technicolor pink-tangerine vista with the Pasco County stilt houses silhouetted against the sunset sky.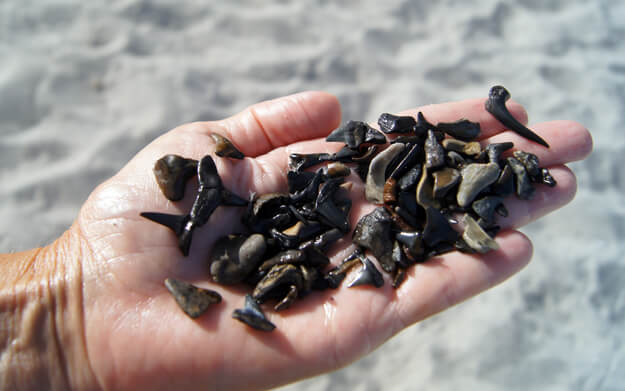 Long ago, Florida was submerged under an ocean filled with sharks – (cue the Jaws music) many, many sharks. Over time, as the water receded and the Florida peninsula emerged. The prehistoric sharks died and their skeletons disintegrated, but their fossilized teeth remained. The city of Venice, in south Sarasota County, happens to be located along a fossil bed, and is considered the "Shark Tooth Capital of the World."
Although you might find a fossilized shark's tooth on any area beach, your best bet is to head to Venice's Caspersen Beach. With your toes snuggled into the sand at the water's edge, all you have to do is pick up a handful of sand and shells and sift through it with your fingers. Sharks' teeth generally range from 1/8 to 3 ½" long and are usually dark gray or black in color. From young kids to the young at heart, it's a fun way to spend a day and soak up the Florida sun.
Aptly named one of the "Happiest Seaside Towns in America", Venice's charming main street offers great shopping and dining opportunities. Once a fishing and farming community, this city in the heart of Sarasota County has blossomed into an authentic Florida vacation destination.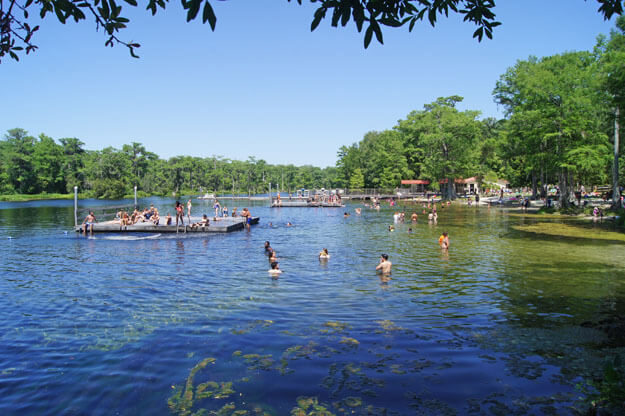 Just 30 minutes south of Tallahassee a true Florida adventure awaits you and your family.
Wakulla Springs State Park is the origin of the Wakulla River, which flows nine miles south joining the St. Marks River, then running an additional five miles and finally dumping into the Gulf of Mexico at the Apalachee Bay. Over 200-300 million gallons of water per day pour out of the Wakulla Spring. It is home to the largest and deepest freshwater spring in the world. The Spring is also home to the deepest and most extensive underwater cave system.
The actual Wakulla Springs preserve area is incredible, and many movies have been shot there. These include Tarzan and The Creature from the Black Lagoon.
Edward Ball, an early conservationist, and visionary purchased the property in 1934 and preserved the habitat. Later, he built the Wakulla Springs Lodge in Mediterranean revival architecture with 27 spacious rooms. The lobby's ceiling has beautifully painted wood beams with Florida wildlife and art. There are also marble checker tables, a huge fireplace, and "Old Joe," a stuffed 11 ft. alligator that lived in the park. The Lodge has a dining room, with delicious baked grouper stuffed with crabmeat, fried chicken, and their famous navy bean soup. The kids will love it and so will you.
Note: Due to COVID-19, Wakulla Springs State Park has updated policies and procedures. Ranger station transactions are contactless: Bring exact change in cash, your credit card, annual pass, or prepaid entry receipt. River boat tours have resumed and require advance reservation. Visitors must maintain distances of at least six feet apart.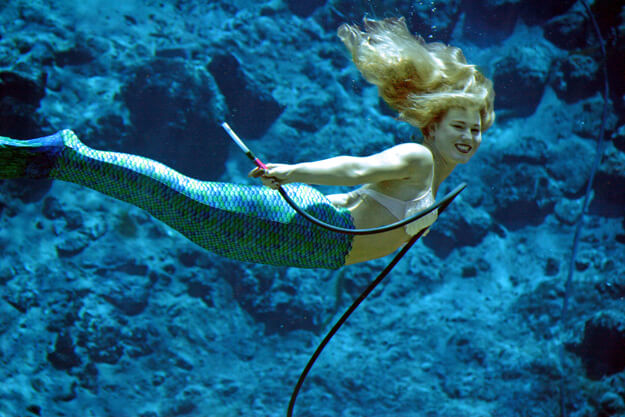 Note: Due to COVID-19, Weeki Wachee will remain closed until further notice.
Wherever you are on the Adventure Coast, you'll also find plenty to do and see. The area embodies everything Florida – from kitsch to the natural outdoors. There are beautiful mermaids, endearing manatees, and emerald green rolling hills dotted by farms and rural living. Located an hour west of Orlando, Weeki Wachee Springs is known around the world for its mermaids. Since 1947, Weeki Wachee Springs State Park has captivated families and children with its underwater mermaid performances.
Former Navy man Newton Perry created this roadside attraction that later became part of the Florida State Park system. Perry's concept of beautiful mermaids performing underwater while intermittently taking breaths through slim air tubes became an instant hit for audiences. Rigorous training, elaborate (fish-tailed) costumes, and a choreographed ballet is set to music against the backdrop of clear natural spring waters.
A first-magnitude spring bubbles up from the Florida aquifer providing an incredible fishbowl stage. Guests sit in a glass theatre as mermaids perform their synchronized underwater shows. They also have special mermaid shows (especially around the holidays) that are extra festive and fun.
After the show, kids can also meet a Weeki Wachee mermaid in person. In addition to the mermaid shows, there is also a riverboat cruise, animal show, and Buccaneer Bay, Florida's only spring-fed water park.
One pleasant surprise, this "old Florida" attraction still remains one of the best bargains in Florida.

AuthenticFlorida.com was named Best Travel Blog two-times at the Florida Sunshine Awards.
To receive Authentic Florida's free weekly ENEWs, sign up on our Authentic Florida home page.
To inquire about partnerships/advertising, please contact info@authenticflorida.com 
Proud Member of: 

---
Comments are closed.