Cedar Key is a true original and hard to beat when it comes to "old Florida" charm. Deep island history reflects the resiliency of its residents and rich natural eco-treasures complemented by a quaint rustic vibe makes it a destination you won't soon forget.
Cedar Key does not have the touristy, tropical vibe found throughout Florida. It beats to its own drum and is truly one of our favorite destinations in the Sunshine State simply because of its rustic authenticity.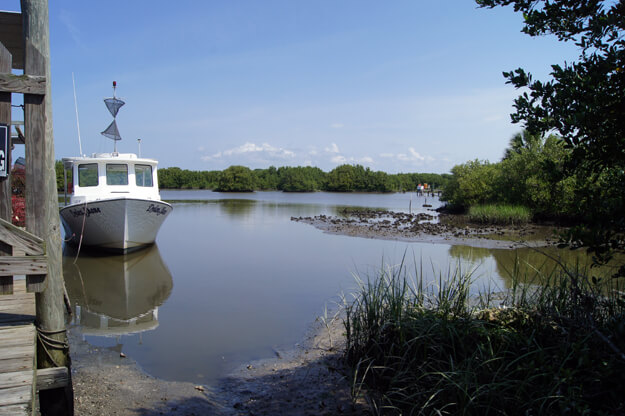 Fifty miles southwest of Gainesville, Cedar Key would be considered remote even by modern-day standards. Most visitors don't "happen upon" Cedar Key. To get there, you'll drive State Road 24 through a thick forest of pine trees passing Otter Creek (population: 132), a small community seemingly in the middle of nowhere. As you near the coast you may want to roll down your car window, admire the scenic marshland, oyster bars, and mudflats, and breathe in the salt air from the Gulf of Mexico.

Cedar Key crab traps
Consisting of a cluster of several islands, the Cedar Keys sit four miles out into the Gulf of Mexico and are connected to the mainland by a causeway crossing a chain of barrier islands. The main island is on Way Key (referred to as Cedar Key). Fishing boats are a common sight … while buoys and crab traps hang over fences and in front yards.

Cedar Key rustic charm
With a modest population of less than 800 (in season), the island town welcomes tourists — but don't be surprised if you find a "gone fishing" sign posted on many front doors. Fishing shacks, funky restaurants, and colorful motels are characteristic of this hidden gem. It's also surrounded by a pristine national wildlife refuge.
 
Cedar Key mural
The Cedar Keys were named for the bounty of cedar trees that once covered the islands. As lumber became the primary industry the community became recognized as the leading manufacturer of pencils during the 19th century. By the late 1800s, Cedar Key was also a thriving shipping port but suffered economic decline when famed railroad magnate Henry Plant bypassed Cedar Key and routed his railroad to Tampa.
Over the years, intermittent hurricanes peppered the islands, and years later in 1995, the locals suffered (and still talk about) another devastating economic blow: the statewide fish net ban, which curtailed the industry.

Cedar Key Clam Fishermen 
Thanks to a thriving seafood business, the town has successfully reemerged with a new economic driver – clam aquaculture, surpassing $40 million in annual revenues.

Cedar Key clams
Cedar Key grows and harvests 95% of all farm-raised clams in the U.S. within its protected waters.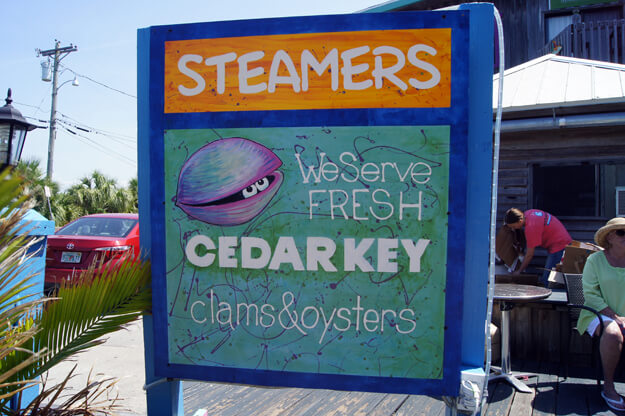 There is an abundance of fresh seafood here, due to the flow of freshwater from the Suwannee and Waccasassa Rivers that create ideal estuarine conditions for marine life such as clams, oysters, and stone crab to develop and thrive.
 
Herman Wells, Wells Wood, Cedar Key
Artists and writers find Cedar Key to be an inspiration and also find ways to carve out a living in this eclectic community. Herman Wells grew up in Cedar Key after laboring 35 years as a commercial fisherman, building boats, later creating a woodworking business where he runs his own shop. Wells creates hand-made artisan Adirondack chairs, porch swings, and folding tables using various woods including cypress, cherry, oak, and pine. His shop is located in what was once an old church on 709 5th Street. You'll find Herman Wells working there daily.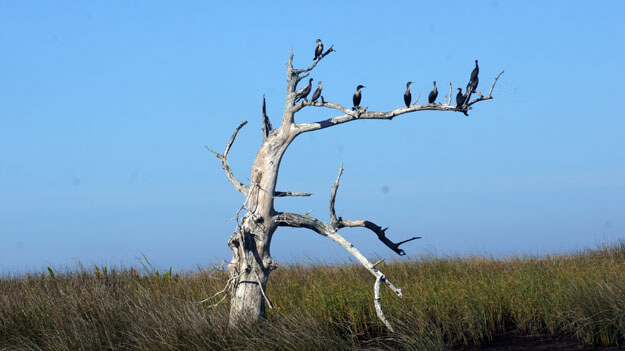 Refuge Pride
Residents are also proud of the preservation efforts that established the Cedar Key National Wildlife Refuge in 1929, restricting any potential development of the outer islands. The Refuge consists of 13 off-shore islands with Atsensa Otie and Seahorse Keys being the most popular. Atsena Otie Key is the original site of the Cedar Key community and dates back to 1899. There you will find beaches, nature trails, and various ruins from the original settlement. Seahorse Key is home to the Nature Coast Biological Station, a research, teaching, and extension facility operated by the University of Florida. The historic lighthouse there dates to 1854 and was used as a Federal prison during the Civil War. Access to the research station, lighthouse, and bird sanctuary is restricted but there are open houses for the public various days per year.
Cedar Key is an Eco-Adventurer Paradise

Lower Suwannee National Wildlife Refuge

Suwannee River
Cedar Key is undoubtedly one of the most underrated eco-tourism areas in the state of Florida. More and more people are discovering the wide diversity of things to do and see in the area. Choices for kayaking, paddle boarding, boating, and airboat riding are endless and accessible in the Cedar Keys National Wildlife Refuge; the Lower Suwannee National Wildlife Refuge; and up the Suwannee and the Waccasassa Rivers.
One thing you'll quickly learn is that access to most areas is tide-dependent. Cedar Key is located on Florida's continental shelf along the Big Bend area of the state, extending from central Florida up to the Panhandle. With the exception of deep channels providing boat access, the waters are shallow. It is wise to consult a tide chart and talk to locals before beginning any water tour, especially on your own. The good thing about the tides is that with the ebb and flow come the treasures.

Cedar Key sunset
Natural Eco Treasures
For an overview of the many natural areas begin with Tidewater Tours. This eco-tour company leaves from the Cedar Key City Marina and offers a range of tours – from the Cedar Key Island tour to Suwannee River tours (nine miles north), plus local specialty tours including estuary tours on a comfortable pontoon boat.
 
Tidewater Tours provide Cedar Key Eco-Tours
The Cedar Key Island Tour leaves three times a day (including a sunset tour) cruising past 8 of the 13 islands including a close-up view of the historical Atensa Otie Key and Seahorse Key (aptly named because it is shaped like a seahorse) where you can see the historic 1854 Cedar Key lighthouse and thousands of nesting birds. If the tide allows, the tour will motor past Snake Key, another bird rookery where the bird calls will make you feel like you are in an African jungle or Amazonian rain forest.
 
White Pelicans, Cedar Key 
Tidewater Tours Suwannee River cruise takes you north for a fascinating four-hour tour highlighting the diverse habitats of the area. Beginning with the saltwater habitat, the tour will provide an overview of the local clam aquaculture industry taking you past local clam farms and detailing facts about the industry and its success. You will then pass the Shell Mound while your hosts Connie & Captain Mike O'Dell describe the area's ancient history. From there, the boat enters a transitional zone from saltwater to fresh. At the mouth of the Suwannee River, Bald eagles and ospreys fly overhead. As you continue upriver the landscape changes. Marsh gives way to cypress trees, alligators sun themselves on the riverbank, raccoons fish at the water's edge and wildflowers dot the landscape.
Go on Your Own

Atensa Otie Island is an easy kayak ride from the main island
To get out on your own in a kayak (or paddleboard) consider Cedar Key Paddling situated on the SR 24 as you drive into Cedar Key. Owner Captain Daniel Smith has eight alternate launch sites to get you out on your water adventure. Cedar Key Paddling recommends a short 15-minute paddle ride to Atensa Otie Island and will transport your kayak or paddleboard to a nearby launch site for departure. Paddle to Atensa beach, and be sure to visit the estuary loaded with birds, found in the middle of the island, or even hike the trail to the ruins of the 19th century Faber Pencil Factory. Pack a lunch and enjoy the eagles, ospreys, shore, and wading birds. You are also likely to see a few dolphins along your route. Cedar Key Paddling also does private tours and specializes in accommodating anglers with a bait and tackle shop on site.
Another outfitter is Kayak Cedar Keys located at Cedar Key's City Beach. Tom and Sherry Leibert are 25+-year veteran outfitters and have spent years heralding Cedar Key as a paddling destination. The Leibert's are extremely knowledgeable about the area and local tides. They will advise on the best paddle trips for your particular interest.

Shell Mound trail, Lower Suwannee Wildlife Refuge
For hikers consider the Lower Suwannee Wildlife Refuge, an easy drive from Cedar Key. Here you can experience the Shell Mound created by native Indian cultures over thousands of years. This is a native shell midden (heaps of oysters and shells from past civilizations) and is fun to hike to enjoy a slightly higher elevation above the coastal flatlands. An easy trail from the parking lot, the walk will eventually wind down to an outlook and dock with a panoramic view of the marshes. Birding is prime early morning or late afternoon.
 
Cedar Key's Big Dock
"Sleepy" and quiet with no traffic signals, Cedar Key is laid-back. Except during festivals/events, all of the action can be found at the main dock, or "Big Dock". Here, a fishing pier, restaurants, and bars are perched over the water with a view of surrounding islands. Scanning the waters you will likely see dolphins! (300 resident Bottlenose dolphins make Cedar Key home). They put on a show as they chase schools of mullet.
 
Cedar Key's Big Dock
Where to Stay

The Cedar Key Island Hotel
For lodging, The Cedar Key Island Hotel is a legendary inn that has long been a favorite for visitors and locals – and one of Florida's last originals. Owned by Andy and Stanley Bair, the welcoming and historic hotel has remained much the same since the beginning of time (or at least 1859). The building was originally made to last with 10-inch thick walls made from shell, limestone, and sand known as tabby. The structure has survived the test of time through hurricanes, storms, and floods. The rooms are comfortable and furnished with rustic antiques. The distressed wooden floors have a familiar creak and the outside verandah features an old swing with surrounding comfy chairs with a nice view of the historic downtown and harbor. On a side note … Ghosts are rumored to walk the halls at night.

Island Hotel Bar, famous King Neptune (Helen Tooker, artist)
One of the hotel hallmarks is the tavern located downstairs across from the front desk. A painting of King Neptune sits over the bar.  Wall paintings were drawn by a 1947 visitor, Helen Tooker. In exchange for room and board, painted scenes of Cedar Key, adorn the hotel. Locals insist the best meal on the island is the Island Hotel Restaurant and well worth trying is any meal with Cedar Key clams, the crab bisque, oysters Rockefeller, or the Grouper Savannah. But the real Florida classic is the Island Hotel Original Heart of Palm Salad. This was created by former owner Bessie Gibbs (1946-1973). Also, word has it the Island Hotel Bar hamburgers and cheese grits are legendary.
Cedar Key Bed & Breakfast
Another alternative for lodging is the Cedar Key Bed & Breakfast. It is within easy walking distance to everything and operated by Alice and George Oakley. There are beautiful rooms surrounded by lush gardens, under ancient Florida oaks. It makes this inn an ideal setting for a wedding or family reunion.
Dining in Cedar Key
For breakfast, especially an authentic Florida cracker breakfast, try Annie's Café. Sit on a screened porch overlooking the bayou. Local mullet and grits make it the real deal to start the day.

Tony's famous clam chowder
For dinner don't miss Tony's Seafood Restaurant on Second Street with its fresh Gulf seafood and renowned clam chowder, featuring Cedar Key clams. The owner, Chef Eric, has won three world championships at the Great Chowder Cook-Off in Newport Rhode Island. The rich and creamy chowder is overflowing with fresh clams and herbs flavored with a scant touch of heat. Chef Eric will even ship the chowder to your home.
 
Cedar Key
Cedar Key is a very special place, a true original. Its quaint vibe, its natural beauty, its history, and especially the people – possessed with perseverance and pride, and a remarkable ability to keep life simple – make it one of the state's most authentic places to visit.
Looking for a delicious recipe to make with your clams? Check out our delicious Cedar Key Clam Linguine here!

AuthenticFlorida.com was named Best Travel Blog two-times at the Florida Sunshine Awards.
To receive Authentic Florida's free weekly ENEWs, sign up on our Authentic Florida home page.
To inquire about partnerships/advertising, please contact info@authenticflorida.com 
Proud Member of: 

---
Comments are closed.