One Festival, Two Delicious Holiday Desserts
Need help with holiday dessert ideas? Try these two citrus dish recipes, a Florida Kumquat Cake and an Orange Bread & Butter Pudding, along with an overview of the authentic 2018 Kumquat Festival.
Floridians celebrate the holiday season in slightly different ways from the rest of the country. We experience mild and even balmy weather as winter sets in across the nation. Our activities and recreational opportunities remain outdoors and even our festive meals center around lighter menus, with seafood often served as the main course. To complement our holiday fare, Florida desserts tend to be on the lighter side, incorporating the signature fruit that represents the Sunshine State – Florida citrus.
As most agree, nothing tastes like Florida as fresh, juicy citrus. These holiday inspired citrus desserts represent the best of Florida, and one incorporates a petite fruit called the kumquat. Also, to add some fun to your 2018 plans, be sure to check out one of the best (and free) festivals in Florida, Dade City's 2018 Kumquat Festival.
The Florida Kumquat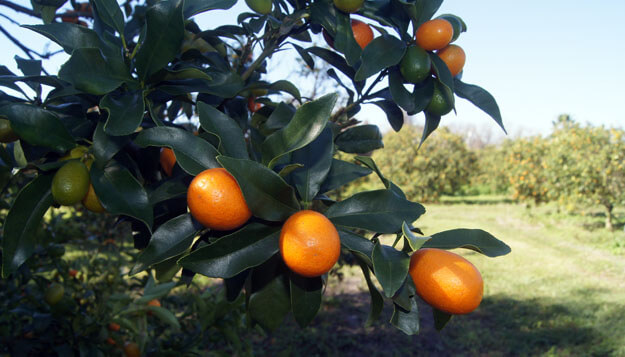 Florida Kumquat
Florida's most famous citrus crops are oranges, grapefruit and tangerines. But one member of the citrus family that is not as well known is the Florida kumquat.
Kumquats are orange in color and are a small bite-sized fruit. The petite fruit provides a flavorful, pungent sweet and sour taste. It can be eaten whole – skin and all, or baked into desserts, used as a glaze or to flavor main dishes.
The kumquat, like the mandarin, is believed to have originated in China. There it has long been celebrated as a symbol of prosperity during the Chinese New Year. Two species are now cultivated in the United States, the Nagami and the Meiwa. The oval-shaped Nagami kumquat is tart and ideal for marmalades and jellies, while the round Meiwa is sweeter making it ideal for snacking.
Yes, you can eat a kumquat whole, skin and all, and it is quite tasty with its burst of both sweet and tart. But many people prefer to remove the stem, cut it into small slices, and eliminate the seeds. The peel is the sweetest part. The sourness comes from the pulp of seeds and juice. Try it both ways then choose what you like best.
Florida's kumquat season is from November through March, so now is the time to try these tasty morsels available at most grocery stores and farmers markets.
The Kumquat Festival, January 27, 2018

The Kumquat Festival, Dade City

If you get hooked on this tasty little fruit after trying the recipe, don't miss one of Florida's most charming Festivals – the 2018 Kumquat Festival held in Dade City, northwest of Tampa. This unhurried, laid-back Florida town annually hosts its Kumquat Festival honoring its distinction as the world's leading supplier of the tasty petite fruit.

Kumquat Pie
Saturday, January 27th, 2018 marks the festival date. Thousands of visitors join in the fun. Held in downtown Dade City, the Kumquat Festival is a homegrown family event that provides fruit tastings of every imaginable combination including kumquat pies, cookies, smoothies, ice cream, marmalade, marinades, vinaigrettes and salsa. And there is plenty of fruit to purchase for creating your own signature dishes at home.
Local entertainment kicks up the celebration giving the event a special homespun atmosphere with an arts and crafts exhibition, car show and downtown storefronts decorated in what else, but "kumquat themes."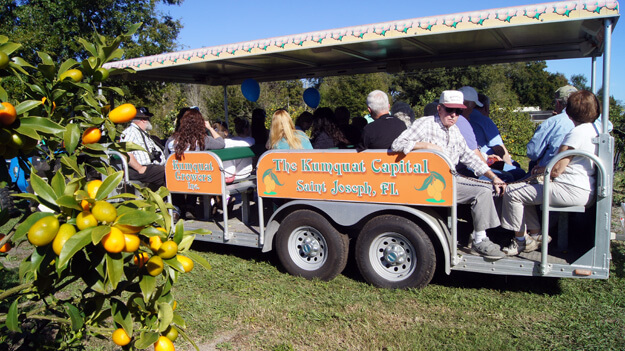 Kumquat Growers Open House kumquat grove tour
But the best-kea secret is the Kumquat Growers Open House January 25 and 26 featuring packinghouse and grove tours.
Florida Kumquat Cake

The Florida Kumquat Cake
This Florida Kumquat Cake recipe incorporates the little "golden gem" and member of the citrus family resulting in a dessert masterpiece that is moist and flavorful with a sweet and sour finish.
Ingredients
1 cast iron pan 10"
2 cups (Nakami) kumquats; each kumquat cut into thirds, with seeds removed
1 stick unsalted butter
¾ cup light brown sugar
Mixture
3 Tablespoon honey
½ teaspoon vanilla
½ teaspoon salt
Wet/Batter Mixtures
1 stick of unsalted butter, room temperature
1 1/3 cup sugar
5 extra large eggs, room temperature
1 teaspoon vanilla
Dry Mixture
1 1/3 cup flour
1½ teaspoon baking powder
¾ teaspoon salt
Recipe Steps
Preheat the oven to 325ºF.
Step One
Prepare 2 cups of kumquats by removing the stem, slicing each kumquat into three slices, and removing the seeds. Set aside.
Step Two
Melt 1 stick of butter in the cast iron pan over medium heat. Be careful not to burn the butter. Add 3/4 cup of brown sugar and stir until mixed.
Remove from heat. Add 3 Tablespoons honey, 1/2 teaspoon of vanilla and 1/2 teaspoon of salt. Stir to combine. Add the 2 cups of kumquats to caramel mixture — or fit as much as you are able inside the pan over the mixture.
Step Three
Separately, in a large mixer (or use hand mixer), place 1 stick of softened unsalted butter and 1 1/3 cup of sugar in a large bowl and beat until fluffy. Add 5 extra-large eggs (or 6 large eggs) one at a time, beating on high. Add 1 teaspoon vanilla.
Step Four
In a separate bowl, sift together the dry ingredients – 1  & 1/3 cup of flour, 1 & ½ teaspoon of baking powder and ¾ teaspoon of salt. Add to wet ingredients and mix on low speed until combined, no more.
Step Five
Carefully spoon batter over kumquats, being careful not to disturb the fruit. With a knife, carefully smooth the batter. Place cake in oven on the middle rack. Bake for 45 minutes, test the middle of the cake with a toothpick and if it comes out clean, remove from oven. If still wet, bake for another 10 minutes or up to 1 hour total.
Step Six
Take a butter knife and loosen edges along the pan. Put cake on a wire rack and let it cool for about 30 minutes. Place a serving plate on top of the cast iron pan and flip over so the fruit is on the top. Enjoy a serving with a few kumquats as accents.
Adapted from AlexandraCooks.com Kumquat Upside Down Cake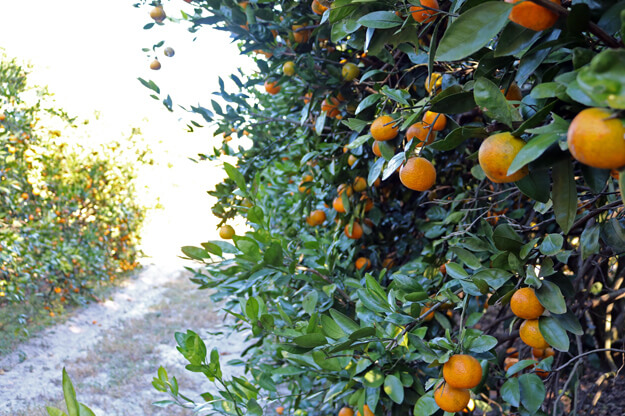 Florida orange grove
Florida Orange Bread and Butter Pudding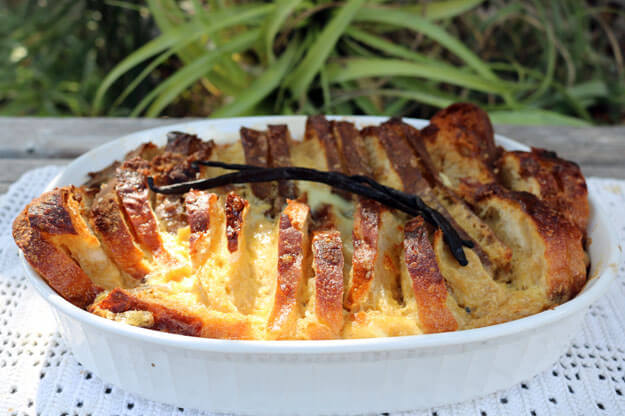 Florida Orange Bread & Butter Pudding
The ultimate in comfort food, bread and butter pudding is a yummy dish to serve during the holidays or any time of year.
Flavored with orange marmalade, this dish is rich with creamy custard – creating a flavor that shouts "Florida!" Ideally served during the holidays, plus being both easy to make and delicious, enjoy this dish during your stay in Sarasota.
Serves: 6
This recipe was originally published with Visit Sarasota.
Ingredients
6 tablespoons unsalted butter, room temperature
12 slices white country-style bread
½ cup orange marmalade
5 large eggs
1 vanilla bean, halved lengthwise
1 cup of whole milk
1 cup of heavy cream
¼ cup firmly packed dark-brown sugar, plus more for sprinkling
1 container Crème fraiche
Recipe Steps
Step One
Butter a shallow baking dish.
Step Two
Butter both sides of the 12 slices of bread, using all of the butter. Spread marmalade on 6 slices of the buttered bread. Take the remaining 6 slices of bread and place them on top of the slices to create six sandwiches. Cut each sandwich diagonally in half. Arrange sandwich halves in the prepared dish.
Step Three
Crack five large eggs in a bowl.Using the tip of a knife, slice open the vanilla bean and remove the vanilla seeds, placing into the bowl. Whisk eggs and vanilla seeds. Add one cup of milk, one cup of cream and ¼ cup of dark-brown sugar. Whisk well until combined.
Step Four
Pour milk mixture evenly over the bread and sprinkle lightly with more brown sugar on top.
Step Five
Cover the dish and let stand for one hour at room temperature until the bread soaks up the custard.
Step Six
Preheat oven to 350 degrees.
Step Seven
Uncover the pudding and bake until the custard has set, for 50 minutes. Remove from the oven and let cool slightly. Serve the Bread and Butter Pudding warm and spoon into individual bowls. Top with a dollop of crème fraiche.
Recipe adapted from Martha Stewart Living.
To receive Authentic Florida's free ENEWs, featuring travel and living updates, delivered weekly, sign up on the home page Authentic Florida, voted Blog of the Year and Best Travel Blog at the Orlando Sunshine Awards.
---
If You Go
January 27, 2018
Dade City, Florida