Presenting Our 2019 Authentic Florida Bucket List
There are so many things to do in the Sunshine State it has been difficult to compile a "bucket list" that narrows it down to only 19 of our favorite selections. In 2018, when Melanie Lentz-Janney took the lead role with Authentic Florida, she started adding more kitschy roadside attractions and nostalgic treasures into the mix. In addition to our abundance of natural wonders, these quirky finds are what we love about our state and the feedback we've received has shown us we are not alone.
We encourage everyone to create your own #BucketList (you can get lots of ideas on AuthenticFlorida.com) and start checking them off one by one. Also, if you are on social media (Facebook, Twitter, Instagram and/or Pinterest), be sure to tag us so we can see what you've been up to as well … use hashtags: #AuthenticFlorida #BucketList
Without further delay … Here's our 2019 Authentic Florida Bucket List:
Attend the Kumquat Festival in Dade City
Dade City is one of our favorite Old Florida destinations and the Kumquat Festival is a great reason to visit this charming community. Right after the holidays, we know that by the time the last Saturday in January rolls by (this year it's 1/26/19), we're going to jump in our car and head to this free and family-friendly event.
Now in its 22nd year, this event celebrates the petite fruit known as the kumquat. The festival includes arts & crafts, a health/wellness section, a car & truck show, local entertainment, a Farmers' Market, a Kids Corral, quilt displays, food, and fun, fun, fun!
It's always exciting to check out the variety of Kumquat products (who knew you could do so much with a kumquat). However, the big bonus is to take time to visit the shops and restaurants in downtown Dade City. If you want some suggestions, revisit our article: http://www.authenticflorida.com/articles/things-to-do/attend-dade-city-s-22nd-annual-kumquat-festival/
There's also a Kumquat Growers Open House the Thursday and Friday prior to the event that is worth checking out as well. Details available at www.kumquatgrowers.com
More Info: http://www.kumquatfestival.org
Mingle with Flamingos in Key West

Photo credit: https://www.facebook.com/TheKeyWestButterflyAndNatureConservatory/ 
Visiting the Key West Butterfly & Nature Conservancy should be on everyone's MUST EXPERIENCE list when strolling around the Conch Republic. It's worth planning ahead and experiencing a "Flamingle" with Rhett and Scarlett, two flamingos with the most charismatic personalities. They thoroughly enjoy getting up close and personal with a VERY limited number of guests after business hours. (We post a lot of their encounters on our Facebook page as part of our #FlamingoFriday celebration and have yet to experience this ourselves).
"Flamingle" at the Key West Butterfly & Nature Conservancy on Duval Street is very popular, so as soon as you know you are heading to the Keys, make a reservation. It's limited to no more than 6 people and happens after hours. The cost is $37.00 per person and from what we've observed, it's worth every penny.
More Info: http://www.keywestbutterfly.com (they have a live webcam on their website)
The Town of Micanopy (mick-ah-No-pee) is about as authentic Florida as you can get. This time-warp village has become a special haven for everyone from filmmakers to antique lovers. Planted with live oaks trailing Spanish moss, the main street (Cholokka Blvd) is lined with stunning Victorian homes and a strip of mom & pop shops.
"The Town that Time Forgot". Established in 1821, Micanopy was renamed in 1826, after a native Seminole Chief. The Town of Micanopy encompasses 1.03 square miles near the Alachua-Marion County line between Gainesville and Ocala. There is no better way to spend a leisurely day than to walk in each store and gallery. The antiquing is off-the-charts amazing. Grab a bite at the Old Florida Café (their Cuban sandwiches are delicious).
More Info: http://www.micanopytown.com
Drive the Forgotten Coast Highway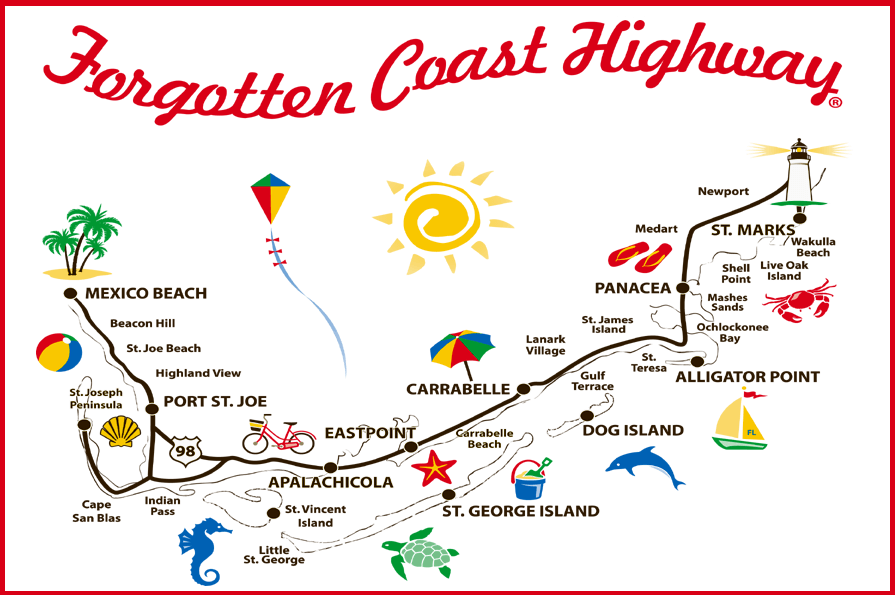 Photo credit: http://www.forgottencoasthighway.com (apparel company)
Hurricane Michael did a number on Mexico Beach in 2018, but there are still many quaint towns along Highway 98 in the Panhandle that were not impacted by the wrath of Michael. We want to support these establishments and bring awareness back to this truly authentic Florida destination.
This beautiful region has been dubbed the Forgotten Coast because it's the last remaining stretch of unspoiled, pristine Gulf Coast beaches that haven't been overrun by high rises and strip malls. The Forgotten Coast includes the charming communities of Apalachicola, Alligator Point, Carrabelle, St. George Island & Eastpoint. One of the best ways to travel back in time is to take a ride on the Forgotten Coast Highway and make pit stops along the way.
More Info: https://www.floridasforgottencoast.com/
Take a Tour of the "Psychic Capital of the World" in Cassadaga
In this charming Victorian-era community, a tour is a perfect way to learn about Cassadaga's historic, unique and mysterious beginnings and the spirit activity that still goes on in the historical homes of present-day mediums. It's a great way to gain insight into Spiritualism and feel the wondrous energy that is Cassadaga.
Tour tickets may be purchased in the bookstore, or by clicking the link below. The cost is $15 per Adult, $7.50 per Child 7-12 and Children 6 or under are FREE. Walking tours are regularly held on Thursdays, Fridays, and Saturdays at 2:00pm.
More Info: https://www.cassadaga.org/tours
Play a Round of Goofy Golf in Panama City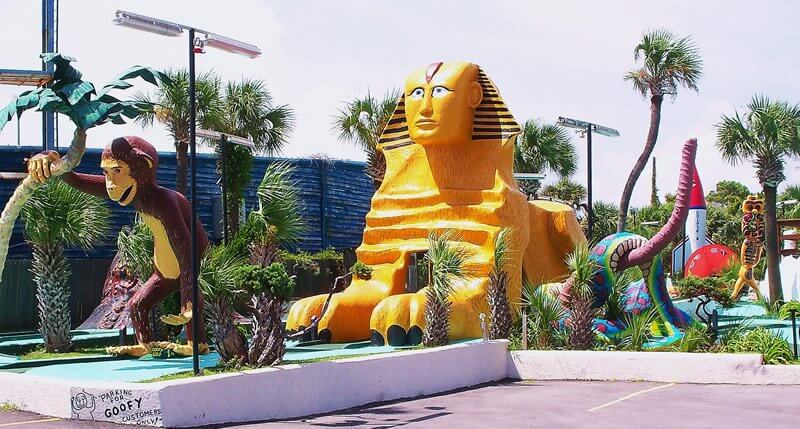 Photo credit: Goofy Golf of Panama City Beach
Nothing says old Florida fun like a kitschy, beachside miniature golf course. Goofy Golf opened in 1959 and is located in the heart of the Miracle Strip in Panama City Beach. It boasts two 18-hole miniature golf courses and remains the best mini-golf bargain anywhere at $10 per 18 holes!
The evening lighting includes the glowing eyes of giant monkeys and dinosaurs! There are giant statues that can be climbed and others you can go inside. It's mini golf with a bonus play-land! It's simply awesome!
More Info: http://goofygolfpc.com/
Climb a Historic Lighthouse in St. Augustine
The St. Augustine Lighthouse & Maritime Museum, Inc. is a private, non-profit museum dedicated to its mission "to discover, preserve, present and keep alive the stories of the Nation's Oldest Port as symbolized by our working St. Augustine Lighthouse." From the breathtaking views of Northeast Florida to the artifacts recovered from our ancestors' vessels, the St. Augustine Lighthouse & Maritime Museum covers centuries of history from in and around St. Augustine, Florida.
Plus, if you need to have an incentive to exercise, it doesn't get much better than climbing up the stairs to the top of the St. Augustine Lighthouse. This year they are celebrating their 145th year.
More Info: http://www.staugustinelighthouse.com/
Drive Thru Lion Country Safari in West Palm Beach
There aren't too many attractions in the world where you don't have to get out of your car to have a ton of fun! Lion Country Safari never disappoints.
Florida's only drive-through safari and walk-through amusement park invites you to spend the day on safari with over 1000 animals. With animal displays and encounters, animal feeding experiences, 5 rides, water spray-ground, food, shopping and more, you are sure to have a memorable experience at Lion Country Safari.
More Info: https://www.lioncountrysafari.com/
Splash in the Venetian Pool in Coral Gables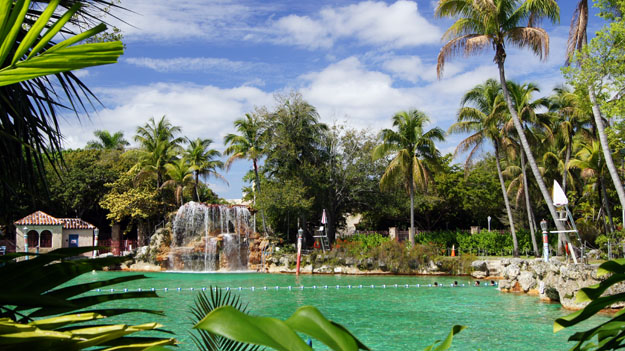 In the heat of the summer, there is nothing more refreshing than a dip in what we consider the most beautiful swimming pool in the world.
The only pool on the National Register of Historic Places, Venetian Pool boasts tropical foliage, waterfalls, Italian architectural touches, a cave and stone bridges. The 820,000-gallon pool is fed with spring water from an underground aquifer. In the spring and summer seasons, the pool is filled and drained daily!
When visiting, be sure to check out the authentic, vintage photos of the pool near the entrance.
More Info: https://www.coralgables.com/venetian-pool
Stroll down the "Avenue" During the Sidewalk Art Festival in Winter Park
There's so much to see and do on any given day in downtown Winter Park, but March 15, 16 and 17th is a prime time to visit this quaint community. The Winter Park Sidewalk Art Festival is one of the nation's oldest (this is its 60th year), largest and most prestigious outdoor art festivals. During the Festival, you get even more bang for your buck when you visit. Stores/Restaurants expand to the sidewalks and have great sales.
Usually, the weather is spectacular which makes it even more of a treat … and add a scenic boat tour to make it an even better day to remember. It's something the whole family will enjoy.
More Info: http://wpsaf.org/
Tour the International Showmen's Museum in Gibsonton
On Highway 41 just ten miles south of Tampa, sits Gibsonton, once known as the strangest town in America. Gibsonton (or Gibtown as the residents call it) was once home to a variety of show folks including Priscilla the Monkey Girl, the Alligator Man, the Lobster family, and Dotty the Fat Lady.
The 52,000 sq ft museum contains an incredible collection related to the history of carnivals and amusement parks. The museum charges admission, but you can view antique carnival trailers for free from the parking lot. FYI: All admission goes to the upkeep of the museum. The cost is $12.00 per person, but if you tell them you saw a $2.00 discount on their website it's only $10. Students with ID are $7. The Museum is open 12pm – 5pm, Saturday and Sunday (except holidays).
More Info: http://showmensmuseum.org/
Enjoy Strawberry Shortcake & Great Music at the Strawberry Festival in Plant City
The Florida Strawberry Festival represents a piece of Americana, a time in American history when fairs and festivals brought communities together through celebrations of their harvests. It has continued to grow in popularity year after year through the preservation of this heritage.
Nothing beats an authentic strawberry shortcake at the Strawberry Festival in the Winter Strawberry Capital of the World followed by an awesome concert. This year's entertainment line-up includes Willie Nelson, Alabama, The Oak Ridge Boys, Kool and the Gang and many others.
More Info: http://flstrawberryfestival.com/
See a Movie, Take a Yoga Class, & Much More at Leu Gardens in Orlando
A botanical paradise just minutes from downtown Orlando, the gardens were founded in the 1930s by local industrialist Mr. Leu, who would travel the world, bringing rare plants and seeds back for his blossoming project. The tropical and semi-tropical gardens unfold across a rolling 50 acres of landscaped grounds and streams, with meandering trails shaded by 200-year-old oaks and forests of camellias.
Leu Gardens offers many classes and events throughout the year. Becoming a Member of Leu Gardens is reasonable (annual membership starts at $35) and offers many member perks including privileges or discounts to American Horticultural Society partners that include over 300 gardens, arboreta and conservatories nationwide (full list available at http://www.ahsgardening.org/gardening-programs/rap).
More Info: https://www.leugardens.org/
Visit the Citrus Tower and/or President's Hall of Fame in Clermont

Photo credit: The_Hailes via Trip Advisor
Opened in 1956, the iconic Florida Citrus Tower in Clermont (a quick drive west of Orlando) used to be a major tourist attraction in the area. Miles of surrounding orange groves could be taken in by visitors via the panoramic views atop this 226-foot tower. Although the scenery has changed over the years, the tower is still reminiscent of old Florida. The cost is $6 for adults and $4 for children.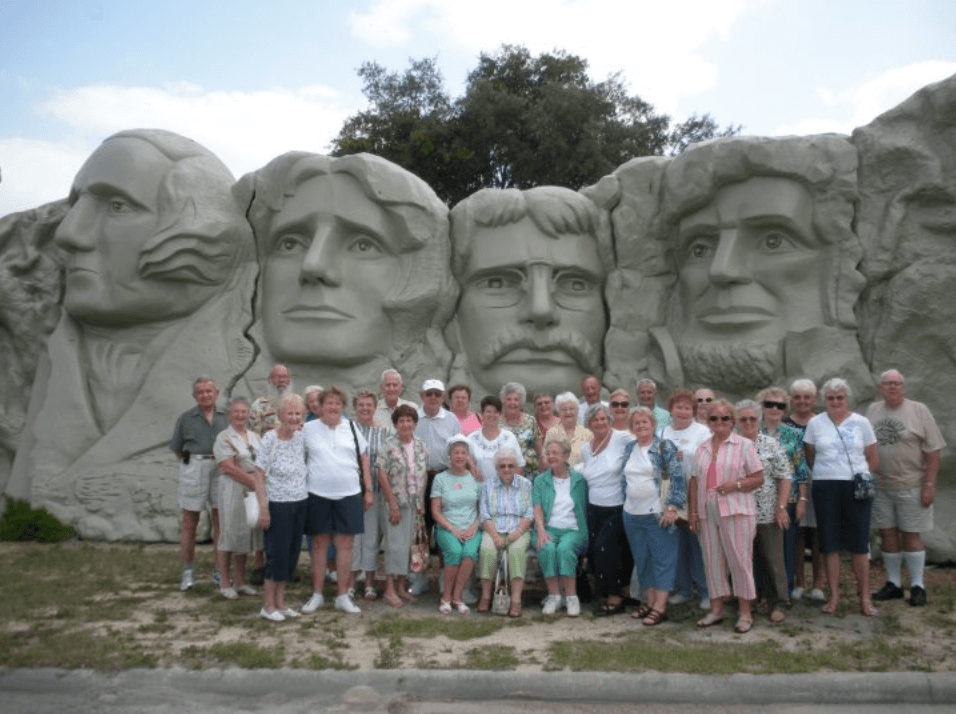 Photo credit: https://www.facebook.com/ThePresidentsHallofFame/ 
In addition, the President's Hall of Fame in Clermont, has featured (and replicated) White House memorabilia since 1960. Originally a popular wax museum called the "House of Presidents," the attraction changed names in 1990 to reflect its growing exhibitions. Today, the "Presidents Hall of Fame" includes animatronics, White House replicas and, most notably, Americana miniatures. The website says call for current admission prices: (352) 394-2836.
More Info: www.citrustower.com and/or http://thepresidentshalloffame.com/
Explore Art Galleries, Shops and Restaurants in Mt. Dora
The City of Mount Dora is truly 'Someplace Special,' a charming, one-hundred plus-year-old historic village in the heart of Central Florida on the shores of beautiful Lake Dora in the Harris Chain of Lakes.
Mount Dora offers the pleasures of Old Florida country living. Lakes, quiet country inns, shops, an old railroad station, a plethora of tasty dining options – all are within steps of each other in Mount Dora. The small-town environment caters, particularly to antique and art enthusiasts. Shops in and around Mount Dora's downtown area are full of nostalgic items, valuable antiques and collectibles, and even estate jewelry. Outdoor cafes, gourmet restaurants, galleries, wineries, and bed and breakfast inns also grace Mount Dora's downtown area. The 44th Annual Mount Dora Arts Festival takes place on February 2 & 3, 2019 and never disappoints.
More Info: https://www.mountdora.com/
Get Up Close & Personal with Great Apes in Wauchula

Photo credit: https://www.facebook.com/CenterForGreatApes/ 
The Center for Great Apes' mission is to provide a permanent sanctuary for orangutans and chimpanzees who have been retired from the entertainment industry, from research, or who are no longer wanted as pets. The Center provides care with dignity in a safe, healthy, and enriching environment for great apes in need of lifetime care.
The Center for Great Apes is a 501(c)(3) nonprofit organization and all contributions are tax-deductible as allowed by law.  As required by Florida law, we are registered with the Florida Department of Agriculture & Consumer Services. 100% of your contribution goes directly to the Center for the care of orangutans & chimpanzees as well as the operation of this sanctuary.
The Center offers various educational tour opportunities for the public and ways to help. (Michael Jackson's chimpanzee, Bubbles, is one of the many famous residents).
More Info: http://www.centerforgreatapes.org/
Dine at the Bubble Room in Captiva
The Bubble Room Restaurant opened in 1979 and has been pleasing patrons with its excellent food and "every day is Christmas" fun ever since. People of all ages cannot resist smiling, as they enjoy the atmosphere of each wonder filled room.
The restaurant still presents several of the distinctive original menu items offered by the original owners (the Farqhuarson family), including such favorites as Socra cheese, Bubble Bread, Carolina Moons, Tarzan, Eddie Fisherman, and many of the delicious and oversized desserts. While there, make sure you check out the whimsical gift shop.
More Info: https://www.bubbleroomrestaurant.com/
Step Back in Time at Sunken Gardens in St. Pete
If you love nature and plants then you'll love this place. A tourist attraction since 1935, Sunken Gardens got its name because it was originally formed by draining a sinkhole. It's one of the nation's oldest roadside attractions and was named a historic landmark in 1998.
Sunken Gardens is different from a typical public park. The 50,000+ plants, trees, animals, and structures are delicate and part of the Sunken Gardens' living collection. Some of the plants and structures are over 100 years old … and they have flamingos!!!
More Info: http://www.stpete.org/attractions/sunken_gardens/
Visit the Skunk Ape Research Headquarters in Ochopee

Photo credit: https://www.facebook.com/SkunkApeHeadquarters/ 
Whenever we tell people we run AuthenticFlorida.com, people have asked us if we've covered the mermaids at Weeki Wachee, the manatees in Crystal River and if we knew about the Skunk Apes in the Everglades.
The Skunk Ape – like its alleged distant relative, Big Foot – is considered by many to be a figment of the imagination. However, the people behind the Skunk Ape Research Headquarters beg to differ. It's worth a trip to Ochopee to come to your own conclusion.
Skunk Ape Headquarters has served as an Everglades Icon and World Famous roadside attraction for decades. The exhibit hosts GIANT alligators and one of the largest snakes in captivity in the world (Goldie) the 350lb+ reticulated python. The gift shop offers officially licensed Skunk ape merchandise and a variety of alligator products as well as local native crafts. The iconic Everglades attraction is open 7 days a week (except holidays). Admission is $15 for adults and $8 for kids.
More Info: https://www.skunkape.info/
---
Comments are closed.