Our Favorite 2019 Florida Holiday Boat Parades
We're pretty sure Florida has more boat parades than any other state. From small-towns to big cities, there is always a boat parade happening somewhere on a weekend in December throughout the Sunshine State. We've earmarked a few of our favorites. If we've missed any you think are worth mentioning, please comment below.
NOTE: Please confirm dates and times, they are subject to change.
Saturday, December 7, 2019
Alafia Lighted Boat Parade
Riverview Park & Civic Center
Traditionally occurring on the first Saturday in December, the Alafia Lighted Boat Parade has evolved to take various forms. This year's parade will start at Williams Park and conclude at Rivers Edge for awards and a special VIP party. 5pm-8pm.
Apollo Beach Lighted Boat Parade and Chili Cook-Off
Apollo Beach
The public is invited to watch The Annual Lighted Boat Parade on the docks of The Tampa Sailing Squadron, located on Apollo Beach Boulevard. The event is free and sponsored by the Tampa Sailing Squadron. Starts at 6pm.
Annual Lighted Parade of Boats (Santa's Workshop)
Astor
The 2019 Blackwater Yacht Club (BWYC) Lighted Boat Parade will be held at 6:30pm on the beautiful St. Johns River in Astor, FL. The Club will be collecting toys again this year for the children of Astor. Come on out and enjoy a fun night on the River.
Cotee River Christmas Boat Parade
New Port Richey
Boats of all kinds, decorated with strings of lights and holiday flare will glide along the Cotee River from Miller's Bayou in Port Richey's Waterfront to Sims Park in Downtown New Port Richey. The parade will begin at approximately 6pm in the Port Richey Waterfront.
Daytona Beach Christmas Boat Parade
Halifax River
Along the Halifax River. Sponsored by the Halifax River Yacht Club to benefit Light The Way Foundation. Prime viewing areas of the parade are the Chart House Restaurant, Daytona Marina and Boat Works, City Island, Manatee Island, Halifax Harbor Marina.
Dunedin Holiday Boat Parade
Dunedin
Ring in the holidays during Dunedin's annual waterfront celebration as boats parade through Dunedin at approximately 7 pm. Enjoy holiday music and s'mores while waiting for Santa to arrive by boat and lead the countdown in the lighting of the City's Christmas tree. The event is free and takes place at Dunedin Marina / Edgewater Park.
Fort Myers Beach Boat Parade 
Ft. Myers Beach
Come enjoy some Christmas spirit at the 31st Annual Fort Myers Beach Christmas Boat Parade!  Last year we had over 30 boats participating and this year promises to be even more exciting. The parade begins at Salty Sam's Marina and will pass many restaurants on the back bay such as Parrot Key Caribbean Grill, Original Shrimp Dock, Matanzas on the Bay, Nervous Nellie's, Bonita Bill's, Dixie Fish Co. and Doc Ford's where you can kick back and enjoy the fun.
Lake Weir Yacht Club Christmas Boat Parade 
Ocklawaha
Carney Island Recreation & Conservation Area (13275 SE 115th Ave, Ocklawaha, Florida 32179). Winners to be announced at Eaton's Beach Steam Shack after parade. From 4:30pm to 9pm.
Mount Dora Lighted Boat Parade 
Downtown Waterfront and Donnelly Park
Come and enjoy the lighted Christmas Boat Parade on Lake Dora beginning at the Lighthouse across from Gilbert Park on Tremain Street and Liberty Street. Local boat owners compete for best in light show display and originally. Starts at 7:30pm.
25th Annual Palm Beach and Jupiter Holiday Boat Parade
North Palm Beach to Jupiter
The parade begins at North Palm Beach Marina on Marina Drive, traveling north to Sawfish Bay Park on A1A. Some of the best viewing can be found at Juno Park, Bert Winters Park, Waterway Cafe, Seasons 52, Jupiter Riverwalk, Waterway Park, Harbourside Place, Sawfish Bay Park, U-Tiki,Jetty's, Square Grouper Tiki Bar and Lighthouse Park. Sponsored by the Marine Industries Association. 6-9 pm.
St. Lucie County Boat Parade
Fort Pierce
28th anniversary. Parade route begins at Taylor Creek near Harbortown Marina, 6:30 pm, and proceeds past the South Beach Causeway, turning around west at Fort Pierce Inlet, ending at the Fort Pierce City Marina.
Stock Island Lighted Boat Parade
Stock Island
Starts at the Stock Island Marina Village. Guests will delight seeing the bright lights on everything from tri-masted schooners to dinghies to the Shrimp boats that call Stock Island home. From 6-8pm.
Stuart Christmas Boat Parade
Stuart
Starts at the Jensen Beach Causeway at 6pm and proceeds to Sandsprit Park and into the Manatee Pocket, where the parade will end about 7:45pm at the Twisted Tuna. The event is free for spectators and participants.
Venice Christmas Boat Parade
Venice
The parade starts just north of the Albee Road bridge and continues south on the Intracoastal and out to the channel marker in the jetty before doubling back and continuing south on the Intracoastal to the Circus Bridge (near the airport). (First Saturday in December) Begins at 6pm. The rainout date is Sunday, Dec. 8.
Sunday, December 8, 2019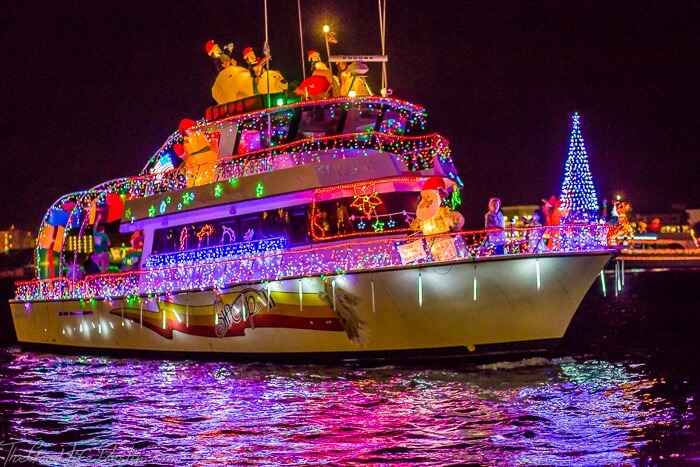 Destin Harbor Lights Boat Parade
Destin
Visit with Santa Claus starting at 1pm at HarborWalk Village's Main Stage then enjoy a special performance of the Nutcracker from the Ballet Conservatory of the Destin School of Music & Dance at 4:45pm. The Boat Parade will light up the harbor beginning at 6pm with fireworks following the parade.
Key Colony Beach Christmas Boat Parade
Key Colony Beach
Sponsored by the Key Colony Beach Fishing and Boating Club. Begins at dusk.
Leesburg Christmas on the Water
Venetian Gardens Park
Ski Beach. Food served from 5pm. Entertainment, 5:30pm. Light Up Venetian Gardens, 6pm. Boat parade starts at 6:15pm. Over $2000 in cash and prizes.
Friday, December 13, 2019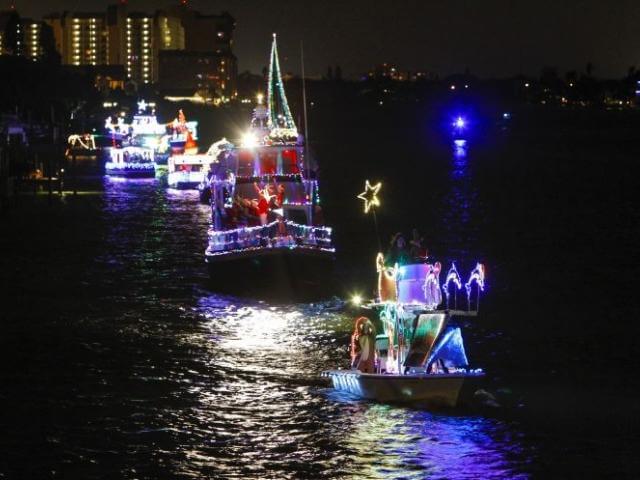 Boynton Beach/Delray Beach Holiday Boat Parade
Boynton Beach/Delray Beach
The parade begins at Boynton Beach Inlet and proceeds south along the Intracoastal Waterway to the C-15 canal. Some of the best spots for viewing at Boynton Harbor Marina (Two George's Restaurant and Banana Boat), Intracoastal Park, Jaycee Park and in Delray Beach you can see the parade at Veterans Park and Knowles Park. Bring a new, unwrapped toy for Toys for Tots. 6:30-9 pm
Pompano Beach/Lighthouse Point Holiday Boat Parade
Pompano Beach
Lake Santa Barbara north to Hillsboro Blvd. Bridge. This is the longest-running holiday boat parade in the nation and the second year the boat parade is being held on a Friday night. 6-9 p.m.
Treasure Island Holiday Boat Parade
Treasure Island
Features boats of all kinds making it the biggest lighted boat parade in Tampa Bay.  Boats will depart from The Club at Treasure Island at 6:20 p.m., sail past the Treasure Island Causeway Bridge at 7 p.m. and end at 8:15 p.m. at John's Pass.
Saturday, December 14, 2019
Bonita Springs Boat Parade
Bonita Springs
The parade starts at The Fish House Restaurant on Bonita Beach Road. The US 41 bridge in Bonita Springs, over the Imperial River, is an excellent vantage point to see the parade. Parking is limited. Plan to park at neighboring plazas; Kmart, Fresh Market, Riverview Terrace Office Park and walk to the venue.
Boot Key Harbor Christmas Parade
Marathon
Parade starts at 6pm from the west end of Boot Key Harbor and transits the harbor. Good viewing from Marathon Marina, Lazy Days South, Pancho's Fuel Dock, Burdines Waterfront and Sombrero Marina Dockside.
Carabelle Holiday Boat Parade of Lights
Carabelle
Along the Carrabelle River, east of Apalachicola on U.S. 98. Followed by a fireworks show.
Clearwater Holiday Lighted Boat Parade
Clearwater
Festively decorated boats will parade past Coachman Park around 8:30pm. From there, the fleet will cruise under the Memorial Causeway Bridge turning into the Clearwater Marina Channel, then proceed south through the navigable canals.
Cocoa Beach Christmas Boat Parade
Cocoa Beach
Starting at Marker 101 near Centennial Park on State Road 520 (across from Cape Canaveral Hospital). Recommended Places to Watch: Sunset Cafe, 520 and Banana River; Wildlife Watersports, 129 Manatee Lane; End of S. Banana River Blvd.; Cove Park, 540 McNabb Pkwy (just west of the end of 3rd St. North) 6:30-10pm.
Deland-St. John's River Christmas Boat Parade
Deland
Parade starts in Lake Beresford about 6pm, to the St. Johns River, passing Hontoon State Park about 6:30 pm, then downriver (north) to the Whitehair Bridge (SR 44) and Ed Stone Park (about 7 pm), ending past the St. Johns Marina and the North River Grille, 2999 State Road 44 West, DeLand.
48th Annual Fort Lauderdale Winterfest Boat Parade
Ft. Lauderdale
The grand poobah of holiday boat parades starts on the New River in downtown Fort Lauderdale and moves east to the Intracoastal Waterway, then north on the Intracoastal to Lake Santa Barbara in Pompano Beach. Prime viewing area is Hugh Taylor Birch State Park. 6:30-9:30pm (Future Dates: Dec. 12, 2020).
Festival of Lights Illuminated Boat Parade
Madeira Beach
6:45 pm. 52nd annual Boat Parade will kick off at John's Pass with a shop local holiday extravaganza, tree lighting, and boat parade kickoff party. Head to ROC park for the best view of the parade and to enjoy holiday music, food, and spirits.
Gulfport Holiday Boat Parade
Gulfport
The 34th annual parade presented by the Boca Ciega Yacht Club will kick off at 6:00 pm. Parade-goers can get a good look from Gulfport's Williams Pier and the beach near the Gulfport Casino. Free and family-friendly!
Holiday Boat Parade on Lake Wellington
Wellington
Come watch as local residents and boating enthusiasts light up the Lake with a Holiday Boat Parade on Lake Wellington. Visible from behind the Wellington Community Center (12150 Forest Hill Boulevard), boats will launch from the Meadowland Cove boat launch at 6:20 p.m. and are expected to pass behind the Wellington Community Center around 6:25 p.m.
Key West Schooner Wharf Bar Lighted Boat Parade
Key West
8:00 p.m. The Holidays' Magical Nautical Display of Lights and Creativity. The Judges' Stand is located at Schooner Wharf. Key West Bight Marina at the Historic Seaport in Key West. Festivities begin at 6 pm at Schooneer Wharf.
Members of the Matlacha Yacht Club will present the annual Christmas Boat Parade in the waters surrounding Matlacha. This year, the club is extending an invitation to anyone who would like to decorate a boat and participate in the parade. While you need not be a member to attend, all are welcome to join the Matlacha Yacht Club to enjoy our other activities year-round. The parade will start at 6pm., weather permitting.
Manatee River Holiday Boat Parade
Bradenton
The boat parade gets underway at 6:30 p.m. Arrive downtown early for Sounds of the Season, the annual Christmas celebration on Old Main Street sponsored by Realize Bradenton. Sounds of the Season continues until 10pm, so you can go after the boat parade, too.
Naples Christmas Boat Parade
Naples
View the parade from Pincher's Crab Shack, Riverwalk Restaurant, Naples Landing, Kelly's Fish House, The Boat House Restaurant and Bayview Park. 100% of the proceeds benefit Ricky King Foundation. 6:15pm to 8:30pm.
New Smyrna Beach Boat Parade
New Smyrna Beach
The parade will start at dusk in Edgewater near marker 53 (lighted) and continue north to Riverside Park in NSB. Vessels will then proceed to the north side of Chicken Island along the North Causeway, east to the Grille at Riverview, south towards Bouchelle Island, and then west parallel to Bouchelle Island back toward Riverside Park. Edgewater and New Smyrna Beach are hosting events at their respective parks. Spectators can also see the parade along Riverside Drive, Smyrna Yacht Club, Riverside Park, Anglers' Yacht Club, NSB Boat & Ski Club, Outriggers Tiki Bar & Grille, The Grille at Riverview, & Bouchelle Island Condominiums.
Palm Coast Christmas Boat Parade
Palm Coast
Departing at 6 pm from Cimmaron Basin south on Intracoastal Waterway, turning at the Grand Haven gazebo back to Clubhouse Waterway. The Parade will pass the Tidelands, Marina Cove, and the Palm Coast Legacy Vacation Resort. It will then proceed under the Hammock Dunes Bridge along St. Joe's Walkway and Canopy Walk, pass by Waterfront Park, Grand Haven, Island Estates, the Hammock, and Yacht Harbor Village before disbursing at the Clubhouse Waterway.
Sarasota Holiday Boat Parade of Lights
Sarasota
The best areas for viewing are Marina Jack Restaurant, Bayfront Park, City Island and Centennial Park. Bayfront Park spectator viewing area has been expanded to include the entire Northern tip of island near the fountain. Parade route extended. Parade begins at 6:45pm.
St. Augustine Holiday Regatta of Lights
St. Augustine
39th year held on the bayfront north of the Bridge of Lions. Reflects the maritime heritage of the Oldest City and is in keeping with St. Augustine's historical seaborne image. Hosted by The St. Augustine Yacht Club. Sailboats, sport-fishermen, trawlers, shrimp boats, and many other vessels take part. For best viewing, sit along the bayfront by the seawall or enjoy the view from the many restaurants that face the bay. 6pm.
Steinhatchee Light Up The River Boat Parade
Steinhatchee
Begins at "dark-thirty" (6:30pm-ish) at Fiddler's Restaurant and ends at Roy's Restaurant.
Vero Beach Holiday Boat Parade
Vero Beach
Begins at 6pm in the Intracoastal waterway between the two bridges and finish at the Vero Beach City Marina. Viewing stations include: Royal Palm Point and Vero Beach City Marina.  Consider taking lawn chairs and blankets for seating. The event is free for spectators and participants.
11th Annual Winter Park Holiday Parade
Winter Park
A spirited fleet of decorated boats of all types –pontoon, ski, jetski, kayak — will parade around the perimeter of Lake Virginia to add to the Christmas Spirit in Winter Park. Last year an audience of over 1,000 lined the shores of Lake Virginia at Rollins College to watch the great variety of decorated watercraft. The event is sponsored by Winter Park Rotary Club in partnership with Rollins College and will raise funds for food pantry at Winter Park High School. Use Dinky Dock and the Rollins shore north of the boathouse for viewing.
Sunday, December 15, 2019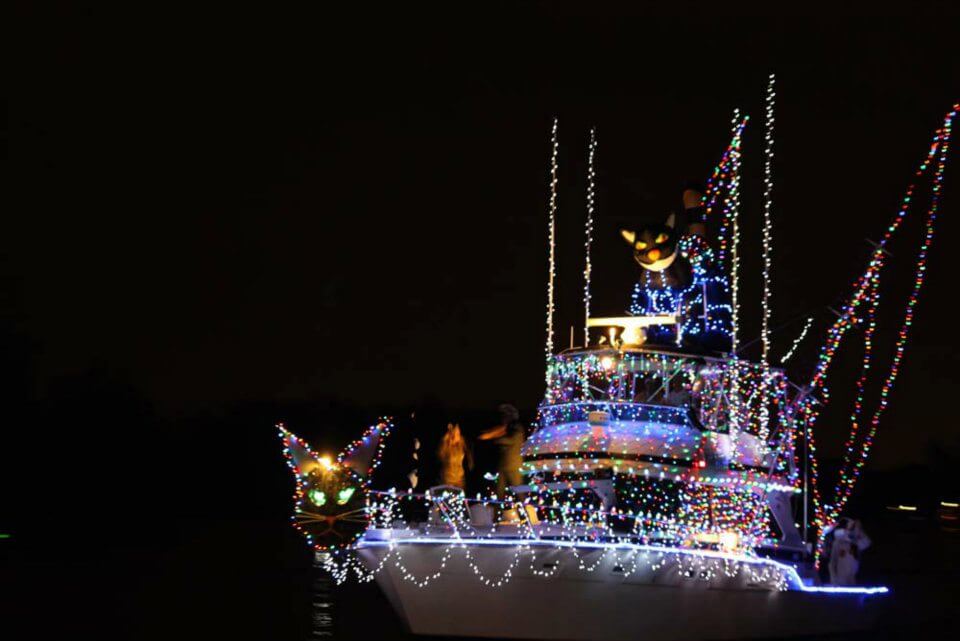 Boca Raton Boat Parade
Delray, Boca Raton, Deerfield Beach
The 43rd Annual Boca Raton Boat Parade is from 6:30-8pm. Parade goes along the Intracoastal Waterway from Delray/Boca line south to Hillsboro Boulevard Bridge in Deerfield Beach. Free bleacher sitting areas will be set up at Red Reef Park, Silver Palm Park and at Wildflower Property where you can also enjoy a variety of food and drinks from local vendors.
Friday, December 20, 2019
Lake Osborne Holiday Boat Parade
Lantana
Starting at the Lakeside Anchor Inn, 2412 Floral Rd, near Hypoluxo Road at 7:30 pm, arriving at the area of Lantana Road and Lake Osborne Drive at 8 pm. The boats will continue north to the Lake Worth Road boat ramp, then loop around the entire lake. Great viewing areas in John Prince Park and the campground area.
Saturday, December 21,  2019
Cape Coral Holiday Boat Along
Cape Coral
Food, Christmas music, and a visit from Santa Claus along with the boat parade. See the boats line up in Bimini Basin and watch the parade from the park's beach before winding through canals in South Cape Coral. Bring lawn chairs. 4-10pm at Four Freedoms Park on Cape Coral Pkwy.
Indian Rocks Beach Holiday Boat Parade
Indian Rocks Beach
Festively decorated boats will meander through the Intracoastal Waterway from the Tom Stuart Causeway to Caddy's Pub restaurant in Indian Shores. The parade kicks off at 6pm.
Punta Gorda Boat Parade
Punta Gorda Isles
Viewers get up very close to the boats at this parade that includes carolers, performers, and great decorations. See parade route map for viewing locations. 6:30pm.
Satellite Beach Boat Parade
Satellite Beach
The parade will be lead by the Satellite Beach Patrol boat followed by the Santa Claus boat proceeding south down the Grand Canal, circling Lake Shepherd clockwise, continuing southward, exiting the Grand Canal into the Banana River. Then, proceed south past the Mathers Bridge keeping close to Merritt Island; at Dragon Point head southwest and go past the Judge's boat on your left, ending the parade and disbanding. The Parade starts at 6pm.
Tampa Riverwalk Lighted Boat Parade
Tampa
Along the water at Davis Island, Harbour Island and the Channelside District. Parking is available at several public parking lots.
Welaka Boat Parade
Welaka
River Bend to Sportsman Harbor. Starts at 6:15pm. Party starts 3pm at the Welaka Lodge and Resort Boathouse Bar and Grill, 1001 Front Street, Channel Marker 50.
Sunday, December 22, 2019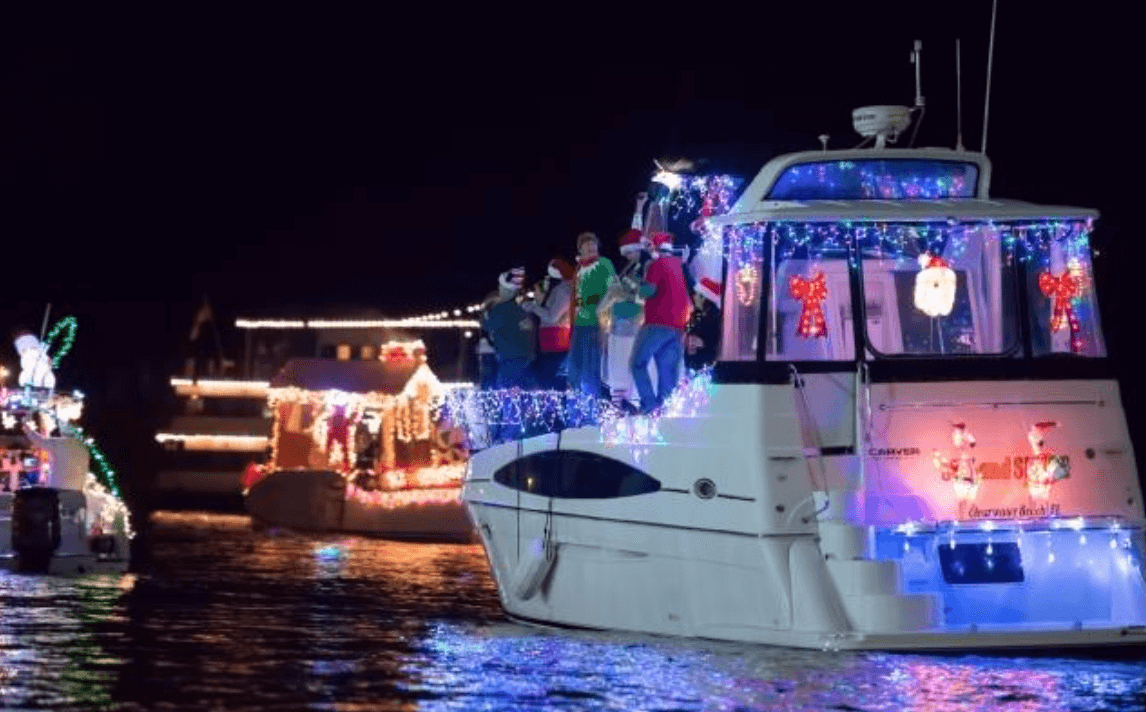 Redington Beach and Indian Shores Holiday Boat Parade
Indian Shores
Festively decorated boats will meander through the Intracoastal waterways from the Tom Stuart Causeway to Caddy's Pub restaurant in Indian Shores. The parade kicks off at 6pm. The event is free and family-friendly! Top prizes will be awarded after the parade that evening at Caddy's Pub.
Date: TBA 
Labelle Christmas Boat Parade 
Along the Caloosahatchee River.

AuthenticFlorida.com was named Best Travel Blog at the 2018 Sunshine Awards. 
To receive Authentic Florida's free weekly ENEWs, sign up on our Authentic Florida home page.
To inquire about partnerships/advertising, please contact melanie@authenticflorida.com 
---
Comments are closed.