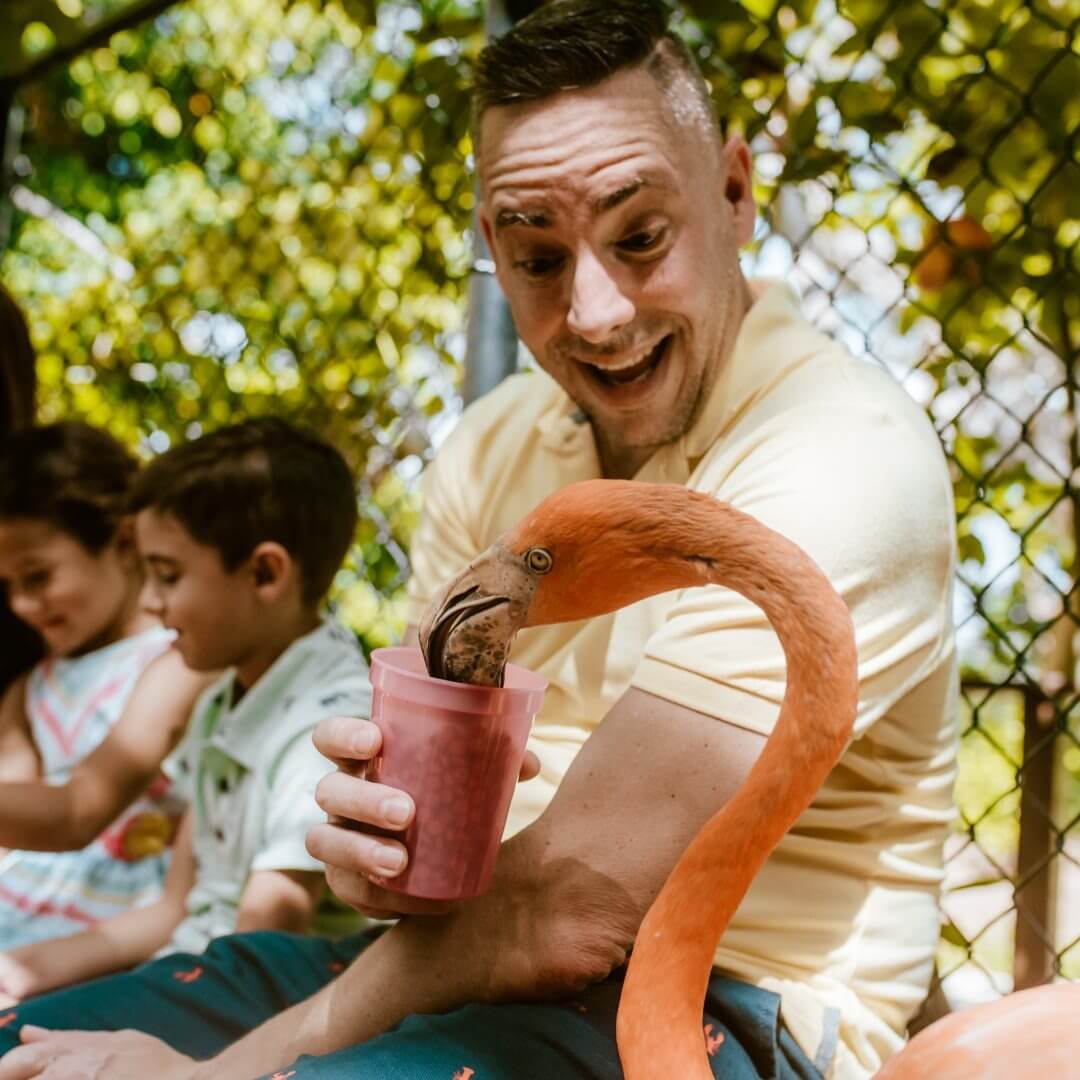 Florida is full of beautiful zoos, gardens, and sanctuaries perfect for an educational day trip with the family or as a solo traveler! Not only do most of the zoos throughout the Sunshine State include interactive exhibits, but they also have a focus on conservation and educating the public about the endangered animals in the area.
Explore the exciting Florida Everglades, see animals native to Florida, drive through a safari, or even putting on comfortable shoes and tracking how many steps you take at your local zoo is something we encourage everyone to do. While you may have visited some of these zoos before, now is the perfect time to revisit an old favorite or go on a new adventure!
These zoos can really use our support, especially during this pandemic. Although we made notes of COVID-19 restrictions, please check with the Zoo's directly before you head out to see if anything has changed.
Note: Due to COVID-19, the Brevard Zoo is now operating at limited capacity with adjusted operating hours. Both members and nonmembers must schedule an entry time online prior to visiting. Masks are also required. Please view Brevard Zoo's guidelines and requirements here.
What started as a passion project to build a Florida zoo that focused on conservation, the Brevard Zoo is now 75 acres and home to 650 animals! The zoo features many exhibits like Expedition Africa, Wild Florida, Rainforest Revealed, Caribbean Trail, and more! The animals you will encounter include everything from Zebras and Camels, to traditional wild Florida animals like alligators and black bears!
That's not all of the adventures you can have at the Brevard Zoo! For an additional fee, you can feed giraffes, kayak through Expedition Africa, take a train ride throughout the park, and soar through the Florida trees at the Treetop Trek.
While it is not open to the public, The Brevard Zoo is also home to the Sea Turtle Healing Center. The zoo is close to the beaches of Brevard County, the largest beaches in the United States for nesting sea turtles. Before the healing center opened, the closest rehabilitation facility was 107 miles away. This closer facility provides sea turtle patients with a shorter drive when they are injured. This means less stress and more recovery!
Did you know? Brevard Zoo Voted One of North America's Best Zoos, Top in Southeast
Looking to make it a day trip? Check out our favorite things to do in Brevard County here!
Note: Due to COVID-19, guests age three and older must wear a mask or facial covering at all times including outdoor areas, no exceptions. Guests must observe social distancing and be kind to staff and fellow guests. The Lorikeet Encounter will only admit two parties at a time. 
Butterfly World in Coconut Creek was the result of one man's butterfly hobby that turned into something magical! Ronald Boender was fascinated in raising butterflies and eventually teamed up with Clive Farrell, owner of the London Butterfly House. The two of them then created Butterfly World, the first butterfly house in the United States.
In 1988 on its opening day, Butterfly World was comprised of three acres of butterfly aviaries, botanical gardens, and a working butterfly farm and research center. Since then, the park has added two additional aviaries for tropical birds, an interactive lorikeet encounter, and a skilled research staff!
Butterfly World started the "Bring Back the Butterflies" campaign. This is a call to action for people across the country to build a small garden in their backyards in order to help reverse the destruction of butterfly habitats in their areas. You can learn more about the Bring Back the Butterflies campaign here!
Note: Due to COVID-19, The Central Florida Zoo requires masks and facial coverings for all guests age 13 and up. 
First known as the Sanford Zoo, the Central Florida Zoo opened in 1923 when a rhesus monkey was given to the local Elks Club by a traveling circus that came through the area. Soon more animals were added to the zoo, including a monkey, bulldog, skunk, opossum, raccoon, and a squirrel!
Today, the zoo has grown to over 500 animals including giraffes, cheetahs, monkeys, alligators, and much more! Other than seeing amazing animals, you can also experience the beautiful and lush botanical gardens, an aerial adventure course, Zoom Air Adventure Park, Children's Zoo, and the Southeast's largest collection of venomous snakes and non-venomous reptiles!
In addition, the Central Florida Zoo focuses on conservation and created the Orianne Center for Indigo Conservation, which focuses on saving the Eastern Indigo Snake. The zoo along with the Orianne Society operates the facility and takes care of over 100 indigo snakes to help them reproduce and be reintroduced into the world. Learn more about the conservation of the Indigo Snake and how you can "Adopt an Indigo" here!
Check out this stunning event we attend at the Central Florida Zoo year ago: A Stroll Thru Central Florida Zoo's Dazzling Asian Lantern Festival
Note: Due to COVID-19, Everglades Holiday Park has updated policies and procedures. Masks are required for all guests and employees. Prior to a tour, guests' temperatures are taken by touchless thermometer. There are a limited number of passengers on each airboat to allow for social distancing. Social distancing rules and standards apply throughout the park. 
Everglades Holiday Park, located outside of Fort Lauderdale and Miami, is the perfect authentic Florida attraction! First, you'll hop on a speedy airboat ride to see the gorgeous Florida Everglades and the wildlife of the area with an expert tour guide. From there, you can watch a live alligator show featuring the Gator Boys Alligator Rescue Team in the world-famous gator pit!
For an additional fee, you can also participate in the Everglades Holiday Park Animal Encounter! Located in a private section of the park, you can see animals in a relaxed setting with a small group. You'll have the chance to interact with tortoises, skunks, raccoons, snakes, pigs, and of course, alligators! The handlers will not only teach you important and interesting information about the animals but will give you the opportunity to interact with them as well!
The Everglades Alligator Farm in Homestead is not only South Florida's oldest alligator farm, but is also located right near the entrance of the Everglades National Park! You have the chance to see over 2,000 alligators, a snake show, a feeding demonstration, and an airboat ride!
The alligator show, is, of course, one of the most popular and entertaining attractions on the alligator farm! Not only do you get to see these creatures up close, but you'll also get to learn more about them and see capturing techniques used by Native Americans. Another not-to-miss show is the Alligator Feeding where you'll get to see over 500 gators devour their lunch in the breeding pond area.
Note: Due to COVID-19, Gatorama has updated policies and procedures. They ask all guests to wear a mask in areas of the park that do not allow for at least 6′ of social distance.
Gatorama is an alligator farm in Palmdale that has "gatorventures" for the whole family! You'll have the opportunity to see a wide array of animals, including turtles, bobcats, panthers, snakes, and of course, alligators and crocodiles! For the extreme adventurers, there are also a wide variety of shows that will test your nerves!
The Fast Hands Challenge lets you lean over a bridge and let hungry alligators and crocodiles jump out of the water to grab their snack from your grasps. The Face to Face Challenge is another heart-pounding attraction that will let you get up close and personal with the gator "Big Daddy". You'll get to feed him and take a commemorative photo! If you think those challenges are too intense for you, don't worry! Gatorama also has a Python Encounter, Tortoise Encounter, Featured Creatures Show, a baby gator pond, and an alligator and crocodile feeding show with the professionals.
Make sure to not miss out on their Annual Hatching Festival every August! This festival will allow you to hatch a baby alligator right in your hand! Learn more about the hatching festival here!
Note: Due to COVID-19, Gatorland has updated policies and procedures. Face masks are mandatory and guests will be required to wear one during their visit. 
Did you know that the "Alligator Capital of the World" is located in Orlando? Gatorland is the perfect place to see alligators and crocodiles of all sizes at Florida's leader in alligator safety and education. This 100-acre park also has wild cats, birds, snakes, tortoises, and the largest collection of rare white leucistic alligators!
However, you'll be experiencing so much more than just a gator park. Gatorland includes numerous gator shows and encounters, a free-flight aviary, petting zoo, animal shows, Screamin' Gator Zip Line (Voted the Best Zip Line in the USA by AOL Travel), and Stompin' Gator Off-Road Adventure! The off-road adventure is a brand new attraction where you can board a 12-foot-high monster vehicle for a rugged adventure throughout the park full of Gatorland characters, singing tour guides, swampy adventures, and alligators galore!
Wanting to stay at home? Gatorland also offers online episodes of "Gatorland's School of Croc", a show to learn about the creatures that call the park home! you can check out the episodes here!
The Gulf Breeze Zoo is the panhandle's home to over 800 animals from all around the world including gorillas, rhinos, giraffes, tigers, and much more! In addition, they have multiple animal encounters, which allow you to get up close and personal with the animal of your choosing – giraffes, hippos, or sloths! If you're looking to see some adorable barnyard animals, make sure to visit the interactive petting area complete with goats, sheep, and other farm favorites.
Another attraction that you can't miss is the free flight Australian Aviary! This attraction allows you to walk in among colorful birds and feed them as they perch on your hand. If you're looking for an adrenaline rush, the alligator feeding attraction may be more your speed! You'll have the opportunity to feed these giant creatures April through October every year, weather permitting. End the day with a relaxing guided Safari Train ride throughout the African preserve. You'll get to experience 30 acres of beautiful surroundings with rhinos, hippos, gorillas, and orangutans!
The Gulf Breeze Zoo also focuses on conservation, education and wild-life collaborations with other zoos.  These programs are supported through you – the zoo guests!
Looking to make it a day trip? Check out our favorite things to do in the Pensacola area here!
Note: Due to COVID-19, Online tickets/member reservations are required for all guests and must be made in advance.
Located on Trout River, the Jacksonville Zoo and Gardens has over 2,000 animals, 1,000 plants, and 117 acres of family fun! Animals that you can see include flamingos, jaguars, penguins, monkeys, lemurs, and much more! What's unique about the Jacksonville Zoo, is that its botanical gardens and numerous plant species are integrated throughout the zoo, the first of its kind! This special setting allows you to see the animals in the setting that they would be in the wild.
The wellness of the animals is at the forefront of everything that the Jacksonville Zoo does. They believe that wellness is obtained when the animal is truly thriving. The Jacksonville Zoo's wellness department is one of the wrold's top animal welfare programs which publishes many high-quality research papers annually. Their commitment to wellness also goes further than what they do in-house at the zoo. They also work closely with the University of North Florida and the University of Florida to "learn about the behavior of our collection of animals while rendering services and conducting behavioral interventions".
While in the area, check out: Small Towns, Big Passions: Clay County, Florida
Note: Due to COVID-19, Jungle Adventures has updated policies and procedures. Please maintain a six-foot distance in the open-air theater. 
Located in Christmas, you won't miss Jungle Adventures when you drive by! You'll know you're at the park when you see Swampy, the World's Largest Gator at 200 feet long! He may look like a gator, but he's actually just the entrance to Jungle Adventures, a Real Florida Animal Park. You'll get to see rare Florida animals like panthers, black bears, wolves, white-tailed deer, tropical birds, and more!
Other than the animal exhibits, Jungle Adventures has additional exciting shows and attractions! This includes hands-on wildlife experiences with baby gators and other critters and a Gator feeding show where the guides hand feed the 8 – 15 foot alligators! Make sure not to miss the Jungle Swamp Queen River Boat! This relaxing ride aboard the Green Gator River allows you to go deep into the Florida wilderness and see wild alligators and flocks of birds up close and personal. You'll also pass by an authentic replica of Spanish Fort Mees while you're on the tour.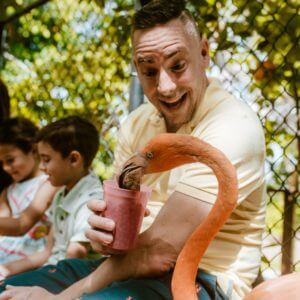 Note, Due to COVID-19, Jungle Island has updated policies and procedures. All guests over the age of two must wear a facial covering at all times and physical distancing be maintained. 
Jungle Island, which used to be known as Parrot Jungle, is located in Miami between downtown Miami and South Beach! This park combines both Miami's beautiful and tropical setting with animals from all around the world! The park has been open since 1936 and today guests can enjoy informative animal exhibits, shows, waterfalls, and tropical trees.
Jungle Island also allows you to get up close and personal with some of your favorite animals including lemur, sloth, capybara, and flamingo encounters! All of these encounters will allow you to meet and interact with these beautiful and exotic animals. This Florida zoo is also home to the Joia Beach Restaurant and Beach Club, where you can relax and eat some delicious food!
Wanting to stay at home? Jungle Island also has a series of online lessons to learn more about the animals that call the park home. Learn more here!
Looking to make it a day trip? Check out all of our favorite things to do in Miami here!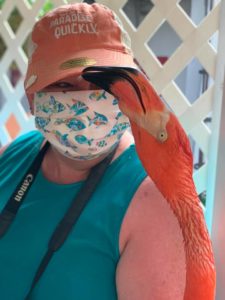 Next time your travels take you to the Southernmost Point in the USA, head over to The Key West Butterfly & Nature Conservatory! You'll be able to relax amongst the tropical plants and waterfalls, see beautiful butterflies and birds, and meet Rhett & Scarlett, Key West's most famous celebrity couple.  The conservatory is home to 50 – 60 butterfly species and 20 exotic bird species! Wanting to mingle with a flamingo? A maximum of six guests per day can "flamingle" with Rhett & Scarlett after hours. Just contact Clarisa Fluker at info@keywestbutterfly.com to reserve your spot!
Nowhere near the Florida Keys? You can watch Rhett & Scarlett LIVE quite often on the Key West Butterfly & Nature Conservatory Facebook page. We also like to share their posts or do LIVE Watch Parties on our Authentic Florida Facebook page. So be sure to follow us on Facebook.
Looking to make it a day trip? Check out our favorite things to do in Key West here!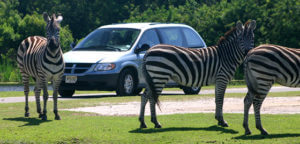 Note: Due to COVID-19, masks are required if out of the vehicle at any time.
Located near West Palm Beach, Lion Country Safari is on 600 acres of natural area and home to over 1,000 animals! You can print out your own "Jambo Guide" to the animals at home, and play the audio to go along with your tour when you arrive! The tour is 90 minutes and split into seven sections. They are Las Pampas, Ruaha National Park, Kalahari Busheveldt, Gir Forest, Gorongosa Reserve, Serengeti Plains, and Hwange National Park. You'll get to see zebras, chimpanzees, rhinos, giraffes, and of course lions!
Lion Country also has the opportunity for exclusive and private animal encounters that allow you to get up close and personal with your favorite animals! This includes the Giraffe Painting Experience and Birds and Brushes Painting Experience, both of which allow you to take a home a masterpiece painted by the animal you met. You can also attend the Flamingo Mingle experience where you can meet and feed some flamingos!
Make sure to download your exclusive "Jambo Guide" before you head out! This guide is full of important information and fast facts for your journey. You can download the guide here.
Note: Due to COVID-19, guests who maintain proper social distancing are not required to wear facemasks. Guests will be informed of indoor venues where masks are required, which currently include: retail shops, bathrooms, restaurants (except while seated for dining), and Manatee Mangrove. Additionally, masks are required during Signature Encounters, Giraffe Meet & Greet, Expedition Africa Safari Tram Ride & while in the tram queue line.
ZooTampa, formerly known as Lowry Park Zoo, focuses on conservation, education, and research and is one of the most popular zoos in the Southeastern United States with over one million visitors annually! This Florida Zoo is also home to many endangered animals including African Elephants, White Rhinocerous, and Florida's own manatees and panthers!
One of our favorite things about ZooTampa is the wide array of special encounters, experiences and events they have to offer. Below are just a handful of their offerings:
Breakfast with the Animals and Mimosas with the Manatees
Manatee Critical Care Center Backstage Encounter
African Penguin Backstage
Indian Rhino Feeding
Aldabra Tortoise Encounter
Koala Photo Encounter
African Elephant Backstage
Southern White Rhino Backstage
Giraffe Meet & Greet
Stingray Bay Touch Experience
Toddler Tuesday
Yoga in the Wild
Note: Due to COVID-19, Monkey Jungle is closed until further notice. Add this to your future Florida bucket list!
Established in 1935, Monkey Jungle is a tropical forest teeming with jungle wildlife that live exactly as they would in their natural habitat. Joseph DuMond originally released six Java monkeys into the South Florida wild and that event is what made Monkey Jungle what it is today. If you visit, you will be greeted by a troop of over ninety Java monkeys, all original descendants from the original group! This section of the park is known as the Wild Monkey Swimming Pool, a 7-acre forest! As you explore the area you'll see the monkeys roam throughout the forest and swim into the pond for treats!
Another must-see attraction is the Amazonian Rainforest, where you'll observe the only semi-tropical rainforest in North America! This rainforest is successful due to Joseph DuMond gathering numerous plants from Iquitos, Peru, and bringing them back to Florida! Three species of monkeys also call the rainforest home: squirrel monkeys, black-capped capuchins, and howler monkeys. You can also see gorillas at the Cameroon Gorilla Forest and free-flying tropical birds at the Wings of Love exhibit.
Looking to make it a day trip? Check out all of our favorite things to do in Miami here!
Note: Due to COVID-19, Naples Zoo is requiring guests to wear masks inside the following locations: Giftshop, Safari Canyon, all restrooms, the Giraffe Feeding Experience, and the Primate Expedition Cruise and queuing area.
The Naples Zoo on the surface may just look like a walk-through zoo. However, this Florida zoo has a day full of fun activities for the whole family! You can see exotic animals surrounded by beautiful plants and botanical gardens that were first planted in 1919. This zoo is set up in an interesting way since the botanical gardens were planted much earlier than when the animals were introduced. The exhibits are therefore in available spaces between the trees and you will be within three or four steps of the animals! You'll get to see lions, giraffes, lemurs, cheetahs, alligators and more!
If you're wanting to stay at home, you can learn about Naples Zoo and their amazing animals online! Check out their virtual learning resources here.
Note: Due to COVID-19, The Palm Beach Zoo has updated policies and procedures. Masks are required at all indoor attractions and buildings. Certain attractions are unavailable at this time. Please review all of the safety procedures here. 
Located in West Palm Beach, the Palm Beach Zoo and Conservation Society feature over 550 amazing animals in a tropical rainforest environment. This Florida zoo was started over 50 years ago and has changed from a small red barn to a major attraction! You'll be able to see cougars, monkeys, koalas, tigers, sloths, and our favorite, the flamingo! The zoo has two species of flamingo – the American Flamingo and the Chilean Flamingo. In addition to seeing exhibits, the Palm Beach Zoo also offers animal encounters, children's storytime, and toddler workshops.
Looking for some educational online learning fun? Check out the Palm Beach Zoo's online activities here!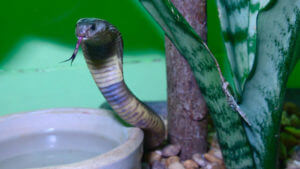 Note: Due to COVID-19, All visitors are required to wear face masks (available for $1.00 each in the gift shop). Those who cannot abide by these protocols will not be admitted. Hand sanitizer is available at the front desk.
The Reptile World Serpentarium, which opened in 1972, houses snakes, reptiles, and birds from all around the world! The snakes on display rotate between public display cases and behind-the-scenes areas resulting in an ever-changing display for visitors of the Snakes of the World exhibit hall.
The Serpentarium also has a wide variety of attractions and experiences! Below are just a handful of the offerings:
Venom Extraction Show
Non-Venomous Snake Holding
Baby Alligator Holding
Feed the Turtles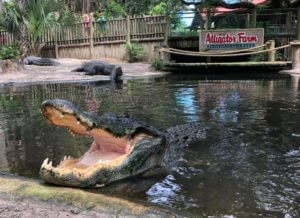 St. Augustine is home to the St. Augustine Alligator Farm Zoological Park which began in the nineteenth century! The small exhibit of reptiles eventually became an iconic Florida attraction which today has become a renowned zoo. Their work includes educational shows and exhibits, research, and worldwide conservation efforts to benefit the animals!
While the zoo of course features alligators, you can also visit Albino Alligators, Birds of Africa, Exotic Birds and Mammals, Florida Native Reptiles, Fossil Discoveries, Land of Crocodiles, Lemurs of Madagascar, Oasis on the Nile, Python Cave, Sloth Landing, Wading Bird Rookery, and more. One of our favorite parts of the zoo is riding the zipline across the Alligator Lagoon on Crocodile Crossing!
If you're looking for cool gifts, check out their on-line gift shop here.
Looking to make it a day trip? Check out our favorite things to do in St. Augustine here!
Note: Due to COVID-19, one-day tickets must be purchased online. Members are no longer required to make reservations prior to their visit. Face coverings are required at all times, indoors and outdoors, when at the zoo.
Did you know that the largest and oldest Florida Zoo is located in Miami? Zoo Miami, also known as the Miami-Dade Zoological Park and Gardens and formerly known as Miami MetroZoo has over 340 acres, 3000 animals, and endless fun! Their exhibits include Amazon and Beyond, Wings of Asia, Mission Everglades, Critter Connection, and the brand new Conservation Action Center!
Zoo Miami also has a wide array of special encounters, experiences, rides, and events. Below are just a handful of their offerings:
Tortoise Encounter
Giraffe Feeding
Camel Feeding
Rhino Feeding
Parrot Feeding
Lostman's River Ride
Monorail
Safari Tram Tour
Wildlife Carousel
Pedal Boats
Animal Close-Up at Critter Connection
Meet the Zookeeper
Looking to make it a day trip? Check out all of our favorite things to do in Miami here!

AuthenticFlorida.com was named Best Travel Blog two-times at the Florida Sunshine Awards.
To receive Authentic Florida's free weekly ENEWs, sign up on our Authentic Florida home page.
To inquire about partnerships/advertising, please contact info@authenticflorida.com 
Proud Member of: 

---
Comments are closed.